The 2010 US Open Golf Six Pack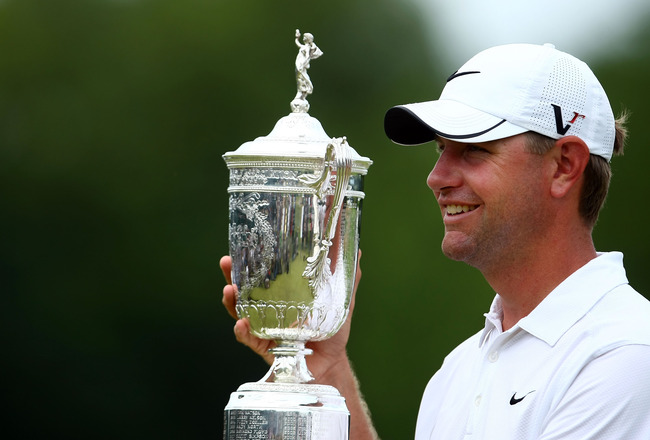 We finally embark upon the second major of the year. It is one that I have been looking forward to all year long, as I have had my eye on one man since January to take it all. More on him in a minute.
Of course the main stream wants to know how Tiger Woods will perform. Will he win? Will he crack the top ten? Will he even make the cut?
I have been betting against Tiger making the top ten in his last few efforts, but I am in no way going to advocate any bets against Mr. Woods this week; it's simply too risky. I know he hasn't shown his brilliance as of late and he has been mired by circumstances beyond belief in 2010, but folks, this is a major championship we are talking about here. I can't rule him out and I wouldn't want to be on any side AGAINST him in any form this week, even though my gut tells me he probably won't win. I definitely see him in the top ten and quite possibly, the top five. His history at the US Open and at Pebble Beach is too impressive for me to deny, no matter how he may have been playing recently.
Next, I would like to send out a couple of words of wisdom to a few of last week's competitors at the St. Jude Classic:
Lee Westwood: Congrats man. Keep it up, your drought on the US PGA Tour is over. I always knew you were one of the best in the world, it's time to step on the gas.
Robert Karlsson: You were so close. Please step it up a notch next time, so you can win my friends 66:1 odds, instead of 16.5:1 odds for a top five finish.
Robert Garrigus: Maybe you should take a peek at the leaderboard from now on, or at least admit you knew right where you were and that you just choked like a porn star.
Okay, let's get in on my Yahoo fantasy standings and picks.
I now have 3236 points on the year. I have moved up into the seventy-fifth percentile overall, and am now in the sixty-eigth percentile in my group, the Fans Of Hunter Mahan. Currently I am trailing all of the Yahoo experts, but I am catching up. I trail Matt Romig by 195, Greg Vara by 65, Michael Arkush by 65, and Eric Planer by 26 points. Here is my lineup this week:
GROUP A
Start—Phil Mickelson
Sit—Ernie Els
GROUP B
Start—Lee Westwood and Dustin Johnson
Sit—Jim Furyk and Retief Goosen
GROUP C
Start—Mike Weir
Sit—Tim Clark
Before we jump into the six pack, here are some honorable mentions that are worthy of consideration for wagering purposes this week: D. Johnson 33:1, Tim Clark 50:1, John Mallinger 500:1
Let's get on to the six pack and win some dough!
No. 1—Jim Furyk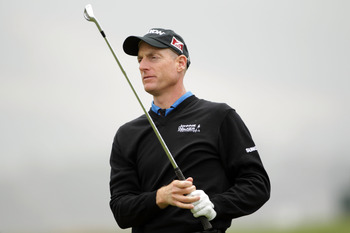 I love Jim Furyk this week for his accuracy from the tee and his past results at both Pebble Beach AND at the US Open. In the past 10 years, Jim has finished in the top six five times at Pebble Beach. He also has five top 10's at the US Open, with one victory in 2003. Furyk has missed the cut at the US Open only once.
You know that he wants to make up for his pathetic showing at this year's Masters when he missed the cut shooting paltry 12 over.
Furyk has two wins on the year and he has been playing great golf, having three top-10 finishes in his past five events, one of which was a victory at the Verizon Heritage on the difficult Harbor Town course.
This year, Jim has made 10-of-12 cuts. Seven have been top-25 finishes, and four have been top 10's, with two of those being wins.
Check out Furyk's digits:
- Sixth in Driving Accuracy at 71.17 percent
- Second in Fed Ex Cup Points with 1391
- Sixth in Scrambling at 67.78 percent
- 14th in Scoring Average at 70.17 strokes per round
At 28:1 you can't pass him up this week. Some books have him as high as 32:1
No. 2—Retief Goosen
Goosen is coming back off a broken toe injury, but appears to be fine after finishing in a tie for fifteenth at last week's St. Jude Classic. He is certainly a world class player and has a phenomenal track record at majors, especially at the US Open.
He has had two victories at the US Open in 2004 and in 2001. When he makes the cut, he is usually right on the cusp of a top-10.
Recently, Goosen has two top fives and a top-15 in his last five events played.
Retief has made eight out of nine cuts. Six of those cuts made have been in the top 25, and five have been in the top 10.
Here are some numbers you might find interesting:
- 37th in driving Accuracy at 66.05 percent
- 12th in Scoring Average with 70.16 strokes per round
- 15th in All Around ranking
- 24th in Scrambling at 63.49 percent
Goosen will be there come Sunday, as he appears to be recovered from the toe injury. He is a value packed 40:1 odds this week. I have heard some books have him as high as 47:1 odds of victory.
No. 3—Matt Kuchar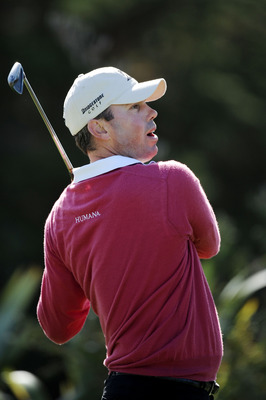 Matt Kuchar is well on his way to having by far the best year of his career—already amassing $2.1 million in winnings. How sweet would it be to add a major victory to his resume this week?
Kuchar has played pretty good at Pebble in past years, with a top six and top 14. His best finish at the US Open was a tie for 14th, way back in 1998. Typically, Kuchar is a bust at the US Open, but he is on a different playing level this year and cannot be ignored.
This year he has made 12-of-15 cuts. 10 of those have been in the top 25 and five of those have been in the top 10. He has finished third twice this year and runner up once.
His last five events have seen him miss only one cut, and placements with a tie for 13th, 14th, 56th and eighth, at the Memorial. He hasn't been exactly, "on fire", but he is playing really well lately.
He is a statistical machine, check this out:
- 17th in Driving Accuracy at 68.44 percent
- 11th in Scoring Average at 70.11 strokes per round
- 10th in Par Breakers at 22.88 percent
- Second in All-Around ranking
- Fourth in Scrambling at 67.97 percent
- 13th in Ball Striking
Kuchar is an amazing 50:1 this week, with DCSC.com having him at a whopping 89:1 odds.
No.4—Bo Van Pelt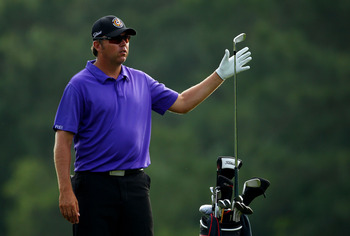 Talk about guys having career years! Bo Van Pelt has accumulated $1.8 million in winnings and is only about $100k from topping his career best. Not many guys are playing better than him on tour right now. In his past five events he has finished fifth, fourth, 28th, 10th, and third!
BVP has made 13-of-16 cuts this year. Eight of those finishes have been in the top 25, while five have been in the top 10. BVP has finished third twice this year.
I like the fact that Bo has made a few good results at Pebble Beach over the years coming very close to the top ten twice. He has only seen the US Open three times and has not finished higher than thirty-first, but 2010 is his year.
Like Matt Kuchar, BVP's numbers speak for themselves:
- 45th in Driving Accuracy at 65.14 percent
- 12th in Scoring Average at 70.16 strokes per round
- Eighth in All Around ranking
- Seventh in Par Breakers at 23.28 percent
- First in Birdies Made at 240
- First in Ball striking
When you are looking at value picks, BVP's name has to be there. I found him at 66:1 but Pinnacle has him as high as 71:1 odds of winning.
No. 5—Vijay Singh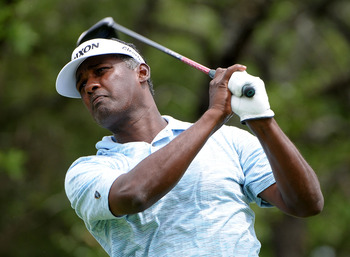 Okay, okay, I know lots of you are groaning seeing Vijay Singh in my six pack. He has had a terrible year and I can't deny that. Why I like him this week has to do with three things: his recent play has warmed up rather nicely, he kicks ass at Pebble Beach, and he has done everything but win at the US Open.
In Singh's last five events he has gone cut, 64th, cut, 33rd, and 12th. This tells me that he may be starting to get over his woes with his damn putter (if that's even possible).
At Pebble Beach, Vijay has won, finished twice two times, and has a bunch of impressive finishes.
In 16 tries at the US Open, he has only missed the cut one time and has seven top 10 finishes.
Vijay has made only 8-of-14 cuts this year. He has only three top 25 finishes and one top 10 effort.
His numbers suck:
- 34th in GIR at 68.06 percent
- 39th in Driving Distance at 290 yards
Even though he is having issues this year, I have to pick him as he is an amazing 80:1 this week. Pinnacle sports book has him at 139:1 odds, truly a ridiculous number.
No. 6—Mike Weir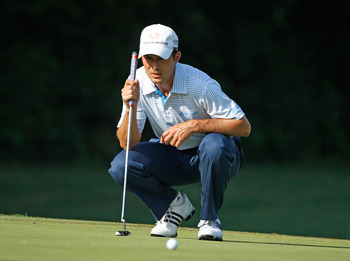 My favorite to win the US Open back in January turns out to be my long shot this week. Like Singh, Weir is WAY off the mark this year, but he is a machine at Pebble Beach, and he ALWAYS contends at the US Open.
Weir is always in the top 10 and very often in the top five at Pebble Beach. At the US Open, he has only missed two cuts in 11 tries. Four times he has been in the top 10, including last year's tie for tenth at Bethpage Black, one which he truly let slip away.
Mike Weir has made 9-of-13 cuts in 2010. Two have been in the top 25 and only one has been in the top 10.
Also, like Singh, Weirs numbers leave something to be desired, but when he is near the green or ON the green, look out:
- 1st in Putts Per Round with 27.54
- 29th in Scrambling at 63.11 percent
- 1st in Approaches from 50-125 yards
- 1st in Approaches from 75-100 yards
I found Mike Weir at 100:1 odds. Again if you look real hard you can find him at 104:1 at dcsc.com
No matter who you like this week, enjoy the second major of the year and as always, hit 'em straight.
Keep Reading