The Best of the Best: Yankees Mount Rushmore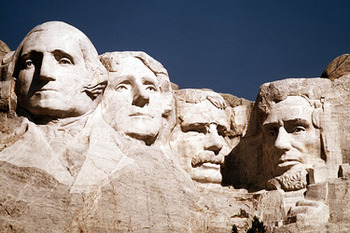 In honor of the year Robinson Cano is having (.368 Batting Average, 13 Home Runs, 47 RBI), it got me thinking that if Cano keeps this pace up, where will it rank amongst the greatest Yankee seasons of all-time?
We still got a long ways to go, and there's still a lot of baseball to be played, so I will re-address that question towards the end of the season.
But for now, the important question that I was pondering about was related to Mount Rushmore.
Don't worry - I am not giving a history lesson about the four presidents who's faces are on the mount, but rather, I found myself asking the question, if were carving a Yankees Mount Rushmore which four Yankee legends would get the nod?
Would it be the Babe or the Mick? Lou Gehrig or Joe DiMaggio? Mariano Rivera or Don Larsen? Jorge Posada or Yogi Berra? How about the Boss?
The list can go on and on, and narrowing it down to a final four was not an easy task.
However, after deciphering long and hard about whom to chose, my mission was accomplished.
You might agree with me, but in all likelihood, there will be a player you felt I left out, that deserved to be here.
Feel free to give your opinion.
Let the adventure of climbing "Yankees Mount Rushmore" begin.
Babe Ruth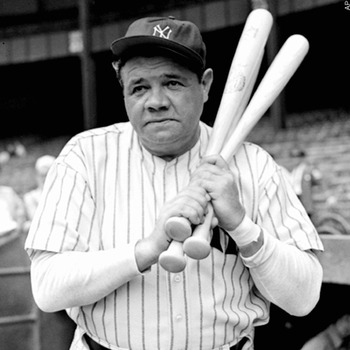 Babe Ruth is an obvious choice and the first one to have his face carved into the Mountain of Mystique and Aura.
He has life time batting average of .342 and total of 714 career home runs. Not to mention he was the first player to hit 60 home runs in one season (1927), had a career .690 slugging percentage and 1.164 career on-base slugging percentage (OPS) - both Major League records, led the league in home runs twelve times, slugging percentage and OPS thirteen times, runs scored eight times, and RBIs six times.
Ruth was one of the most prolific hitters the game has ever seen. He was the heart and soul of a Yankees' lineup that won seven pennants and four World Series titles during his time on the team.
Ruth was one of the first five players elected to the baseball Hall of Fame, and will forever be known as "The Great Bambino."
Ruth did not begin his playing career with the Yankees, and some might say that is a reason he doesn't deserve to be here.
But after providing 86 years of suffering for Red Sox nation, Ruth will always be legend in my book, and certainly is well deserving of a spot on the mount.
Ruth was amongst the first of many Yankee legends to wear the pinstripes. and although the "House that Ruth Built" is simply a memory of the past, the legend of the Babe will never die.
Joe DiMaggio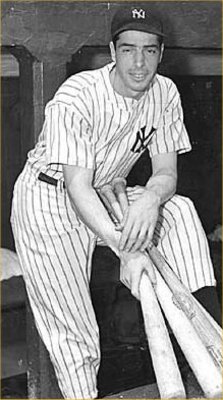 Joe DiMaggio was a true gentleman, noble, classy, and a hero for his military service.
The "Yankee Clipper" holds arguably the most impossible-possible record to break in all of sports with his 56-game hitting streak.
To go along with his nine championship rings, DiMaggio was a three-time MVP award winner, and finished his career with a lifetime batting average of .325
While playing playing his entire career with the Bronx Bombers, DiMaggio was selected to the All-star game every season of his 13-year career, and is arguably the greatest athlete to ever play for the Yankees.
DiMaggio spanned the eras of both Lou Gehrig/ Babe Ruth and Mickey Mantle. Although three years of his prime were taken from him because of the second World War, while DiMaggio was enlisted in the US Army Air Forces, his career numbers he compiled are extraordinary.
Belting 361 career home runs, driving in 1,537 RBIs, having a. 579 slugging percentage which currently ranks 10th All-time, and finishing his career with over 2,200 hits. DiMaggio was one the most graceful players ever, and certainly made it look like he was meant to be a ball player - seems to me he certainly was.
Mickey Mantle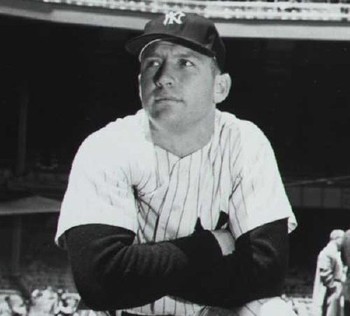 What would a New York Yankees Mt. Rushmore be without the face of the Mick?
Having played his entire 18-year Hall of Fame career with the New York Yankees, Mantle was a 3-time American League MVP, and is not only the greatest switch hitter of all-time, but one of the greatest players in baseball history.
He won the AL Triple Crown and AL MVP in 1956, was an AL Gold Glove winner in 1962, drove in 1,509 RBI to go along with 536 career home runs, and was selected to the AL All-Star team a remarkable 16-times.
Mantle played on 12 pennant winning teams, and won seven World Series championships.
Mantle finished his career as the World Series record holder for: home runs (18), RBIs (40), runs (42), walks (43), extra-base hits (26), and total bases (123).
Mantle was beloved by an entire generation and immortalized himself forever as a Yankee legend with his mammoth homeruns, for his ability to play while battling injuries, and performing at an elite level while being hung over most of time.
Being arguably the greatest five-tool player in baseball history, some say Mantle was the greatest player to ever take the field, and will forever be the greatest center fielder in Yankees history.
He has admitted his flaws. His one regret in life was not finishing his career with a .300 batting average, and had he taken better care of himself, Mantle would've been the greatest baseball player of All-time.
Although he was not the greatest role model, that should never stop people from remembering Mantle as the great Yankee legend that he was, and for the countless iconic memories he provided for the Yankees during his Hall of Fame career.
And if there was one Yankee I wish I able to see play, it would have been "the Mick."
That is not up for debate.
Derek Jeter
Last and certainly not least, the captain, Derek Jeter.
Jeter will most likely be the only Yankee to reach 3,000 hits and if he manages to match Pete Rose's career length, he can become the all-time hits leader as well.
His career accomplishments are mesmerizing: 1996 Rookie of the year honors, Silver Sluggers, Gold gloves, All-star game MVP, and World Series MVP.
The only thing missing is a regular season MVP, but Jeter doesn't need that hardware to prove anything. He has a championship ring for every finger, and his professionalism and demeanor are second-to-none.
At the age of 35, Jeter is already the Yankees all-time hits leader, and the all-time postseason leader in hits and runs scored.
But from the start of this future Hall of Fame career, Jeter was something special. He has proven himself every step of the way, and is not only the face of the Yankees, but of all of Major League Baseball.
When Jeter calls it a career, the landscape of the Yankees organization will change forever.
Having played an instrumental role in the team's late 1990s dynasty, and being named the Yankees' team captain since 2003, Jeter has always been the leader of the Yankees, and always leads by example and says the correct thing.
Besides for his playmaking ability on the field, it's the way Mr. November carries himself off the field, that makes Jeter who he is - a special player the game might never see again.
So for now, let's sit back, and realize how fortunate we are to watch one the greatest players to ever wear the pinstripes.
That is what I plan on doing. Who's joining me?
Keep Reading

New York Yankees: Like this team?