2010 College World Series: 10 Reasons Why TCU Can Take the Title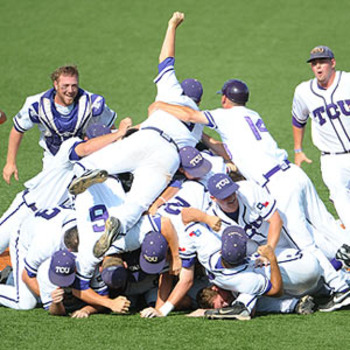 With a 4-1 victory over in-state rival Texas, the TCU Horned Frogs clinched a birth in the school's first ever College World Series.
The next step in manager Jim Schlosnaggle's team's run to the title is playing in front of 25,000 fans in a sold-out Rosenblatt Stadium.
The process has been a team effort, their win over the Longhorns is the culmination of a dream.
TCU doesn't hope to stop here, however. The Horned Frogs believe they can make a run to the title, and here are ten reasons why the will....
No Breaks From Top to Bottom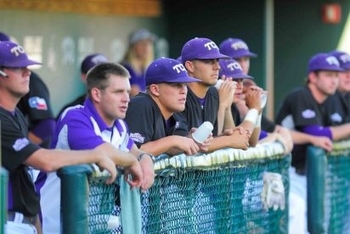 Nine potent hitters in an opponent's lineup is a pitcher's nightmare. This must mean someone won't be getting any sleep in Omaha.
TCU's nine regulars all bat over .300, with the lowest being sophomore Aaron Schultz at .303. Four players batted over .370 in conference play, including Brance Rivera's .471 mark.
The team combined to hit .340 with a school-record 92 homer, 543 runs, a .548 slugging pct., and .415 OBP. Whether it be Jason Coats or Rivera or Matt Curry or Jerome Pena, anybody can win the game for the Horned Frogs on any given day.
Too Hot to Stop When They Get Going
When the Horned Frogs get hot, they carry the momentum of a freight train and if they can continue their recent form following their Super Regional victory, the CWS title is waiting for them.
Mainly, this applies to the offense, which has a tendency to be a little streaky. Over one stretch of four games this season, they scored 63 runs, an average of 15.75 runs per game. Later in the season, they outscored their opponents 68-7 over a seven-game stretch, showing that it can apply to the pitchers, as well.
The lineup is built for hot hitting; there are no gaps in the lineup, and when one player is hot, the rest of them are.
Starting Pitching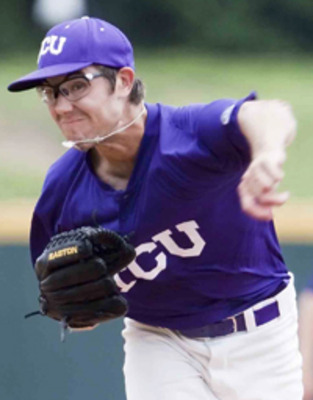 It's very hard to find a trio of weekend starters are as utterly dominant as the ones that roam the Fort Worth mounds from Friday to Sunday. If my word isn't enough, just ask their combined 37-3 record or any Mountain West hitters.
The group is led by freshman Matt Purke, who was named Freshman Pitcher of the Year. He was unbeaten with a 14-0 record, 3.23 era, and 133 strikeouts in only 103 innings.
Steven Maxwell and Kyle Winkler both were stellar on the hill for the Horned Frogs, going 11-2 and 12-1, respectfully and both had era's under 3.00.
If a team is going to beat the Horned Frogs, they'll have to go through three dominant starters, which Texas couldn't accomplish successfully.
Juggernaut Offense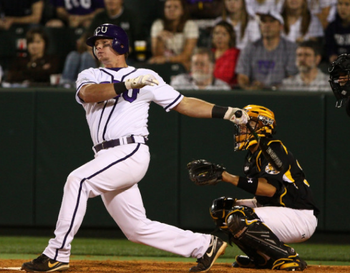 Just saying that the entire lineup can hit doesn't do justice to the power in TCU's hitters.

Three players hit over 10 homers, with Matt Curry leading with 17. Aside from Josh Elander, everyone hit at least six for a team total of 92. If you want to see alot of scoring, then TCU is the ideal team to watch; they averaged over eight runs per game.
The Opening Act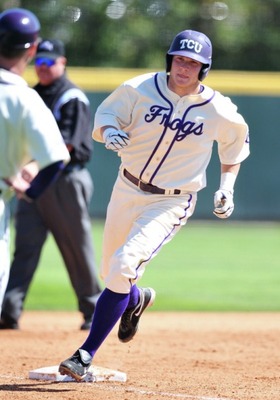 The last thing a team wants to happen to them is to get down early.
Sadly for CWS opponents, TCU feasts early in the game, especially in the first inning. They're not up there playing small ball to score a run, but rather to hang a crooked number on the scoreboard.
In the opening frame in 2010, the Horned Frogs outscored their opponent 82-35. When they scored first, they were 37-4. If TCU can jump out to an early lead, it's hard to come back on them, especially if they keep pounding the ball.
They've Been Building Up for This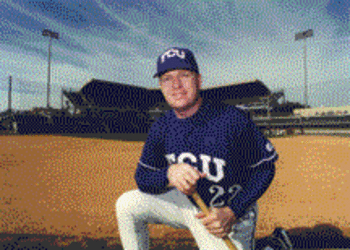 A College World Series birth has been a long process in the making for TCU. It has always been manager Jim Schlossnagle's goal, and now it is a reality.
The signs have pointed to the trip to Omaha: Four straight 40+ win seasons, 2009 Super Regional qualifiers, and intense recruiting. Top recruits such as Purke and Winkler have joined the Horned Frogs to accomplish a goal. And now it's finally here.
Bench Production
If TCU ever needs a big pinch hit or sac bunt, they can call upon their three reliable bench players in Joe Weix, Jantzen Witte, and Jimmie Pharr.
All three of them batted over .300, with Weix leading with a .380 average, six homers, and .441 OBP. Pharr hit seven homers and had a .700 slugging pct. Witte drove in 37 runs.
Whether Schlossnagle inserts them into the starting lineup or calls upon them to pinch hit, all three of them can be trusted.
Red Hot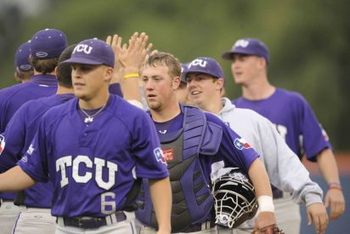 Not only did the Horned Frogs just defeat No. 2 Texas, but they won ten consecutive games entering the Super Regional at Disch-Falk Field in Austin.
They got hot at the right time and the momentum, as mentioned earlier, has carried them to the College World Series.
They have scored in double digits five times over their 12-1 streak, including twice in the NCAA Regional (the only game in which they didn't do so amounted in nine runs).
The pitching has been stellar, posting three shutouts over Baylor, New Mexico, and Cal-State Bakersfield.
If the momentum carries over into the CWS, TCU will be doing alot of post-game high fives.
What We Learned From the Super Regional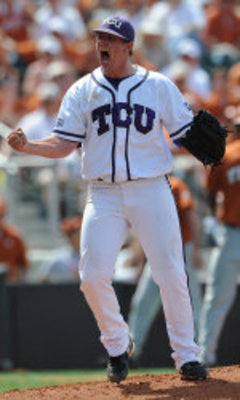 Let's face it: Texas was supposed to beat TCU on their home turf. They had the pitching, hitting, coaching, and support of the fans. But they didn't.
TCU simply out-played the Longhorns in two of the three games. In Game One, Purke and reliever Tyler Lockwood pitched a three-hit game, allowing only one run.
Game Two didn't go well, but they rebounded strongly the next day to clinch, with help from knockout homers off the bats of Schultz and Holaday, while Winkler shutout the Longhorns for 7.2 innings.
The pitching was, for the majority, stellar and the hitting clutch. Nearly everybody contributed for the Horned Frogs. It takes a great team to beat Texas on the road, and TCU did it.
Good Enough To Win It All, But Small Enough to Evade Pressure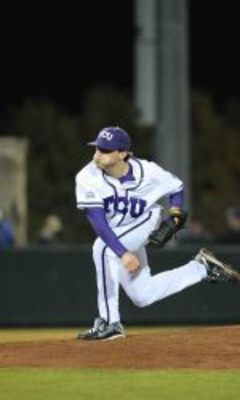 The cameras won't be focused on the white and purple from Forth Worth. They prefer the likes of Arizona State, Florida, and UCLA, all powerhouses and this bieng there first ever College World Series appearance, the Horned Frogs have no problem with that.
They'll go out, avoid the weight of pressure from the media, and play baseball.
Even though they'll avoid the media, TCU are still good enough to win the title, much like Fresno State in 2008. They went 51-12, setting multiple school records all the while.
The Horned Frogs won the Moutain West easily and are ranked sixth nationally. They have not lost a weekend series, thanks in large part to their trio of starters that bring back thoughts of the old Atlanta Braves. The hitting is very good and can rake on any pitching staff.
Watch out for TCU.
Keep Reading