2010 NBA Finals Game 7: Los Angeles Lakers & Boston Celtics Matchups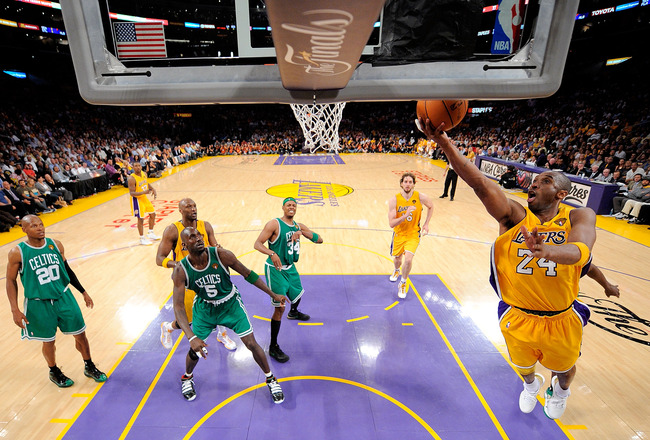 It has been quite some time since the NBA Finals has been this competitive and intriguing.
What better way for it to end than with a Game 7?
It's a dream come true.
The Lakers versus the Celtics. These two are long-time enemies that make one of the best rivalries of all-time. My apologies to the Yankees and Red Sox, but these two titans take the bitter hate to a whole new level.
What better matchup could NBA fans ask for on the biggest stage?
With the exception of a couple games, the series has been close and both teams have been able to impose their will at some point. No one can expect Game 7 to be anything like Game 6, as both teams will break out their A games to take home the title.
This championship will come down to the starting fives.
Sorry bench guys, but your minutes will be trimmed, as Phil Jackson and Doc Rivers will want their top guys on the court as much as possible.
Here is the blueprint of what each starter must do to get their matchup in their favor. Whichever squad gets more of their impact players involved and active will take home the Larry O'Brien Trophy.
That's a guarantee.
Check out more from Ross at LA Sports Examiner and follow him on Twitter at Rossel64.
5) Ron Artest Versus Paul Pierce - Set Up Shop Early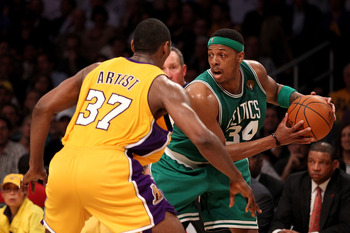 Boston fans probably think it's ridiculous to put Paul Pierce this low. But considering that he has struggled in two of the three Celtics wins, he and Artest both have to go for the same goal.
Get the other off balance early.
In Game 5, Pierce dismantled Artest, and his performance helped the C's sustain Kobe Bryant's assault.
In Game 6, Artest had a bunch of early buckets, and his defense made Pierce mainly a jump shooter in the first half.
Both players need to establish rhythm. Los Angeles faithful have watched numerous 1-for-10 shooting outputs from their small forward, but they also know when he makes a few, the hoop seems to get a lot bigger.
On the other side, Pierce is still a superstar. He can get his points if he attacks the rim, without a question. But they key for him is that when he becomes reluctant to attack, the Lakers defense has to collapse less, and it makes it harder for his teammates to score.
The winner of this matchup will put their mark on the game early. Maybe not with a lot of points, but solid defense and playing their role in the offense can go a long way in swinging the momentum their team's way.
They don't call them swingmen for nothing.
Check out more from Ross at LA Sports Examiner and follow him on Twitter at Rossel64.
4) Derek Fisher Versus Ray Allen - Play Physical Defense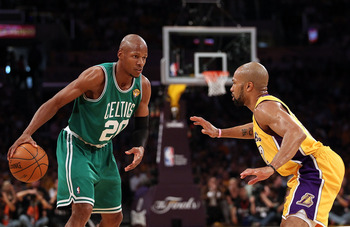 While this matchup only occurs when Boston is on offense, the two eldest starters must prescribe to the same messages in order to bring home the rings:
Make your man work.
Fisher has been burdened with chasing Allen around and bouncing off hard screens from the C's bigs through the entire series. His decisions of whether to shoot the gap for a steal or follow Allen underneath the picks seriously impact the sharpshooter's performance.
Ray-Ray has the toughest job in basketball: covering Kobe. No one wants to do it, but someone has to, and the Celtics have left a majority of it to the veteran guard.
While Kobe has been able to get his points, Bryant's highest scoring totals have come in losing efforts, and big part of that is due to Allen's effort.
So how do you stop the two shooting guards?
Get in their grill.
The prettiest jumper in the NBA belongs to Allen, but he also has the quickest release. The Lakers may have momentum coming off of Game 6, but the emotion won't phase Allen. If Fisher doesn't get a hand in his face and force him off his spots, that momentum will be gone quickly.
Same goes when Los Angeles is on offense. Kobe often likes to show his defender up, and if Allen can make him a high volume jump shooter, the Celtics will be on their way to a title.
Check out more from Ross at LA Sports Examiner and follow him on Twitter at Rossel64.
Allen needs to be physical and frustrate Bryant, because that's his best chance at winning the matchup.
3) Pau Gasol Versus Kevin Garnett - Stop The Jumpers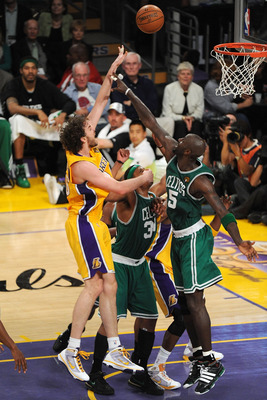 Everyone else can talk about who has been more physical and more determined at the power forward position.
But for this discussion, it's all about proximity to the hoop.
While he may not be as explosive as ever, Kevin Garnett remains one of the best offensive big men in the game. His intensity and focus have allowed him to pound the glass and score easily inside.
His counterpart has had an equally impressive Finals. Pau Gasol's dexterity and intelligence with the ball in the post has made some of the C's big men look silly.
The Lakers' wins have hinged on top-notch showings by the Spaniard.
But they both have the same weakness.
They love the jumper.
Yes, they both are able to make it, but look at the effect it has on their games. Garnett became addicted to it in the C's Game 6 loss, with all but two shots coming from outside 10 feet.
Gasol had a similar condition while in Boston, as he got pushed out of the lane and looked uncomfortable on the court.
The key for both of them is getting the ball with a foot in the paint and attacking the cylinder. When they take jumpers, their big bodies aren't on the glass, which leads to more one and done possessions.
Further, both Garnett and Gasol are great passers, but mostly when they are on the low block. When they move more than 15-feet away, the angles are harder to thread, and their abilities are neutralized.
The Lakers and Celtics need their bigs on the blocks, and that starts with stopping them from falling in love with their jumper.
If either power forward drifts away from the hoop, it could spell doom for their side.
Check out more from Ross at LA Sports Examiner and follow him on Twitter at Rossel64.
2) Kobe Bryant Versus Rajon Rondo - Perform Efficiently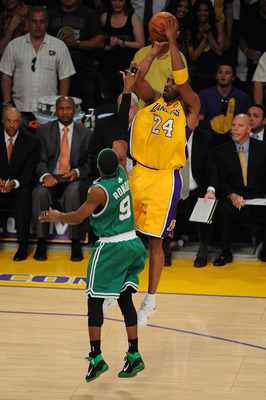 These two players have been the MVPs for their respective teams throughout the postseason. But when looking at the numbers, they are on top of their games when they play a high-quality game.
And that starts with offensive efficiency.
Rondo does it with his ball-handling. He has unbelievable vision and when he pushes the ball, the Celtics can be unstoppable. His all-around hustle and near triple-doubles have aided Boston in their run as a four-seed, and without him, the Big 3 would have lost by now.
Bryant, contrastingly, does it with his shooting. Obviously, he is known as one of the top players in the game, but there are times in the game when he takes his play to a whole new level.
In the Lakers' wins, he is able to average more than 1.2 points per attempt, which shows he gets his money's worth on his shots.
However, both players' efficiency is aided by the same factor.
Tempo.
Rondo in half-court sets can find the lanes, but his game breaks down defenses when he leads the C's break. Similarly, Bryant becomes unstoppable when he gets a head of steam because he knows no one can stop him from getting to the cup.
Both stars know they need a slow game on defense, but a fast one on offense. Whichever team can open the floor and simultaneously grind it out on defense will take Game 7 by allowing their superstar to be efficient.
Check out more from Ross at LA Sports Examiner and follow him on Twitter at Rossel64.
1) Andrew Bynum Versus Kendrick Perkins' Replacement - Just Show Up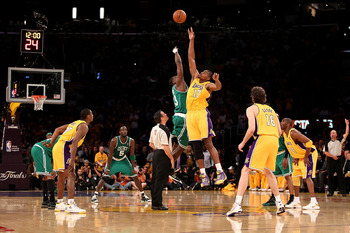 Some people may view this matchup as unimportant due to the injuries plaguing both centers.
However, that's why it is so critical.
Perkins played only six minutes in Game 6, and the Lakers went to town. His defense on Gasol was sorely missed, and Los Angeles' guards strolled to hole with minimal resistance.
The same thing happened to the Lakers in Game 5. With Bynum only able to play 12 minutes, Phil Jackson's rotations were messed up, so Gasol and Lamar Odom tired out from the lack of rest.
Now that Perkins has been ruled out of Game 7, it will be up to Rasheed Wallace and Glen Davis to fill the middle for the C's. They may not have Perkins's toughness, but Wallace's experience and Davis' energy can cause problems for the Lakers down-low.
But why is this the most important matchup?
Because the series has been won in the interior.
The team with more points in the paint, offensive rebounds and dribble drives has come out victorious in each game. Having someone in the center to clean the glass and force passes out of the paint for harder shots leads to success.
A superstar can lead the team, but they can't win on his own. Bynum and Perkins' replacements are the definition of role players, and whoever plays at a higher clip will get to add a another ring to their collection.
Check out more from Ross at LA Sports Examiner and follow him on Twitter at Rossel64.
And the winner is....
Keep Reading