FIFA World Cup 2010: Didier Drogba Must Start Ivory Coast's Next Game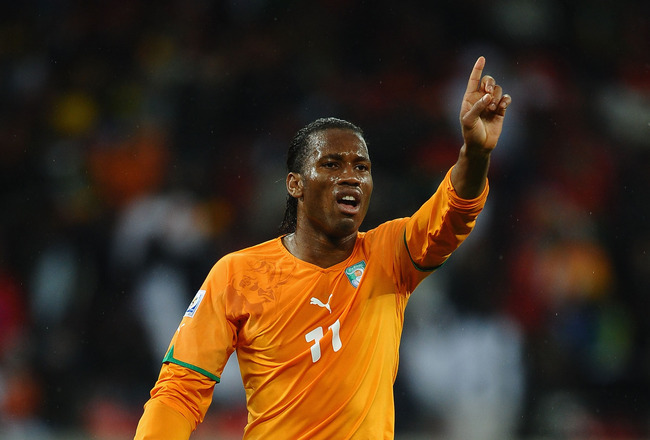 Ivory Coast has opened its World Cup campaign with a scoreless draw against Portugal in the much-hyped Group of Death.
Sven-Goran Ericksson's team is now under a lot of pressure to get a result against Brazil in a bid to secure qualification from the group.
Ivory Coast will need star striker Didier Drogba to continue his recovery from a fractured elbow injury and start the match against one of the World Cup favorites.
Here are five reasons why.
No. 5: Brazil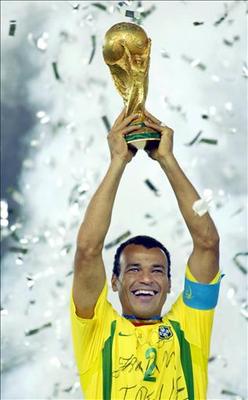 Not only is Brazil the top ranked team in the world and joint favorites to win the tournament, it is also the World Cup's most successful team.
While history should not directly affect the outcome of a 90-minute match, the sight of Brazil's players taking to the field in that famous gold and blue strip has caused many opponents to tremble.
Brazil's aura gives them a distinct psychological advantage over most opponents, especially those countries, like Ivory Coast, with little World Cup pedigree.
Ivory Coast needs Drogba to play, as the experienced Chelsea striker is unlikely to be overawed by the samba stars.
No. 4: Will to win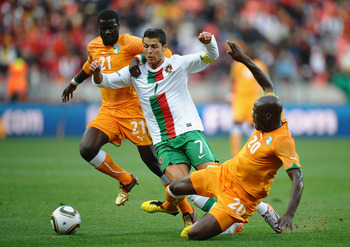 During the match against Portugal, Ivory Coast's players were frequently annoyed by Cristiano Ronaldo's attempts to win cheap freekicks.
At one stage when Ronaldo went down too easily under a tackle from Guy Demel, an argument ensued and the Ivory Coast defender received an unnecessary booking.
Drogba is no stranger to such acts of gamesmanship himself, and his presence on the pitch may help his teammates keep their cool if opponents are trying unfair tactics.
And while we don't like to condone diving, Drogba's ability to crumble under the lightest of challenges could earn Ivory Coast a few more dead ball opportunities.
No. 3: Free-kicks
Ivory Coast played a high-energy pressing game against Portugal and frequently unsettled the European qualifiers.
Sharp attacking bursts from Cheik Tiote and Aruna Dindane won the team a number of free-kicks in dangerous areas.
However Ivory Coast didn't threaten Portugal's goal from any of the resulting dead-ball situations.
Drogba has proven his ability to score from a free-kick close to goal, and this could be a crucial factor against a Brazil defense that doesn't concede many goals from open play.
No. 2: Aerial ability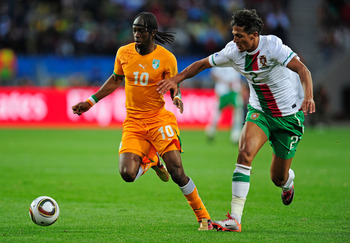 Ivory Coast winger Gervinho had an excellent game against Portugal and regularly troubled Portugal's right-back Paulo Ferreira with his runs down the left.
However, when it came to putting crosses in the box Gervinho never really had a decent target to aim for.
Brazil's defense is likely to feature Inter's center-back Lucio.
Ericksson will want Drogba back in his starting 11 in order to battle with the recent Champions League winner.
No. 1: Goals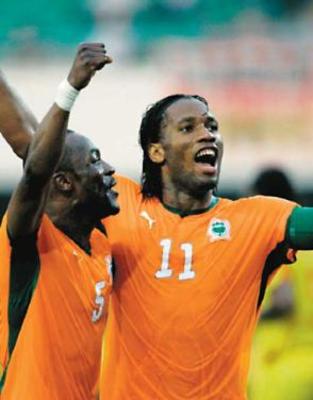 Ivory Coast outplayed Portugal for large parts of this Group G encounter.
However, they rarely threatened Eduardo's goal during the scoreless draw and managed only two shots on target.
As well as the front three of Gervinho, Dindane and Salomon Kalou played, none of them is in the same league as Drogba when it comes to goal-scoring.
Ericksson needs his talisman back in the first team if Ivory Coast is to have any chance of reaching the second round.
Keep Reading