Conference Realignment: Power Ranking the Key Players Involved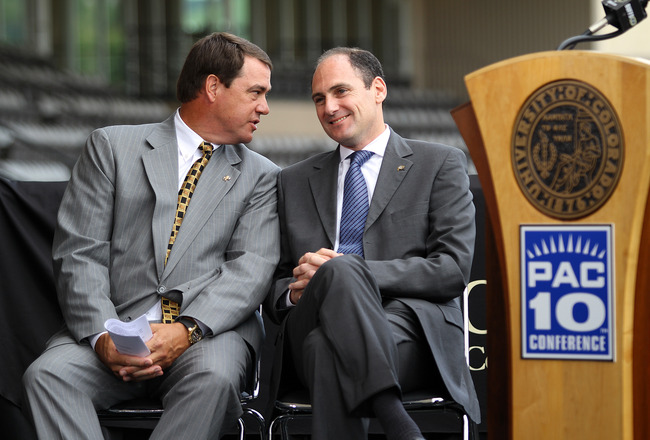 Admit it. Trying to follow college football's version of the Cuban Missile Crisis has been nothing short of impossible.
It started off with the exploration of an idea that quickly spiraled into an all-out Conference Armageddon. With some conferences jockeying to add upwards of six teams in an attempt to create four massive super conferences.
At the last minute, Texas swoops in like a superhero and saves the Big 12 conference from evaporation.
Call me crazy, but I think this drama is in serious need of a Power Rankings slideshow!
14. Colorado Buffaloes
Nice move, Colorado.
From basement of the Big 12 to...the basement of the Pac-10.
The only real benefits for the Buffaloes are less country music at conference opponents' stadiums and more medical marijuana dispensaries while road-tripping to USC and Oregon games.
13. Baylor Bears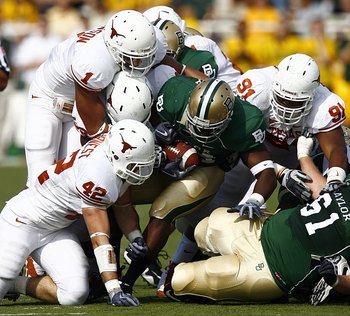 Waaaaa....my bigger brothers won't take me with them to the Pac-10....Waaaaa, I'm telling mommy!!!!
The Baylor Elite did not like the idea of the Bears being the dingle-berry of the Big 12, so they put up a political fight that made things messier in the conference realignment battle than they needed to be.
The whining seems to have paid off, though.
12. Joe Schad / ESPN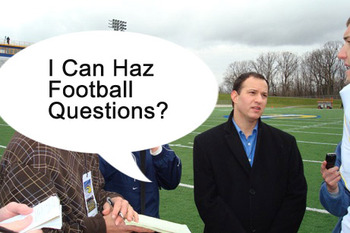 Joe Schad is ESPN's National College Football reporter, who appears on on shows like CFB Live.
Schad got played by the Texas disinformation.
Normally known for being a good guy to listen to about anything college football related, Schad may have been purposefully led astray in a political battle that played out more like Oliver Stone's JFK than a college football conference expansion.
Still, he is one of the best CFB tweeters in the business.
11. Jack Swarbrick / Notre Dame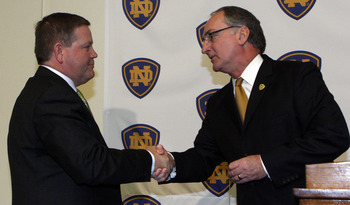 John B. "Jack" Swarbrick Jr. is the Athletic Director of Notre Dame.
If Notre Dame had its way, it would probably never join a conference in football.
But the Texas Longhorns showed them that it was possible to be in a conference AND remain independent.
The Fighting Irish should have been more proactive.
10. Larry Scott / Pac-10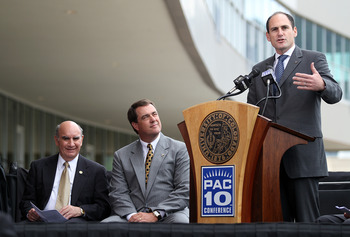 Texas sent Pac-10 Commissioner Larry Scott, and his hand-delivered invitations to join the conference, back home with his tail between his legs. His invitations were resealed as if they were never opened.
Last week, Scott was a visionary.
Now, he has to figure out how to sell ketchup popsicles to women in white gloves.
9. Dan Beebe / Big 12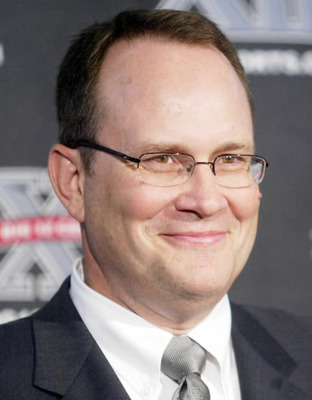 If this Power Ranking had been done before Texas decided to stay, Big 12 Commissioner Dan Beebe would have easily been at the back of the bus on this list.
He somehow pulled off a miracle to salvage a 10-team conference.
However, now he owes the Godfather of football, Texas, a favor or two.
8. Boise State / MWC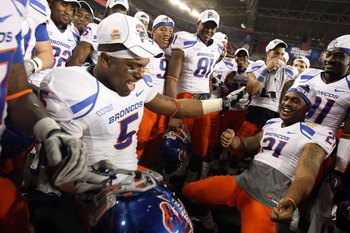 The Mountain West Conference hasn't made out too bad in all of this conference expansion nonsense.
For awhile it looked like several upper-tier schools may have been left asking for a bid into the MWC league, helping to change their overall reputation as a legit conference.
MWC is likely to get the BCS nod soon.
After this whole mess, Boise State finally plays in a semi-legit conference.
7. Tom Osborne / Nebraska Cornhuskers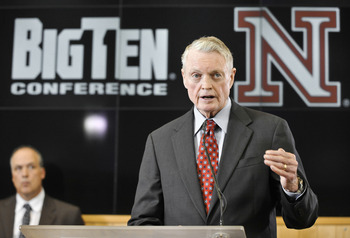 Nebraska Athletic Director Tom Osborne may have had to act a little sooner in the realignment process than he wanted to, but he and Cornhusker Nation traded in an unstable conference for a very stable and profitable one with a rich football tradition.
It seems like a natural fit.
Welcome to the Big Ten Conference.
6. Texas A&M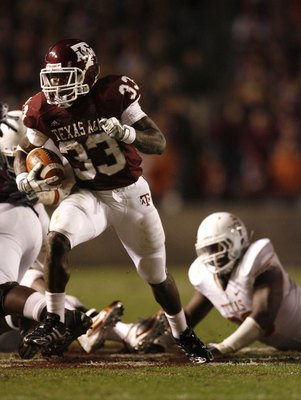 Texas A&M appears to have finally stood up to big-brother Texas.
While several schools appeared to be ready to leap-frog each other for a chance to play in the Pac-10, the Aggies declared their SEC love. Well played.
5. Mike Slive / SEC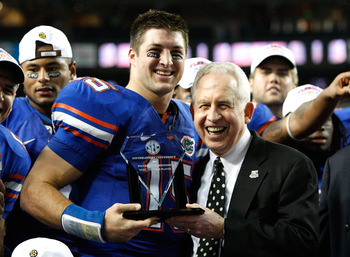 For the most part, SEC Commissioner Mike Slive wisely just sat back and watched college football's version of the movie "Thirteen Days."
His conference may have to go on the attack soon enough, but for now he avoided getting involved in an ugly battle with other conferences.
4. Jim Delany / Big Ten
Is it just me, or does Big Ten Commissioner Jim Delany look like a character from an Adam Sandler movie?
Conference realignment has been anything but a Sandler movie, though; it has been more like the most recent version of "Rambo."
Delany and the Big Ten started conference realignment Armageddon when they announced their intentions to explore expansion.
Since then, this has all played out like one big CIA black ops mission.
The Big Ten picked up a storied football program in Nebraska, bringing them to 12 teams total and a likely conference championship game that will bring in more cash for the Big Ten Network.
They got a team they wanted and resisted the temptation to go back for more.
Something tells me Delany isn't done enacting his master plan yet.
3. DeLoss Dodds / Texas Longhorns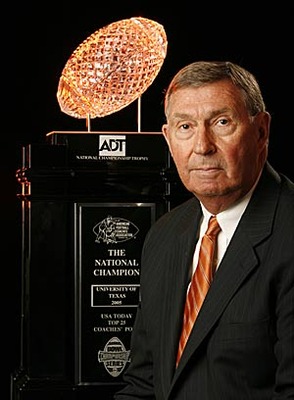 Texas Longhorns' Athletic Director DeLoss Dodds gained a whole lot of power and leverage in college football.
Does Dodds resemble R. Lee Ermey's character in "Full Metal Jacket?"
Dodds: Do you think I'm cute, Oklahoma? Do you think I'm funny?
Oklahoma: Sir, no, sir!
Dodds: Then wipe that disgusting grin off your face.
Oklahoma: Sir, yes, sir.
2. Chip Brown / Orangebloods.com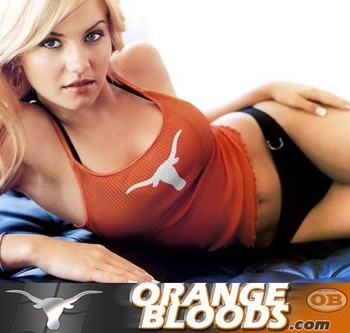 Chip Brown is now the mouth of Texas.
His coverage of the Big 12 has been linked to by almost every online publication and college football blog in existence.
At the very least, the OrangeBloods.com reporter has probably helped to quintuple new subscriptions to the site over the last two weeks with his reporting on the expansion insanity.
Some have speculated Brown has been getting his info directly from the Texas AD or President all along.
I'm just curious if he can help introduce me to Elisha Cuthbert.
1. Texas Politicians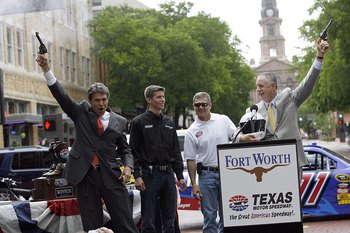 First the 2000 Presidential Election, now the 2010 College Football Realignment.
I'm actually a Longhorn fan, but Texas politicians scare me.
Keep Reading

Texas Longhorns Football: Like this team?