MLB History: 10 True Comebacks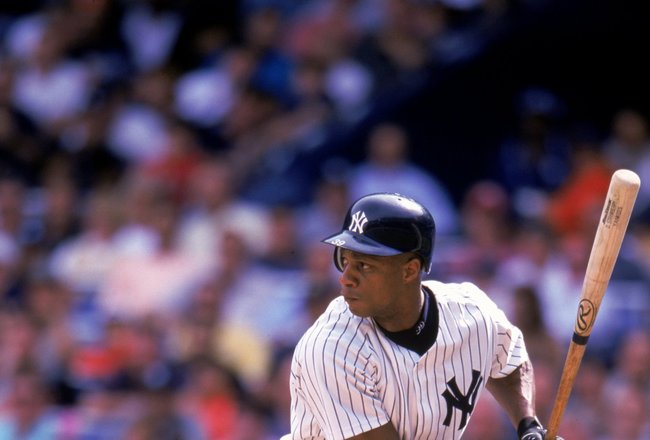 Fans of all sports love a comeback, a return to greatness, a story of redemption.
This year, much has been made of Barry Zito's new-found pitching poise, Vladimir Guerrero's resurgent bat, and Vernon Wells' revitalized swing, among other motivating stories.
Rightfully so, but these are relatively minor turnarounds compared to some of MLB's true, claw-back-from-the-brink comeback stories.
Here are 10 of the top comebacks in MLB history.
Mike Lowell: Testicular Cancer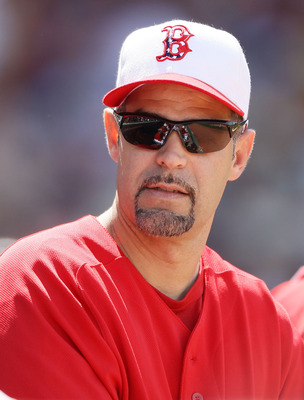 Mike Lowell was drafted by the New York Yankees in the 20th round of the 1995 Amateur Draft and reached the Major League stage in 1998.
After just eight games with the Bronx Bombers, Lowell was dealt to the Florida Marlins.
Shortly before 1999 Spring Training, Lowell was diagnosed with testicular cancer, every man's worst nightmare, best illustrated in the movie "Fight Club."
Lowell had surgery in late February and was fortunate to join his new club in May.
That may seem brief, but with cancer, every day can seem an eternity. For Lowell, it wasn't easy, but he speaks strongly of his religious faith (Lowell is Catholic) and how it sustained him through his battle with cancer.
Lowell returned to beat his former team in the 2003 World Series and become the 2007 World Series MVP in his second season with the Boston Red Sox.
Let's hope Lowell is soon traded to a team for whom he can play daily. Life is too fragile and precious for Lowell to ride the bench.
Joe Torre: Prostate Cancer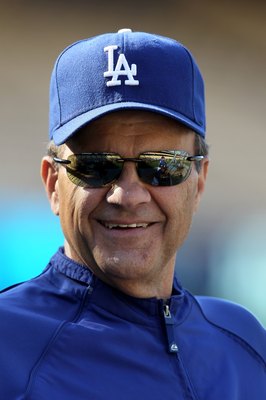 Joe Torre's illustrious and continuing career needs no introduction. A nine-time All-Star, Gold Glove winner, National League MVP (all as a player), and four-time World Champion (as a manager), Torre is a sure-fire Hall of Famer.
Torre underwent treatment for prostate cancer in 1999.
Diagnosed early that year with an aggressive form of that rampant men's cancer, Torre chose surgery that successfully removed all the cancer, but recovery took time and sapped his energy.
Yet, after a two-month forced sabbatical from baseball, Torre returned to his struggling Yankee team in time to guide them to their third World Championship in four years.
Dusty Baker: Prostate Cancer
All Star, Gold Glover, World Series Champion, and 2-time Silver Slugger (all as a player), Dusty Baker was drafted out of high school in 1967, when it was much less common than it is today.
In perhaps his career year, Baker hit .320 for the 1981 Dodgers, who would ride Baker's Silver-Slugging, Gold-Glove-wielding, All-Starring year to a World Series berth.
After his playing days drew to a close in 1986, Baker began a relatively successful managing career.
In 2001, after consulting with Joe Torre, Baker elected to have surgery to deal with his own prostate cancer.
Fortunately, like Torre, Baker didn't need more than a few months to recover and return to baseball.
Jon Lester: Large Cell Lymphoma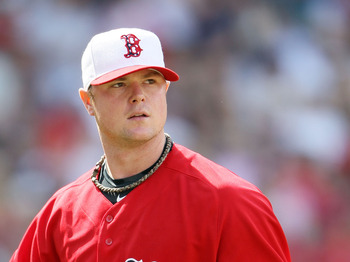 Jon Lester was drafted 57th overall in the second round of the 2002 First Year Player Draft. Although the power lefty slipped to the Red Sox at that spot, they rewarded him with the top signing bonus of all second-rounders.
In 2005, fanning 163 at AA Portland, Lester became the Eastern League's Pitcher of the Year.
By 2006, Lester had been called up to The Show, where he went 7-2 with a 4.76 ERA in 15 games.
However, on August 27, 2006, Lester was scratched from a start against Oakland, and what initially seemed like a sore back soon revealed itself to be anaplastic large cell lymphoma.
Cancer.
Lester soon began chemotherapy at the Fred Hutchinson Cancer Research Center in Seattle, near his hometown of Tacoma.
Thankfully, Lester was cancer-free by December of that same year, though he remained physically enervated from his bout.
In order to rehabilitate fully, Lester was sent back down to Single A, but by July 2007, he was back at Fenway and, in October, he won the clinching game of the World Series.
The following season, Lester threw the 18th no-hitter in Boston Red Sox history against the Kansas City Royals.
Since his return, Lester is 44-19 overall and, in 2010, 7-2 with a 3.18 ERA.
Eric Davis: Colon Cancer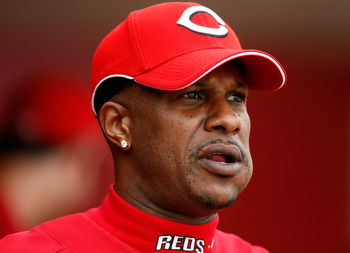 Widely regarded as a five-tool player, Eric Davis arrived on the Major League scene in 1984 and quickly reached prominence while roaming center field for the Cincinnati Reds.
In 1987, Davis stroked 37 dingers and hit .293 while swiping 50 bags in only 129 games.
Such limited playing time wasn't uncommon for the oft-injured Davis, but just as frequent were his bursts of power at the plate and speed in the outfield.
Homering in his first at bat of the 1990 World Series and going on to win a Championship probably amounted to the pinnacle for Davis, whose career became ever increasingly spotted by injury.
After jumping around teams and rejoining the 1996 Reds with a resurgent bat, Davis was diagnosed with colon cancer in May of 1997.
Following months of treatment, a weakened Davis returned to the game in time to launch a game-winning homer in the 1997 American League Championship Series.
In 1998, Davis had his finest year, hitting .327/.582/.388 with 20 home runs.
Scott Radinsky: Hodgkin's Disease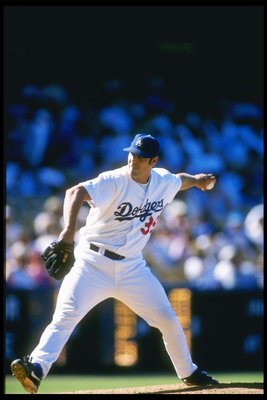 When he retired from Major League Baseball in 2001, lefty reliever Scott Radinsky owned a 42-25 record and a career 3.44 ERA and had put up a 1.39 WHIP and 6.69 K/9 rate.
Along the way, Radinsky had a rather more difficult battle with his health than he ever had coming in with the bases loaded.
A member of the Chicago White Sox for most of his career, Radinsky posted some of his finest numbers in 1991 and 1992, when he went 8-12 with 2.02 and 2.73 ERAs, respectively.
However, on the tails of a less-than-spectacular 1993 campaign, Radinsky discovered that he had Hodgkin's Disease, which sidelined him for the entirety of the 1994 season.
With an aggressive regimen, Radinsky beat Hodgkin's, and some of his best baseball years followed.
From 1996 to 1998 with the Dodgers, Radinsky went 16-8 with 2.41, 2.89, and 2.63 ERA's, respectively.
During that span, Radinsky fanned 137 batters in 176.1 innings of spectacular relief work.
Doug Davis: Thyroid Cancer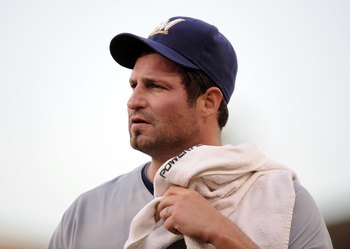 Although Doug Davis' career has been relatively unremarkable (a 4.37 ERA and a 91-101 record), everything is remarkable in his recovery and return from thyroid cancer.
Diagnosed in March of 2008, Davis actually made two starts before deciding to have his thyroid surgically removed.
Following the surgery and a regimen of radioactive iodine, Davis returned to his Diamondbacks club on May 23rd, less than two months after his initial diagnosis.
That day, he pitched seven innings and earned a win over the Atlanta Braves.
Shortly thereafter, on July 29th, Davis carried a perfect game into the seventh inning before San Diego Padres outfielder Brian Giles singled to center.
Brett Butler: Squamous Cell Carcinoma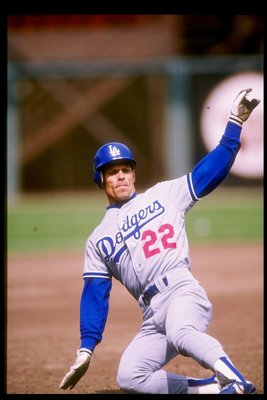 Drafted by the Atlanta Braves in the 23rd round of the 1979 Amateur Draft, Brett Butler was swiftly promoted to the big-league club shortly before September of 1981.
Dealt to Cleveland in late 1983, the speedy Butler stole 52 bases in his first season with the Tribe. In fact, during his 16-year career, Butler filched 558 bags.
In 1996, Butler was diagnosed with squamous cell carcinoma of the tonsils. Surgery and aggressive therapy cured him, but most considered Butler's career to be finished.
By the end of the 1996 season, Butler had clawed his way back and was strong enough to continue on with the Los Angeles Dodgers.
In 1997, his final season, Butler hit .283 and stole 15 bags in just over 400 plate appearances. Though not his career best, the return itself marked a great comeback for the previously all-but-condemned Butler.
Jim Abbott: Born With One Hand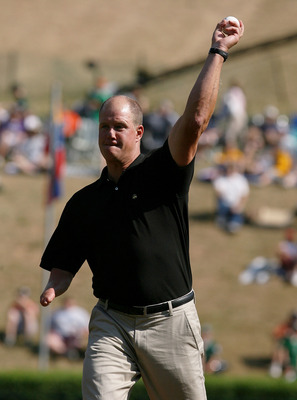 JIm Abbott's comeback began the day he was born without a right hand. So, truly, this is more of an inspirational tale than a comeback story.
From his first breath in 1967 to his first pitch in 1989, Abbott had to battle his way to the top.
Abbott reached it at every level. He led the University of Michigan to two Big 10 Championships and won an unofficial gold medal at the 1988 Olympics, in which he pitched the closing game.
Selected eighth overall by the California Angels in the 1988 First Year Player Draft, Abbott skipped the minors entirely and went 12-12 with a 3.92 ERA in 1989, his first season at The Show.
Four years later, then for the New York Yankees, the one-handed Abbott pitched a no-hitter against the Cleveland Indians.
After struggling to a 2-18 record in 1996, Abbott went 5-0 for the 1998 Chicago White Sox.
In 254 career starts, Abbott owned a 4.25 ERA.
Darryl Strawberry: Colon Cancer and Battle with Cocaine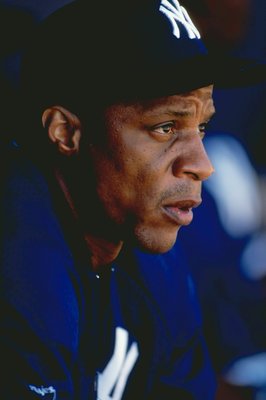 When Darryl Strawberry hit the bigs on May 6, 1983, his debut and powerful swing were highly anticipated. Drafted first overall by the New York Mets in the 1980 Amateur Draft, Strawberry quickly slugged his way through the minors and was warmly welcomed by the Shea Stadium faithful.
Undoubtedly, after being drafted No. 1, receiving such attention in the Big Apple, and knocking 26 homers in his Rookie of the Year season, Strawberry developed a perceived (and probably real) sense of arrogance. He also fought an ongoing addiction to cocaine.
Yet, despite early drug and alcohol troubles, Strawberry was able to keep it together enough to help the Mets win it all in 1986.
Over the next eight years, when healthy, Strawberry put up spectacular numbers, and he apparently maintained himself through domestic, alcohol, and drug problems as a functional addict.
But, in 1994, Strawberry missed the Dodgers' final exhibition game while on some sort of bender and subsequently checked himself into the Betty Ford Center. During the following two seasons, cocaine and tax problems would sideline Strawberry significantly.
Resilient as ever, Strawberry somehow managed to make the 1996 New York Yankees' roster and win a second championship.
A minor comeback.
En route to his third World Series ring in 1998, Strawberry was diagnosed with colon cancer in early October and missed out on the postseason.
However, what should have been a permanent wake-up call did little to awaken Strawberry from his addictive daze.
In 1999, Strawberry was busted for possession of cocaine and soliciting sex from an undercover police officer. Miraculously, Strawberry even returned from this incident to win his fourth championship, his third with Joe Torre's Yankees.
Unfortunately, that was the great Strawberry's last stand in baseball.
More cancer surgeries. More drug busts. Strawberry was ultimately left in prison for 11 months, his stay ending in 2003.
Still, the Yankees welcomed him back as an instructor, but it was at this point that Strawberry made his true comeback from cancer, from coke, and from his own hubris.
Strawberry quit his job with the Yankees to serve the Without Walls International Church.
He never came back to the game, as so many fans would have liked, but Strawberry did come back to life.
Keep Reading