New Revamped Georgia Bulldogs 2010 Outlook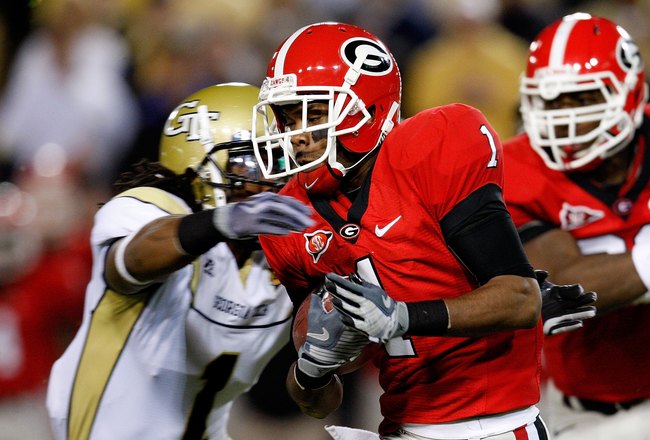 I know, I know it's been a while since I did a piece on just Georgia football but, my hands have been tied. There are many things that have changed since I wrote the first outlook with expansion not seeming to be one of them.
You know already that Mettenberger is gone and Richt has high hopes for this season. So no fancy introduction here, let's see if Richt's dream team will come alive this year or in 2011.
Sept. 4 vs. Louisiana-Lafayette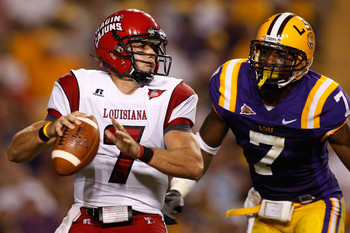 Georgia has to be thanking the scheduling Gods that this isn't a good team like last year was. ULL will be tough for the first half for Georgia due to a new QB but a loss is still way out of the picture.
Georgia 35, Louisiana-Lafayette 16
UGA 1-0 (0-0)
Sept. 11 @ South Carolina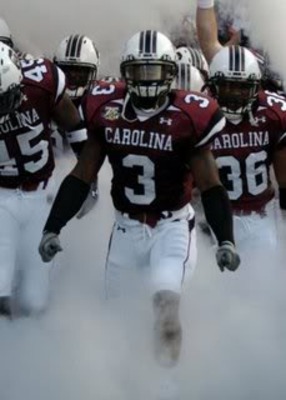 On the second week of September the Dawgs will play USC; not Southern California but by the way things are going, So. Cal might be an easier option. Anyway a game that is always tough and always good just got a lot more interesting. The formula is right for a USC upset and it pains me to say this but it looks like SC will get the win here.
South Carolina 21, Georgia 17
UGA 1-1 (0-1)
Sept. 18 vs. Arkansas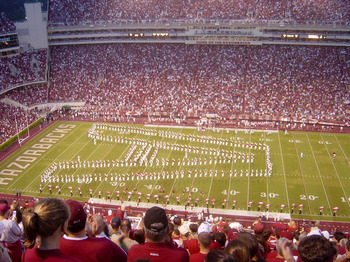 If you thought the Gamecocks were tough just wait until the Dawgs play Arkansas. The game last year was a shootout, which ended in disappointment for the hometown Razorbacks.
The Dawgs get the home advantage this time which gives them a huge advantage. A game that should be a big decider on how the SEC race is won that few will look at. The Dawgs got A.J Green but Ryan Mallet is dangerous and might be the best QB in the country which spells bad news for a weary young Bulldog team.
Arkansas 33, Georgia 28
UGA 1-2 (0-2)
Sept. 25 @ Mississippi State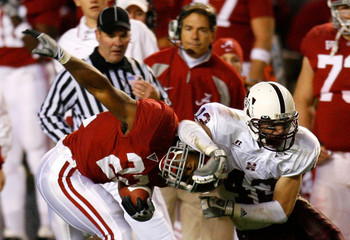 The Bulldogs of the west were very close to gaining a .500 record last year and they also hammered Mississippi, their hated rival. Well bad news Mississippi State, you lost your running back and you will probably face a pissed off UGA team. This might be the game Georgia pulls together and makes a run.
Georgia 45, MSU 16
UGA 2-2 (1-2)
Oct. 2 @ Colorado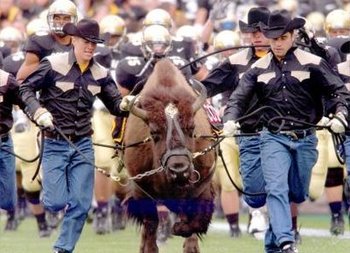 Colorado has always been a punching bag for the elite of the Big 12 which may be the reason they left for the Pac-10 In 2006 Colorado came into Athens and nearly won. Well this team is much different than the 2006 one and may still want to blow off some steam. A good game early gets ugly.
Georgia 38, Colorado 17
UGA 3-2 (2-2)
Oct. 9 vs. Tennessee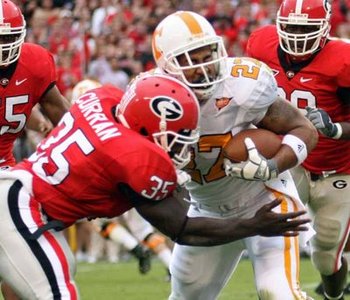 This game is always interesting and has had some good ones. Tennesse has been able to get the best of Georgia the past four years going 3-1. But, the Vols have a new coach and Georgia wants payback. And something about Richt seems different and the bootleg may not work out so well this year.
A Tennessee win is hard to see, a Georgia blowout will most likely happen. When these two duke it out the only question will be "Is Vince on the Georgia side or the Vols side?"
Georgia 34, Tennessee 12
UGA 4-2 (2-2)
Oct. 16 vs. Vanderbilt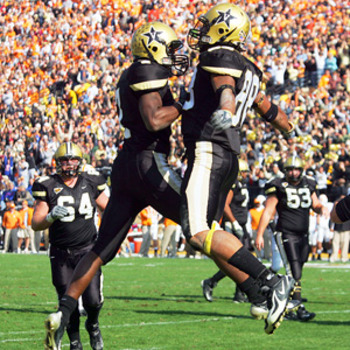 Do you remember when Vanderbilt was relevant in the SEC? No? Oh must be thinking about basketball. Not much to say about this one it's in Athens, Murray should be stable, and the defense should be stable too. So unless something horrible happens no contest.
Georgia 41, Vanderbilt 14
UGA 5-2 (3-2)
Oct. 23 @ Kentucky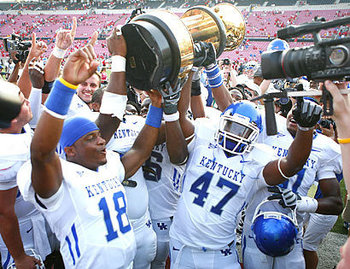 The 2009 loss to Kentucky has to be one of the most painful to watch. Not only did the Dawgs give away a 20-6 lead and lose late by commuting countless turnovers, but also the fans lost all respect for Joe Cox and his team that night.
But the most painful thing was that the lovable mascot Uga died a couple days before. Fans were claiming this game was for Uga and they still lost. HEARTBREAKING
Well Kentucky wants to make it two straight but Georgia won't let that happen.
Georgia 27, Kentucky 17
UGA 6-2 (4-2)
Oct. 30 vs. Florida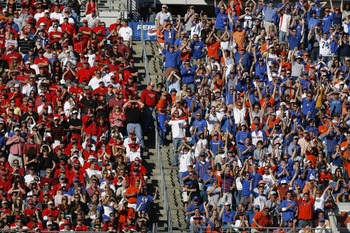 Here we go, one of the best rivalries in all of college football. The world's largest outdoor cocktail party. Hey I call it what it is, I don't believe in political correctness.
This game has to be the best of the week if not the best of the month. Florida fans will point out Florida has owned Georgia the past 20 years, but Georgia will point out they still leading the series 47-39-2. This one is so heated they split the stadium on half. Heck the fans can't even agree when the series started.
Anyway Florida is missing players such as Tebow and Spikes and also their defensive coach Strong left for Louisville. Georgia has a great chance to get some needed revenge. Say what you want about Florida's new QB but he still is inexperienced at the QB position and will show growing pains like all new starters.
If Richt wants to stay off the hot seat, he has to beat Florida this year, and that is what I expect. Richt will lead the Dawgs to a win and get revenge on Florida and Urban Myer.
Georgia 27, Florida 21
UGA 7-2 (5-2)
Nov. 6 vs. Idaho State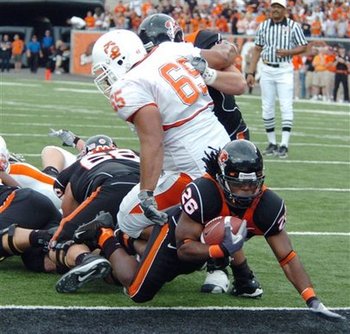 Well they are braver than Texas and they scheduled an SEC team. But here is a look up about the FCS team: Idaho State still does not compete well in the FCS divsion. In fact ISU only won one game last season and was blasted by FCS teams. Not sure who ISU is and have never seen them play football but that does not concern me.
While I'm sure some would like to see the Dawgs fall or come close to falling this game just does not have the makings of an upset. If it was a struggling FBS team such as UCLA playing a team like App State then an upset would be possible.
Georgia 49, ISU 6
UGA 8-2 (5-2)
Nov. 13 @ Auburn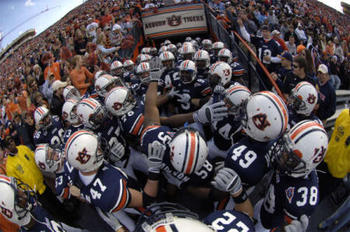 Well look at this, it's the Deep South's oldest rivalry and the Tigers lead that by a very small margin.
Seriously, the series is 53-52-8, that's one game off a perfect split, not much closer than that. Also Georgia has won the past four in the series which gives this a chance at being a tied series.
This rivalry is different than most others with the road team usually winning the games instead of the home team. Auburn wants some revenge and might just have another shot this time with an inexperienced QB playing for Georgia.
Georgia will get another win as the away team usually wins in this rivalry, and the Dawgs tie the series up.
Georgia 20, Auburn 14
UGA 9-2 (6-2)
Nov. 27 vs. Georgia Tech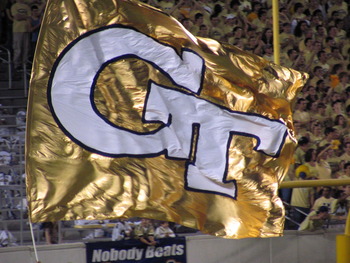 This time last year Georgia was playing spoiler. Well the tide might turn again because it seems Tech was found out by Miami, Georgia, and Iowa. This game however should not be like 2008 or 2009 nobody will play spoiler Tech won't be that good next year and Georgia's defense will be very good by this time.
Georgia 31, Georgia Tech 21
UGA 10-2 (6-2)
How The SEC Will End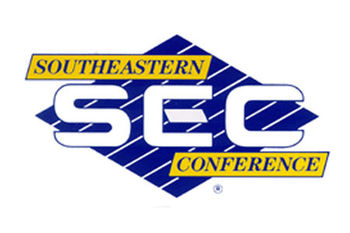 East
1 Georgia 10-2 (6-2)
2 Florida 10-2 (6-2)
3 South Carolina 9-3 (5-3)
4 Kentucky 7-5 (3-5)
5 Tennessee 4-8 (1-7)
6 Vanderbilt 4-8 (1-7)
West
1 Alabama 11-1 (7-1)
2 Arkansas 9-3 (6-2)
3 LSU 9-3 (5-3)
4 Auburn 8-4 (4-4)
5 Mississippi 6-6 (2-6)
6 Mississippi State 5-7 (1-7)
Keep Reading

Georgia Bulldogs Football: Like this team?