Kansas City Chiefs 2010: Pre-Camp Projected Starters on Defense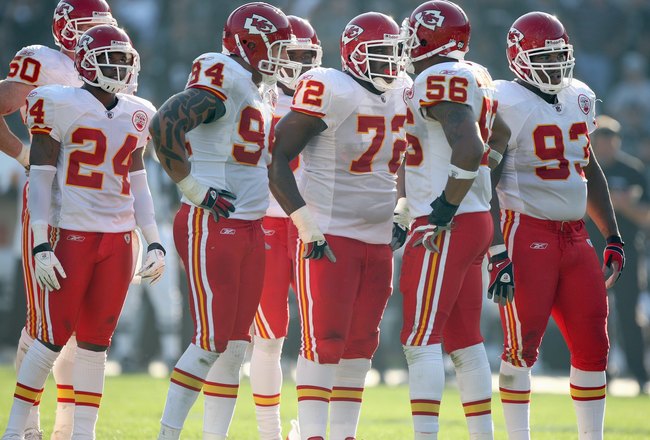 The Kansas City Chiefs sent a message to the rest of the league with their 2010 draft.
They believe that they already possess many of the players to form a top defense in this league with the guys they have drafted in the last few seasons.
With Eric Berry, the highly ranked safety that the Chiefs have added to their defensive arsenal, and multiple former 1st round picks still on the Chiefs D, many expect the 2010 season to be a turnaround year for the Kansas City defense.
DE: Tyson Jackson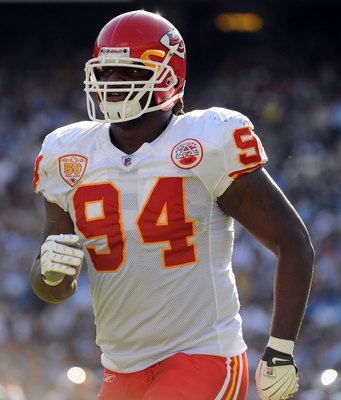 KC has a lot riding on their young defensive ends, with Tyson Jackson being one of them.
The former LSU Tiger did little to nothing for the Chiefs last year, as he only managed 38 tackles and no sacks after playing in all 16 games. However, at his position it could take a few years to get up to NFL speed.
Since the Chiefs have so much invested in Jackson, the starting spot his is to lose, but he does need to start stepping it up to show that he belongs on an NFL defensive line.
DT: Shaun Smith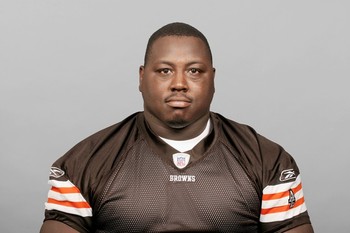 One of the few newcomers on the '10 Chiefs defensive line, Smith once played for the Cleveland Brown, where he had success with current KC defensive coordinator Romeo Crennel.
Smith is known for playing with a mean streak, and being very physical along on the line.
His main competition at DT is "Big Ron" Edwards, who has failed to fully secure this spot for the Chiefs.
DE: Glenn Dorsey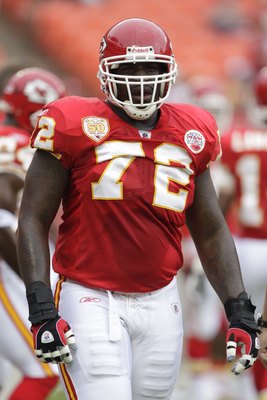 Mr. Dorsey was one of the most hyped defensive players that the Chiefs have ever drafted.
He was a two-time first team All-American at LSU and was known for having a motor that never stopped.
Since he has moved to the NFL, he hasn't been as successful, with just two sacks in two seasons.
Fortunately for KC, Dorsey did show some improvement towards the end of last season, and the Chiefs brass hopes he can carry that momentum into this season and become a franchise defensive player that this organization can continue to build around for the future.
ILB: Derrick Johnson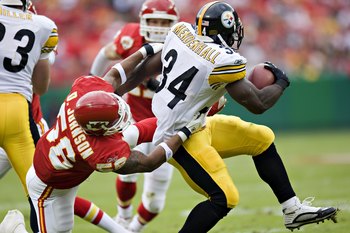 Derrick Johnson has always had the tools to be a solid NFL player, but he has yet to put them all together for a full season.
Last year, he rode the bench for much of the year only to come off of it, and have a career night with two pick-six's against Denver in the last game of the season.
The Chiefs have been waiting on Johnson for awhile now, and by giving him a stating spot this year, it could be his last chance to prove he belongs on this team.
I would look for big things from Mr. Johnson this year, as he will have much riding on his ability to produce this season.
ILB: Jovan Belcher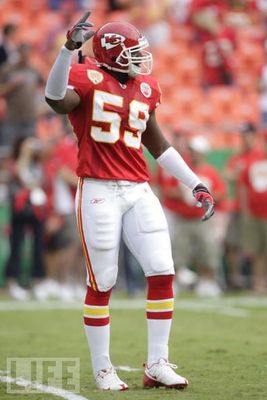 He is probably the least known man on this list, and that might be a good thing for opposing offenses this year.
Belcher came to the Chiefs as an undrafted rookie free agent last year and looks to have a great chance at a starting role at ILB this season after impressing the Chiefs coach staff in his three starts in '09.
Unlike most of the other guys on this list, Belcher will most likely have to work harder for his starting spot, as he will have to beat out either Corey Mays or Demorrio Williams
OLB: Tamba Hali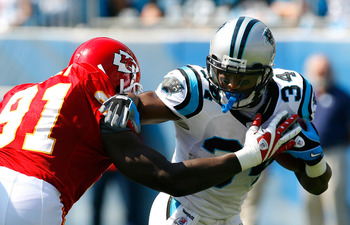 Hali easily had one of his best seasons in the NFL last year, after making the switch from DE to OLB.
Hali was one of the only, if not the only, reliable pass rush threat that the Chiefs had on their roster last season, and at the young age of 26, looks to have many solid years still ahead of him.
Look for Hali to be potentially the best LB for the Chiefs this coming season.
OLB: Mike Vrabel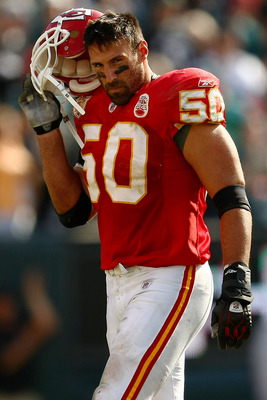 The former Pro-Bowl linebacker for New England is still a solid NFL ILB, but at age 35, has a lot of wear on his tires going into this season.
KC picked him up in a trade along with QB Matt Cassel last year in hopes that he would bring much-needed leadership to a team that has desperately needed it in recent years.
Don't expect any crazy numbers from Vrabel this season, but do expect him to be the starter for now at one of the ILB spots on the Chiefs defense.
CB: Brandon Flowers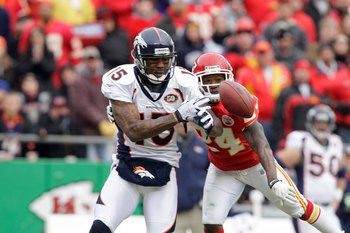 Flowers is arguably the best defender currently on the Chiefs defense. This could all change after first round pick Eric Berry suits up this fall, but for now, Brandon Flowers is the engine that make the Kansas City defense go.
With the addition of Berry, the Chiefs will easily have one of the best secondaries in the league with Berry, Flowers, and Carr.
If he can continue his excellent play into this season, he will be knocking on the door of a Pro-Bowl selection.
CB: Brandon Carr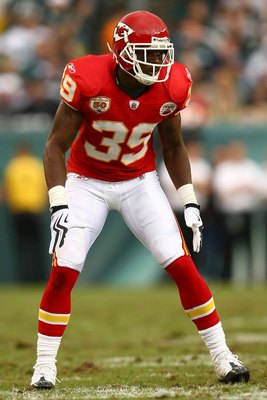 The former two-time Division II All-American has definitely made a name for himself playing CB in the NFL for the Chiefs.
Carr has been a starter since his rookie season in 2008, and has already earned a reputation has been a very physical corner in this league.
Carr might not be the best Chiefs CB ever, but he is a good bet to be a starter for this team for many years.
FS: Eric Berry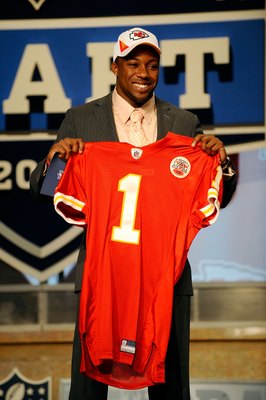 He is considered to be one of the best safety prospects in years to enter the NFL.
Although Berry's natural position in college was SS, his size will translate much better to that of a FS in the NFL.
He immediately became the starter and a central part of the Kansas City defense when the Chiefs selected him with the No. 5 overall pick in this year's draft.
SS: Jarrad Page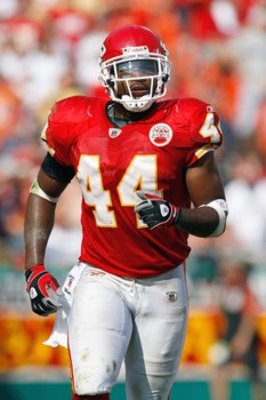 Page has been a full-time starter since 2007, and is entering his 5th season with the team.
He has been inconsistent at times , but still has a ton of potential yet to be unleashed on the field.
Once Page signs his tender (assuming he does) he will resume his starting role at safety for now, as long as he can stay around from the injury bug that haunted him last season.
Keep Reading

Kansas City Chiefs: Like this team?