2010 FIFA World Cup: Brazil's Sexiest Fans, WAGs, and Celebrities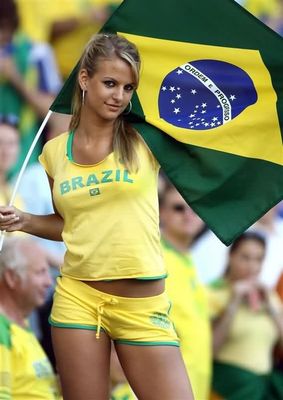 Brazil is the most successful nation in World Cup history, having hoisted the trophy a record five times, but seeing as how they will almost certainly slaughter North Korea in their opening match of the competition, I figured why bother writing a preview? Here's a slide show of bangin' Brazilian babes instead.
I must admit, however, that given the country's reputation for sexy vixens, I was surprised to find I had to dig deep in order to find enough women worthy of this list. If you saw my previous slide show, Mexico's Sexiest Fans, WAG's, and Celebrities, then you already know that my pet peeve when it comes to pieces like this is clicking on a link only to find that half of the chicks aren't even hot.
There were some girls I omitted that I wouldn't kick out of bed for eating crackers if you catch my drift, so if your favorite Brazilian girl is missing from this list, chances are she wasn't hot enough to make it past quality control.
I set the bar pretty high when it comes to a piece like this so just think of me like Hallmark:
I care enough to send the very best.
Natalia Guimaraes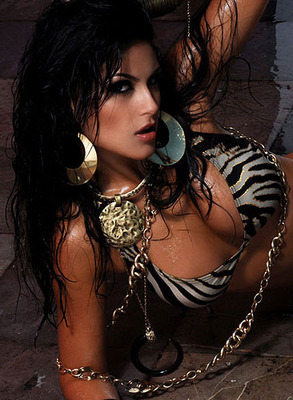 Natalia is a former Miss Universe Brazil who went on to finish as the first runner-up in the 2007 Miss Universe Pageant in Mexico City, Mexico.
The day after the competition, a Mexican television show asked the public who should have won the pageant and Guimarães won the poll with almost a third of the votes.
Bia & Branca Feres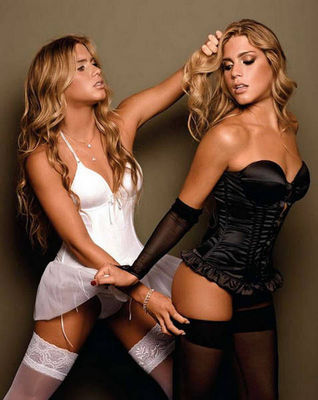 Identical twins Bia and Branca Feres are models and synchronized swimmers that I probably would not have included by themselves. But, as every man's fantasy, identical twins in lingerie with the implication of naughtiness deserves some love.
Alessandra Ambrosio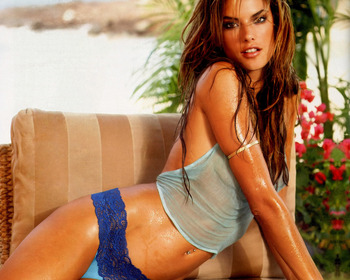 Ambrosio is currently one of the Victoria's Secret Angels and the first spokes model for the company's "PINK" line. Ambrosio was also selected by AskMen.com as Number 2 out of the "Top 99 Most Desirable Women of 2008."
To be perfectly honest, this was the only decent picture of her I found online, but that mischevious look in the corner of her eye was enough for me.
Daniella Sarahyba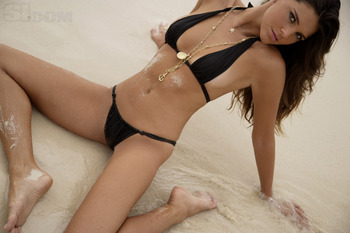 Another example of a girl whose other online pictures leave a lot to be desired (pun intended), Daniella began her modeling career at three days old when she appeared with her mother, who is also a model, on the cover of Brazilian parenting magazine Pais & Filhos.
She has appeared in every edition of the Sports Illustrated Swimsuit Issue since 2005 and is currently contracted under H&M, Spiegel, and Benetton.
Ellen Roche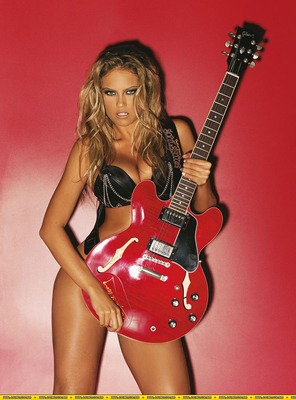 Ellen first gained notoriety performing songs on a TV show called "Qual e a Musica" ("Which Song Is It?"), which she initially did as a goof. Her real ambition was to become a doctor.
I wish she had been my neighbor growing up; I would have played doctor with her every day.
Adriana Bombom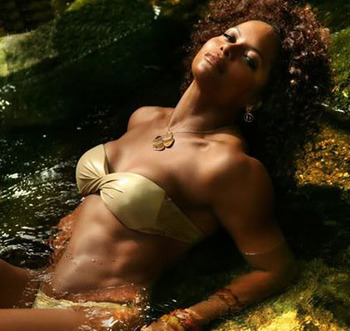 Adriana is a little cutie that I've included here because I thought this list could use some color. She's also a dancer, which means she's probably really good at…dancing.
Juliana Veloso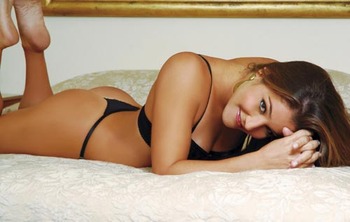 Juliana is a female diver who represented her country in three consecutive Summer Olympics, starting in 2000. She also claimed two gold medals at the 2008 South American Swimming Championships in São Paulo.
I wonder if she's any good at the muff dive.
Daniela Cicarelli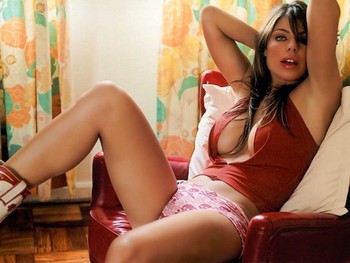 Well, I couldn't very well use the term WAG in the title if I didn't include at least one of them. Daniela is a fashion model and former hostess for MTV Brasil who was engaged to Ronaldo for three months in 2005. Ronaldo may be a washed-up, has-been who's no longer a part of the Brazilian national team, but the man is a legend and that's good enough for me.
In 2006, paparazzi Miguel Temprano shot a video of her and her boyfriend having sex on a beach in Tarifa, Spain. Now that's my kind of girl.
Adriana Lima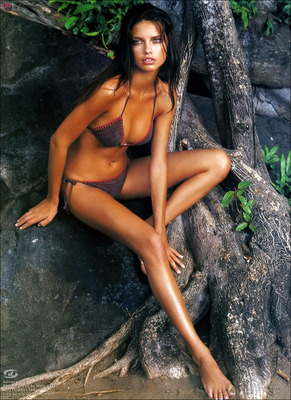 I've saved the best for last.
Adriana has been romantically linked to musician Lenny Kravitz and Prince Wenzeslaus of Liechtenstein in the past, but is now married to Serbian basketball player Marko Jarić.
It's hard to believe this beauty was so shy around boys growing up that she never kissed one until she was 17. Immediately afterwards, the boy went directly to her mother to ask if he could marry her. Smart kid.
Adriana finished first in Ford's "Supermodel of Brazil" contest in 1996 and took second place the following year in the Ford "Supermodel of the World" competition before signing with Elite Model Management in New York City at age 16, and a fine example of jail-bait that would have been worth every bit of the risk involved.
Adriana Lima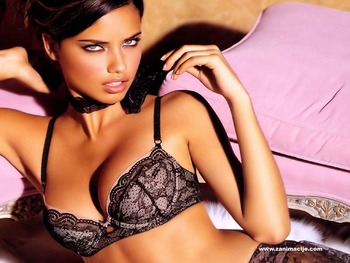 So nice, I've included her twice.
Keep Reading