Oakland Raiders: Top Ten Off-Season Acquisitions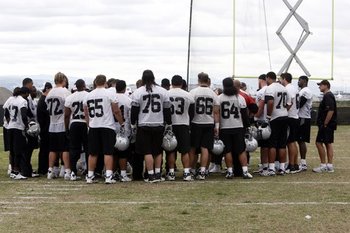 This off-season the Raiders have been busy. They've had a great draft and have made some great free agent signings, seemingly improving on nearly every aspect of the team: the offense, the defense, special teams and even coaching.
Here's a look at some of the off-season moves the Raiders have made and how they rank.
Let me know what you think and where I was right or wrong.
Honorable Mentions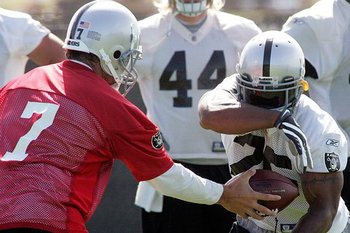 Not everyone can make the top 10 list so honorable mentions go out to:
RB Rock Cartwright
RB Michael Bennett
QB Kyle Boller
DT Kellen Heard
OL Daniel Loper
OL Elliot Vallejo
CB Walter McFadden
CB Jeremy Ware
CB Joey Thomas
WR/KR Yamon Figures
DE Alex Daniels
FB Tonga Manase
FB Chane Moline
LB Travis Goethel
And anyone else I may have missed.
No. 10 Addition By Subtraction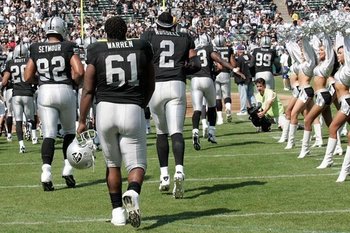 Some of the key moves the Raiders made this year, were getting rid of problem players and excess baggage.
The Raiders got better when they parted ways with players like: JaMarcus Russell, Cornell Green and Gerrard Warren.
Unfortunately, they also lost some high character players like Justin Fargas and Kirk Morrison.
With these players gone, they made room for new talent to come in.
No. 9 Bruce Campbell and Jared Veldheer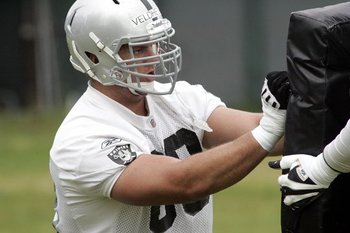 These two share a slide because they are both similar players in similar situations. They are both overly athletic offensive linemen who are considered as very raw and unlikely starters.
Though likely not a starter, Bruce Campbell will make the roster. He is currently receiving most of his reps with the second team at right guard.
Earlier this off-season, he stated he was facing difficulties not only moving inside to guard, but moving from the left to the right side as well.
When he adjusts to his new position he will push Cooper Carlisle and may even overthrow him as the starter. At the very least Bruce Campbell adds much needed depth to the Raiders' offensive line.
--------------------------------------------------------------------------------------------------------
Jared Veldheer, like Bruce Campbell, likely won't start unless he impresses at training camp.
According to Tom Cable he can be the number two tackle on both the left and right side. He has been receiving most of his practice reps with the second team at left tackle behind Mario Henderson.
He will be pushing Mario Henderson for the starting job and if Henderson struggles we will likely see Veldheer promoted to the starting lineup. Like Bruce Campbell, Veldheer adds much needed depth to the o-line.
No. 8 Quentin Groves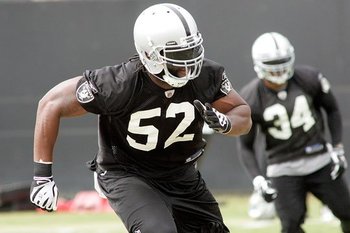 Quentin Groves is a DE/OLB tweener. He has been receiving practice reps at weak-outside-linebacker and will likely add depth to the front seven and help out on special teams.
He is also an accomplished pass-rusher and may see time as a speed rushing defensive end as well.
His competition at linebacker includes Thomas Howard and Trevor Scott so the chances of him starting are slim. But he will add depth and contribute on special teams.
No. 7 Jacoby Ford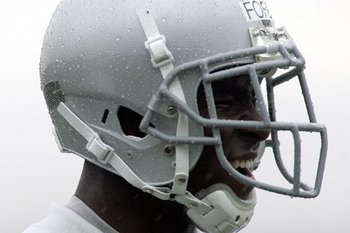 Jacoby Ford may not be the most polished receiver, but whenever he touches the ball in open space he is a threat to take it to the house.
But with that said, the bulk of his contributions will not be on offense. He is a danger on special teams as well.
Jacoby Ford will revive the Raiders' return game, which was pretty much dead all of 2009.
With his 4.28 speed, Jacoby Ford will help the Raiders in the field position battle. Who knows, he may even take a few to the house.
No. 6 Lamarr Houston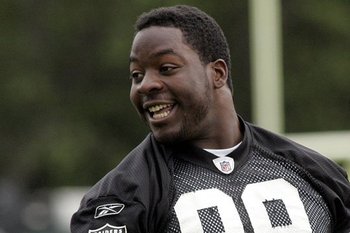 Lamarr Houston was the fastest defensive tackle at the combine running the 40-yard dash in 4.8 seconds, a time that is almost unheard of for a 305 pounder.
Which is why it makes sense that the Raiders are playing him at defensive end, not to mention he played defensive end his sophomore and junior seasons as a Longhorn.
Houston is the likely starter opposite of Richard Seymour and will be a big part in the Raiders improved run-defense.
His biggest competition is Matt Shaughnessy and regardless of who starts both of these players will be part of a strong rotation.
No. 5 Kamerion Wimbley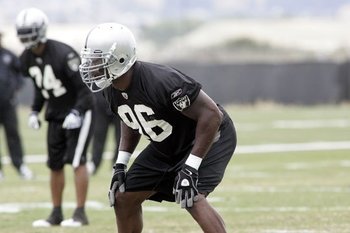 Kamerion Wimbley was brought in to play strong-outside-linebacker. A position that lacked stability last year as it was occupied by: Ricky Brown, Jon Alston, Sam Williams and Thomas Howard.
Kamerion Wimbley is one of many new pieces meant to bolster the run defense.
He is bigger than the players who played the position last year and will hold up better against the run. He is also an accomplished pass-rusher making him a viable option as a blitzer adding versatility to the defense.
No. 4 Rolando McClain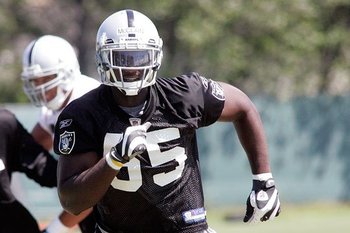 Rolando McClain was the best linebacker in this year's draft. He has size, speed and most importantly, intelligence.
Where Kirk Morrison struggled Rolando McClain will succeed.
Yet another piece to the Raiders' improved front seven.
No. 3 John Henderson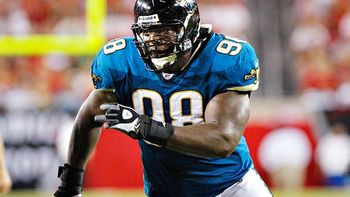 For years, one of the Raiders' biggest weaknesses has been at the defensive tackle position, specifically the one-technique.
Now with the addition of John Henderson, that has changed.
John Henderson will clog up lanes in the middle and force running backs to bounce outside. He will also eat up blocks and prevent o-linemen from reaching the second level allowing our linebackers to make plays unopposed.
John Henderson may not put up flashy numbers but his presence will allow others to.
No. 2 Jason Campbell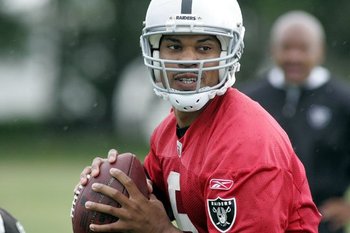 So what if Jason Campbell is average?
There are a lot worse things than average, for example last year the Raiders' starting QB was ranked 32nd among 32 teams. Jason Campbell on the other hand, was ranked 15th out of 32, that is a huge improvement.
Jason Campbell will help keep drives alive and bring respectability to our passing attack.
His performance will also narrow the Raiders' time of possession deficit and provide the defense with proper rest time on the sideline.
No. 1 Hue Jackson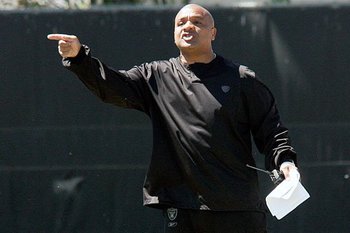 Hue Jackson is without a doubt the biggest off-season acquisition that the Raiders made.
Last year, the Raiders went into the season without an offensive coordinator and head coach Tom Cable was forced to call plays. That didn't turn out too well, as the playcalling was horrible and the team often gave up on the run far too early.
So far, Hue Jackson has already changed the attitude of practice, challenging both the offensive and defensive players.
Keep Reading

Oakland Raiders: Like this team?