Scowling Nadal, Joking Djokovic, And The Rain: That's Tennis In London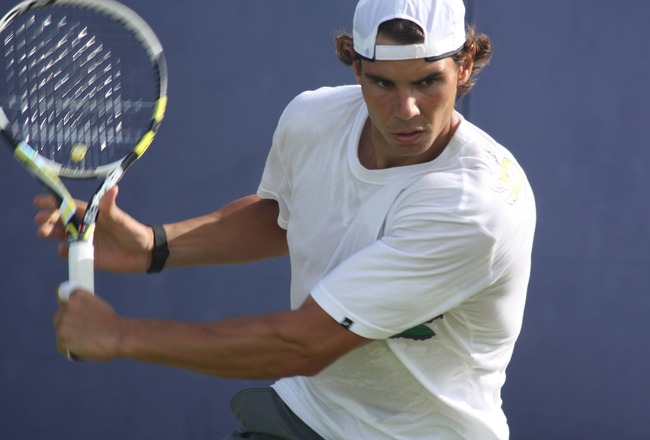 June, and it's time for British tennis fans to celebrate!
It's the grass season, and that means the best tennis players in the world are on their way to London for the wonderful month when tennis returns—literally—to its roots.
The oldest, most prestigious and—for this openly biased Brit—the best Grand Slam beckons: Wimbledon.
Few of us, though, even those who live just miles from those hallowed courts, are lucky enough to win tickets in the ballot. Thank heavens, then, for the handful of warm-up events that draw not only fans but the players like moths to a candle.
They, too, urgently need to squeeze in some grass, and have the rather great incentives of big ranking points, bigger bucks, and the biggest kudos in tennis!
By far the most popular of the four 250 ATP events that has filled the schedule so far is Queens, in upmarket West Kensington.
As if to confirm that this is, indeed, the season for tennis in England, it rained for much of the week. But the draw remained—just about—on track, and the grass served up enough sunny interludes to warm the most disgruntled of hearts.
Here are a few.
Novak Djokovic: Life And Soul Of The Party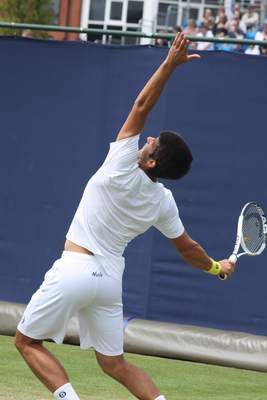 It's become his nickname, but Novak the Djoker has toned down the antics both on court and off in response to a few cutting asides from the butts of his jokes.
But he simply can't suppress his natural fun-loving character. He's great value for the spectators, exchanging banter during practice, doing the showman shots, and laughing around. He's also everyone's friend, stopping to chat with all the players, all their coaches, and anyone who stood still for more than five seconds.
Indeed, so busy was he chatting to all and sundry after his practice that his team gathered up his bags and went on their way, leaving Novak to get on with it.
While Federer has his logo stitched discretely into the placket of his shirt, and Rafa has his bull motif on the backs of his shoes, Novak—cheekily—adds his name to his shorts…
Beauty and the Beast Mark 1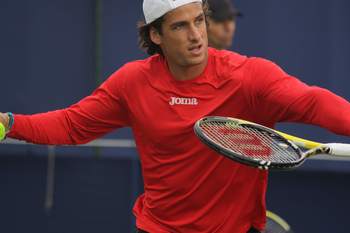 Beauty is in the eye of the beholder, and this will therefore be as much a subjective appraisal as an objective measure. But let's try to set some criteria, and see where it leads.
On grass, the perfect game combines great serving with varied ground strokes, power with finesse, nimble feet with responsive hands, attacking forward movement with restrained defensive slice, angled drop shots with down the line flat drives: in short, the complete all-rounder.
So find a player who not only has most of these skills but also managed to marshall them into a single match, or two matches, or even three. If he happens to play men with commensurate skills, so much the better.
By all these measures, Feliciano Lopez is your man.
He has a big serve that delivers weight, speed and accuracy. He topped 135 m.p.h. on a regular basis and, should it be returned, he was already within a meter or two of the net to put away the angled volley.
He traded slices backhands—and that perfect one-handed version—through shot after shot, and then casually put away a down-the-line bullet to finish off.
Lopez is that rare beast, a Spaniard who thrives on grass rather than clay, who prefers the net to the baseline. He appears to simmer in slow-motion right up to the moment he hurls his body into the serve.
He's got the solidity of Spanish oak but the leanness of a willow. He's traditional in dress, top-to-toe in white, but unconventional in long-sleeved scarlet during practice. He's apparently aloof, with a look that could kill at 20 paces, but quietly courteous at every turn.
So the prize for the complete package is the man from Madrid.
Dustin's Jamaican Sunshine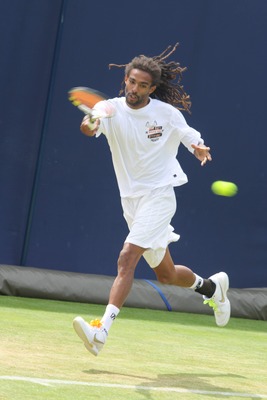 It's mid-week, the practice courts are damp and dull from the latest cloud-burst, and there's barely a cursory glance from the thin drift of chilled spectators killing an hour or two before play gets under way once more.
Suddenly there's a ray of sunshine in the form of an unknown player knocking up in the early afternoon gloom.
He drew the eye with his tall angularity, long limbs and shock of coiled hair. But the attention was first grabbed by the feet. They were clad in huge white trainers laced elaborately with dayglo bows.
His identity was only revealed later when he took to the court against Denis Istomin. It was Dustin Brown, half Jamaican, half German, multilingual, and despite being 25, he's on an upward trajectory.
He may only be ranked 106, but a year ago he was down at 370 and the year before at 455. He appears to be one in the current succession of late-flowerers, only just bursting out of the Challenger circuit.
Will he continue to rise? If personality and style have anything to do with it, no question!
Scowls and Smiles: A Moody Rafa Comes to London
He was late arriving in London, for obvious reasons, and the weather made it difficult to acclimatise. Perhaps that was behind the unusually grumpy mood that started in practice and continued until Nadal's exit on Friday.
His first training session lasted almost two hours, and went way beyond the standard drills. You know the usual routine: some baseline hitting, some volleying, some overheads, and then some serving. He sat down a while, and then did some more.
He was a man on a mission, trying to make up for lost time.
But it seemed that everything conspired to hold things up. The hitting came to a halt while he minutely studied the inner soles of his shoes. A little later, and all the tapes on his fingers needed changing.
The ground staff hovered, checked whether he would be much longer, began mowing the other courts, hung around a bit more. But Rafa and his team were in no hurry. They had, after all, done their own hanging around all day.
On subsequent days, the site stewards were called in to restrict spectators. He bustled on, bust a gut, threw arms skywards every time a shot didn't work, and rushed off.
All this came, of course, from the perfection he expects of himself, and the conditions made that hard to achieve.
There were, though, tiny glimmers of light-heartedness, first in his T-shirt, then in his footie practice, and finally in the smile.
Beauty and the Beast Mark 2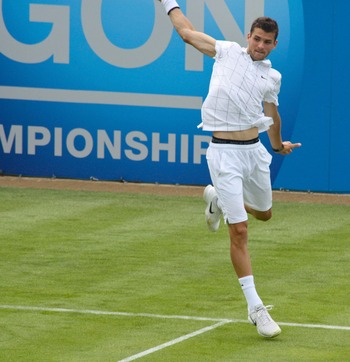 If Lopez was the most consistently enjoyable grass-court exponent during Queens, which phase of his tournament reached the peak of quality? He was helped towards his accolade with the help of three wins against similarly gifted players.
First was the delightful Bulgarian teenager, Grigor Dimitrov, considered by coach Peter Lundgren as a young Federer-in-waiting, and it's easy to see why.
Slim, lean, and fluid around the court, he also enjoys attacking the net, and plays a huge sweep of a single-handed backhand. He's now grown a little taller than his Swiss idol, and begins to have something of Marat Safin about him, but in play, Federer is the model.
Lopez was tactically and physically stronger, but their combined tennis was, in a word, joyous. They picked off angles, put away volleys, and whispered sliced backhands in turn. And wait a couple of years for Dimitrov to finish growing and the tables will, one suspects, be turned.
If that match was a meeting of games, Lopez' next was a meeting of Spanish fire against long-term friend and foe, Nadal. The scowls suggested pistols at dawn, and Nadal was clearly not happy to be out-served, out-manoeuvred and out-dropped by the man who had not beaten him since 2003.
But the slick grass, and the shortage of practice time for Nadal, worked in Lopez' favor. It was a hard won, unusually focused, and patient performance from the Madrid man.
He went on to meet a revitalised Mardy Fish playing at the height of his powers in the semi-finals, or the Spaniard may have won his second title of the year.
His only other title prior to 2010 was way back in 2004, so he really does seem to be finding his best form in a very long time.
That Weather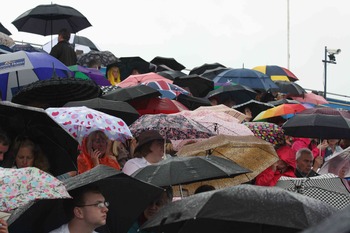 The transition from two months on clay to barely a month on grass is one of the hardest in the tennis season. For those who played deep into the second week of Roland Garros, the time for adjustment is very short indeed.
The transition was not made any easier by weather that veered between short periods of sunshine and heavy showers, humid stillness and gusty breezes.
It rained every day until Friday, sometimes twice in a day. And by Thursday, the temperatures had plummeted so that even the ball girls had to wrap up in towels during the change of ends. The umpires, too, resorted to towels across the legs.
So with the grass slippery, the sap heavy, and the rainy residue giving the courts an unpredictable grip, life was not easy for the players.
But spare a thought for the spectators, too. Space is tight when the entire viewing public runs for cover beneath the Centre Court walkways. The queues for a reviving drink, whether alcohol or caffeine, are interminable. There are few seats, nothing to watch, no warm and quiet spot to read or take a nap.
So in the end, the stoic and experienced wet-weather British do what comes easiest. They sit it out with carefully planned packed lunches, exchanging stories of other tournaments they have known. It is, after all, only a couple of hours to kill.
Spanish Reign Stopped In Rain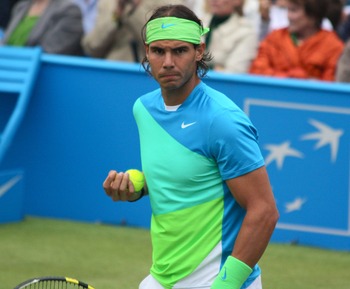 Nadal was missing that English stoicism. He started the tournament with a scowl and ended it with a scowl.
Little wonder he was more unhappy than most with the weather. He bowled up late on Day One having completed his victorious run in Paris fewer than 24 hours before. He wanted to get his feet on that famous Queens turf the moment he arrived, despite the small impediment of rain, court covers, and absence of net!
He hung around for most of Day Two while a couple of downpours delayed the schedule again. He had a doubles match at the end of the day and he had, as yet, to get the soles of his shoes stained green.
The practice courts remained steadfastly covered until the sun appeared in the late afternoon.
Day Three, and he practised before midday, but 10 minutes before play began, the cats and dogs came hammering down. It would be around three more hours before Rafa finally walked onto Centre Court, and fortunately it was a swift win, even with one more appearance by the rain during the second set.
For his second match against Denis Istomin, on Day Four, it was even more cold, damp, and gloomy. Nadal didn't want to be out there, needed a medical time out for some tight glutes, and battled to an edgy win.
Friday, Day Five, and he barely had time to warm up in practice before he was facing Lopez in a quarter-final tussle. The sun tried to break through at last, but it was too late to revive a downcast Nadal.
It was probably with a mix of disappointment and relief that he at last was able to walk away from his rain-blighted Queens campaign.
Backhand Wonderland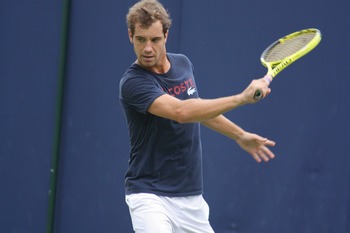 It's no secret. This particular fan loves a backhand, and a single-hander above all else. It's a shot that's often regarded as old-school, old-fashioned, out of its time, and running out of time. Yet everywhere you look, it seems to be flourishing like never before.
One reason may be the resurgence of a bouquet of mature players suddenly cutting through the unvarying baseline, top-spin, power-shot game that has become the backbone of 21st century tennis.
There's Ivan Ljubicic winning his first Masters at Indian Wells and Francesca Schiavone winning her first Slam in Paris. Tommy Haas had a wonderful 2009, and the two top Swiss men both deploy the one-hander to devastating effect.
At Queens, it was everywhere, and it was achieving great success. There is, of course, no better way to deliver a killer slice on grass.
So there was Lopez, his abbreviated and deliberate action steering a flat backhand drive past a succession of opponents. He played opposite an altogether more flamboyant Dimitrov backhand, all long, sweeping arms.
Richard Gasquet was beaten by injury, but until then he illustrated the classic version of the shot, one of the fastest whips in tennis, so quick that it's nearly impossible to read.
Add in Michael Llodra, Nicolas Mahut, and Dudi Sela—fine grass courters all—and the novelty might have worn off, but it didn't. It's still the most beautiful shot out there!
Upset City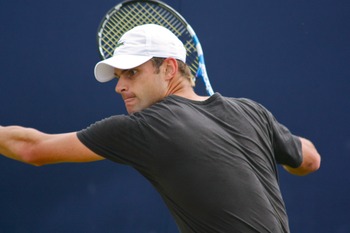 Queens became the tournament of the falling seeds. By the quarter-finals, seeds two to six had gone. Then No. 1 Nadal fell before the semis, where just one seed remained in each side.
It should not, in truth, be a shock on fast and slippery grass that the net specialists should score well. The games of Llodra, Fish, and Lopez are designed for this environment. Gasquet made elegant progress, too, until a back injury forced him to withdraw.
But one player who is synonymous with grass court success is Andy Roddick, so his loss in Round Three stunned the Centre Court crowd. Roddick is always popular in London, and he had won the Queens title four times.
Roddick has become fitter and faster since his last win in 2007, and has built a more rounded game that is not solely dependent on his huge serve. But this year, he came up against a man playing at the top of his game, on courts and in conditions that suited him down to the ground: Sela.
This year more than ever, fast and nimble footwork, fast hands, and great touch all helped him to make the quick adjustments required of the greasy and unpredictable surface. So the compact Sela out-played a Roddick who struggled to get his serve firing in the cool and blustery conditions.
He worked his socks off, puffing his cheeks in time with every shot. If hard work alone brought rewards, Roddick's sweat-laden practice sessions would have been enough to win the title.
In the event, it took the crowd a split second to absorb his defeat before they exploded in applause for the Israeli's display.
Centre Court beamed in unison—and even Roddick had to shrug, and smile at his opponent. It was just one of those days.
Flying Fish and Power-Pack Querrey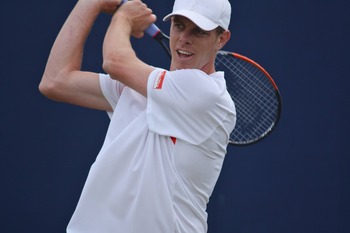 It was not the expected line-up, but the last men standing combined the best of the week's grass skills.
It was an all-American final pitting the big serve and powerful forehand of Sam Querrey against the outstanding serve and volley technique of Fish.
It was an interesting match not only for the styles of tennis that each player employed but also for the stories each brought with them. Good friends, same coach, and generous personalities, Querrey is a rising star of American tennis while Fish is a newly-shining star.
No. 7 seed Querrey combines one of the best serves on the Tour with a mighty forehand and surprisingly good mobility for such a tall man. What's more, he has won indoors and on clay already this year, and could become the first in 2010 to win on three different surfaces.
When Fish took a long hard look at his career after knee surgery following the U.S. Open last year, he decided he was not ready to draw a line under his tennis career. He lost 25 pounds and, at 28 years old, has come back fitter and faster. As a result, the unseeded Fish became the standout player at Queens, taking out three seeds and dropping just one set to Murray on his way to the final.
On balance, then, his sparkling tennis and footwork looked favorite to win.
Things sped to a tiebreak in the first set, but Querrey held his cool the better, producing great serves and playing some lovely touch volleys to take the set.
Fish looked placed to take the second set but again his nerves brought a break and victory for the younger man.
Querrey is now set to hit the top 20 for the first time and must surely be a contender for a top 10 place before very long. More significant, he will be one of the big threats as the players now head to Wimbledon.
Keep Reading