2010 FIFA World Cup: Which Goal Scorer Will Shine In South Africa?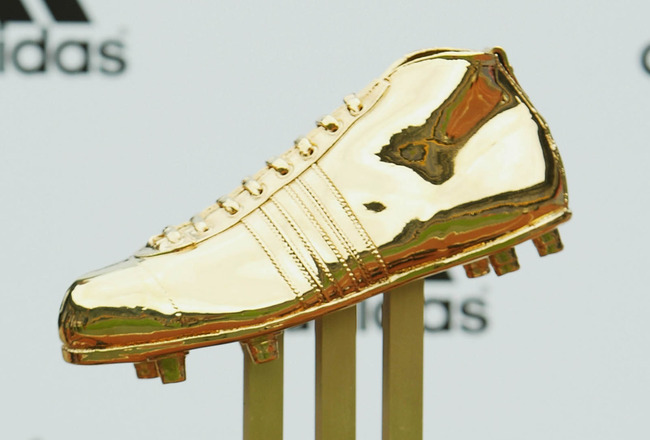 Every footballer on earth dreams of bringing glory to their homeland by emerging victorious from the crowded field of 32 nations, earning the opportunity to hoist the ultimate symbol of team success, the FIFA World Cup trophy.
Of course there is another trophy that the players will covet in the tournament, the Adidas sponsored Golden Boot. Since the first World Cup in 1930, the Golden Boot has been awarded to the highest goal scorer in the World Cup Finals. Team success is where a player's ambition should aim, but honestly, there is no team success without scoring goals!
On the surface, it may seem like solely an individual award, but to win the Golden Boot, there is much more of a team effort involved than it may seem. First of all, your team must play well enough to progress deep into the tournament, allowing the goal scoring opportunities one would need to capture the honor of being named the Cup's leading scorer. Secondly, even the most talented footballer on earth cannot take on world class defenses alone. One needs the passing service and cooperation of his teammates to achieve World Cup immortality.
With a handful of games in the book already, we have just a tiny glimpse of who may be among the leaders in the final stages of the 2010 World Cup, but we still have a long way to go before anything is decided.
Since 1978, 6 of the 8 top scorers in the World Cup have finished with 6 total goals, with the most in that time period being Brazil's legendary Ronaldo with 8 goals in the 2002 World Cup. Germany's Miroslav Klose led all scorers with 5 goals in Germany 2006, so we have a general idea of approximately how many to expect from 2010's leading scorer.
Who will add their name to this list of accomplished finishers in South Africa?
Let's take a look at a few players who might have the opportunity to capture this coveted honor in 2010.
Of course, I could not profile everyone, as time and space is limited, but there are several other players worthy of at least honorable mention.
Uruguay's Diego Forlan, Luis Suarez and Sebastian Abreu are a formidable scoring threat.
Chile's Humberto Suazo scored a highly impressive 10 qualifying goals, but his health is in question for the World Cup Finals.
Arjen Robben of the Netherlands displayed his virtuosic skills in the Champions League, leading Bayern Munich to a second place finish and etching his name among the game's elite.
Theofanis Gekas displayed a lethal finishing touch for Greece, scoring 10 goals in World Cup qualifying matches.
It Really Could Have Been This Guy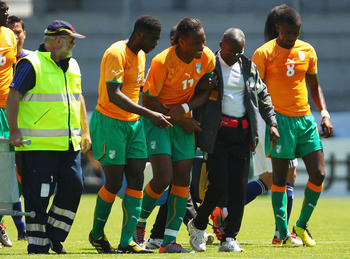 Unfortunately, we still don't know if Didier Drogba is going to be able to compete in the Cup this year. It is highly unfortunate, because there are few with the pure goal scoring instincts of this man.
Whether muscling multiple defenders off the ball and drilling shots with either foot into the back of the net, dominating the aerial game or rocketing free kicks above, around or through defensive walls, Drogba can torment even the best defenses in any number of ways.
He is coming off a fantastic season for Chelsea in which he netted a rather ridiculous 29 goals in 32 Premier League appearances and a total of 37 goals in 44 appearances in all competitions.
In addition to his impressive club performance, he also added 6 goals in only 5 matches to help Ivory Coast qualify for the 2010 Cup. His 44 career international goals in 68 appearances is a rather staggering total and his presence will be sorely missed if he is not able to suit up for his national side.
I'm hoping for a miracle, as the World Cup is always more fun when all the best players are able to compete. If Drogba is indeed out, then football fans will unfortunately miss out on one of the most dynamic goalscorers we have seen in recent seasons.
RVP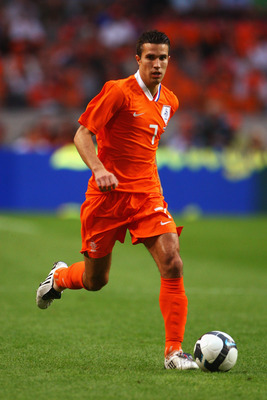 When this man is healthy, he is as dangerous a scoring threat as anyone.
Unfortunately, this doesn't occur as often as footballing fans wish as his record of sustaining serious injury has thus far obscured his tremendous footballing talents.
Rob van Persie of the Netherlands has built a sterling reputation as a top notch player, capable of taking over a game with his formidable left foot.
After leaving Feyenoord for Arsenal, RVP has developed into a serious game changing talent whenever he has been able to grace the pitch.
His club scoring record of 73 goals in 197 appearances has grown much more impressive as of late, as he has scored 39 goals in 87 appearances for Arsenal over the last 3 seasons.
Due to his serious ankle injury in the 2009-10 season, he was unable to participate in the bulk of the qualifying games for the Netherlands, only scoring 1 goal in 6 matches. As of late though, in the friendlies leading up to the cup, he has found his goal scoring touch that Arsenal and the Netherlands both cherish so much.
His scoring record of 18 goals in 45 career national team appearances is not of the elite variety yet, but with the good fortune of a healthy World Cup, we may not have seen the best of Robin van Persie yet.
Van Persie only managed 1 goal in 4 appearances in Germany 2006, but it was a blistering free kick that stands as one of the goals of that year's World Cup.
Why he might not win :
The obvious obstacle is his health. RVP has shown lately that he is healthy, but anyone who has watched him closely always fears that any moment he is on the pitch, could be his last for months.
The Netherlands also boast many other sublimely skilled attacking players who could net several of their own goals, taking a few of off van Persie's total. Arjen Robben, Wesley Sneijder, Rafael van der Vaart, Dirk Kuyt, and Klass-Jan Huntelaar are all very capable of putting a dent into Robin van Persie's hopes of leading all scorers in South Africa in 2010.
Whichever one of these offensive threats comes out on top, the Netherlands will surely produce an entertaining World Cup if their key players are able to stay on the pitch.
Spanish Strikers - Take Your Pick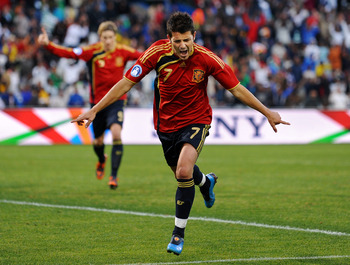 South Africa very well might witness this tremendously dangerous duo of forwards vying for the honor together, using all of their various footballing gifts together to overwhelm even the strongest defenses.
There might not be a more dynamic striking force in this World Cup than that of David Villa and Fernando Torres. Due to the immense abilities that both of them possess, and the amount of quality surrounding them in their Spanish squad, it would hardly come as a surprise to see either of these men lift the Golden Boot at the conclusion of matches in South Africa.
During the 2006 World Cup in Germany, Villa and Torres both netted 3 times each for the Spanish national side.
The two Spaniards also will benefit from one of the most talented passing midfields in the world. Not many other forwards can hope to get passes fed to them by the likes of Xavi, Iniesta and Cesc Fabregas. It's as if goal scoring opportunities will be fed to them upon a platter by these masters of the midfield.
David Villa, fresh off the finalization of his recent transfer to Catalan giants, Barcelona, could be in prime position to lead all players in goal scoring prowess over the next month.
He is coming off another fantastic season for Valencia in which he totaled 28 goals in 45 matches, simply following the trend of fine goal scoring seasons that he established for Sporting Gijón, Real Zaragosa and Valencia. I would expect this pattern to continue in Barcelona. Through this point in the career of the 28 year old striker, he has tallied an impressive total of 233 goals in 467 club matches.
During Spain's qualifying run to South Africa, Villa led the team with 7 goals in 7 matches, playing only 555 minutes. For his international career, he has built an incredible scoring record, finding the back of the net 38 times in only 58 matches. This scoring rate is where David Villa holds an edge over Fernando Torres in the race to be the Cup's leading scorer.
Why he might not win:
If Spain progresses as deep into the 2010 World Cup as many predict, it might be difficult to keep David Villa from the top scoring honor. I feel the main obstacle that could potentially prevent this, is the mere presence of his Spanish teammate Fernando Torres. Both are sure to receive plenty of quality service in front of the goal and the only question is which will have the exquisite finishing touch necessary come out ahead of the group of talented goal scorers playing in South Africa.
Fernando Torres, currently plying his trade for Liverpool in the Premier League, first burst onto the international footballing scene in the qualifying run up to Germany 2006. He scored a rather impressive 7 qualifying goals during those preliminary rounds and proved to be a dynamic young striker alongside Villa when he netted 3 times in Germany.
He had already been an exciting young striker for Atletico Madrid for a few years, but his transfer to Liverpool for the 2007-08 season saw him propelled into the ranks of the world's elite goal scorers. Although he has battled injuries over the last two seasons in England, he still has found his target at a very high rate when healthy. During his injury plagued 2009-10 season, he scored 18 in only 22 Premier League matches, and 22 goals in 32 matches in all competitions for Liverpool. His short career in England has seen a blistering total of 72 goals in only 116 matches, making him one of the most feared strikers in the game.
The injury troubles of Torres lingered in the WC 2010 qualifying as he was shut out in 7 matches. His club form has yet to be duplicated in his international career as his scoring rate has dropped off significantly. Of course, his 24 goals in 73 Spanish matches is nothing to dismiss, but it seems to be low for a player of his quality.
Why he might not win:
Of course, his prolific goal scoring striking partner may take some goals away from him. I have a feeling Fernando could deal with this if it results in him lifting the World Cup trophy with his countrymen.
He must overcome his recent injury woes and be completely healthy for an assault on the world's goaltenders if he hopes to be involved in the top scorer conversation at the conclusion of the cup. Any recurrence of his lingering pain could severely limit his explosive skills and keep him from playing to his full potential....which would be an utter shame for footballing fans around the globe.
La Pulga (The Flea)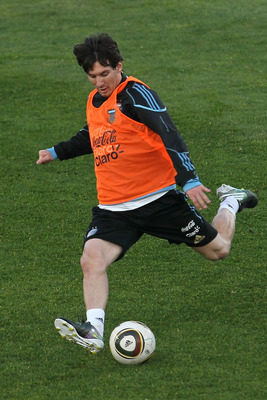 If you have seen Lionel Messi play, you have likely seen him do something absolutely amazing. I am not usually one for hype, but this kid deserves all of the praise heaped upon his diminutive frame.
His scintillating form for Barcelona this year was a joy for any fan to witness, regardless of you allegiance. Okay, I hated him when he was knocking Arsenal out of the Champions League, but it was still an amazing display of footballing virtuosity. Messi tallied 34 goals in 35 La Liga matches, adding to his severely impressive total of 47 goals in 53 appearances in all competitions. Seriously!!! 47 in 53 matches!!! Plus another 14 assists. This all follows on the heels of his 6 trophy winning 2008-09 season with Barca in which he scored 38 goals in 51 matches in addition to 18 assists.
Why he might not win:
As loaded with talent as Argentina are, they are not Barcelona. The style of play is different, and they have thus far been unable to unleash the immense talents of Lionel Messi on the international stage. A very significant factor is the lack of a Xavi-like playmaker to feed perfect passes to Messi anywhere on the pitch.
Messi only managed a very pedestrian 4 goals in 18 matches leading up to the 2010 World Cup, so his club success hasn't translated to play for Argentina yet, but it is difficult to doubt someone of this ability and already impressive footballing resume.
Another factor that may lead to a lower goal total for Lionel Messi is the presence of several other forwards on his own squad that are capable of taking home the top goal scoring honor themselves. One should never underestimate the ability and determination of possibly the hardest working footballer you may ever see, Carlos Tevez. Another forward of smaller stature, but immense talent and heart is capable of scoring goals in bunches, just as Messi is. Diego Milito of Champions League Final goal scoring fame, could very well figure into the discussion himself. His performance in Madrid was something to behold and it would be no surprise to see him reprise the role of goal scoring hero in South Africa. Not to be forgotten is the young Argentine forward who finished second to Messi in the La Liga scoring race. Gonzalo Higuain made his impressive mark in Madrid this year and is another dangerous scoring threat that could potentially steal some of Messi's thunder in 2010.
Wazza
A footballer spawned of fire and brimstone, the indomitable Wayne Rooney is poised to take South Africa by storm.
He is a whirlwind of passion, mostly to his benefit, occasionally to his detriment, but there is rarely a dull moment when Rooney is on the pitch.
For years, he has been a force in the Premiereship, but this year, he was finally able to escape the considerable shadow of his former teammate, Cristiano Ronaldo. Ronaldo's departure for Madrid helped Rooney to become Manchester United's focal point, allowing his full range of skills to shine through, becoming the dominant player that many have foreseen for years.
This season, the world saw him at the peak of his powers, scoring 34 goals in 44 total matches for United and emerging as one of the world's premier goal scoring threats. He then led England in their World Cup qualifying campaign, tallying 9 goals in 9 matches.
Why he might not win:
England has recently had a habit of underachieving on the international stage. If Rooney has hopes of leading the cup in scoring, the team must do better than their weak showing in 2006.
Germany 2006 also saw the two issues most likely to hamper Mr. Rooney's chances this time through; injury and his temper. He had injury concerns leading up to the last World Cup and he has had them consistently this year as well. He is supposed to be healthy now, but a less than fit Wayne Rooney will cause severe issues for England. 2006 also saw his sending off for stamping on Ricardo Carvalho against Portugal. He must contain his fury and use it to his advantage in 2010 so as not to hurt his team. We have seen a more mature Wayne Rooney recently, so this shouldn't be a problem...but no guarantees.
The fate of the nation rests on this young man's stocky frame. If he is able to utilize his fighting spirit to his advantage, avoid injuries and play deep into the tournament, Wayne Rooney is as good a bet as anyone to earn the 2010 Golden Boot.
CR7 ....on this team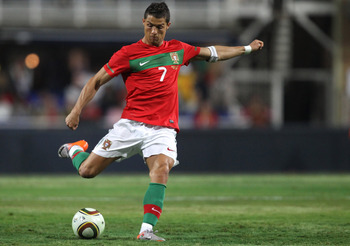 Love him or hate him, the 2008 FIFA World Player of the Year, Cristiano Ronaldo, is a goal scoring machine. If there is a way to score, this man has done it; with dazzling trickery or finesse, through raw power, his aerial prowess or his sometimes seemingly unreal free kicks...scoring comes naturally to CR7 (or CR9).
Although his La Liga debut was overshadowed by the brilliant season that Messi produced, it should be noted that Cristiano scored 26 goals in 29 La Liga matches, and 33 goals in 35 total appearances for his Real Madrid squad this season.
Why he might not win it:
Portugal is a frustrating side. Loaded with talent, but consistently inconsistent, they are by no means a lock to progress deep into the finals. As Portugal struggled through the qualifying stages, Cristiano was dealing with injuries, and scored a grand total of 0 goals in 7 matches. This was very different from his 2006 qualifying run where he netted 7 goals en route to the WC Finals.
CR7's performances in big games have yet to match up to his massive talent level. We can forgive his mere 1 goal in WC 2006, as he was much younger and just coming into his own as a top world footballer. After scoring 8 times in 13 matches to help Portugal qualify for Euro 2008, he then scored 1 goal in the tournament itself. In fact, he hasn't scored for his national side for almost a year and a half!
If Cristiano can capture the form he displayed in Madrid this year, and over the last several years, or replicate his WC 2006 qualifying run or Euro 2008 qualifying form, he is a formidable candidate to be the 2010 World Cup's leading scorer.
Which Brazilian Could It Be?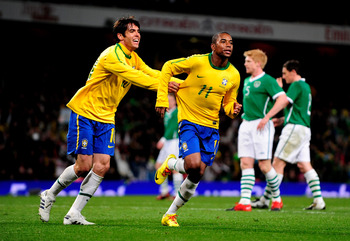 Of course, the team that so many expect to dominate the World Cup is Brazil. Loaded with talent at nearly every position, it seems at times as if footballing talent is a trait that comes naturally to those blessed with Brazilian DNA.
You know a team is dangerous if they don't have room for a revitalized Ronaldinho, who just finished a season for AC Milan in which he looked like he had recaptured the glory of his youth. Although he is now 30 and beyond his prime, many expected the 2 time World Player of the Year and 2002 World Cup winner to be included in the squad.
Even without the long tenured, immensely popular Ronaldinho, Brazil is still loaded with talented footballers who could pick apart the defenses of the world.
The highest profile player among them is Kaka. As the 2007 FIFA World Player of the Year, he ascended to the top of the footballing world in his amazing career at AC Milan.
He does not play in a traditionally high goal scoring position, but the free flowing football of Brazil allows for goal scoring opportunities from all sectors of the squad.
Kaka, although a midfielder, has scored 133 goals in 372 career club appearances. He is coming off of what many perceived to be a disappointing debut season at Real Madrid, but some growing pains were to be expected after so many high profile personnel additions.
Kaka has scored a total of 27 goals in 78 international appearances, so his scoring record may not be that of an elite goalscorer, but the 2009 FIFA Confederations Cup player of the tournament should not be underestimated.
The most prominent goal scorer amongst the Brazilians is Luis Fabiano. As a 30 year old striker, he will be looking to leave a lasting impression on what will likely be his last World Cup.
Over the last 5 years, playing for Sevilla in Spain, "The Fabulous One" has notched 94 goals in 190 appearances, earning a reputation as a formidable target in front of the goal. Over his club career, he has hit the net 162 times in 320 matches.
He led Brazil in qualifying goals with 9 in 11 matches and boast a very impressive 25 international goals in only 38 career matches for his national team.
The man with the most to prove.
Over the last several years, we have heard Robinho discuss his desire to be the best player in the world. Even if he has fallen rather short of that lofty ambition, we have seen that the man has plenty of talent, if the results have sometimes been uneven.
His tumultuous stint in Manchester followed a similar time for Real Madrid. For some reason, this talented footballer seems to find himself unhappy in various situations around the world.
He never quite excelled at Real Madrid, but was the 3rd leading scored while playing for Los Blancos. Disagreements over his deployment, injuries and a perceived underachievement led to more unrest for Robinho in Madrid.
After finding himself used as trade bait in Madrid, he was able to orchestrate a move to Manchester City. Robinho had a successful first season in England, leaving many to hope that he might build on that and become an elite player for City. He then followed his debut with a season in which he rarely played, talked a lot and scored only once in Manchester.
After completely falling out of favor in England, Robinho was able to force a loan deal to move him back to his Brazilian club Santos. His desire to play every game in order to make the World Cup squad seems to have worked, as we find him in South Africa with the Brazilian squad today.
With the Brazilian National Team, Robinho has scored 23 goals in 75 appearances. He has vowed to add to that total in his quest to be recognized among the world's best footballers.
If he is able to help lead Brazil to their 6th World Cup victory, he may very well be able to nudge his way back into consideration.
Samuel Eto'o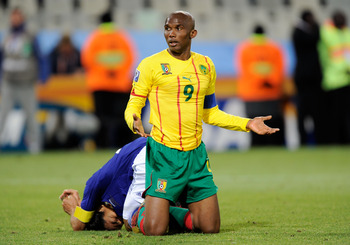 A footballing enigma of the highest order; will this be the time for Samuel Eto'o to claim his spot amongst football's elite or will he fade into oblivion, failing to utilize his immense talents on the game's grandest stage?
The man is an African legend; heading into his 3rd World Cup, he has played in 2 Olympics, winning the gold medal in 200 and has played in 5 African Nations Cups, winning the championship twice. He also holds the all time scoring record for the ANC, as well as being a 2 time Champions League winner.
Samuel Eto'o boasts a club resume that includes 219 goals in 448 appearances and his Barcelona record is stellar, scoring 130 goals in 200 matches.
Leading up to this World Cup, he scored 9 times in 11 matches, providing his team with the firepower to qualify for South Africa. He is Cameroon's all time leading scorer with 44 goals in 96 matches.
Why he might not win:
The man seems easily distracted, letting attitude sometimes supplant skill as his predominant attribute on the pitch. Although he became one of 4 players to win the Champions League for different teams in consecutive seasons, his form was not always what was hoped for by Inter this season. His 16 total goals in 47 appearances was a very unimpressive rate for a goalscorer of his caliber.
He was recently in a flap with Cameroon striking legend, Roger Milla over criticism that Milla aimed at the contribution of Eto'o to his national team. When Eto'o threatened to quit over the criticism, it raised eyebrows around the footballing globe and raised the question of his dedication to the cause. Eto'o may have realized this error when he just recently spent $1.3 million on custom watches for his teammates.
After all, he will undoubtedly need their cooperation if he is to lift the Golden Boot, and even more importantly, the World Cup in South Africa.
The Current Title Holder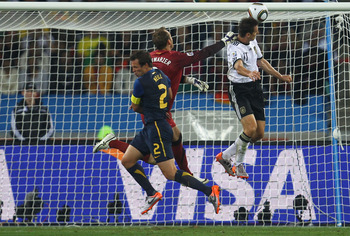 Although there has yet to be a repeat winner of the Golden Boot, it could be foolish to ignore the man currently holding the title. Especially considering that he was already on target in Germany's opening match against Australia.
Miroslav Klose took home the honor in 2006, helping to lead Germany to a 3rd place finish on their home turf. He scored 5 goals in that tournament, the lowest total for a Golden Boot winner since 6 players tied for the lead with 4 goals each in 1962.
Klose led Germany into this edition of the World Cup by scoring 7 goals in only 492 minutes of 8 matches. His formidable scoring rate keeps him a threat even as he is beyond his footballing prime.
Why he won't win:
Times have changed for the Polish born German striker. He has seen diminished playing time and falling goal totals in recent years as he is now 32 years old. He only managed 6 goals in 38 appearances for Champions League runner up Bayern Munich as he often watched Ivica Olic and Mario Gomez chosen ahead of him.
Miroslav Klose is possibly an unlikely candidate, but I am unwilling to leave off the last Golden Boot winner who still scored 7 goals in 8 qualifying matches, and is the only man in World Cup history to score 5 goals in two consecutive Cup Finals, 2002 and 2006.
Keep Reading