The Top Five Managerial Meltdowns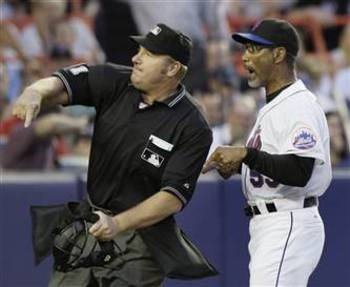 Baseball managers have a tough job. They sit in the dugout everyday and fume as their players bungle play after play. The one thing managers have no patience for though, is a bad call by an umpire.
Here are the five greatest obscenity hurling, spit flying, bat throwing, dirt kicking, base stealing, managerial meltdowns, of both major and minor league baseball in recent history.
Asheville's Joe Mikulik Loses It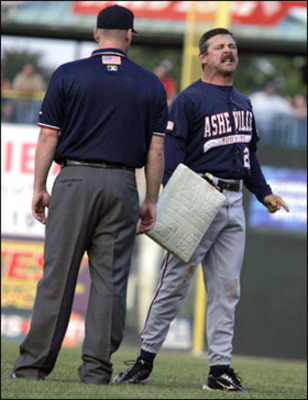 Go brim to brim with the ump and spray him with a combination of f-bombs and spittle? Check. Kick dirt all over home plate? Check. Dive into second base, then rip it out of the ground and throw it as far as you can? Check and check. Rarely have so many acts of rage been performed in one tantrum as Asheville Tourists' manager Joe Mikulik did disputing a call at second base. From throwing bats onto the field, to dumping bottles of water all over the plate, this fit of fury has it all.
Phillip Wellman's Temper Tantrum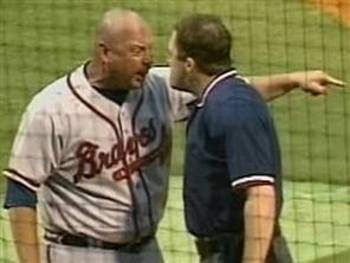 If a great managerial meltdown is a work of art, then Mississippi Braves manager Philip Wellman is Picasso. In his tirade he combines traditional techniques such as stealing the bases, with his own imaginative additions, like rosin-bag hand grenade hurling. They say you need to be a little bit crazy to be a minor league manager, Well Phil Wellman's rant makes Ozzy Osbourne look sane.
Hal McRae Explodes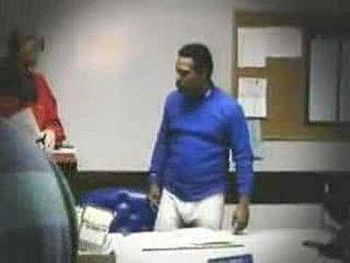 Although Royals' manager Hal McRae reserved his anger for the media instead of the umpires, his obscenity laden rant against the KC reporters is well deserving of a spot on this list. Despite being in his office instead of on the field, McRae doesn't hesitate to yell, scream and throw things around.
So "put that in your pipe and smoke it."
Lloyd McClendon Takes Base Stealing to Whole New Level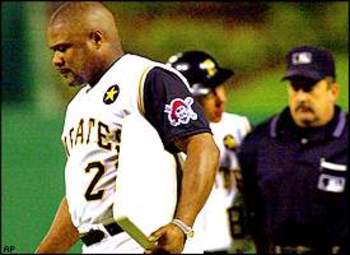 There's base stealing, and then there's stealing the base. With all do respect to Carl Crawford and other notable base stealers, nobody swipes a bag better than former Pirates' manager Lloyd McClendon who during a game in 2001 ripped first base off the field, and instead of going Piniella and throwing it into the outfield, calmly walked back to the dugout with the base still under his arm. Now that's what I call stealing a base.
Wally Backman Rages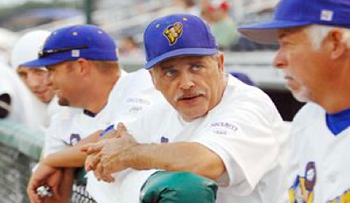 Its one thing to lose your job as Arizona Diamondbacks' manager 7 days after being hired. It's another thing entirely to manage a minor league team, and have an epic breakdown while wearing a microphone. This video offers us a rare glimpse into exactly what managers are saying as they verbally abuse umpires throughout baseball. Wally offers us a few quotable delights such as "You're being an embarrassment to professional baseball." "Let's go have a beer Doc," and "catcher move out of the way!"
Keep Reading