Mock the Vote, Part Two: Rigging the MLB All-Star Game for an NL Victory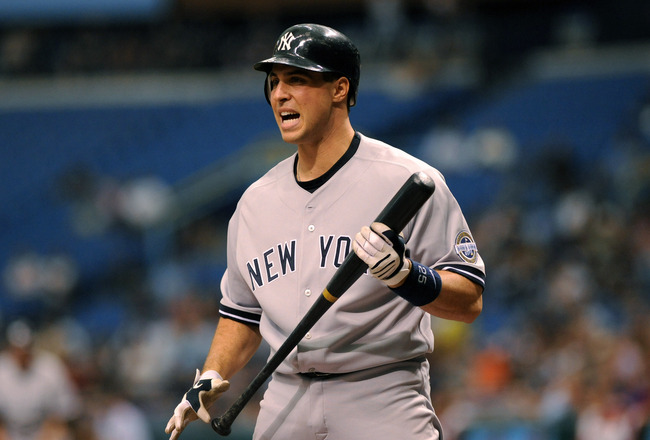 Are you a Phillies or Dodgers fan who wants to ensure that your team will have the home field advantage if they make the World Series? Do you want to see the National League get revenge at the Midsummer Classic after going home empty-handed 13 years in a row? Are you a sadistic sociopath who likes messing with people for the pure schadenfreude?
If you answered "yes" to any of those questions, you might want to reconsider how you fill out your All-Star ballot.
If you truly want to see the best players in baseball duke it out on July 13, then by all means vote for the superstars. But if you want to see the Senior Circuit emerge victorious, you might want to think twice about naming Joe Mauer or Evan Longoria on your ballot.
This slideshow features the AL player at each position who has the greatest potential to screw up his league's All-Star team, based on both relative ineptitude and current rank in the voting (if the player you vote for has no chance of winning, it doesn't matter whom you choose).
Injured players have been excluded because if one of them is voted in, he can be replaced with a substitute of the manager's choice.
Let this be your guide in your unsportsmanlike attempt to tamper with the biggest night of the baseball season! And be sure to check out Part One for how to screw up the NL team.
First Base: Mark Teixeira, Yankees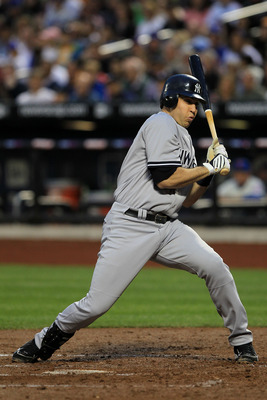 Current voting rank: 2nd (931,405 votes)
By all accounts, Mark Teixeira is having a pretty bad year.
His .227 batting average, .391 SLG, and .329 wOBA are the worst of his career, and his .343 OBP is the worst since his rookie year in 2003. He's on pace to fall short of 25 homers for the first time in his career, and at this rate he'll fail to reach 100 RBI for the first time in seven years.
According to FanGraphs' salary valuations, Tex's level of production would be worth $5.6 million over a full season. He's getting paid $180 million over eight years; I'll let you do the math, but that means he's giving the Yankees less than a 25-percent return on their investment.
As recently as this month, Tex was the top vote-getter at first base. Everyone knows that Yankees fans basically stuff the ballot boxes so their players will win; for NL fans, this is a good thing.
Second Base: Ian Kinsler, Rangers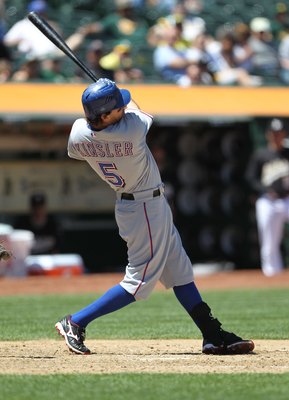 Current voting rank: 3rd (585,277 votes)
A year ago, I called Kinsler one of the most deserving players to have been left off the Junior Circuit's team. My, how things have changed.
After missing almost a month of the season with ankle problems, Kinsler has performed at merely "meh" levels in 2010, even when healthy.
After joining the 30/30 club last year, his OPS this season is down to a meager .719. Even his speed has declined (on pace for 11 SBs, down from 31 in 2009), likely due in part to his ankle. He's got decent numbers, but I'd describe Kinsler's performance this year as "average," not "All-Star."
Kinsler is an injury risk, which makes him a questionable pick for this list. But given that the other top vote-getters really are the best keystone players in the league, he's the best chance we have at mediocrity.
Third Base: Nick Punto, Twins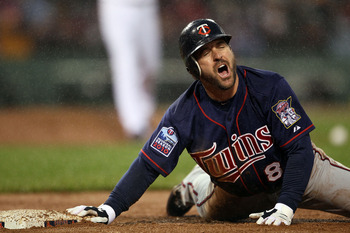 Current voting rank: 5th (275,542 votes)
When I sat down to write this article, I assumed that Alex Rodriguez would be the winner here. Then I saw Punto's name among the top vote-getters and realized that this opportunity was too good to pass up.
Looking over his numbers, my biggest question isn't whether Punto deserves to be an All-Star starter; I'm more worried about whether he deserves to be a starter, period.
With more than a third of the season under his belt, Punto is hitting .232 with no homers and 13 RBI. His .607 OPS would be sixth-worst in the league if he had enough at-bats to qualify.
It's not as if Punto is a rookie getting some seasoning for a non-contender; he's a 32-year-old veteran manning the hot corner for a Twins team that is the favorite to win the AL Central.
Punto isn't just the worst third baseman who's getting votes. He's the worst third baseman in the league, period.
Shortstop: Jason Bartlett, Rays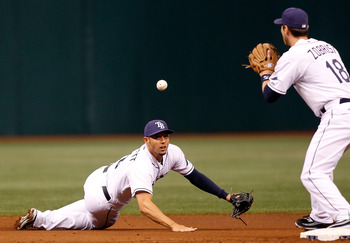 Current voting rank: 5th (318,346 votes)
Bartlett was one of the best shortstops in baseball in 2009, accruing 14 homers, 30 steals, and an .879 OPS while crossing home 90 times.
It's safe to say his success hasn't carried over to 2010. In 212 trips to the plate, he's hit just one long ball with three steals and a miserable .657 OPS.
His offensive struggles haven't quite reached Punto levels, but there's another dimension to Bartlett's problems: his glove. In 2005, his UZR/150 stood at 26.3. This year, it's dropped to -8.9.
You're looking at a guy who can hurt the team on both sides of the game. Fans of the Senior Circuit have to be drooling about the idea of voting Bartlett in.
Catcher: Taylor Teagarden, Rangers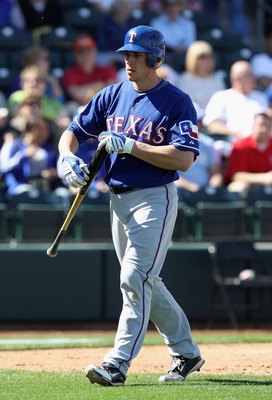 Current voting rank: 4th (247,248 votes)
My grandfather once warned me to "never underestimate the stupidity of the American public." Never has that statement seemed more prophetic than when I saw that Taylor Teagarden was in fourth place in the All-Star voting.
In 10 games with the Rangers this year, Teagarden has gone one-for-27 with 17 strikeouts. If your jaw is still in reasonable proximity to the rest of your face, read those numbers a couple more times.
After his appalling start to the season, Teagarden was promptly sent down to the minors. In four games with Triple-A Oklahoma City, he went one-for-14 with nine more strikeouts. And so, he was demoted again, to the Double-A Frisco RoughRiders.
Got all that? Good. Now go back to the top of this slide and consider the fact that nearly a quarter of a million idiots think he is the best catcher in the league.
I admit that I haven't actually done any research into this, but I'd be willing to bet a large sum of money that no one has ever been called up from Double-A to play in the All-Star Game.
Designated Hitter: Hideki Matsui, Angels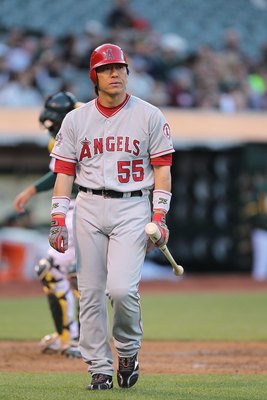 Current voting rank: 2nd (638,237 votes)
For the second year in a row, the Angels added a former New York outfielder via the free agent market when they signed Matsui this winter.
It worked well with Bobby Abreu (last year, at least), but not so much with Godzilla. Matsui's .260 average, .333 OBP, and .338 wOBA are all the worst he's posted since coming over from Japan in 2003.
He's lost whatever speed he may have had, and according to UZR, he's such a bad fielder that he's cost the Angels almost a full win with his glove in just 60 innings in left field.
But as the DH, his job is simply to hit. He still can with some semblance of skill, but there are several more threatening bats the AL could use to fill this roster spot.
Outfielder No. 1: Curtis Granderson, Yankees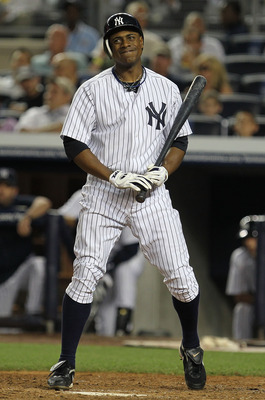 Current voting rank: 7th (572,098 votes)
Much was made of the Yankees' acquisition of Granderson this winter. He was hailed as superior to his predecessor, Johnny Damon, in every way. He even hit a home run in his first game with New York.
Unfortunately for the Bombers, he hasn't lived up to the hype.
Granderson is having one of the worst seasons of his young career. Even without punishing him for the games he missed to injury, he's on pace to fail to reach 19 homers for the first time since he was 24. His .248 average is lowest he's posted since his nine-game stint as a rookie in 2004, and his .442 SLG is his worst since 2005.
However, no one seems to have alerted the All-Star voters. This is great news for Senior Circuit fans—he'd be a much easier out than Nelson Cruz.
Outfielder No. 2: Bobby Abreu, Angels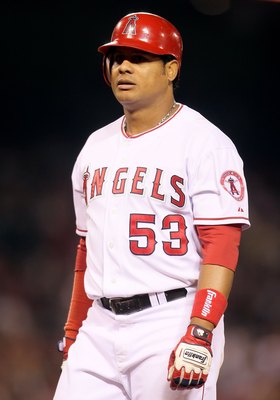 Current voting rank: 12th (440,689 votes)
Ten years ago, Abreu had accrued 20.7 WAR in just three seasons. He had established himself as one of the best players in baseball and was a key piece of the Phillies' lineup.
But, as they say, good things never last.
So far this year, Abreu has a .256 average, .346 OBP, and .413 SLG to his name; all are the worst he's posted since he was a rookie with the Astros in 1997.
That's not to say that Abreu is washed up or a poor hitter. But his numbers certainly don't look like those of an All-Star.
Outfielder No. 3: Denard Span, Twins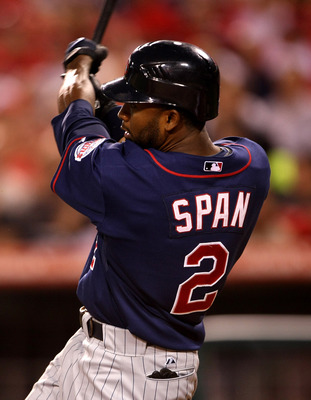 Current voting rank: 13th (407,917 votes)
Span's game revolves primarily around his ability to wheel around the basepaths. That means he isn't a particularly effective player when he doesn't reach base consistently.
Span simply isn't getting on base as much as he did in his two prior seasons—compare his .305 average and .390 OBP in 2008-9 to his .275 average and .349 OBP in 2010.
Span is on pace to swipe 33 bags this year—an impressive total, given the circumstances. But no matter how fast you are, you can't steal first base.
Throw in his utter lack of power and it's clear that Span would be a much less intimidating opponent than fellow speedster Carl Crawford.
Keep Reading