The 10 MLB Feats We Will Never See Again
Throughout each and every MLB season, the discussion always seems to arise over the next great feat to be achieved by a single player.
These feats are also—more often than not—indelible marks in the record books that sometimes seem unbreakable.
But within the mix of these conversations are also discussions about giant feats in baseball that will NEVER happen again, and I put together a top 10 list highlighting some of these feats.
I realize in sports that anything is possible, and you may find one or two here that almost happened, but most of you should agree that this list is basically a collection of feats that we will never see again.
Begin Slideshow

»
Achieving 300 wins is about as extinct as the Dodo Bird, and there are many factors that contribute to this.
We live in an era where a lot of managers employ inning limitations on their "investments". It is those "investments" (Tim Lincecum, Steven Strasburg, etc.) that have the biggest chance to achieve a 300 win career. But, with the limitations and the added aspect of closers and specialty pitchers for specific situations, a 300-win career is now a thing of the past.
There is one last great who could achieve such a feat, and that guy is Jamie Moyer. The Philly great is currently sitting on 264 wins. The problem, though, is Moyer would have to win at least six more this year, and then have two years of 15 wins, or three straight years of 10 wins to achieve such a feat, which means he would have to pitch into his 50s.
Randy Johnson stands as probably the last to do so, hitting the 303 mark in 2009.
Before the advent of little hidden tricks that pitchers do, stealing a base was an easier feat than it is in today's game. In today's era, pitching towards the base, random slide steps, and enhanced catcher to pitcher signals all interfere with pilfering anything beyond 70 bases in a single season.
Ricky Henderson will probably be the last guy to steal 100+ in a single season, although Carl Crawford came admirably close with 60 in 2009. The next person who could possibly catch Henderson in total stolen bases is Juan Pierre who is at least a thousand away.
With a five man pitching rotation and increased ability and training in the hitting department, the days of possibly grabbing a 30 win season are all but dead.
Similar to achieving 300 wins in a career, hitting the 30 win mark in a single season is nearly impossible for similar reasons. Brandon Webb is one of only a few who came close (22 wins in 2008) to achieving such a feat.
Jack Chesbro and Ed Walsh can rest peacefully, knowing that their achievements are unattainable in the modern era.
I think, secretly of course, that all MLB pitchers covertly hate Nolan Ryan because of the one bar that was set and never to be reached: 5,000 strikeouts in a career (5,714 for Ryan).
Granted, there are some pitchers that look like they could accomplish such a feat some day, but it really is asking a lot:
• 27 years as a pitcher averaging at least 30 games every year
• 6 separate single seasons of 300+ strikeouts
• 9 single seasons of 200+ strikeouts
• 9 single seasons of 100+ strikeouts
• Not to mention being completely healthy through nearly 3 decades of pitching.
Hey Strasburg, Lincecum…you guys writing this down?
There have been a handful of pitchers to come along and flirt with 300 innings pitched in a given season (Roy Halladay reached 266 in 2003), but to reach the 300 mark is something that will never again be achieved.
With better pitching, and even better specialty pitchers coming in to relieve in the seventh and eighth—not to mention complete games being a rarity—the opportunity to achieve 300 innings pitched is impossible in this era.
Speaking of pitching, with so many great arms coming and going, one stat that significantly suffers is the home run stat.
True, Albert Pujols is one exception to the rule, but even with all his might, the notion of 60 home runs in a single season will never happen again unless the pitchers start throwing tennis balls, and the hitters switch to metal bats.
The last person to do it was Sammy Sosa in 2001; Ryan Howard came close in 2006.
The last one to do it was Nap Lajoie, and you can forget ever seeing such a feat achieved again in a time that puts multiple pitchers in front of one batter in any one single game.
Today's game has a lot more strategy built into it, so even if you are Albert Pujols you may face the Nationals one day and after dealing with someone like Steven Strasburg, you may face two other strike specialists who are healthy and fresh, limiting the chances of such an elevated batting average.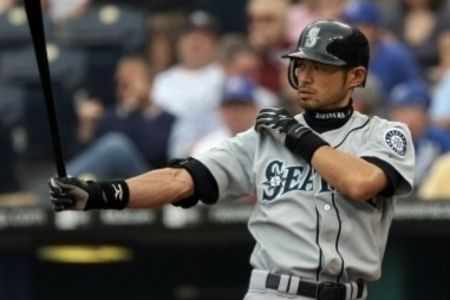 Starting to see a theme here? The magic number facing extinction is 300 for hitters, and 300 hits in a single season will probably never happen.
The record currently stands at 259 thanks to Ichiro Suzuki of the Mariners, arguably the best hitter in baseball, and he had to beat out George Sisler's record that had stood for 84 years. So yeah, probably never going to happen.
Since we are not talking about breaking records, we can mention hitting streaks, but we don't have to mention the current record.
Aw heck, it was Joe DiMaggio, 1941, 56 games.
Anyway, just getting to the 40 game mark will probably never happen again, thanks largely once again to the type of strategic pitching most hitters face.

Dealing with specialists and closers ruins the chances late in the game, and just having to deal with a team's ace is enough to put a cap of hitting streaks.
Currently, Jimmy Rollins is the closest at 38 in 2005-06.
Pitching in any regular season is one thing to have to deal with. Pitching in a World Series is a whole different beast to burden.
So when we think of things like a complete game, a no hitter, or even a perfect game in a World Series, the chances of that happening again are slim to none, with emphasis on the none.
I know anything is possible in sports, but the level of intensity handcuffed to the World Series is monumental; the pressure to keep your team in a series competition—whether you are up three games to none, or down three games to none—is unimaginable.
With so much mental baggage loaded on the plane so to speak, pitching a perfect game in a World Series will probably never happen again. Pitchers will rarely even get a fighting chance, let alone achieve such a feat.
The last individual to do so was Don Larsen's perfect game in Game Five of the 1956 World Series. It has never been achieved since.