FIFA World Cup: Winners and Losers of the First Weekend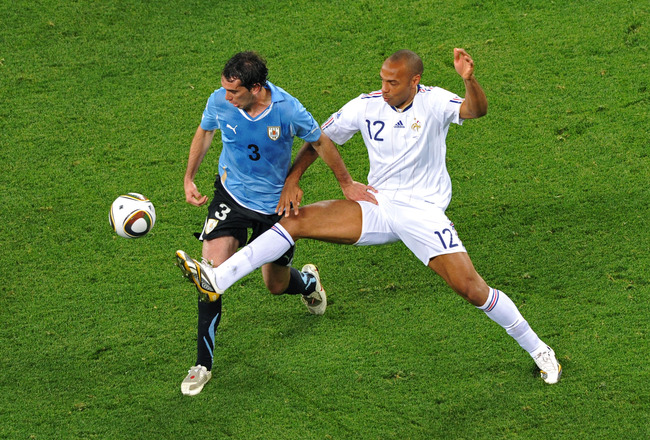 In the past three days, there have been many surprises in the World Cup.
Some players and teams have outperformed expectations while others have faltered under pressure.
This slideshow takes a look at the winners and losers of the first weekend of the 2010 FIFA World Cup.
Some of these picks are obvious (Robert Green is a loser) and others may surprise you (Tshabalala is a winner).
No matter what, this weekend has shown that the World Cup will be a wild ride.
Fasten your seat belts because the adventure will only get more intense in the next four weeks.
Winner: The Deutschland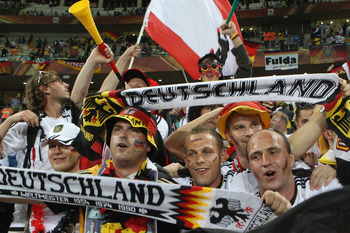 This weekend, Germany was the most impressive team, by far.
Even after losing Michael Ballack, Germany showed great offensive firepower as it went on to defeat Australia 4-0.
Many people considered Australia to be the second best team in Germany's group and this win showed the rest of the teams how dangerous Germany can really be.
Misoslav Klose, Germany's best player, stepped into the spotlight and made up for the loss of Ballack. Klose scored a goal in the 26th minute.
In its effort, Germany scored four goals, all from four different players. Each goal was different, showing Germany's amazing versatility.
This is one team that no one wants to face in round two should it advance.
Winner: ESPN/ABC

More often than not, television networks are criticized for their coverage of sporting events. This year though, people are praising ESPN for its effort.
From watching the matches on ESPN and ABC, it is easy to see how much effort the network has put into their broadcasts. Whether it is analysis of Alexi Lalas or the announcing of Martin Tyler, ESPN has put together one of the best coverage teams ever for a sports tournament.
In addition, World Cup ratings have been better than ESPN has expected. Saturday's match between the United States and England received a 6.1 rating, the second highest for a men's soccer match featuring the United States in history.
Winner: Tshabalala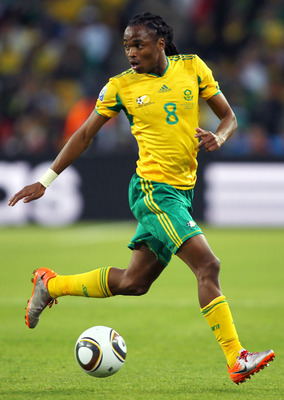 It is only fitting that a player from South Africa, the host country, scored the opening goal of the World Cup.
In South Africa's match against Mexico on Friday, Siphiwe Tshabalala scored a brilliant goal from the pitch.
Tshabalala's goal gave hope to the Bafana Bafana. South Africa, who many people thought would go without a point in group play was able to draw against Mexico, arguably the best team in the group.
It also doesn't hurt that he has one of the coolest names in the 2010 World Cup.
Winner: Tim Howard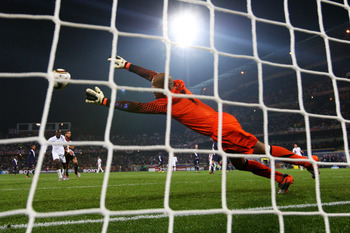 Since his days in the English Premier League, Tim Howard has proven to be one of the best goalkeepers in the world. His performance Saturday only added more reason for people to consider him one of the best.
In the 29th minute of the match, Tim Howard was defending one on one against Emile Hesky. Hesky was about to shoot at the net when Heskey's foot slid into Howard in the 29th minute. Howard was able to recover and make a great save.
After being hit by Hesky's foot, Howard was down for a while, and looked to be in severe pain. After a few minutes, Howard got up and played on.
Throughout the rest of the game, Howard showed his grit and awareness, making six additional saves.
Without a goal keeper like Tim Howard, the United States would have definitely lost Saturday's game. Howard provides a sense of stability to the American side; the team is confident its goalkeeper will come through in the clutch
Winner: The Vuvuzela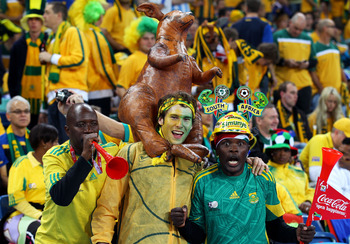 Who would have ever thought a musical instrument would steal the show in South Africa?
For the past three days, the world has grown obsessed with the vuvuzela.
The vuvuzela is a bugle-like instrument that makes a high-pitch noise when blown. They have been so popular that many stores have not been able to stock their supply of vuvuzelas quick enough.
The vuvuzela adds a festive atmosphere to the games. They can be heard on every television broadcast and show the passion of the fans in South Africa.
There have been talks of FIFA banning the vuvuzela for future matches.
Although it might seem annoying to the casual fan, the vuvuzela has brought the 2010 World Cup a unique identity—one of passion, desire, and dedication.
Loser: Robert Green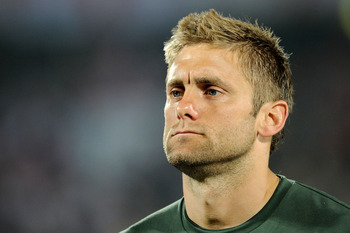 Robert Green is to England as BIll Buckner is to the Boston Red Sox. Both players will forever live in infamy with their respective teams.
In the 40th minute of Saturday's match between the USA and England, Clint Dempsey shot a soft ball towards the goal. It looked like Green was going to make the easy save, but in the process Green deflected the ball towards his own net, scoring a goal for the United States.
By scoring an own-goal, Robert Green tied the game at one. No team scored after Green's gaffe, giving each team one point in the standings.
Even after the draw, it still appears the United States and England will emerge out of Group C, but England's run may be with a different goalie.
There are already talks of Capello cutting Robert Green and instead using Joe Hart from Manchester City.
Loser: Mark Schwarzer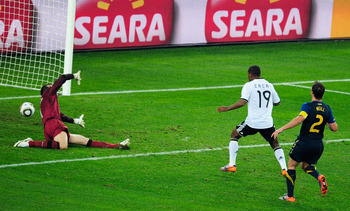 Although Mark Schwarzer is one of the best goalies in the World Cup, he had one of the worst games of his career.
In Australia's 4-0 loss to Germany, Schwarzer only managed to save five of Germany's nine shots on goal.
No matter how bad a team's defense may be, a goalie needs to be able to save at least three quarters of his team's shots. Schwarzer is one of the best at defending the goal, but not on this night.
If Schwarzer continues to struggle throughout the group stage, this can pose to be a big problem for Australia. Without Schwarzer in full form, the team has little chance to march on into the round of 16.
Loser: Serbia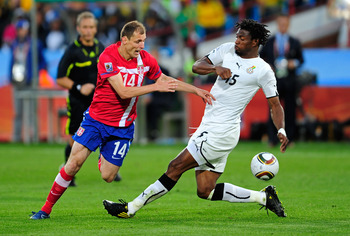 Although Ghana beat Serbia on Sunday, the game was lost by Serbia, not won by Ghana.
Throughout the entire game, Serbia failed to capitalize on many opportunities.
Serbia's first failed opportunity was in the opening minute of the game. Ghana's defense was not set in position and Serbia had a wide-open look at the goal.
Although it was a far shot to hit, this is one teams in the World Cup are expected to make.
Serbia's second missed opportunity was near the end of the game when an easy shot by Milos Krasic was brilliantly saved by Richard Kingson, Ghana's goalie.
Many people, including myself, have predicted Serbia as a dark horse of the tournament. If the team continues to miss easy opportunities, it will have difficulty even advancing out of the group stage.
Loser: The Superstar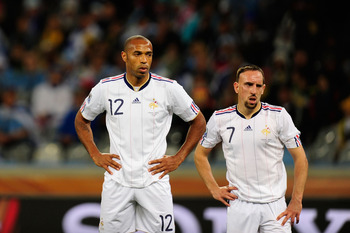 It may just be me but where were the superstars this weekend?
For years, soccer has been defined by superstar players such as Ronaldo, Pele, and Maradonna, but this World Cup may not turn out to be one of superstar prowess.
Where was Wayne Rooney in the first 70 minutes of England's match? Thierry Henry for France? Steven Piennar for South Africa? Landon Donovan for the USA?
All these players played average in their team's games but failed to show any flashes of greatness.
Expect fans to be dissatisfied with their play unless these superstars step up their game!
Loser: Fabio Capello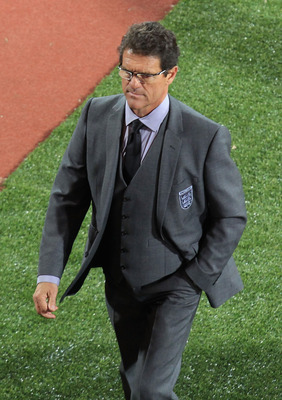 Perhaps the person with the most to lose this World Cup is not a player but a coach. That person is Fabio Capello.
After being touted as a savior to British football, Capello has been under much criticism this week.
Capello's first bad decision was starting Robert Green in goal.
Although Green played well in the Premier League, he didn't have enough international experience, only having played in 10 games. In the World Cup, international experience is critical, especially in goal.
The best goalies in the world (Howard, Buffon, etc.) all have plenty of international experience, so this was a questionable move.
In addition, many people had problems with Capello's starting 11. Unlike most coaches, Capello doesn't play matchups a lot.
In the World Cup, exploiting your opponent's weaknesses can be the deciding factor in a game and this mentality has frustrated a lot of English soccer fans.
Keep Reading