NBA Finals 2010: Phil Jackson's Fantastic 15 Finals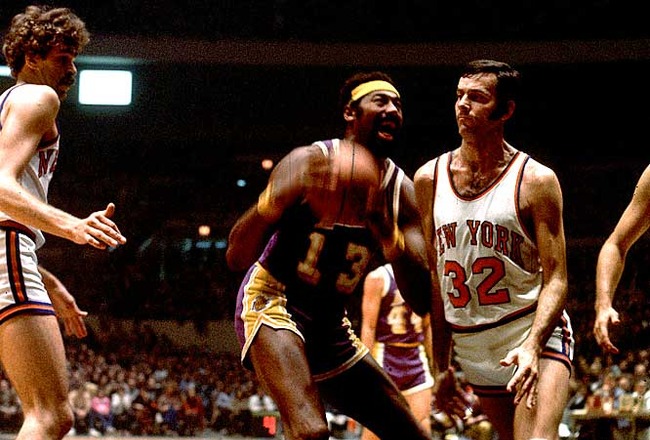 Phil Jackson has reached an unparalleled 15 NBA Finals—two as a player and 13 as head coach.

Jackson first lost a title in 1972 when the Lakers beat the Knicks 4-1 (photo). Jackson first won a title in 1973 as a sixth man for the New York Knicks. The Knicks beat the Lakers 4-1. This was the beginning of Jackson's love for the title series.

As head coach for the Bulls he went to the Finals six times and won all six. As the Laker head coach he has been to seven Finals and so far won four.

We will look at the Finals series that Jackson has led his players to, and see who they played and who they won with.
1973 New York Knicks beat L.A.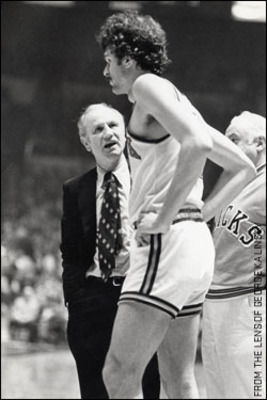 As a sixth man for the 1973 NBA Champs, Jackson played in 22 minutes per game and put up 7.6 pts, 4.6 rebs, and 2.8 assists.

After losing game one to West, Chamberlain, and the Lakers, the Knicks went on to win four straight. Jackson played a nice role as defender and low post threat.

After winning this title, Phil was addicted to the Finals.
1991 Chicago Bulls Beat L.A.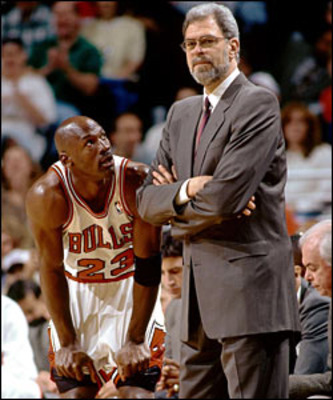 Nineteen years after winning it all as a player, Jackson was in the Finals again as head coach.
In the series his best and favorite player, Michael Jordan, scored 31.2 points per game and added 11.4 assists , 6.6 rebs, 2.8 stls, and 1.4 blks, and Scottie Pippen added 20.8 pts, 9.4 rebs, 6.6 assists, and 2.4 steals.
The Bulls beat remnants of the '80s Lakers 4-1-Magic, Worthy, B. Scott, A.C. Green, and Mychal Thompson all soon retired.
1992 Chicago Bulls Beat Portland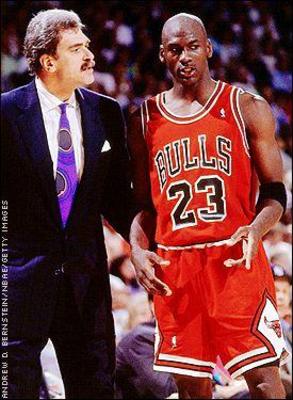 Jackson really got a hold of how to win in the Finals in 1992. By having the ultimate weapon in Jordan, Phil took a zen approach and got all the guys to happily circulate around Michael.
Jordan put up 35.8 pts in the Finals and Pippen added 20.8.
The Bulls beat Drexler, Ainge, and Terry Porter 4-2.
1993 Chicago Bulls Beat Phoenix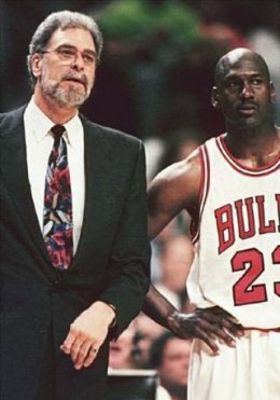 Coach Jackson had some tough competition to get his players through to win their third straight. Charles Barkley was named NBA MVP and so he used his infamous motivational technique against them.
Jackson told Jordan that he was the true MVP and then let Jordan prove it.
Jordan did so emphatically with an all-time Finals record 41.0 points per game.
Bulls win 4-2.
1996 Chicago Bulls Beat Seattle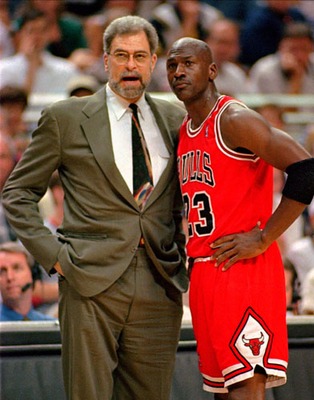 Phil told his main man Michael Jordan that no one had ever come back from retirement and won a title. This was Jordan's motivation, and Phil used new guys like Kukoc and Rodman to add to what Jordan and Pippen were doing. They proceeded to win a title after the greatest single season in NBA history, a 72-10 romp over the league with a 33-year-old Jordan.
Jordan put up 27.3 pts and Pippen added 15.7 pts, but Kukoc added 13 pts a game and Rodman averaged 14.7 rebs.
A fine team effort for the Bulls under coach Jackson as they won 4-2.
1997 Chicago Bulls Beat Utah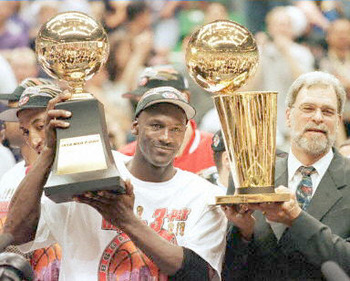 In 1997, Jackson led the Bulls to an awesome 69-13 record.
He was able to tame Rodman and keep his outbursts down. The team was a cohesive unit, once again led by Jordan on the court, but Jackson helped lead them to a title by remaining calm at all times.
In the Finals Jordan averaged 32.3 points, 7 rebs, and 6 assists and Rodman aided the cause with 7.7 rebs per game.
1998 Chicago Bulls Beat Utah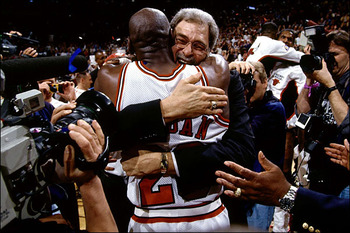 In 1998, the world got the feeling Jordan was in his last season. He was still th best player as regular season MVP and scoring leader but this year was tougher as the Bulls went 62-20.
They found a way to win again in the Finals vs. Utah as Jackson had great strategies along with Jordan's 35-year-old intangible leadership.
Jordan put up 33.5 a game in the Finals and Pippen put up 15.7 pts. The Bulls won 4-2.
2000 Los Angeles Lakers Beat Indiana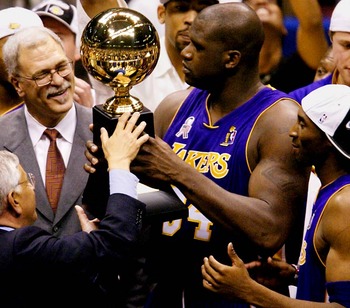 When Jordan retired, Pippen left and so did Jackson. In 1999 Jackson was on hiatus. In 2000, he inherited a team rich in talent but poor in cohesiveness.
Phil used his zen approach and let Shaq lead the way to a title.
Shaq averaged an amazing 38 points per game and 16.7 rebounds to go with 2.7 blocks in the Finals. His sidekick Kobe Bryant averaged 15.6 points per game. Glen Rice added 11.5 a game and former 1996-98 Bulls player Ron Harper averaged 10.8 pts.
2001 Los Angeles Lakers Beat Philadelphia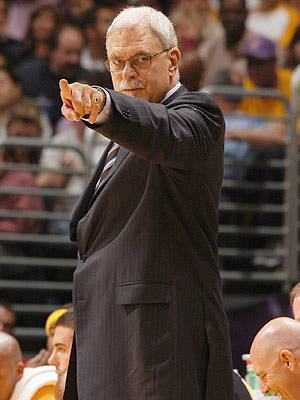 In 2001, Jackson helped Shaq and Kobe gel and they won a title against the 76ers. Derek Fisher shot 52.6 percent from three point range and O'Neal averaged 33 points and 15.8 rebs, 4.8 assists, and 3.4 blocks. Bryant put up 24.6 points and Mitch Richmond averaged 2.0 points. Such is the genius of Coach Jackson.
2002 Los Angeles Lakers Beat New Jersey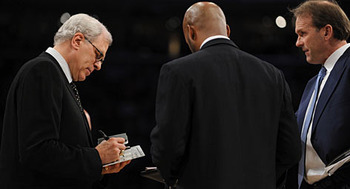 In 2002 the Lakers had a rough season as Jackson kept them in check.
By the time the Finals rolled around they got it together and beat the Nets 4-0.
In the Finals Shaq averaged 36.3 points, 12.3 rebs, and 2.8 blocks. Kobe averaged 26.8, 5.8 rebs, and 5.3 assists.
Phil won it again.
2004 Detroit Pistons Beat Los Angeles Lakers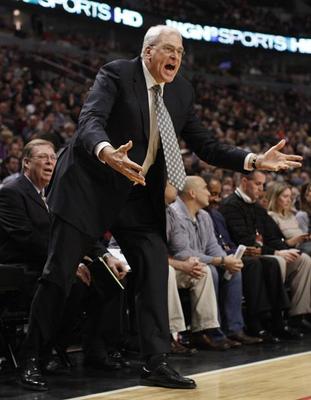 The Pistons totally took advantage of the Lakers and had five guys scoring in double-figures. The Lakers had Shaq, who shot 63 percent in the Finals and put up 26.6 points. They also had K. Malone and GP but...
The Pistons concentrated on stopping Kobe and he shot 38 percent for 22.6 points.
Jackson took the loss well, but the next year, with no Shaq, the Lakers did not make the playoffs. Phil was gone that year too.
2008 Boston Celtics beat Los Angeles Lakers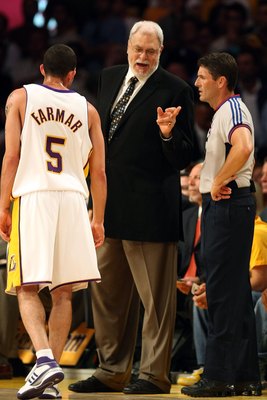 In 2008, Phil had been back with the Lakers a while. He reminisced about the 2000-2002 titles and knew the key to another Finals appearance was finding a skilled big man. Done!
The Lakers brought in former rookie-of-the-year Pau Gasol from the Grizzlies and they had a legit 7 footer.
Indeed, the Lakers made the Finals but lost 4-2. Phil vowed they would be back and they were, one year later.
2009 Los Angeles Lakers beat Orlando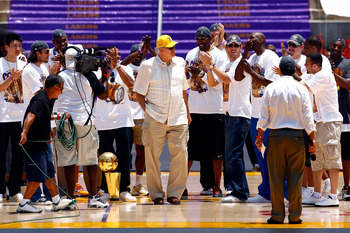 True to his word, Jackson led the Lakers back to the Finals series this time using Gasol as a major force in the lane as Kobe Bryant broke out of his Finals shell and led the way to the tune of his first Finals MVP.
Orlando kept it close for a while but the title win in-hindsight seemed inevitable.
2010 Lakers vs. Celtics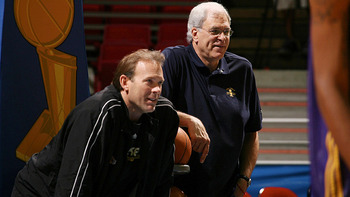 Phil has led another team back to the Finals. He is now known as the greatest coach in the history of the NBA, whether he wins it or not.
He gets the players there, sometimes the players have to take the blame. Jackson cannot be blamed because he knows what he is doing: obviously.
After a game 5 loss in Boston, Jackson now devises a plan to win the next two in a row against Boston.
Phil Jackson: a legend in our midst.
Keep Reading