The Top 10 Safeties to Watch in the 2010 NFL Season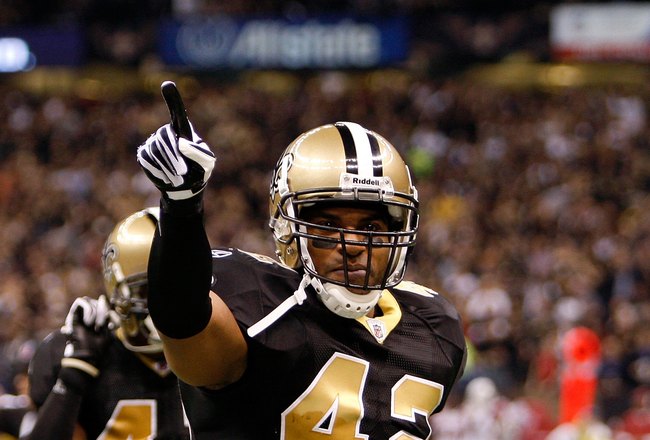 The safety position is one of the more underrated positions important wise on the defense and the entire game of football. When you typically watch a football game you usually think the linebackers and even defensive ends lead the defense, but they don't the safety is usually the leader of the defense. The safety position has also changed a lot safeties these days are now all sorts of heights and weights and are defiantly more athletic than ever before. You thought Ronnie Lott looked like a linebacker when he played safety, but now its like a running back playing safety.
10. Brian Dawkins: Denver Broncos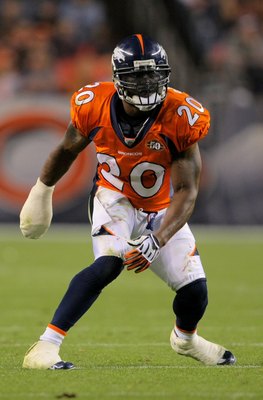 Brian Dawkins has been arguably the best safety in the NFL this past decade, but there is concern in todays decade with Dawkins. I think this might be Dawkins last year as a Bronco and maybe even his NFL days if he can't get to another team. I think it will be his last year because he is defiantly getting older going to be 37 during the 2010 season and I also think it will be his last year as a Bronco because his team is headed to a losing direction with a young coach still adjusting to be a head coach and departures of Brandon Marshall and Tony Scheffler. But, Dawkins is on this list because he still has some good safety play in him and he remains as one of if not the best leader in the NFL.
9. Quintin Mikell: Philadelphia Eagles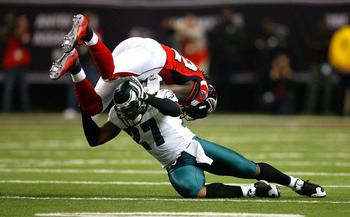 Despite not getting much credit, Quintin Mikell finally got some publicity after being named Second Team All-Pro in 2008 and being named to his first Pro-Bowl this past season at the age of 29. Mikell is one of the hardest workers and hitters (as you can see in the picture) in the NFL which shows how much Brian Dawkins taught him while Dawkins was in Philly. Mikell really needs to step up and be a leader of a new look Eagles defense after Dawkins departure the Eagles lost their identity as a defense, and now that Donovan McNabb is gone they lost their identity as a team and they need someone to step forward and I think Mikell can be that guy.
8. Eric Berry: Kansas City Chiefs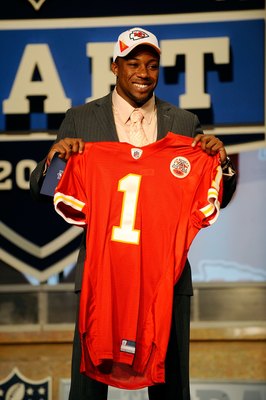 Eric Berry will likely be the best candidate for 2010 NFL Rookie of the Year being one of the most high profile rookie safeties ever. I think Berry will have a pretty good year in 2010 and end up being of the better safeties in the NFL. Berry has all things you would wish for in a safety good size, good hands, good tackling, good instincts, a big hitter, and is versatile in the secondary. Plus Berry is in the best place to be to get stats in the NFL at free safety expect Berry to get at least 80 tackles, at least 3 interceptions, and at least 5 tackles for loss. I really didn't know where to put Eric Berry on this list next year he could be number one or he could be not even in the top ten, but expect Berry to make a huge impact on the Chiefs pass defense.
7. Darren Sharper: New Orleans Saints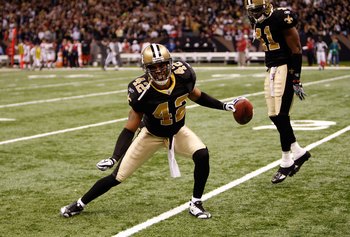 Darren Sharper was probably in my opinion one of the biggest stories in the 2009 season going to a free agent unwanted by the Vikings and signed to a cheap contract for one year in 2009. Well that cheap contract ended up being microscopic money after how he played in the 2009 season. Sharper had a league leading tie with 9 interceptions and had a whopping 376 interception return yards along with 3 touchdowns. Its crazy how an old man like Sharper just couldn't be caught after he intercepted a pass. There is a few concerns or I would have put him number one on this list: Sharper is getting older despite showing no signs of getting older and he had knee surgery. I still expect Sharper to make a big impact in 2010 despite all the doubters.
6. Jairus Byrd: Buffalo Bills
The ball magnet is what exactly describes Jairus Byrd, he sees the ball he runs after it and tries to get it. Byrd had a outstanding rookie season and should have won the Defensive Rookie of the Year for two reasons: 1. He didn't take steroids and 2. He had a league tie with Darren Sharper in interceptions with 9. Byrd would be higher on this list if he could do more than intercept passes, but 9 interceptions almost enough and is a lock for this spot on this list. Byrd needs to establish himself as the leader of the Bills sorry team with already being by far the teams' best player. The only question Byrd has surrounding him is: Will Byrd have a sophmore slump? we will find out.
5. Brandon Meriweather: New England Patriots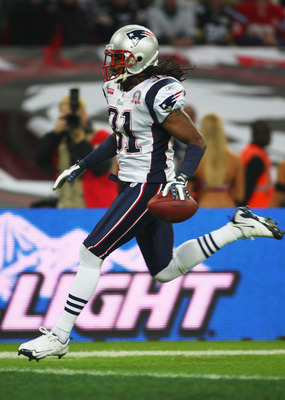 Brandon Merweather and Jerod Mayo gave the Patriots defense an identity about midway through the 2009 season that was left by Tedy Bruschi. Meriweather emerged as one of the NFL's better safeties in 2010 notching 5 interceptions and having over 80 tackles. So Patriots fans can finally accept the fact that Rodney Harrison is gone. Expect Meriweather to have a better season in 2010 after boosting his composure with his first Pro-Bowl in 2009.
4. Nick Collins: Green Bay Packers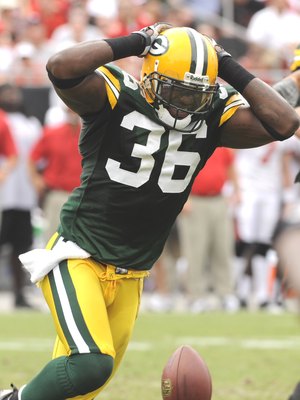 After starting just about every game in his first three years in the NFL Nick Collins was just a descent player, but by the end of the 2008 season Collins showed he was the real deal. Collins had 7 interceptions in 2008 more than the first three years in his career combined and showed no signs of not repeating it in 2009. Collins had 6 interceptions in 2009 not as much in 2008, but it was a big mark to put his name officially as one of the NFL's elite safeties. Collins is in a great defensive backfield along with Charles Woodson, but Woodson lets Collins get picks too. Expect Collins to have a pretty good season in 2010 being his consistent self.
3. Ed Reed: Baltimore Ravens
Ed Reed along with Troy Polamalu has dominated receivers and quarterbacks over the past decade and has been the best doing it. Ed Reed always makes an impact when he is on the field and is a nightmare for any team to face. There is concerns and questions with Ed Reed they are: Does Ed Reed like playing football? especially with early retirement rumors and can Ed Reed stay healthy at a consistent basis? well those questions are certainly a big mystery. But when Ed Reed is on the field he is the best player on the field and would be the best safety on this list to watch in 2010 if he was always healthy.
2. Troy Polamalu: Pittsburgh Steelers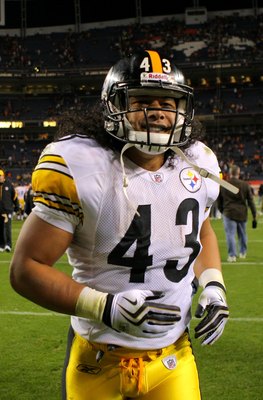 Like Ed Reed, Troy Polamalu has recently been battling injuries, but still remains as one of the NFL's best safeties and players. Polamalu will be better than Ed Reed in 2010 just because he is younger and Polamalu knows he must be healthy as the teams' leader on a team in question with Ben Roethlisberger doing stupid stuff and Super Bowl 43 MVP Santonio Holmes being gone. I expect Polamalu to really bounce back in 2010 and make a huge impact.
1. Adrian Wilson: Arizona Cardinals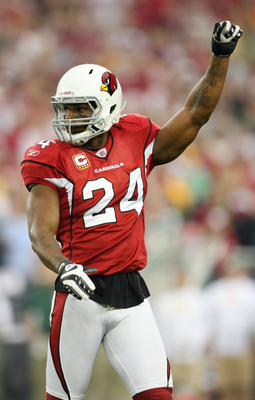 Adrian Wilson is defiantly the best safety to watch in 2010, he always plays at a consistent basis and remains as an under looked player in the NFL. Unlike Ed Reed and Troy Polamalu, Adrian Wilson isn't a well known player across young and some old NFL fans. Wilson silently made his way in to the 20/20 club (having 20 interceptions and 20 sacks in a career) being one of the youngest to do it and it wasn't really publicized at all. Adrian Wilson will be the best safety in 2010 mainly because he can do more than just intercept passes he can tackle and even sack quarterbacks.
Keep Reading