The 2010 49ers: A List of Realistic Expectations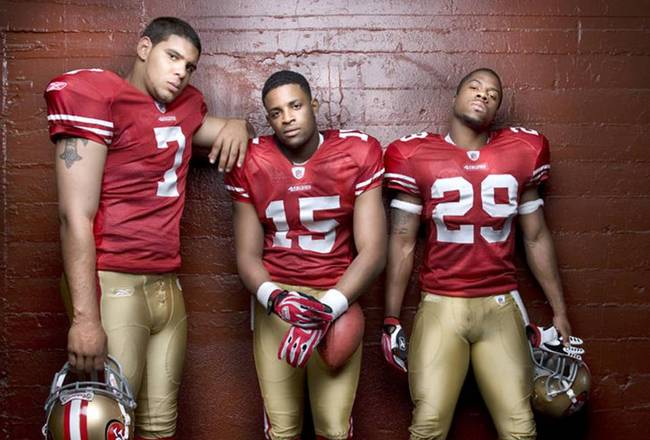 Forget predicting the record for the 2010 season. I could put anything from 6-10 to 11-5 and probably be able to argue my point. You never know how the league is going to change from game to game.
Take the Broncos, for example. Before the 2009 season, who would have thought they would go on a 6-0 run, becoming the all-around favorites in the AFC West? Conversely, who would of thought they would then go on a 4-game losing streak and miss the play-offs?
How about a list of realistic expectations for the 49ers in 2010? No record predictions, just some realistic and tangible goals the 49ers should achieve and we, as fans, should expect.
Ultimately, I left Alex Smith off the list because I think all fans expect him to improve, and I'm tired of reading articles about the reasons he'll do it.
The following is a list of things that should improve besides the QB position. Some of them, though, are directly related to it—another reason why I decided to leave it out.
So, here it is: A list of realistic expectations for 49ers fans in 2010…
1. Improved Offensive Line Play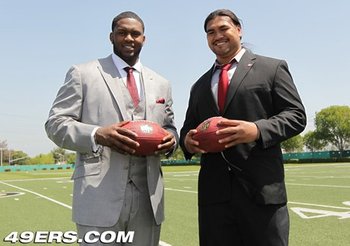 This, besides inconsistency and the QB position, has been the most glaring issue for the 49ers for a while. Using two first-round picks on offensive linemen means that there should be a noticeable improvement in pass protection and run blocking.
Should fans expect the O-line to become an impenetrable fortress staring week 1? No, and it probably won't be. But with first-rounders, especially ones taken in the teens, there comes the expectation that they will start and have some sort of an immediate and positive impact.
But as fans we have to take a step back and realize that there will be two rookies staring on the offensive line.
Expectations should be tempered.
Look at most of the really good offensive lines in the league and you'll see a group of guys who have been playing with each other for a while. It will probably take several games before they start to hit their stride.
Also, keep in mind that while run blocking is a relatively seamless transition from college to the pros, pass-blocking is not.
Anthony Davis is very young. At Rutgers he wasn't going up against the elite pass-rushers and complex schemes that he will see every week in the NFL. Same for Iupati.
I think an optimistic goal is that they start all 16 games, injury-free and with an overall noticeable improvement in run blocking and pass protection.
Last year the 49ers allowed 2.5 sacks per game. If the 49ers can reduce that to anywhere to 2 or less with better protection coming on 3rd and longs, it would be a vast improvement.
2. Improved Pass Rush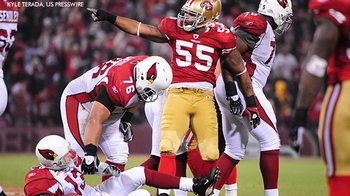 Of all of the perceived "needs" that the 49ers had going into the draft, one that was not directly addressed with one of their picks or through free agency was the pass rush.
Oddly enough, the 49ers sack per game total was 2.8 in 2009, finishing 4th overall. However, if you watched the games, you'd know this is a misleading statistic. The 49ers we very "feast or famine" when it came to getting at the opposing team's QB.
Against the middle-of-the-road teams, the 49ers seem to be able to rack up the sacks. Arizona, Jacksonville, St. Louis and Chicago all fell victim to the 49er's "feast".
But against the very good teams, including the shoddy O-line of the Green Bay Packers, the 49ers were not even able to get within arm's reach of the QB. The 49er's "famine" included games against Green Bay, Philadelphia, Atlanta and Houston, where the defense only totaled 4 QB sacks in these 4 games.
Ahmad Brooks came on last year as a 3rd-down pass rush specialist and he showed he has the ability to possibly become a good pass rusher, but we'll see how his late season surge translates in the 2010 season. The 49es had faith in him and signed him to a 2-year contract. That, along with the fact that they did not go after a pass-rusher in the draft or in free agency means he'd better perform in 2010.
3. More Production from the Wide Receiver Core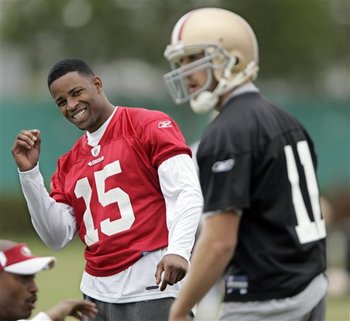 It has been a while since the 49ers had a legitimate play-maker when it comes to their wide outs. The last wide receiver to have either a 100-yard game or a 1000-yard season was Terrell Owens. Vernon Davis had multiple 100+ yard games, but the 49ers need to get this production from their wide receiver corps.
The obvious player to achieve these goals would be Michael Crabtree. He hit the field in Week 7 last season and was nothing but productive. He didn't really have a break-out game, but you could see that the play-making ability is there.
Another piece of the puzzle was the acquisition of Ted Ginn Jr. from Miami. All of the prognosticators envision him as someone who can stretch the field, making opposing teams respect the deep threat, thus opening things up for the likes of Crabtree, Davis and the running game.
Tempering expectations, though, you should not expect all of these pieces to come together Week 1 against Seattle. There seems to be an abundance of potential here, no doubt. But one could argue that every player on the 53-man roster in the NFL has some sort of "potential"—otherwise, what the heck are they doing in the NFL?
The 49ers are going to have to prove—to put on film—that Ginn demands respect in the deep game and that Crabtree demands double-teams. Teams are not going to all of the sudden game plan around the passing game of a team who has been mediocre in that area for several years now.
Regardless, I think a realistic expectation would be for Crabtree to really shine this year and have him pass the 1000-yard mark for the year.
4. Improvement at the Running Back Position
No, I don't mean Frank Gore.
I mean when Frank Gore gets injured (like he has the last two seasons) and is out for a couple of weeks. The 49ers still do not have a proven back-up or even another running back to share some carries with Frank Gore when he's healthy.
I think the pressure is on Glen Coffee here. This is his second season and the RB position is not usually one where you need a few years to get comfortable. Not a "perform or you're out" type of pressure, but I think the 49ers are definitely looking to get an increased amount of production from him in comparison to what he did last year, even if Gore doesn't get injured.
Anthony Dixon? I just don't think that the young 6th rounder will have an immediate impact. Additionally, I think the 49ers are going to be putting Coffee on the field a lot more than Dixon because they're going to want to see a significant increase in productivity from him as well.
5. Just get ONE...GOOD...WIN...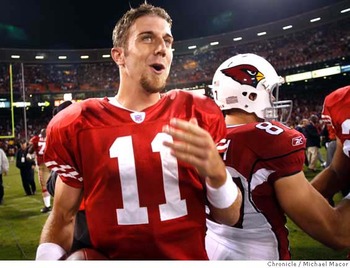 And the rest should follow.
8-8 would have meant a lot more if the 49ers could have gotten one of those wins against a good team—other than the hot/cold Cardinals.
This is the one thing that everyone seems to forget when they start touting the 49ers defense, running game or Alex Smith's "good" games last year: The 49ers have not beaten a really good team in a long time.
You can scrutinize over stats and pick out the ones that support your claims about the bright spots on the 49ers all you want. "If this guy didn't fumble here, if just this happened here…" OK. And?
I'm not trying to downplay the achievements of Justin Smith, Patrick Willis, Frank Gore, Vernon Davis and the other solid players the 49ers have, but the fact remains that the 49ers have not beaten a really good team in a long time.
8-8 is an improvement, but when three of those wins come from the Rams twice and the Lions, it deflates the record a bit.
If the 49ers and Alex Smith are going to take that next step, they need that "the 49ers have arrived" game. Next year's schedule is full of those opportunities: on the road against Atlanta, Green Bay or San Diego. How about at home against New Orleans and Philly (even with Kolb)?
Not being able to perform against good teams like the ones above has been in the 49ers culture for several years now, and it's not like the locker room and staff has been completely revamped.
Willis, Smith, Gore, Davis, Singletary, Manusky, all the leaders of this team have become accustomed to acquiescence when it comes to getting beat down by the big boys.
All of these players are used to being given a big dose of reality whenever they play the NFL elite. Singletary can be as "hard-nosed, smash mouth and physical with an 'F'" as he wants, but all that talk will become very transparent if the the 49ers have another ho-hum season and miss the play-offs.
The one position that this hard-edged confidence needs to come from is the QB. Smith has been making progress, so hopes are at an all-time high going into the 2010 season.
The culture in that locker room needs to change, and it has begun to since Singletary took over. Now the 49ers need to take that next step.
Keep Reading

San Francisco 49ers: Like this team?