England vs. USA: Goalie Gaff Gives Yanks Tie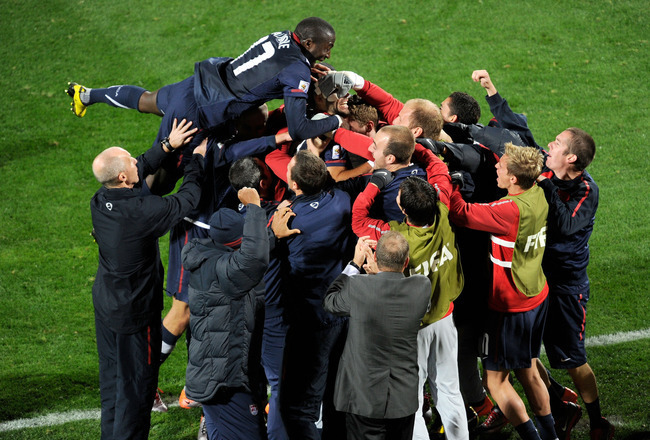 With all to play for in the important World Cup tie. England's Three Lions and the Yanks of U.S.A. certainly made a tie a great one, with both sides having great chances, but it was a tale of two goalkeepers as one shone and one stunk.
Tales Of The Unexpected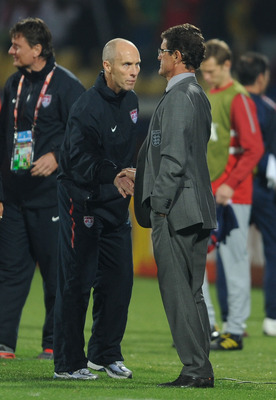 Both managers announced their starting lineups in this crucial opening tie at the latest possible moments.
USA: Howard, Cherundolo, DeMerit, Onyewu, Bocanegra, Dempsey, Bradley, Clark, Donovan, Findley, Altidore.
Subs: Guzan, Beasley, Bornstein, Buddle, Edu, Feilhaber, Gomez, Goodson, Holden, Spector, Torres, Hahnemann.
The U.S.A.'s Bob Bradley made a couple of unexpected team selections. The inclusion of Onyewa at the heart of the defence was a bold move from the U.S. boss. Onyewa hasn't had much first team soccer since his return to fitness, so to be picked to play head to head against one of the world's hottest strikers in Rooney was a bold move.
Bradley also picked Findley to play alongside Altidore up front for the Yanks over Buddle, who had destroyed Australia only a few days previously.
England: Green, Johnson, Terry, King, Ashley Cole, Lennon, Lampard, Gerrard, Milner, Heskey, Rooney.
Subs: James, Barry, Carragher, Carrick, Joe Cole, Crouch, Dawson, Defoe, Upson, Warnock, Wright-Phillips, Hart.
Capello also made a few shocking decisions to his team selection. Firstly, the selection of James Milner of Aston Villa. Milner had been a good prospect for the England team but had been suffering from a bug for the past 48 hours, so his selection was straight out of left field by Capello.
The prized green jersey for the Three Lions was always going to be a poison chalice in some aspects for Capello. His choices comprised, James, relegated with Portsmouth. Green, almost relegated with West Ham, or Hart, who has been an understudy at one club and loaned to another to get first team football.
Conventional wisdom would say the most consistent performer this season has been Hart. Capello picked Green, the least consistent of the three.
England Take an Early Lead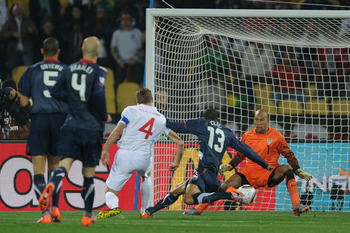 After a slow start, with both sides probing for weaknesses and feeling out each other, England captain, Gerrard, takes the game by the scruff of the neck and gives the Three Lions the lead.
Catching the USA asleep at the back, England take a swift throw and find Emile Heskey on the edge of the box. He threads the ball through to Steven Gerrard, who brilliantly slots it past Tim Howard under his body from 14 yards.
A nightmare start for the Yanks.
Capello's Gamble Fails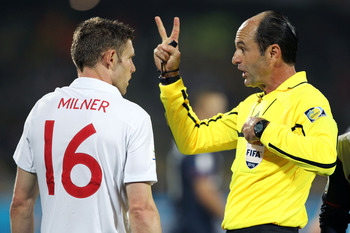 After half an hour Capello has had enough. His gamble on the young tyro Milner is cut short. After at least two bad challenges leading to a yellow card, and getting beaten too easily by Cherundolo, the Italian coach of England decides enough is enough, and replaces him with Wright-Phillips on only 30 minutes.
Oh Dear! Capello Regrets Gamble No. 2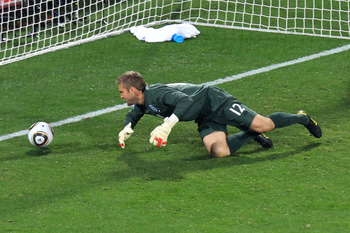 Clint Dempsey, who was unlucky to come out on the end of a defeat to Athletico Madrid in the U.E.F.A. Cup this season with his English club Fulham, will have been rubbing his hands with glee at this shocking piece of goalkeeping from Green.
As Dempsey jinked and turned to make space for himself about 25 yards from goal, he took a speculative shot on goal. He never expected to get anything from the shot, but to his great amazement and surprise, Green, kneeling to gather the ball, totally misjudged the shot and with desperation dove to stop the ball, trickling into the goal as he saw the England lead literally slip through his fingers.
Altidore Almost Steals the Game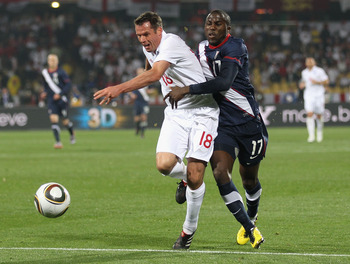 After Carragher takes the place of injured King for England at the back, the young striker who had a tough season in the Premiership with Hull City, gave the veteran English defender a torrid time.
In a number of forays down the left side Altidore showed just why he had scored so many goals in qualification, as he was denied by Green, who pushed the ball onto the post to save England's blushes.
Rooney Fits Nicely in DeMeritt's Pocket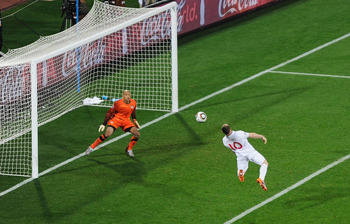 The big gun of England, Rooney, failed to fire as he was holstered by DeMerit, of English Championship side Watford. The Wisconsin native was outstanding as he kept one of the World's finest strikers out of the game.
Howard Shows Why He would Get in England's Goal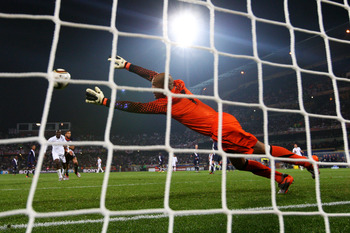 Before the game, there was a lot of hype about who out of the US team would get a starting berth in the England team. The resounding response was Everton's Howard, and on today's display he should be the world's best keeper.
Despite conceding an early goal to Gerrard, the agile keeper demonstrated just why he is such a great keeper—with fantastic and brave stops to prevent Heskey at least twice, in one case bruisingly so.
Anything the heavily fancied English threw at him the indomitable Howard kept it at bay.
The MVP with no other to press him for the claim.
Keep Reading

United States (National Football): Like this team?