The Ten Best Sports Movies of All-Time (A Different Opinion)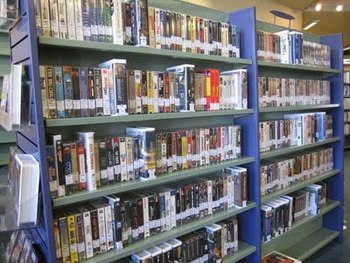 This list will have a few selections that won't be agreed with. In other words, some movies that everyone considers the greatest are not included.
Let's get that out of the way.
There are some movies I don't list simply because I've yet to see them.
Hoosiers
Field of Dreams
Raging Bull
Slapshot
Rudy
There are more I haven't seen, and I'm sure you can figure out which ones.
Now that we have that done, there will be some movies that I have seen that will not be on this list. They get an honorable mention.
My top ten will be in no particular order. Remember that this is purely one man's opinion.
Honorable Mention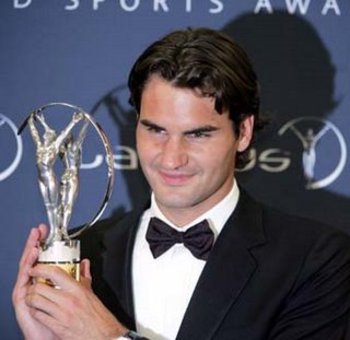 Out of the sports flicks I've seen, there are a decent amount I enjoy. Some movies that are considered great by others simply are not my favorites. I judge by how much I enjoy the movies along with style, script, etc.
That being said, your runners up are:
A League Of Their Own
Bull Durham
Miracle
Brian's Song
The Natural
Yes, I realize all five of those appear on the top lists of others. I honestly enjoyed all five of those, too. That being said, these movies simply are not my favorites.
Rocky (1976)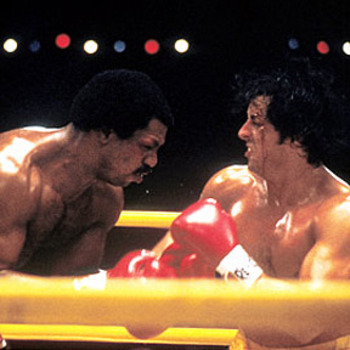 Rocky is considered by many to be perhaps one of the greatest underdog stories of all-time. An unknown southpaw gets to take on the heavyweight champion of the world.
I saw this movie before I really even knew the point of movies. All I knew was that punches were being thrown and blood was flowing, just like any other young boy.
This movie still holds a soft spot in my heart, and it's a movie I still watch over and over.
Rocky IV (1985)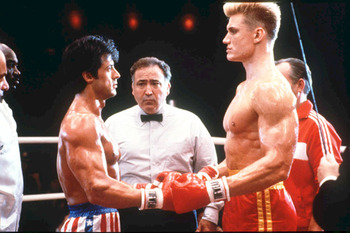 Okay, I'm probably the only guy that would put this movie ahead of Rocky II, III, and basically any other sports movie.
I honestly don't know why I love this movie so much. Maybe it's the fact that Dolph Lundgren played Ivan Drago. I became an instant fan of his after Universal Soldier.
It might be the fact that it's a good showing of "toughening up." Rocky faces a guy that's twice his size, strength, and stamina...before he goes to the grueling Russian tundra for training anyway.
Like I said, it's a crazy pick, but I love it.
The Sandlot (1993)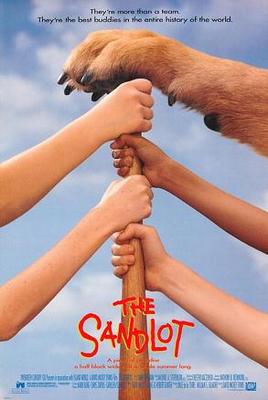 To be honest, I'm kind of sad that this film isn't in the discussion when it comes to being a great sports film.
I remember playing baseball as a little kid, so this film is sentimental for me. It's a reminder of the youthful innocence of childhood.
Granted, I played baseball as a little kid in a completely different era. It's a better reminder for those that grew up in the 50s and 60s. I still see parallels to my own childhood.
Sure, it's a movie for kids. That doesn't mean it can't enchant you as an adult. Since seeing this when I was four, I know I've watched it once a year, if not multiple times.
Hooligans (2005)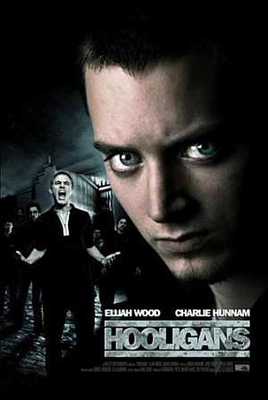 Sadly, this movie is not well known by the American audience. Hopefully the five of you reading this article will check it out, though.
While the main point of this film isn't the sport of football itself, I included it anyway.
What this movie is truly about is the changing of a man from being someone that sits back and lets life happen to him to a man that goes and does something with his life.
If you come into this movie expecting drunken brawls between footy armies, you won't be disappointed. However, I think you'll be please with the extra content of this film.
Major League (1989)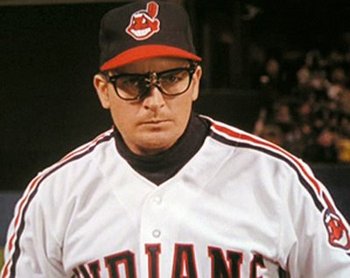 This movie is perhaps one of the funniest sports movies out there (well, other than the next flick on my list). Whether it's Rick "Wild Thing" Vaughn pegging anyone and anything with his wild pitches or Wesley Snipes waking up by the dumpster or doing push-ups after he hits a pop up, this movie has plenty of laughs in it.
One of my favorite moments is the scene with Dorn's contract. If you don't know what I'm talking about, go watch the movie (you won't regret it).
Caddyshack (1980)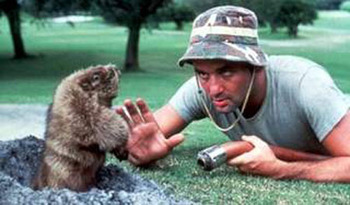 What really attracted me to this movie is Bill Murray and the gopher.
Don't get me wrong, I recognize and love all the other humor...but seeing Bill Murray talk the way he did and seeing the gopher punk him was simply priceless to me.
Oh, and let's not forget the gopher dancing to "I'm Alright." Luckily, his image was not tarnished for me by his talking counterpart in the sequel.
Days of Thunder (1990)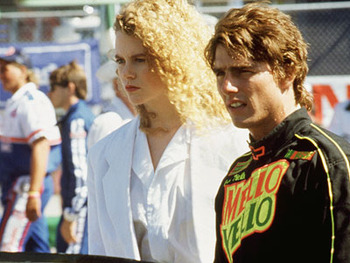 I have to be honest. This is one of the few movies that doesn't make me want to punch Tom Cruise in the throat.
First off, I don't want to hear about how racing isn't a sport. We have a whole Motorsports section you can complain about that in.
Yes, I'm aware that this movie is basically a more mature Top Gun. To be honest with you, that's why I like it. It's a movie that a guy can simply enjoy (not to mention that Nicole Kidman is in it).
I will say that Duvall's performance really sold the movie for me, though.
Jerry Maguire (1996)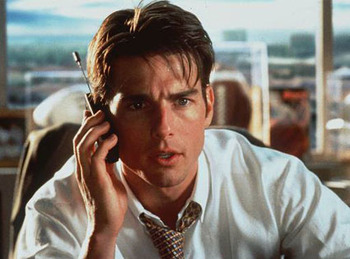 This is yet another one of the few movies that I like from Cruise. I think he does a good job portraying the mid-life crisis most men go through and how it's dealt with.
I think this is the movie where his complete insanity starts to peak. However, this is the one role that really needed the eccentric, panicking man.
Cuba Gooding Jr. plays the cocky, underpaid athlete memorably. In fact, I'm almost reminded of Darrell Revis.
These two actors combined in a performance that I was instantly drawn to when I first saw this as a 12-year-old.
Mean Machine (2001)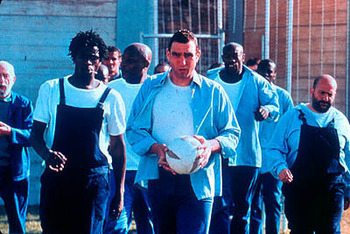 This is another football movie that not many Americans know about.
I checked this movie out for three reasons.
1. It's an English remake of The Longest Yard.
2. Vinnie Jones
3. Jason Statham
As a fan of The Longest Yard, I was intrigued by a remake of this nature. Being a Jones and Statham fan, I figured I'd get at least minimal enjoyment.
It was low-budget movie, so you can't go into it with very high expectations. My expectations were met and exceeded.
It was a masterful reworking of the main idea from The Longest Yard, and it kept some of the same jokes. It was a novel version of an old idea.
The Longest Yard (1974)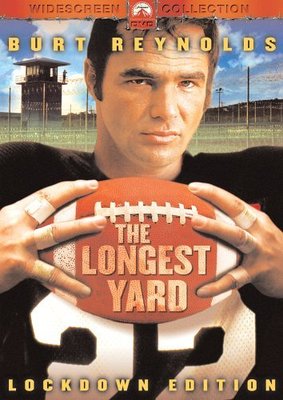 The idea of a football game between prisoners and guards is intriguing in itself. Seeing it on a screen is even better.
What makes this movie better than its Adam Sandler counterpart is that it didn't hold anything back. You could tell that the new version tried to tiptoe with its jokes and gags to avoid an R rating. Burt Reynolds makes sure that it's worth the R rating. It swears a lot. It's misogynistic, homophobic, and racist. Mind you, I'm not supporting those ideals. However, I am supporting the balls-to-the-wall attitude the filmmakers took.
Reynolds delivers a great performance of a womanizing, game fixing drunk that turns around at the end of the movie to be a team player.
Bonus Movie: The Karate Kid (1984)
This movie displays the classic teenage angst that was common in the 1980s. Macchio does it better than the John Hughes films. Not only does he deal with his problems, but he kicks people in the face while doing it.
You want to say karate isn't a sport? Go tell that to Jet Li.
Pat Morita delivered a great performance as Mr. Miyagi, filled with great insights and a good amount of humor.
Keep Reading