Chicago Blackhawks Parade: A Crazy Fun-Filled Day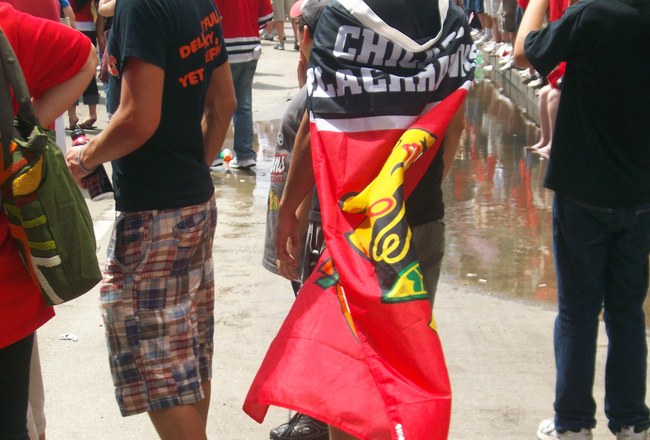 Going to the Blackhawks parade and being part of history was one of the most fun thing I could have done. Never had I seen so many people going absolutely crazy.
And when I mean crazy, I mean crazy.
A reported two million people were there, and I could totally believe that. Michigan Avenue was packed shoulder to shoulder from sidewalk to sidewalk. It was wallet-picking close. 
While I was there I got some photos of fans and banners etc. All the other stuff, like the players, you can find on ESPN or SI.com. I just want to show you the pictures that your most likely not going to see, giving you a more personal feeling to them. I hope you enjoy them.
Michigan Avenue Was Packed
An overhead picture of Michigan Avenue.
As you can see, it's pretty crowded and goes on for what seems like forever.
Fans Getting in Costume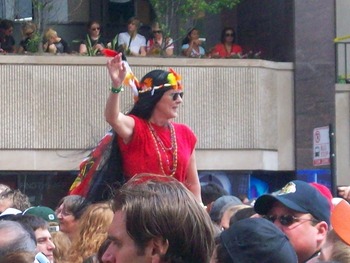 A woman showing her Hawk pride by dressing up as an Indian.
This was not an uncommon site at the parade.
No Remorse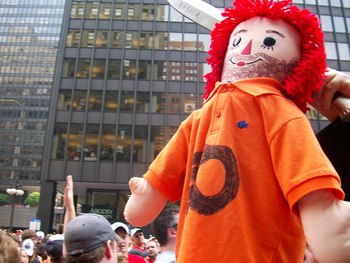 A man clearly stated that he had no remorse for his Hawks defeating the Flyers.
What you see is a puppet dressed in a Flyers shirt with a sword through his head.
Decorated Buildings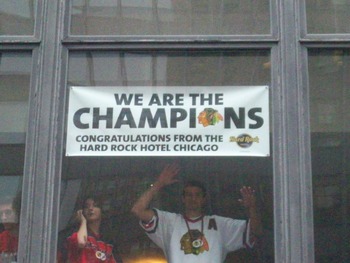 One of the many banners that were set on the buildings on Michigan Avenue.
Fan Pride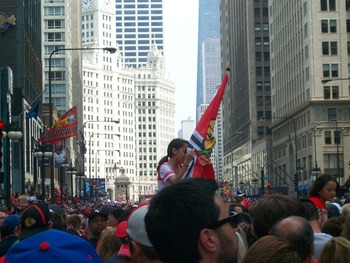 A young girl waving a Hawks flag.
This was prevalent throughout the whole parade.
Homemade Stanley Cups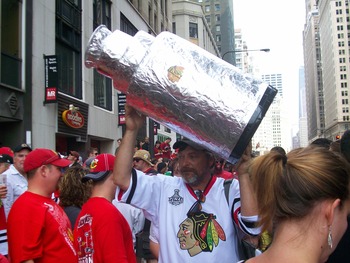 Many fans made their own version of the Stanley Cup.
A Human Stanley Cup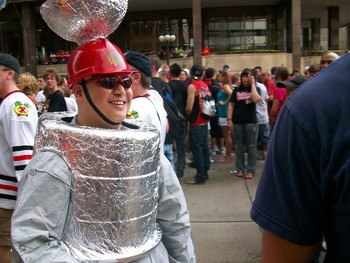 This has to be my favorite picture just because seeing this guy made me laugh.
He was the only human Stanley Cup that I saw there, but I am sure he wasn't the only one.
Let's hope he didn't roast in that outfit because it sure wasn't cold in Chicago on Friday.
Keep Reading

Chicago Blackhawks: Like this team?