Will College Football Expansion Inevitably Bring Down the NCAA?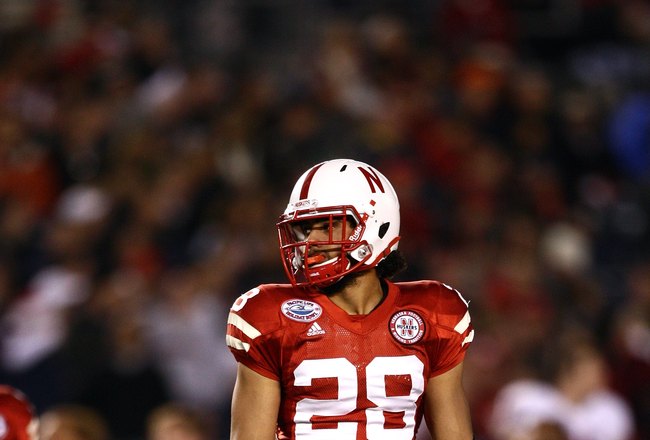 Fast-forward to 2012 when the new conference alignments begin play. The Pac-16, the new Big-16 (formerly the Big-10), the SEC, the East-16 (former schools of the Big East and ACC), the West-10 (the remaining schools of the former Big-12 and WAC), and Notre Dame.
How will the NCAA play into this picture?
Perhaps they don't.
Obviously the unspoken reason for these schools wanting to form mega-conferences is to chase the almighty dollar, but could this also be a run at bringing down the archaic beast better known as the NCAA?
As we sit back and wait and see, let's take a look at a projected look of these future mega-conferences, how they would be governed, and how eventually they would phase out the NCAA.
Pac-16 Circa 2011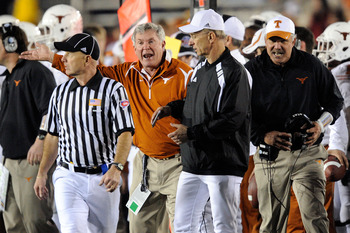 By now everyone has heard the Colorado has bolted for the Pac-whatever it may become, but what other schools will follow, and what will the conference look like?
Here's an idea:
North Division: Washington, Washington State, Oregon, Oregon State, Stanford, California, Colorado, and Utah
South Division: USC, UCLA, Arizona, Arizona State, Texas, Texas Tech, Oklahoma, and Oklahoma State
Pac-16 Championship Game and Headquarters: Los Angeles
Now that USC will be useless for at least three seasons, Texas would be the team to beat for the time being.
Perhaps Al Davis could sit on the Pac-16 throne. Think of it: Al making decisions. Lane Kiffin would love that.
Big-16 Circa 2011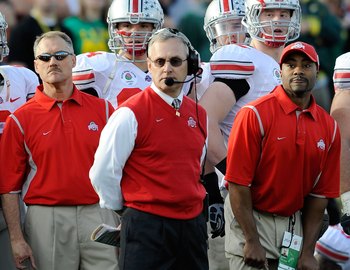 Perhaps the realignment will compel this conference to learn how to count. Schools of the midwest will gang together to create a conference that will bring billions of dollars (well, maybe not "billions") to the cash cows that already exist.
What would this conference look like?
Eastern Division
Illinois
Penn State
Ohio State
Wisconsin
Michigan
Purdue
Indiana
Michigan State
Western Division
Iowa
Iowa State
Nebraska
Missouri
Northwestern
Minnesota
Kansas
Kansas State
Big-16 Championship Game and Headquarters: Chicago
Not only would this be an impressive football conference, but basketball would be scary, too. I say crown Mike Ditka the grand poobah. "Da Coach" would run things rather tightly, don't you think?
SEC Circa 2011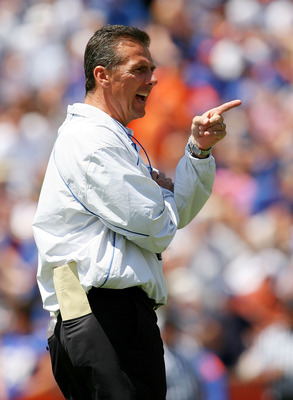 Currently the most powerful football conference, the SEC would have to move fast to keep that moniker. Which schools would the SEC reach out to in order to keep up with the Pac-16 and Big-16?
Eastern Division
Florida
Miami (FL)
Georgia
Tennessee
Kentucky
South Carolina
Vanderbilt
Virginia Tech
Western Division
Texas A&M
Arkansas
Auburn
Alabama
Ole Miss
Mississippi State
Florida State
LSU
SEC Championship Game and Headquarters: Atlanta
Possible wild-card if Texas A&M didn't have the onions to accept an invite to the SEC: Georgia Tech. Recall that the Yellow Jackets were once members of the SEC.
Since the OBC will soon retire from South Carolina, he would be perfect to run this southern beast. Decisions made daily at the 19th hole.
East-16 Circa 2011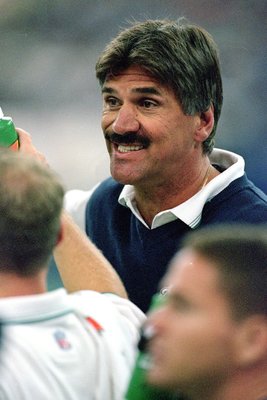 The new East-16 would be born out of necessity. Current members of the Big East and ACC who didn't find new homes would fit nicely into this respectable conference.
North Division
Pittsburgh
Cincinnati
Syracuse
Boston College
Rutgers
UConn
West Virginia
Louisville
South Division
Virginia
Clemson
Duke
North Carolina
North Carolina State
Wake Forest
Maryland
South Florida
Championship Game: Charlotte, N.C.
Two former weak conferences make one big weak conference. Who would run this conference? Let's get Rich Rod; he'll soon be unemployed and perfect for this gig.
West-16 Circa 2011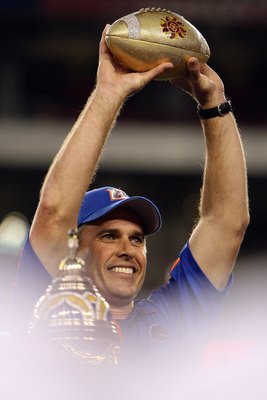 With today's news that Boise State is moving on to the MWC, perhaps there is an opportunity to form a bigger weaker conference out West to match the East-16.
What would it look like?
North Division
Boise State
Fresno State
Wyoming
BYU
Idaho
Colorado State
San Jose State
Utah State
South Division
TCU
UNLV
New Mexico State
Fresno State
Louisiana Tech
Hawaii
Nevada
Air Force
Championship Game: Denver
Maybe the East could meet the West for the annual Toilet Bowl. The king of the West would be none other than President Barack Obama.
Since he's not getting re-elected, and his home state is represented in this great conference, he would fit perfectly into this new world of college football. It's not college basketball, but he would still be great.
Notre Dame Circa 2011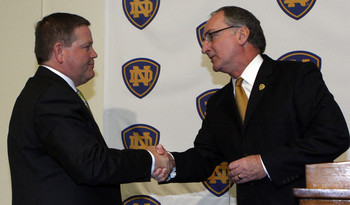 As Brian Kelly enters his second season as head football coach of Notre Dame, the school remains an independent, holds on to their multi-million dollar television contract with NBC, and continues to embrace mediocrity.
Let me help you out, Notre Dame. This may be a tough pill to swallow, but the vast majority of kids coming out of high school today don't care about Touchdown Jesus and your gloried past.
I know its hard to believe, but the past is the past.
Hopefully, Notre Dame will realize one day soon that they need a football conference, i.e. the Big-10, 11, or whatever, more than they need you.
Yes, there are still millions of fans that are glued to the television screen on Saturday afternoons when you play, but the grandeur of once was is slowly disappearing.
That being said, as long as the NCAA exists, Notre Dame will continue to receive preferential treatment.
However, if the new mega-conferences have their way, Notre Dame's influence will be diminished to the point that they will actually have to earn it on the field just like everyone else.
And guess what—the Fighting Irish no longer have the horses to compete as they once did.
Goodbye, BCS Bowl System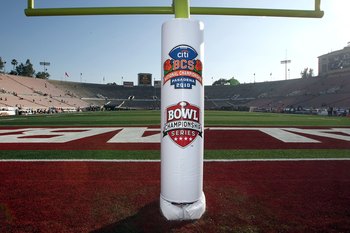 With the NCAA going away, could we finally see a true playoff in college football? Yes.
he conferences get a designated bowl (e.g. Pac-16 - Rose Bowl, SEC - Sugar Bowl, Big-16 - Orange Bowl, etc.), the top two seeds get byes while seeds three through six play a first round playoff game, the lower seed remaining faces the No. 1 seed one week later, and so on.
The remaining bowls get to choose from the remaining schools so everyone continues to make money. Nothing lost, and much gained. Think of it—a true national champion crowned every year.
Keep Reading