PGA Tour Golf: A Guide To the 2010 US Open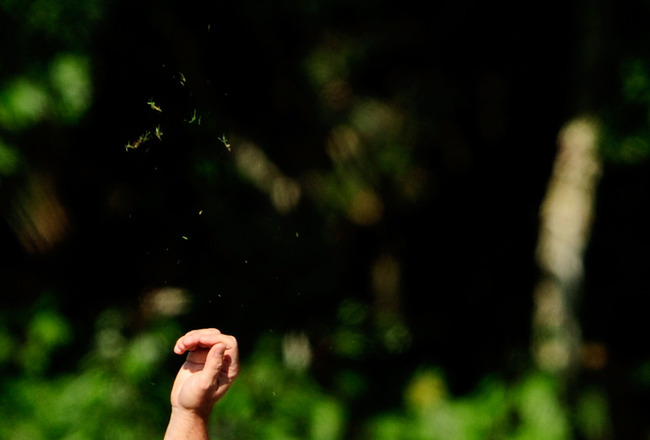 To think of the US Open as just another golf tournament is like calling Jordan just another basketball player and De Niro just another actor.
It's blasphemy. It's erroneous on all counts. It's a distorted perception of reality.
The only thing that is certain about the US Open: nothing is certain.
Never has that statement been as legit and verifiable as with the 2010 US Open, which begins June 17 at the Pebble Beach Golf Course.
Just imagine: a tournament without a favorite, just dark horses and wide-eyed dreamers.
It will be this intangible, absorbing suspense of the unknown victor that allures golf fans to ceaselessly watch, emulate, and root for professionals competing for their place in golf's record books.
In return, we, the D.F.P.G.A. (Devoted Fans of the Professional Golf Association), observe as the pros battle ruthlessly under arduous conditions and unending pressure until the last putt has dropped.
Unlike any of the other four majors, the US Open possesses a majestic, distinctive pride. The event includes not just players from all over the world, but facilitates open qualifying for the biggest stage in all of golf.
But don't think the US Open will be any easier to decipher than the Lakers/Celtics.
This year's track will be nearly impossible to conquer.
Who can handle Pebble Beach's deep bunkered gullies, hidden barranca, massive sloping fairways, and severe doglegs?
Who will be intimidated and will choke on holes 4-10, all of which play alongside the ocean?
Who can split the narrow fairways and hit the small, undulating, fast greens?
Take a look and see...
Don't Count Him Out: Retief Goosen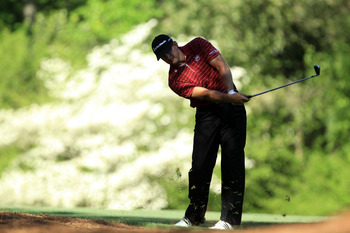 In the eight events Retief has competed in this year, he has five top-10's.
That means not only are his clubs doin' the talkin,' but so is his putter.
Are we about to witness another Goosen putting clinic?
Does anyone remember the putting tear Goosen went on at Shinnecock in 2004? He has always boasted a fluid putting stroke, but Goosen dominated the lightning-fast greens at Shinnecock.
Also, Retief bombs the ball off the tee and is an incredible ball striker. If he can maintain accuracy off the tee, and can locate the sweet spot on his putter...watch out.
Key Stats:
- Two-time US Open winner (2001, 2004)
- No. 29 in Driving Accuracy
- No. 1 in Total Putting (Total Putting is computed using 6 putting stats Putting from 3-5', Putting from 5-10', Putting from 10-15', Putting from 15-20', Putting from 20-25' and Three Putt Avoidance from > 25'. Each statistic is given a numerical weighting based on the frequency of putts attempted from each distance)
- No. 1 in putts between 5-15 feet (that is a major stat to own)
- No. 2 in Birdie or Better on Par-5's
- No. 7 in Final Round Scoring Average (69.0)
Short, Straight and Consistent: Tim Clark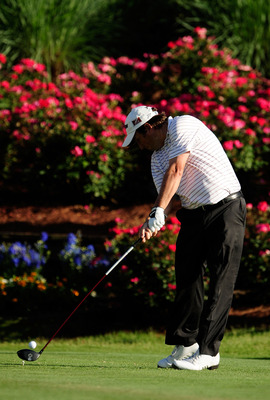 Tim Clark may be only 5'7 and weigh 165 pounds, making him look like a pipsqueak next to behemoths like Bubba Watson, Tiger Woods, or Phil Mickelson, but he has proven the value of the "short and straight" golf strategy, which could be lethal at Pebble Beach.
It's really this simple: Pebble Beach is littered with tiny, quick greens, but Clark is a solid ball-striker who can hit it in the right spot, both off the tee and onto the green.
Key Stats:
- T10 at the Pebble Beach Pro-Am in 2010
- Four top-10's this year
- No. 2 in Driving Accuracy*
- No. 3 in Putting Average*
- Won the Players Championship
Leader of the Youth Movement: Rory McIlroy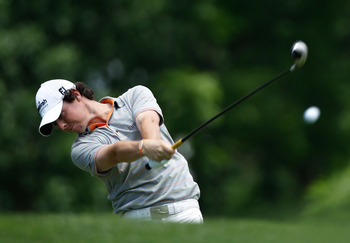 In the five events McIlroy has competed in during the 2010 season, he has three top-25's and a brilliant win that was capped off with a final-round 10-under-par 62.
This young, curly-haired Irishman is no joke.
He is deep off the tee and hits fairways 61% of the time, which is more than I can say for a favorite like Mickelson (51%).
It's more on instincts than anything else that I included McIlroy in this bunch.
His potential is off the charts and I expect him to make big moves on the weekend, as he did at Memorial last weekend (T10), and Quail Hollow (Winner).
Key Stats
- Ranked No. 4 in final round Scoring Average (68.0)
- Between 100-125 yards, he ranks No. 10 in closest to the hole on average (which will be crucial on a shorter course like Pebble for a bomber off the tee like McIlroy)
- Rank No. 15 in Driving Distance (292 yards)
Who Knows Which Lefty Will Show Up?: Phil Mickelson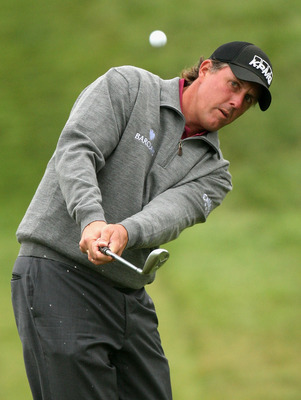 Tiger may have the headlines, the tweets, the status updates, and throngs of people following him, but Mickelson has the momentum going into the Open.
In one of his best season's yet, Mickelson could potentially win this prestigious tournament...that is, if he doesn't play like the Winged Foot 2006 Mickelson.
To be blunt, Lefty has a tendency to get over-aggressive.
These are the exact inclinations that have tarnished a multitude of Mickelson's rounds in the past.
What's interesting is that Mickelson may play solid, first-rate golf Friday, Saturday, and Sunday, and then finish two or three behind the winner because of a foolish, unrealistic attempt made on Thursday.
People are drawn to Mickelson's fearless, ambitious, and aggressive attitude...I know I am.
But only when he blends that kind of dynamic play with strategy and poise does he persevere.
Rumor has it, the hard hitting, lengthy lefty has been perfecting his 2-iron in hopes of minimizing error off the tee with a driver. That's just the kind of action he needs to take to secure a win on a tight course like Pebble.
Key Stats:
- 8 Top-25's
- 4 Top-10's
- No. 6 in Driving Distance (300 yards)
- No. 4 in Birdie Average per round (4.12)
- No. 4 in Scoring Average (69.92)
- No. 1 in Par-5 Birdie or Better
- No. 1 in Approaches from 100-125*
Nope: Tiger Woods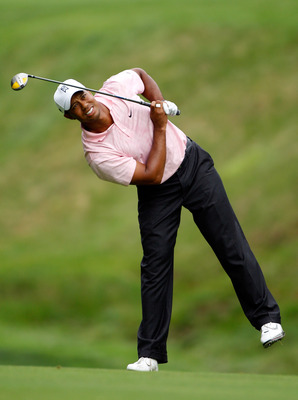 Tiger is buggin' me.
He gets all the press, all the headlines, all the sympathy and yet I don't think he has proven worthy of it since his return at the Masters.
His season has been characterized by an injury/withdrawal, a missed cut, and mediocre play compared to his godly reputation.
The worst of it all came last Sunday at the Memorial.
On most Sundays, as I watch golf tournaments on television at home with my Dad, I can't help but be jealous of the fans who are on the ropes following the pros.
However, I felt nothing near jealousy, but instead sympathy for those having to watch Tiger.
He emanated indifference. It was in his swing, his facial expressions; even in his stroll across the fairway, which appeared to be a chore.
As a longtime fan, I can't not root for the guy to bounce back. But, I think it needs to be gradual recovery, and not some out-of-the-blue victory that restores the magic that Tiger brings to the sport of golf.
Gay Just May: Brian Gay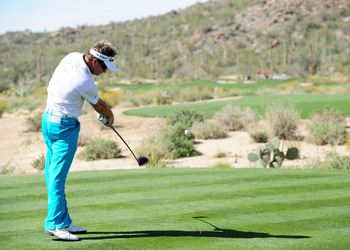 You probably saw the name "Brian Gay" and thought, "Ya right, this Leivenberg kid doesn't know what he's talking about."
Patience. Read on.
I included Brian Gay on this list because he is in the top-5 in three of the most important stats in all of golf:
- No. 1 in Driving Accuracy (73%)
- No. 2 in Putts Per Round (27.75)
- No. 5 in Putting Average (1.755)
These are the kinds of stats that just may elevate Gay to his first major on the PGA Tour.
If he can be clever about his course management by not trying to overpower the ball and instead just concentrate on hitting fairways, he will verify the old golf adage "drive for show and putt for dough."
Key Stats:
- No. 6 in Final Round Scoring Average (68)
- No. 6 in Scrambling (67.37%)
- No. 4 Putts inside five feet
My Three Dark Horses: O'Hair, Stricker, Ogilvy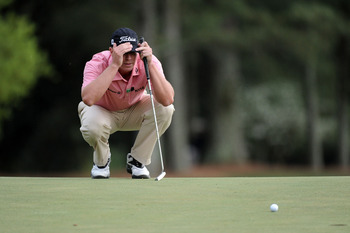 I love all three of these players because they beautifully intertwine the need for mechanics and touch in competitive golf.
At Pebble, I could see all three of these guys playing exceptional golf, especially Stricker, whose feel for the greens is almost unparalleled on Tour.
While Ogilvy has shown glimpses of his old self in a somewhat mediocre 2010 season, maybe he will break through at the US Open as he did just four years ago.
If Sean O'Hair can get beyond his nerves and the hype of a major, he can shine at Pebble. He's a great ball striker, makes accuracy a priority, and has excellent touch on and around the greens.
Keep Reading