Five Reasons Why LeBron James Should Be a Los Angeles Clipper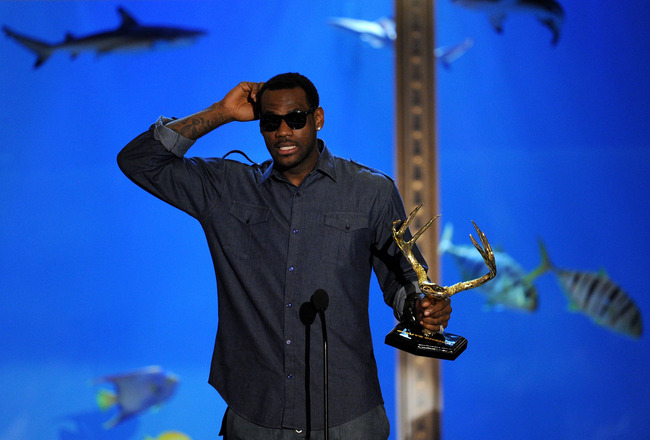 The curse of the Clippers is a well-documented basketball tragedy. Maybe the most pathetic franchise in sports, "the other LA basketball team" has been nothing but a punchline for the better part of 20 years.
They are the ugly step-kid to the beloved son, the Lakers. Actually, they're not even the step-kid. They are more like the ugly step-kid's ugly girlfriend.
Nobody goes to their games, nobody cares about their games, nobody cares who plays, and nobody cares about their results. Especially their owner Donald Sterling, who from a basketball perspective is a complete and total joke.
This past decade, the Clippers have won more than 40 games only one time, which resulted in their only postseason appearance. In fact, they have won fewer than 30 games in half of those seasons.
Not only that, the Clippers continue to possess the worst combination of bad luck and poor decision-making in this league. This was never more apparent than when they selected Blake Griffin with the first overall pick in last year's draft.
Of course, Griffin suffers a season-ending knee injury, and while the word is he will be back healthy and ready to roll for 2010, one has to wonder if he will ever fully recover.
Knowing all of that, why in the hell would LeBron James ever go to the Los Angeles Clippers?
(Before I start here, allow me to point out the Clippers should change their team name stat. I don't really care to what, but it's just an awful name. Also, it's become synonymous with defeat and despair in sports pop culture and brings to mind only a pathetic franchise that never wins anything. )
Given all this failure, all their shortcomings, and all their struggles, I still believe LeBron should pick the L.A. Clippers in the upcoming offseason.
He has a chance to completely change the course of a franchise that for decades has been the laughingstock of the league.
Yes, the Clippers have not been good. But I would argue that somehow, the pieces are there for them to work, and it's up to LeBron to make them fit.
Very rarely does the athlete have the opportunity to make history by resurrecting a dead franchise.
LeBron has exactly that opportunity and if he were to succeed with the Clips, he would go down as more than just a legend—he would be a basketball savior.
On to the reasons.
No 5: David Geffen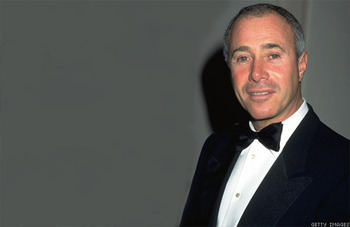 In order for LeBron to even consider joining the Clippers, Donald Sterling must go.
We really don't know anything about where LeBron's head is at this summer, but what we do know is that it will not play for Sterling.
The other Donald is known for being the biggest cheapskate in the league, the guy who will run a franchise into the ground to save a few bucks.
Sterling has proved time and again that winning means nothing to him. How else can you wallow in the cellar of the NBA for two decades?
He has also proved to everyone that he values the Clippers so much as a business venture that his stranglehold on the team is a league known-fact.
Until now.
Enter David Geffen, a 67-year-old record producer and film executive who just so happened to meet with LeBron and his trusted advisor, Maverick Carter, this past week in L.A.
Geffen is the founder of entertainment empires such as Asylum Records and Dreamworks SKG. (Translation: he's worth a ton of money to the tune of $4.6 billion.)
Geffen has been after the Clippers for a while now, and has made no secrets that he believe he can land Lebron in L.A. if given control of the team.
He's asking for a 51 percent share of the Clippers, so that Sterling can still be a minority owner of the franchise and continue to rip off whatever Clippers fans are still around.
Now, this all hinges of Geffen gaining majority control of the Clips, but if he does, he's the perfect type of owner for LeBron for the following reasons.
1. He will spend money. Geffen has been longing to be an NBA owner for a while now and wants to succeed as such. He will not be afraid to spend some cash if that means building a successful team.
2. He's an entertainment mogul. This appeals to one LeBron, because the King wants to be more than just a basketball player.
He wants to be a pop culture icon.
Geffen has the connections and resources to make the LeBron James brand bigger and even more valuable than it is now.
You combine Geffen business savvy with LeBron's desire to be that icon, and you have a perfect match.
No 4: Hollywood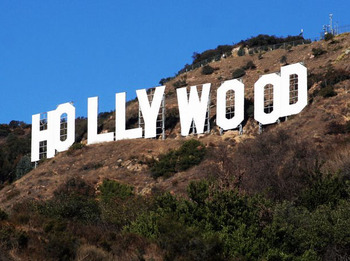 The opportunity to play in Hollywood is one Lebron should not pass up.
I like Lebron. As far as professional athletes, he appears to be a genuinely decent person. I will not argue against the fact he's somewhat well-spoken and definitely carries himself in a respectful manner.
That being the case, I will argue he is an egomaniac.
This is why I think he can't stay with the Cavs. He needs to be the best and brightest in a city that is the best and brightest.
The city where the stars shine the brightest has to be L.A.
LeBron is a star in every sense of the word. He wants his star to be a worldwide phenomenon—a symbol of greatness.
In order to fully satisfy that idea, he needs to be in Hollywood right next to Denzel, Cruise, and Kutcher.
Lebron doesn't want to be just a basketball player. He wants to have the opportunity to do more, and L.A. provides him with that. While LeBron may have grown up in Akron, his God-given talent makes him suitable only for a city like Hollywood.
I think LeBron truly believes that. If he stays in Cleavland, he is staying in a city that simply can't hold him.
He needs people like Denzel coming up after the games congratulating him, people like Jack Nicholson inviting him to after-parties, people like Steven Spielberg offering him movie cameos.
Make no mistake about it, LeBron is in the entertainment industry, and as such, needs to be where the star shines brightest in that world.
No. 3: Playing in the Same City as Kobe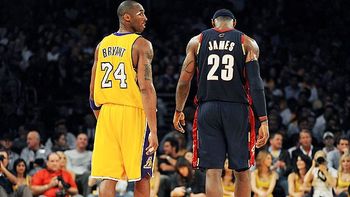 The postseason has brought on a change in thinking as to who is the best basketball player in the league right now.
After LeBron cruised to his second MVP, he seemed to have a pretty strong grip on the title.
That was before the Cavs ran into a tough Boston team that gave them the proverbial punch to the mouth that sent Lebron and Co stumbling back into their corner.
At this juncture in the season, I believe Kobe has proved that although he might not be the most talented, he is the most determined, and that alone has translated into being the best.
Boston's stifling D has given him some troubles in the finals, but he still has managed to score close to 30 in every game.
(It's amazing to me how scorers just score. Jordan was kind of the same way. At the end of the day, no matter how bad he played or poorly he shot, he still got 30.)
Anyways back to the point. Kobe is the best player in the league for no better reason than the fact he is still playing.
LeBron may put up the numbers and make your jaw hit the ground at least three times a game, but Kobe still knows what it takes to win games.
The Lakers-show doesn't get out of the first or second round without Kobe. His Game Six closeout of Phoenix was epic.
Now, imagine if Kobe and LeBron played in the same city.
Some pundits might say that no one city can hold the two of them, but I couldn't disagree more with that.
I'm going to say Kobe has at least two more years of what we just saw this past season. It's tough to argue that his athletic ability hasn't diminished significantly, but he keeps coming up with new ways to score (a la his post-up game, which is better than a lot of bigs in the league.)
So if LeBron goes to L.A., we could have a night-in, night-out basketball competition for eight months out of the year between two of the greatest to ever play the game.
Almost every night at the Staples Center, either Kobe or LeBron would walk out of the tunnel and right into the spotlight of the basketball world.
Let's go a step further and assume both teams make the playoffs.
Then we have the two best players of the past decade delivering historic playoff performances in the same building.
What about this possibility?
The Western Conference Finals being played between Kobe and LeBron in the Staples Center.
Goosebumps.
Hey, speaking of the Staples Center...
No. 4: The Staples Center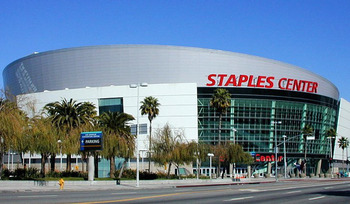 I know I already touched on playing in the same city as Kobe, but here I want to take it to the next level.
If LeBron and Kobe both play in L.A. for the next few years, the Staples Center has the chance to come the ultimate Basketball Mecca.
We are talking about hallowed ground.
As mentioned earlier, it would be a daily battle of greatness on the court, in the media, and even in the locker room.
Putting LeBron and Kobe in the same arena is a dream that needs to be fulfilled. Two superstars duking it out in the same building for 82 games plus playoffs would result in Los Angeles being the capital of the basketball world.
You could make the argument that it becomes the mecca of sports in general.
There would be no other arena where you could be promised that much greatness on a consistent basis.
The Staples Center immediately becomes the epicenter of professional sports if LeBron makes the choice to play in L.A.
Can you imagine how motivated LeBron would be knowing that every night, he will be measured against a current player many are now calling better than him?
Can you imagine the potential battles for "Who Runs This City?" we would all get to witness.
We are talking about a game of one-on-one for the history of basketball in L.A. I'm a pretty big Kobe fan, but if LeBron goes to L.A. and begins a dynasty of his own, Kobe will quickly have competition for the face of L.A.
(This presents the only snag in my argument. I'm afraid LeBron has too much respect for Kobe and as such will not step on his territory. He respects Kobe's legacy too much to want to annihilate it.)
Like I mentioned in the previous slide, if the Western Conference Finals were ever played between the Lakers and Clippers, we are talking about a series of epic proportions.
(I concede that a lot would have to happen for that to work, but it's OK to dream, right?)
They would now have to dim the lights for both teams.
L.A. basketball would be twice as popular as it is now.
Celebrities would have to start taking sides in L.A. I can just see Jack Nicholson sitting in Kobe's corner, while Denzel Washington sits right behind the Clippers bench every night.
You can guarantee the star-power that attends Laker games would most certainly attend any LeBron game.
The Staples Center would become the ultimate crossroads between sports and entertainment like nothing we've ever seen before.
The opportunity to be immersed in the Hollywood culture and partake in a nightly game of "who's the bigger bad-ass in L.A.," should definitely at least make LeBron think.
No. 1: The Supporting Cast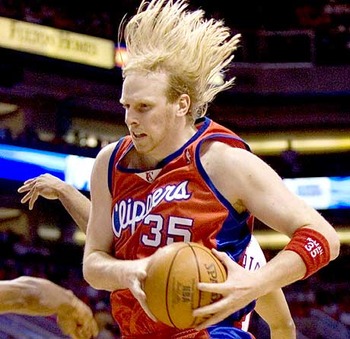 Let's just start by remarking what an awesome picture this is. He looks like those freaky ghost-looking guys from the Matrix Reloaded.
"Chris Kaman, Blake Griffin, and Baron Davis, you know they've got some really nice players, some nice solid pieces, that you add a free agent there or free agent here, could be a really good team."
This quote is from LeBron himself from his interview last week with Larry King.
I am going to agree with LeBron. I too believe the pieces are there.
PG: Baron Davis
Baron Davis has proven when he is in the right circumstances he is a true gamer.
(Just ask any Dallas Mavricks fan. To this day I don't think I've ever seen a player catch fire like Davis in the Mavs-Warriors '06 series. OK, it's already just pissing me off thinking about it. Time to move on.)
Last year on an injury-stricken ball club, Davis managed to still put up 15 and eight which are not terrible numbers for a PG.
However, Davis hasn't played with anyone in the same stratosphere of talent that James possesses.
I don't think we've seen the last of Davis' prime, especially because he has been known to just flat-out dog it for the Clips past two seasons.
Throw LeBron on that team with Davis, and I think you will see a fire lit underneath the Baron. I also don't think it's crazy to think he could go back to averaging close to 20 a game.
SG: Eric Gordon
At two-guard, the Clippers currently have Eric Gordon, who despite always looking like someone stole his best friend, has shown some promise in his young career.
Seriously, does anyone look more upset all the time than Gordon. It's not even a mad face, he just looks bummed, but then again so would you if you played for the Clips, I guess.
Gordon has averaged nearly 17 PPG last season and is a reliable deep threat at the two-spot.
He would be deadly with LeBron on the floor, because you can't leave Gordon to double James.
His career three-pointer percentage of 38 isn't that bad either, considering teams have never had to cheat off him to guard someone else on the floor.
Center: Chris Kaman
While Chris Kaman is probably the MVP of the NBA All-Ugly Team, he is a more than capable starring center in this league.
Hell, he was an All-Star actually.
Real quick, my personal all ugly NBA team:
PG: Delonte West
SG: Tayshaun Prince
SF: Andrei Kirlenko
PF: Shelden Williams
C: Chris Kaman
Coach: Jerry Sloan (always looks like total hell to me)
Back to Kaman. In 76 games last season, he averaged nearly a double-double with 18 PPG and nine boards.
He can hold his own on the defensive end and is still another—surprising—scoring threat.
PF: Blake Griffin
Then there is the anomaly that is Blake Griffin.
I saw Griffin play in college two years ago when he was at OU, and he was an absolute beast to watch.
Griffin's size and athleticism makes for a rare combination evident in his ferocious rebounding efforts. In college, he absolutely owned the boards, and could run the floor as well as most small forwards.
However, he has still not played in an NBA regular season game.
How much faith can you put in a player who messed up his knee coming down from a dunk?
It would be a tragedy if Blake Griffin was never able to recover from that injury suffered last year. All signs are good so far, and I think shutting him down all of last year was a terrific decision.
If he needs more time, give it to him. I really believe Griffin has potential to be a 20-and-10 player in this league if injuries don't derail him.

If Lebron played on this team alongside a healthy Griffin, you're looking at the most athletic 3-4 combination of size and strength in the league.
(People also forget the violence that Griffin dunks the ball with—it's up there with Bron Bron.)
Off the bench, you have DeAndre Jordan who showed some signs of promise last season. Despite being ripped on frequently, Steve Blake is a serviceable back-up PG in this league. Throw in Rasual Butler and Drew Gooden, and you have a decent bench.
Put it all together, and I honestly believe you have a contender.
Look LeBron won 67 games with Mo Williams, Jabba the Hut (Shaq), Desperado Delonte, and Antawn Jamison's depleted skeleton.
If Griffin is 75 percent of what he was expected to be, the Clippers are really better at every position.
In my opinion, LeBron can alter the course of basketball history, he can change the fates.
The Clipper Curse is huge, but the ability of King James is bigger and is enough to right the way of this train-wrecked franchise.
Keep Reading

Los Angeles Clippers: Like this team?