2010 FIFA World Cup: The 25 Hottest Chicks in Soccer Jerseys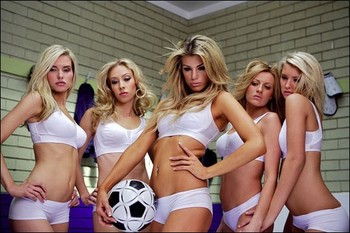 Welcome to the world of hot women wearing soccer jerseys. No need to get into more detail, the lead sentence speaks for itself.
If you have read my articles before, then you already know that we have been here before with the"50 Hottest Women Wearing Sports Jerseys".
I really can not stress how much different this slideshow is. For example, it is only 25 women instead of 50. It also is strictly dealing with soccer jerseys or any form of soccer jersey (you will understand once you begin the slideshow).
In reality, this list is almost the same thing but who is going to complain about looking at pictures of beautiful women wearing jerseys? I wish they had a city of women that were only allowed to wear soccer jerseys and nothing else, but I digress.
Here is the list, enjoy!
25. Charlize Theron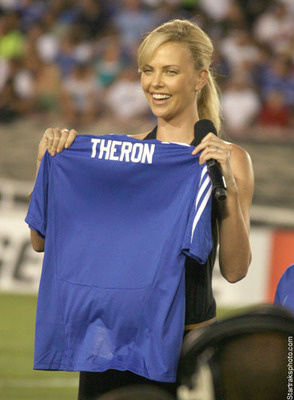 The first of a few celebrities that I found with soccer jerseys.
Now I know what you are thinking and I know she is not wearing the jersey but it is close enough.
I mean, the jersey will be worn eventually. Even if the public does not get to see it.
24. Playboy Group Shot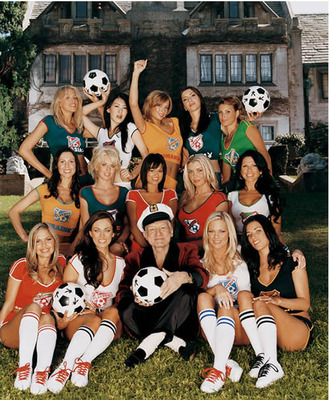 The only thing wrong with this picture is the man in the middle. But since he created the company responsible for organizing these women, I will allow him to stay in the shot.
Thank you Mr. Hefner.
23. Alyssa Milano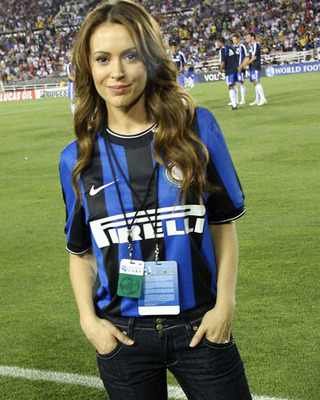 22. Anna Ord and Abbey Clancy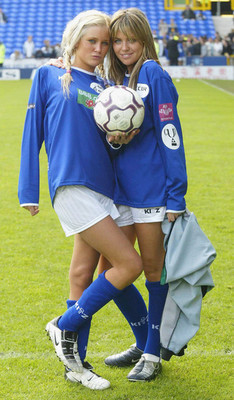 Every soccer fans dream has come true, two women, one blonde and one brunette, wearing soccer gear, ready to play.
When I say ready to play, I must clarify, I mean literally ready to play a game of soccer.
21. Megatone Boca Juniors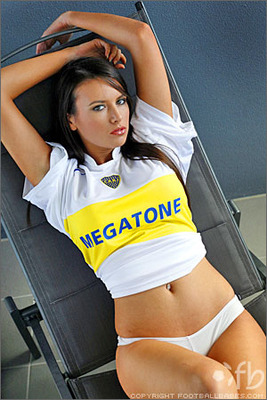 Megatone? Mega babe!
Sorry but that is the best I could come up with for this one.
20. Go USA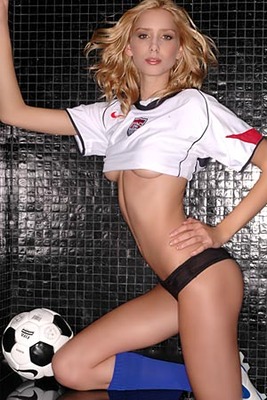 This is the way every female on my list should pose, in the shower with half a jersey and black panties.
There is really no need to wear the cleats but she got into full character for this shot. I am not complaining.
19. Sarah Brandner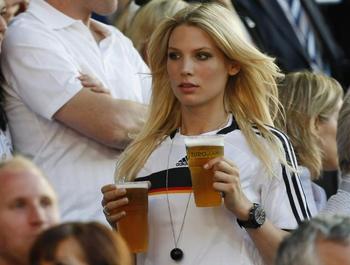 Sarah is dating German Midfielder Bastian Schweinsteiger. I do realize no one cares but I had to explain how I knew her name.
18. Red Uniform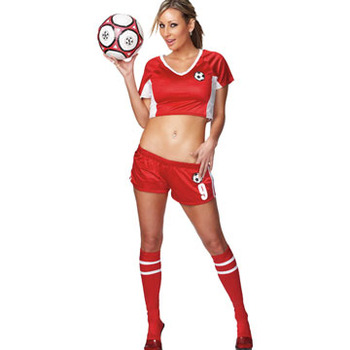 Ok ok ok, I will teach her to play soccer. The lessons will begin as soon as she realizes that wearing high heels on a soccer field will make her run like a seal on sand.
That joke makes little sense but no one actually reads this commentary, do they?
17. Does not matter, she's hot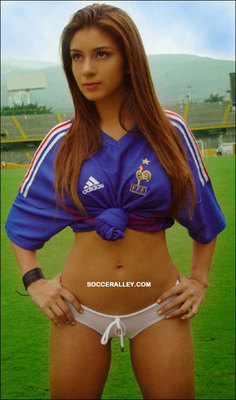 16. Liverpool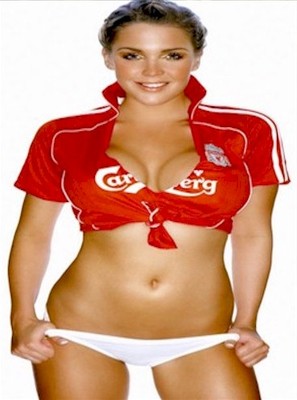 There is a song that comes to mind when checking out this picture. I just can not seem to think of the title of it.
Oh yeah, Double Vision by Foreigner.
15. Genna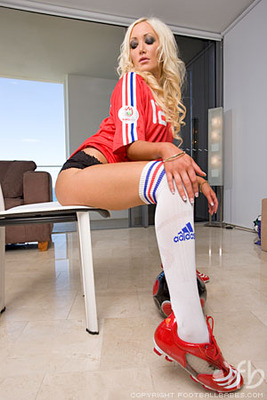 Genna is answering the question all men want to know, "When wearing a tiny soccer uniform, can you still maintain your balance on a dining room chair?"
Her answer is yes.
14. USA bodypaint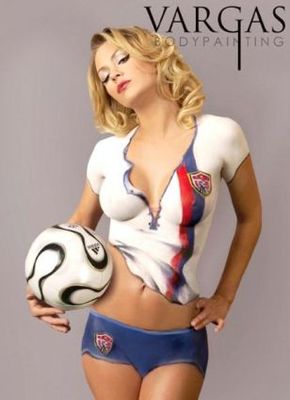 Thanks to TheVargas.com for constructing these beautiful photos of sexy women with nothing on except paint.
I am not a gambling man but I will bet that she is not the last woman on this list you will see with only body paint on.
13. WOW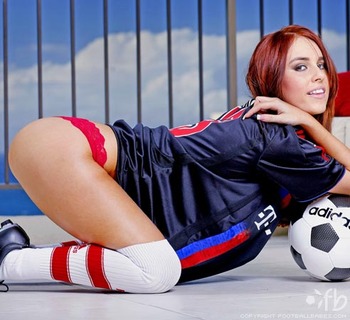 The title of this shot says it all. Wow!
12. Ines Sainz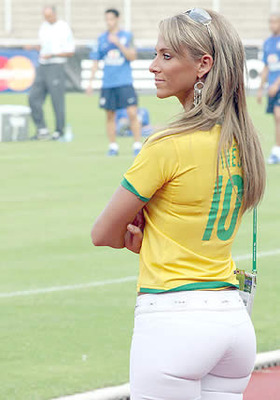 Ines is hot. There is no doubt about that. She is quite possibly the hottest female sports reporter in the world and yes I am including Erin Andrews.
Have you seen this babe? Need I say more?
11. Paraguay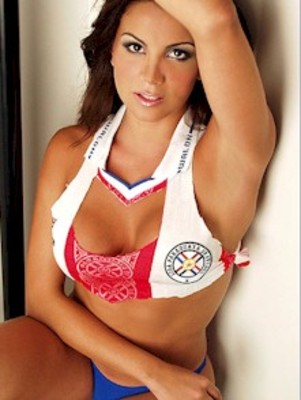 Paraguay is my new favorite place to check out hot chicks.
Well, them and Brazil. And Italy. Oh wait, and England.
Ok, so Paraguay is my favorite place right now for this particular slide.
10. USA Playboy Style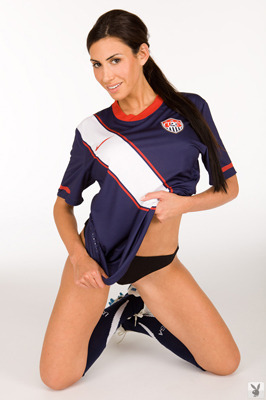 Anytime Playboy gets involved with soccer, especially Team USA, they never disappoint.
9. Manchester United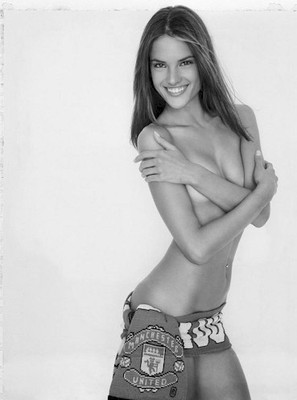 Yes, it is not a jersey that she has wrapped around her waist. But it is a towel and, you know what? She is hot and barely wearing anything so I think she can be excused for this one.
8. Corinthians Paulista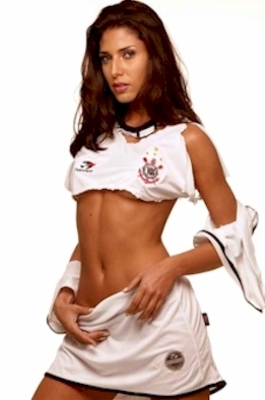 Of course you should be aware that this team is located in Brazil, a country where even the ugly women are hot.
If you haven't been to Brazil, you should visit. You can basically trip over all the hot babes that live there.
7. Italy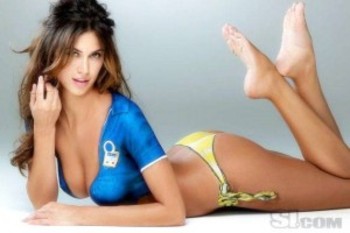 This women is not wearing any clothes. She is fully nude but it is hard to notice underneath the body painted jersey.
Where was she when I was playing soccer in high school and we needed another player to form equal teams?
6. Arsenal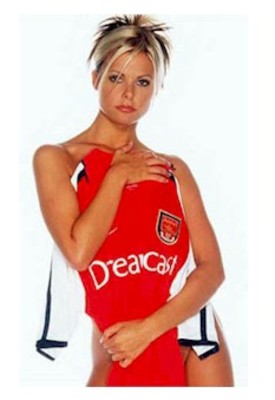 This picture has so many subliminal messages.
Does anyone else feel the need to play Dreamcast?
5. Mexico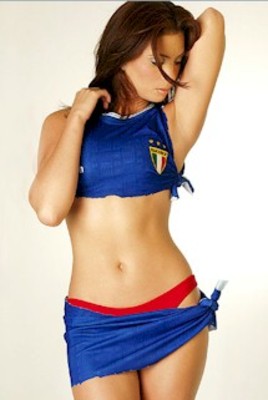 If you think she is sexy, just wait until you see the other chick from Mexico.
She is at number 5? What? Am I crazy?
It is hard to imagine it getting any hotter than this but trust me, it does.
4. Greek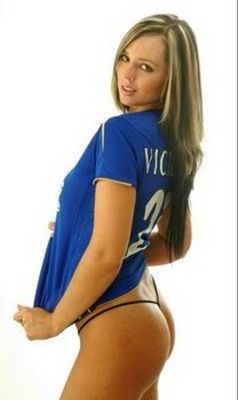 They might not have a lot of money in their economy but the Greeks definitely made a good investment with this picture.
I would give money to the Greeks tomorrow if they keep producing babes like this one.
3. Mexico #2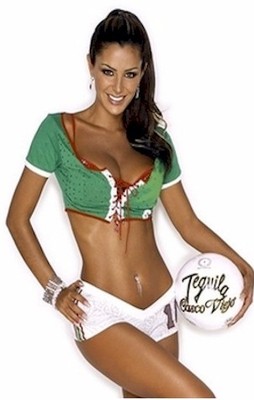 She might not be the first hottie from Mexico on the list but she is certainly the hottest.
Does it matter that she is not wearing an official Mexico jersey?
2. Bethany Dempsey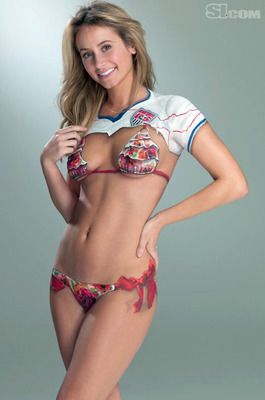 The always beautiful Bethany Dempsey, wife of USA soccer player Clint Dempsey, makes the list at number 2.
I want to meet the man/woman responsible for that idea. I can imagine the meeting when they decided to paint the jerseys on the women...
Artist: We need something sexier than naked women in soccer uniforms.
Guy #1: How about torn uniforms and bikinis?
Artist: No, that's been done before.
Guy #2: Why don't you just paint the uniforms on them, that way they are still naked but it looks like they are not?
Artist: That's brilliant! Who are you?
Guy #2: I was just delivering these pizzas you ordered.
1. All Star Team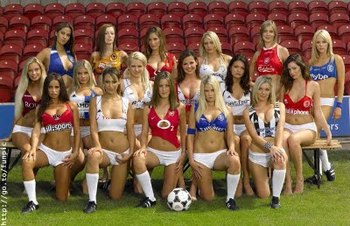 I can not think of one way to describe this shot. It is the biggest collection of babes in soccer jerseys I have ever seen.
All I know is that I want to buy a ticket to watch them play.
Keep Reading