10 Ways Conference Expansion and Realignment Helps College Football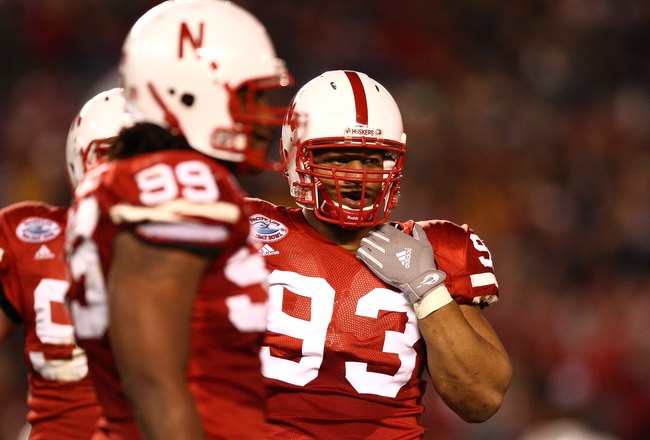 So unless you've been living under a rock these past few weeks, you might have heard a thing or two about conferences expanding.
Nebraska appears to be the first domino in what could ultimately be a fundamental shift in college football.
Football purists can cry and moan all they want but the conglomeration of the big powerful BCS conferences may be the ending of an era.
It also appears to be inevitable.
Like it or not, this is the road football is heading down.
So instead of complaining, it might be time to look on the bright side.
After all, there will be some advantages to this new reality...even if it feels a little bit dirty and twisted.
So, without further ado, let's make our football metropolis look a little sunnier.
Old Rivalries Renewed/New Ones Created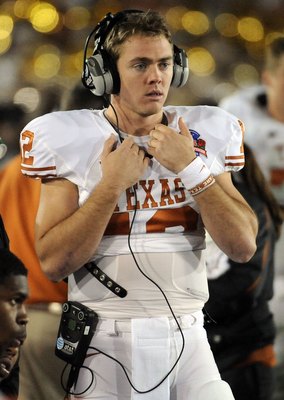 Alright so maybe Nebraska and Northwestern do not have a historic rivalry, but many of the dominos that could eventually fall would help improve and restore rivalries that once define college football.
What if Penn State and Pittsburgh rekindle their hatre of one another in the Big Ten?
What if Mizzou and Illinois could make their rivalry a conference clash?
What if Georgia Tech or Floria State were to rejoin the SEC? What if Clemson could renew some of their old fashioned SEC rivals as well?
These are match ups people would enjoy seeing and is just not possible in the current format.
Plus, we have some new rival possibilities.
Nebraksa and Ohio State battling for a Big Ten title.
Texas and USC—once the Trojans overcome their recent violations and penalties.
Sure there would be some ugly games and some contests that no one could really get excited for, but that will happen in all conferences.
At least in the super conferences we're guaranteed to get some big contests that could easily outshine previous BCS championship games.
Instant gratification boys and girls.
Better Regular Season Schedules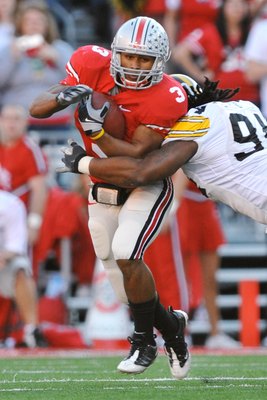 Is our conference schedules going to be very fair and even?
Nope.
Will it be fun to be watch?
You bet.
While some weeks have absolutely nothing to offer, there could be a titanic match-up week in and week out somewhere in the BCS conferences.
If these power conferences decide to add two more conference games, that gets rid of some of those cupcake games that no one likes to see anyways.
In truth, will the non-conference schedules be destroyed?
Undoubtedly yes.
However, the hope is that these conference games will be so important that it will make up for it.
Keep in mind, with so many teams in a division there will probably be complete and utter chaos—something college football fans love because it keeps their team in it.
In a conference like the Big 10/11/12, now instead of beating 10 teams, you need only to beat 5 teams to make the championship game.
That gives the teams something to work towards and should make games more competitive.
Cinderellas Find Their Glass Slippers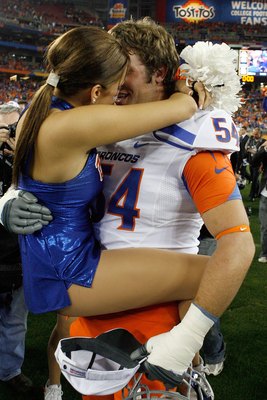 We have been complaining for quite some time about the crookedness of college football.
Cinderella teams from non-BCS schools like Boise State, TCU, BYU and Utah do not get their chance at the big dance. And when they do it seems to be against each other like last season's Bronco/Horned Frogs clash.
Fixing the corrupt system seems unlikely if not impossible.
However, the system might finally cut these guys a break.
Why?
Well teams are going to be so desperate for teams to keep their power conference alive, Cinderella may finally get their BCS tie-in.
The Big East did this in the last realignment crisis, raiding from Conference USA.
Call me crazy but I think Cincinnati is pretty happy about that change.
Instead of folding, which is a popular convention, maybe the Big XII can replace Nebraska with TCU or Houston.
Maybe the Pac-10 gets spurned and needs to add Boise State.
More likely, the leftover teams like Kansas, Iowa State and Baylor can create a new conference with some of these BCS busters and create a new power conference.
Either way, expect one or more of these teams to finally get what they deserve—a chance to play big time teams with real hardware on the line.
Conferences Can Do Math Now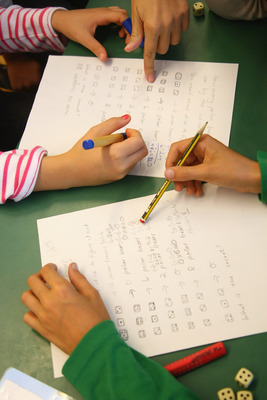 Let's face it, doesn't it bother you that the Big Ten can't do math?
Tradition is nice and all but we're talking two decades of faulty addition.
If there are major realignments, maybe we can get some new names—ones that actually correspond to the teams and regions they represent.
Truthfully, to help everyone, maybe we should just call them the North, East, West and South conference.
These names will still work when every conference has 32 teams in 2050.
Watching Notre Dame Squirm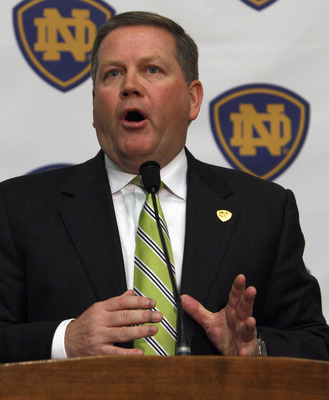 I have no clue what Notre Dame is going to do if this doomsday scenario plays out.
All I know that it'll sure be fun watching them try to figure it out.
Do you join the Big East where you have ties with every other sport but has a football conference with the least amount of prestige in the BCS-era?
Do you join the Big Ten that has been courting you like the school nerd for decades only to be rejected at prom year in and year out?
Do you stay independent and face the consequences?
Nobody puts the Fighting Irish in a corner but this might.
It could risk some of the best rivalries in college football.
Would it be sad if Notre Dame could not keep rivalries with USC and Boston College? Of course.
It may also be inevitable.
However, the soap opera that could be heading our way, "As The Fighting Irish Turn," will increase interest in college football and headlines are always a good thing.
Plus, there will always be haters that just enjoy watching Notre Dame squirm.
Money, Money, Money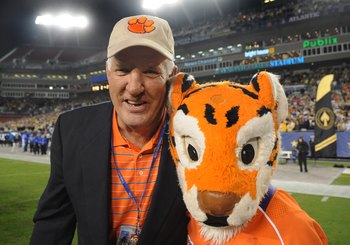 I like money, you like money. We also like when our favorite school gets money.
So what if this is a money grab? Isn't that how capitalism works?
Big conferences mean big TV deals which means big bucks...minus the whammies.
Yes, college football always rolls out the money.
However, usually the biggest pots were left for just a handful of teams.
I mean we all love the cash payouts for BCS appearances when it's our team but it really only helps the haves and tangentially effects the have-nots.
Instead, these power conferences mean more money for the bottom feeders.
I guess it's a little more socialist than one might think.
That means those that all those who get into these big conferences are going to reap benefits, not just the very tip top.
That money goes to the University and, as a result, doesn't just build a state of the art stadium and gym, it helps the school.
That can't be too bad right?
Playoffs?
Yes Jim Mora, the word that no one can say as well as you could be coming to a college football team near you.
The BCS rules are going to change, they have to. If, for no other reason, there will no longer be as many power conferences.
If there are going to be 16 team conferences that include the likes of Oklahoma, Texas, USC, Oregon, Oklahoma State and Texas Tech, we're going to have to revisit the rule that says no more than two teams can come from the same conference in the BCS.
Indeed, superpower conferences may not lead to a big playoff.
After all, they want their big conference championships to mean something and pay the big bucks.
However, we could easily see a "plus one" game—something that came close to happening before a few of the conference bigwigs decided to kill it.
It may not be the dream playoff we all want, but it's certainly a lot closer to it than what we have now.
More Exposure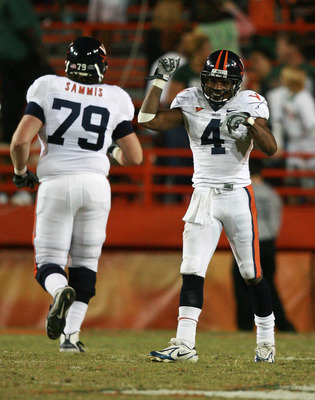 I know, I know, it's not like most BCS schools have trouble finding their way on television.
However, if these superpower conferences create their own networks, it will help the little guys get national exposure.
As a fan of the Virginia Cavaliers, I remember when they were good enough for prime-time coverage.
I also remember when it was almost impossible to find them this season.
That's what three win seasons will do to you.
ESPN 3 is fun and all, but the ACC network sounds a bit better.
In order to fill 24 hours of TV coverage, schools will get their chances and reach a target audience along with the money that comes with such exposure.
For those struggling programs, it's a way of courting recruits; it's a way of creating a stranglehold for others.
Also, it will give those smaller sports a venue to show off their quality programs that may be otherwise ignored.
I'd love to see more baseball, soccer and lacrosse from the major programs.
Maybe this football expansion could actually help and not hurt these sports.
Changing the Broken Bowl System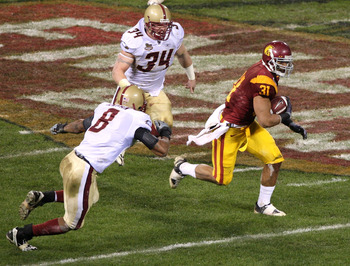 With four or five ultra powerful conferences of 16 teams we may finally see an end to some of the pointless bowls that we are force fed around Christmas time.
The last thing people want to see is a rematch of a regular season match-up or two bottom feeders of the PAC-16 do battle.
If people don't care, people won't show up.
If people don't show up, the bowls die a fateful death.
On the other hand, maybe the bowl games will become more interesting.
After all, basketball has benefited from these ACC/Big Ten match-ups—so much so that the Pac-10 and Big 12 jumped on board.
If football were able to do something like this in lieu of a bowl system at the end of the year it would actually be worth watching!
Those other teams left out in the cold would have those bowl games to raise revenues and the profiles of their programs.
Conferences would have a rightful claim to superiority and I would not have to figure out why Papa John's is worthy of sponsoring a bowl game.
It's a win-win.
It'll Distract Us From Armageddon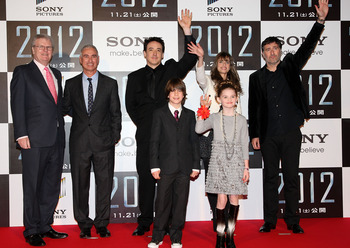 Let's face it, the media has taught me the world will end in 2012 anyway...so don't worry purists, the mega-conferences will never happen!
Keep Reading