Seantrel Henderson and Nine Other USC Players Who Could Transfer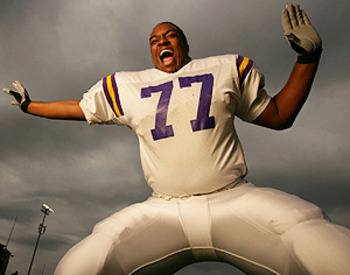 It's been a rough day for USC.
The most successful team in college football history has been slapped with sanctions that will force the university to vacate its Orange Bowl national championship win and 2005 season, give up 30 scholarships, and miss out on the postseason for the next two years (pending appeal).
But that's not all facing the 2000's most successful program.
A stipulation in the NCAA's ruling allows juniors and seniors to transfer away from the program to a D-1 school without needing to sit out a year. NCAA bylaws also allow new recruits who haven't enrolled to be released from their letter of intent.
How many of USC's current and soon-to-be roster will exercise those options and get out while they can?
Click through and find out.
Mitch Mustain, QB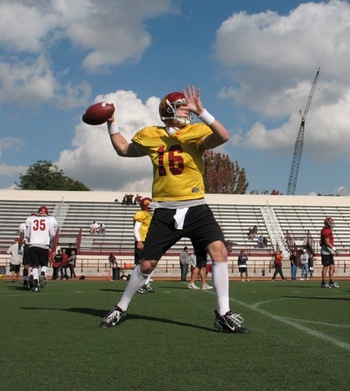 Under the rule that allows juniors and seniors to transfer without penalty, Mustain will be able to get a full season of play under his belt at a BCS institution.
Mustain had upped his level of play enough in camp to perform nobly in the spring game and, in certain optimistic circles, maybe challenge Matt Barkley for the starting job.
Yet the prospect of being a starter for a team that won't be able to play in a bowl has to kill the backup's motivation twice as much as the starter's.
I don't know if I expect Mustain to transfer home, i.e. to Arkansas, given that his hometown school has a top-10 draft pick at quarterback. If a school with the vacancy at the top—say, Louisville, Tennessee, or heck, even a UCLA or Cal—made him an offer, I think he'd have a hard time refusing it.
Dillon Baxter and Kyle Prater, RB and WR
Dillon Baxter, a five-star RB, and Kyle Prater, Rivals' best receiver, were both commits who wavered on their decision to USC during the Carroll-to-Seattle fiasco, and could be eying the door.
Yet their situations are complicated by the fact that both have already enrolled (and performed well in USC's spring game).
I'm not familiar with the NCAA rulebook, but perhaps given the extreme nature of the case, they could appeal the organization for a release.
I'm not sure it would be worth the trouble, but I know both must be fuming. They're both fierce competitors with their eyes on winning championships, not suffering the mistakes of their predecessors. Two years of their eligibility would be out the window.
DJ Morgan, APB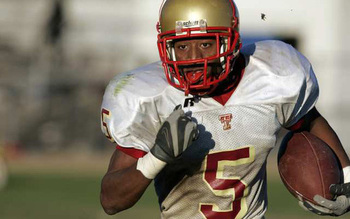 Along with Prater and Baxter, all-purpose back DJ Morgan was the other 2010 commit who wavered on his USC verbal during the uproar over Pete Carroll's resignation and Kiffin's hiring.
Morgan was brought back into the fold in time to get a letter of intent, but facing a two-year bowl ban on a depth chart unfriendly to backup running backs probably isn't making him too excited to set foot on campus.
Morgan hasn't enrolled (to my knowledge), but he would have to apply to be released from his LOI, a decision that is left up to the AD.
He held offers from Florida, Stanford, Tennessee, Cal, and Washington, any and all of whom could be likely transfer destinations for the native of Woodland Hills, California.
Travon Patterson, WR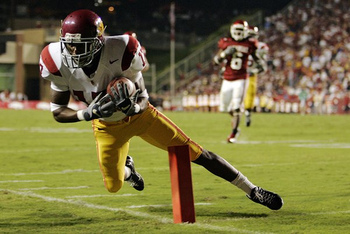 Wide receiver Travon Patterson had a strong spring but has struggled with injuries throughout his career, and might find himself buried under the wave of incoming blue-chip wide receivers enrolling this fall (provided they do enroll).
Look for Patterson to maybe make a Pac-10 conference shift to Arizona. The Wildcats were courting him hard during his recruitment, and will be looking for a premier receiver to help out QB Nick Foles.
Jesse Scroggins, QB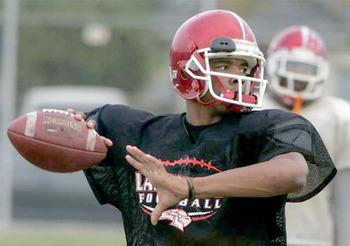 Difficult to say whether this situation hurts or helps QB Jesse Scroggins, Rivals' fifth-best QB out of Lakewood, California, in the 2010 class.
On the one hand, Scroggins faces a natural succession plan to the starting job in two years, since the sanctions all but guarantee Matt Barkley's exit after his junior season.
On the other hand, the Trojans face a serious uphill battle, not just in the next two years but in the next four to six in digging themselves out of a hole.
A lot may depend on what Mitch Mustain does. If Mustain transfers and Scroggins wants a redshirt year, he could be next to go.
If Mustain transfers and Scroggins is anxious for playing time, then he could stay. He'll be sitting right behind Barkley on the depth chart, an enticing prospect even for a gutted team.
Brice Butler, WR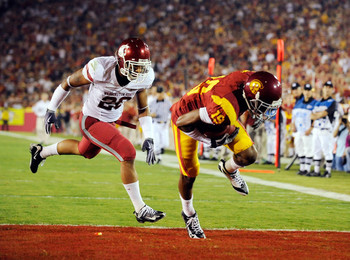 A USC contact of mine has a gut feeling Brice Butler hasn't been getting enough love to stick around.
Though he's only a sophomore (albeit a redshirt—would those count?) and therefore may have to sit out a year if he transfers, Butler closed the spring with Kyle Prater right on his tail for the starting Y spot.
Prater is the better physical specimen and a lock to start sooner or later, so Butler might make it that much easier for him.
Nickell Robey, CB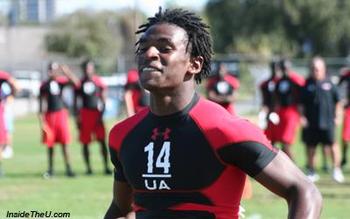 Cornerback Nickell Robey made a very late switch to USC in joining the 2010 class, reneging on his commitment to the Georgia Bulldogs just days before signing day.
The Frostproof, Forida, native could reopen his recruitment to the SEC schools or recommit to the Georgia Bulldogs if he felt USC's situation was too poisoned for him. He's not a native of California, and that may make it easier to renege again.
Georgia's secondary could still use the help, and Robey also held offers from Florida, Michigan, Ohio State, and Tennessee among many others.
If he wanted to, Rivals' No. 9 cornerback could have his pick of the litter.
Markeith Ambles, WR
Unless WR Markeith Ambles enrolled in summer school with USC, I could see him reneging on his USC commitment.
Rivals' No. 3 receiver held offers from a host of elite schools and was committed to Tennessee while Kiffin still coached there (feels like ages ago now). But when Kiffin bolted for USC, Ambles reopened his recruitment.
Ultimately, he decided for USC just before signing day, but not before another courtship process.
If both Prater and Robert Woods decide to stay, I think Ambles will get a free pass to look elsewhere. He has the offers and, as a native of McDonough, Georgia, is (like Robey) far enough removed from the situation that a de-commitment wouldn't totally disrupt his life.
Seantrel Henderson, OT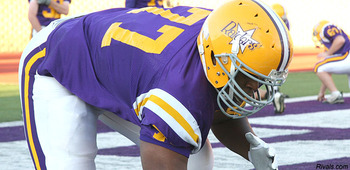 The monster five-star offensive tackle and top recruit for 2010 delayed signing a letter of intent to USC for the specific purpose of avoiding a fallout from heavy sanctions, so we can and do expect a response of some sort from him soon.
He didn't shy away from the glitz of blue-chip recruiting, so I fully expect him to reopen his recruitment beyond the scope of Ohio State, whom he at one point characterized as "boring."
Ohio State, Florida, Miami, Minnesota, Iowa, Michigan, and all others that were interested parties at one time or another could benefit.
Henderson was expected to step in and help along USC's thin offensive line, so his departure would be particularly costly immediately and in the long term.
Keep Reading

USC Football: Like this team?