UFC 115: Road Report, Pre-Fight Press Conference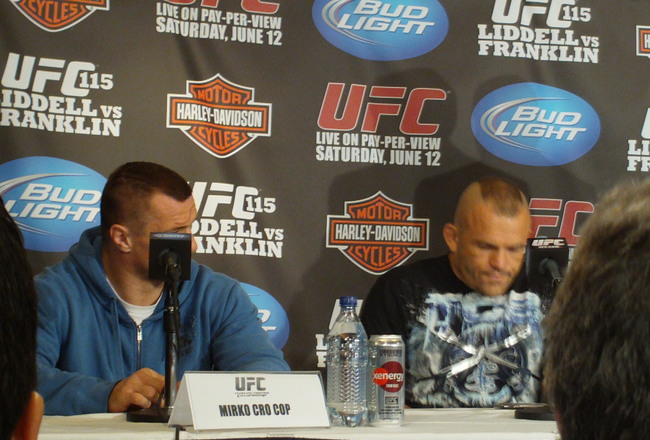 On a typical rainy Vancouver summer day, the UFC 115 pre-fight press conference took place today at GM Place.
UFC President Dana White was joined by the newly appointed UFC Canada Leader Tom Wright, Vancouver Mayor Gregor Robertson, and the main and co-main event fighters Chuck Liddell, Rich Franklin, Mirko Cro Cop, and Pat Barry.
Harvey Jones, Vice President GM of the arena, reiterated the lengths to which both the UFC and the city of Vancouver went for this event to happen and how everything is set for Saturday to be a huge success.
Here is a quick recap of the major points and moments from today's press conference for UFC 115.
Dana White: An Honorary Canuck, but MMA Is Better Than Hockey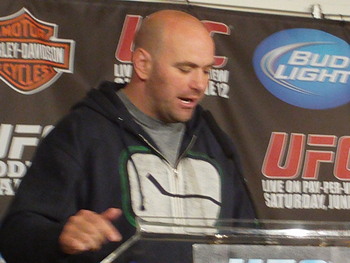 Dana White took the stage and jumped right into talking about UFC 115 and how stacked the card is.
PRIDE legend Mirko Crop Cop takes on the rising Pat Barry in the co-main event, and White predicted that this fight is going to be the KO of the night.
The main event, of course, features two UFC legends as Franklin and Liddell face off.
Dana White was asked about his thoughts on Chuck Liddell.
He said, "My beef with Chuck was always the lifestyle he was living. We will see how the fight goes before I make a decision."
The Ultimate Fighter, of which Liddell is a key part, is now filming Season 12 and is one of the longest-running reality TV shows in history.
We're likely set for more series.
Mayor Robertson Is the Miracle Worker behind UFC 115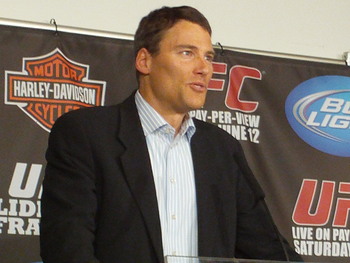 The Vancouver Mayor Gregor Robertson was first onto the stage and was welcomed by UFC President Dana White.
White announced that "The mayor was instrumental in bringing UFC 115 to Vancouver and really did pull out all the stops."
The mayor thanked the hard work by the city council, GM Place, and UFC officials to get the event ready on time.
Vancouver is the first host city not to have either a provincial or state governing body. That was the major stumbling block in getting UFC 115 into the city.
Robertson added, "The ban has been lifted on MMA for a two year trial period because of the city's desire to get the UFC in."
He added, "Vancouver is one of the top PPV markets in the world and therefore it made too much sense."
He confirmed that any fearful local tax payers were protected by the agreement and insurance deal that was agreed upon.
The mayor concluded by saying that "We will be working hard with provincial government and federal government to change laws and get MMA legalized in BC as soon as possible."
He then wished all the fighters on the card good luck, especially all the Canadians on the card.
Tom Wright: Ultimate Fight Night Coming to Canada Soon
Canada is a huge market for the UFC, and Dana White said that the recent hiring of Tom Wright shows that they are paying more attention to it.
Wright took the stage and began by saying "Vancouver is a great Canadian city, but not only that, it is also a great city of the world."
"It's a sports town, with the city hosting the Grey Cup, the Canucks reaching the NHL playoff finals a while back, and of course the Winter Olympics here earlier in the year. And now the city hosts another world class event in UFC 115."
UFC 115 is the fastest sell-out in UFC history and Wright commented on how it shows the popularity level of MMA in BC and the city of Vancouver.
Wright then moved on to say that "It's day 11 on the job for me and my number one priority remains the sanctioning of MMA in all territories and provinces in Canada. The UFC is now set for three PPVs a year in Canada and I am pleased to announce that we plan to bring the Ultimate Fight Night events to Canada later this year as well."
Liddell and Franklin Are Not Friends on Saturday Night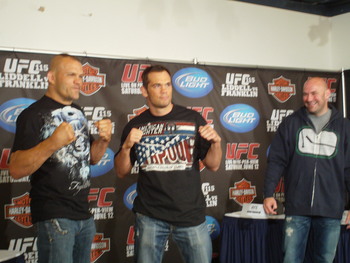 Chuck Liddell and Rich Franklin, who were opposing coaches on the latest season of The Ultimate Fighter, answered questions from the media.
Chuck Liddell was asked about his aim for the fight and he replied, "I am looking for the title and I will deal with whatever happens after the fight."
Dana White was then asked how Rich ended up as the replacement for Tito Ortiz.
White said, "Franklin is a top fighter and I've called Rich many times when I needed a fighter."
He added, "Franklin will get a car for doing TUF, that's Tito costing me more money."
Cro Cop Works Out with Girls and Barry Is a Ninja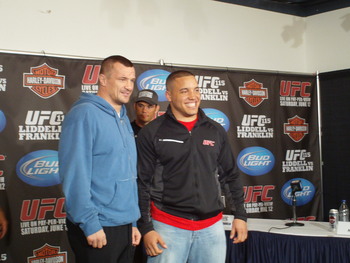 In one of the funnier moments of the press conference, Pat Barry and Mirko Cro Cop exchanged comments.
Pat Barry said he is still waiting for the autograph from Mirko Cro Cop and he is trying to figure out the appropriate time to ask.
He feels like a kid again now that he is in a co-main event fight against Mirko Cro Cop.
His dream of being a ninja is coming true and he feels that he is doing something right.
If he beats Cro Cop, then he will go home and stare out the window for two years, and if he loses, then he will have been privileged to have faced Cro Cop.
It's a title fight in Barry's eyes.
Cro Cop was sporting a new cut on his forehead during the conference and was asked about it.
He said, "It's delicate, I had late training in my room, two ladies came and things happened."
He was then asked if it hurt. He replied, "No I am fine, but they are not."
Who knew the Croatian was so funny?
Cro Cop was then asked about the autograph for Pat Barry. He said "Yes he will get one at least, I will try to give him another one as well on Saturday."

Odds and Ends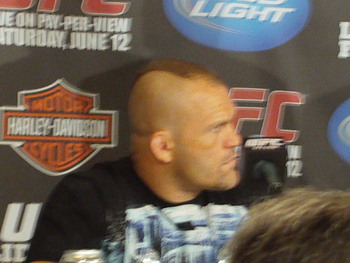 White is pumped for MacDonald vs Condit—beating Condit means something and it would be huge for MacDonald.
White—UFC is the most exciting live sport, even better than hockey, according to the UFC President.
UFC is still a work in progress, there are growing pains.
The sport is only nine years old, coming to Vancouver is just another step.
It was a complex deal to get the UFC to Vancouver but the mayor hopes that during the two year trial, the process can be smoothed out.
Robertson wants the sport elevated to the level it should be.
Every fighter started at the bottom and Pat Barry feels that any fighter would have done what he did in the build up to his UFC 104.
He is just happy that his financial situation had changed.
Keep Reading