The 10 Most Broke Former Superstars
As you're trying to make ends meet with the current economy the way it is, I don't blame you for being a bit bitter. In fact, when you see celebrities file for bankruptcy, I won't be surprised if you yell out, Good for 'em!
It's not nice, but we happen to live in a unique society that prides and spoils victors (read: pro athletes, Heidi & Spencer, etc.) at their peak. So, it's only fair that we, the have-nots, pick at those same athletes when they're at their lowest, when they don't even have any money to spend at the dollar store.
Whether it was taking atrociously bad financial advice or losing big bucks due to greedy family members (i.e. baby mamas/out-of-wedlock kids), or large members of an entourage, I say take a look at the 10 Brokest Athletes.
Because when you're feeling low, you want to read about riches-to-rags stories to put you in a better mood, right?
Begin Slideshow

»
Both proud and stupid, the words of a man who once choked his head coach in 1997 still ring hollow: "I got a wife and kids to feed."
He said this in rejecting a three-year, $21 million contract a few years ago. $7 million per annum is not enough to keep his family stable and well-fed? Not. Too. Bright.
Sounds to me like he should've taken the deal! Though Mr. Sprewell earned over $50 million in his career, the IRS seized his $1.5 million yacht in 2007 after defaulting on his mortgage, and his $5.4 million mansion was placed in foreclosure two years ago.
Very beautiful woman. Very talented, too, on the basketball court as a college star for Texas Tech, a three-time, gold-medal winning Olympian, and a WNBA champion for the now-defunct Houston Comets.
Very bad with money as well for a person once dubbed the "female Michael Jordan." Even with a big endorsement deal from Nike and career earnings in the $45-50 million range, Swoopes filed for bankruptcy in 2004 due to mismanagement.
She owed nearly $750,000.
Trust me, the man called "Chibbs," who made the street courts in Queens and other parts of NY proud, not to mention made dynamic contributions very early in college and the NBA, is not displaying a joyful smile above.
It's instead quite painful. Painful for a man who had over $60 million dollars in his account, yet filed for bankruptcy in 2005. He threw his money away unwisely—on cars (eight were stored in his five-car garage once); children and baby mamas (eight kids with at least four different women); and family members (he bought his mother a big house he couldn't afford).
He spent $41,000 per month on these various expenses, in addition to an extremely pricey pre-nup that went wrong (close to $6 mil.), have Mr. Anderson looking to make a (financial) comeback by coaching in the game that made him famous a while back.
Good luck with that!
Some major leaguers have superstitions, like Wade Boggs' famous chicken-eating habit before games. Others have had suspicions of steroid use hound their careers as they got older, a la Barry Bonds and Mark McGwire.
Not Jack Clark though. His problem was cars. Not driving them to baseball stadiums. Just buying too many of them at one time! Mr. Clark filed for bankruptcy in 1992 for owning 18 expensive vehicles, including a $700,000 Ferrari and a Rolls Royce.
Clark at one point in his playing days tried to pay 17 car notes at the same time. Yet when he was tired of one car, he was found purchasing another one in a heartbeat! That frivolity landed him in trouble: he lost million-dollar homes and a drag-racing business due to his lavish spending ways.
He later cleaned up in his act, and is reportedly regaining income. Of some sort.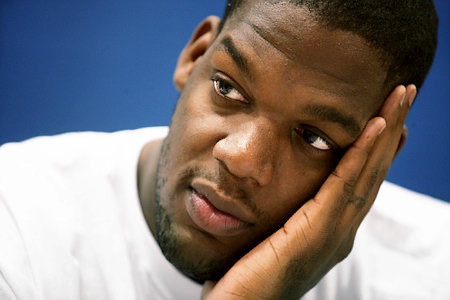 Does he still play for the New York Knicks? Unfortunately. But he's a has-been. In fact, current head coach Mike D'Antoni and team president Donnie Walsh are still trying to get rid of the large man's large, guaranteed contract that expires at the end of the 2010-2011 season.
Once regarded as a center who would wrestle the NBA's Dominant Big Man title from Shaq, Curry has done nothing exciting for Chicago and later for New York except waste money and his waistline.
The 27-year-old, former high school phenom has various monetary issues that make some laugh and others weep: $4.5 mil. house, which was foreclosed on last year; took out a $500,000+ loan, with 85% interest on it (which he has yet to pay); three pricey cars have been repossessed; $63,000 in monthly expenses; and over $2-3 mil. in debt.
Shall I go on?
Before recent rape charges, Nutrisystem ads and "Dancing With the Stars" appearances, LT was as much of a train wreck off the field as he was on it.
Other than being famous for helping Bill Parcells win two Super Bowls, instituting franchise-anchoring left tackles for most QBs' blind sides, and breaking Joe Theismann's leg in 1985, he was a man known for cavorting ladies of the night and cocaine binges, too.
Money was just another problem on LT's lengthy list of issues. For the devastating strong-side linebacker and Giants sack leader who earned over $50 mil. during his career, he declared for bankruptcy in 1998. He was also once caught by the IRS for filing a false tax return.
You'd think that being Michael Jordan's sidekick all those years in Chicago would've meant avoiding MJ's risky business in easily losing money.
Not the case with No. 33: Despite winning six NBA titles and accruing $120 million in career earnings, he lost all of that money due to poor financial planning and bad business ideas.
The Hamburg, Arkansas, native blew $27 million on bad investments, and spent $4.3 million on a Grumman Gulfstream II corporate jet.
Even though Scottie Pippen tried to make a comeback in 2007, it seems like he'll have to play somewhere (in the States or abroad) to offset his insurmountable debt.
He may be considered a former superstar because he's definitely not the same man who won the 1991 PGA Championship and the 1995 British Open Championship.( I'm wondering if he's still got that famous 300-yard-plus golf swing that even Tiger found hard to match.)
Daly has gambled away $50-60 mil. in career earnings, according to his 2006 autobiography. The golfer once lost close to $2 mil. from hours of playing the slot machines at a casino, and blew $1.2 mil. at another casino.
JD's woes continue: He had his multi-million-dollar mansion recently foreclosed on in 2009; still gambles away money on slot machines of smaller amounts of money; recently underwent an unsuccessful Lap-Band surgery; and has a handful of kids and three ex-wives, with a fourth one (Sherrie) that allegedly attacked him with a steak knife in 2007. Ouch!
The man called "Nails" was pretty good at baseball. The Santa Ana, California native and former center fielder was good enough to even win a World Series with the New York Mets in 1986.
But off the diamond? A terrible businessman. He failed at ventures that included real estate investing and a stock trading website. Mr. Dykstra filed for bankruptcy last year, owing creditors more than $30 million, including the $18.5 million mansion that Wayne Gretzky once owned.
In such steep debt now, Dykstra is still trying to sell investing ideas to people for close to $900 a pop! If he gets away with this, then people will be in just as big a hole as the man who used to chew wads of tobacco like bubblegum!
Since that tragic day in 1997, when the former four-time heavyweight champ of the world had a piece of his ear bitten off by the "rabid" Mike Tyson, his fortunes on and off the canvas have dwindled.
The "Real Deal's" lifetime career earnings were in the $250 million stratosphere. However, fathering too many children (11) with different women, and building palatial houses that could accommodate the populations of China and India combined, got him into "real" trouble.
Mr. Holyfield has had to fork up more than one of his kids' $9,000/yr. child support payments, and additionally had one of his mansions foreclosed on.
When a boxer builds a house he can't afford with 54,000 square feet, 109 rooms and 235 acres, either he's incredibly crazy, or... lost his mind to this next man...
"Iron" Mike's penchant for pricey items started long before his ear-biting incident on fellow boxer and poor athlete Evander Holyfield in 1997.
But the crazed man and one-time god in the sporting world, who has squandered around $400 mil. in career earnings, takes the cake as the brokest former superstar on this planet.
Mr. Tyson is on the mend now, but one can see why he filed for bankruptcy in 2003: He once spent $150,000 on--not one but--two Bengal tigers, $520,000 on an exclusive Bentley with lamb's wool rugs (not to mention $4.5 mil. spent on other cars), and $2 mil. on a bathtub. A bathtub!
Thank God he's got "The Hangover," a recent Oprah interview, a documentary/semi-biopic (which drew raves at the Sundance Film Festival last year), and other instances of fame working out for him now. Or else we'd have to land a solid right on him like the one he gave Zach Galifianakis!