A.J. Green: Dissecting College Football's Best Wide Receiver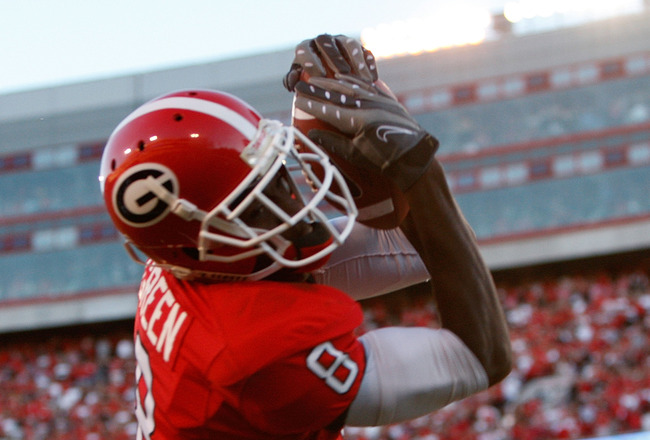 A great wide receiver is like a perfectly placed toupee.
When used correctly, they can mask some of an offense's most glaring imperfections.
While there are a number of successful players at the position, none in the entire country have done it better than Georgia's A.J. Green—hands down the most effective weapon on the Bulldog's offense.
Despite missing a large majority of the final five games of the season a year ago, Green posted 53 receptions for 808 yards and six touchdowns.
It should be noted, as well, that these receptions were made despite being thrown by one of the SEC's least effective quarterbacks.
In any great wide receiver, there are a number of characteristics that translate into success on the field.
The following are a few of those characteristics, specific to Green, that have helped make him one of the most dangerous weapons in college football.
Length/Extension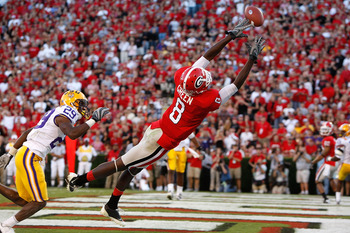 The most obvious physical characteristic of Green is his long frame.
While there are a number of wide receivers that experience success at both the college and pro level without being a 6-foot-4-inch monster, that type of length puts a receiver at a serious advantage against defenders that are four or five inches closer to the ground (see: Randy Moss).
When a receiver is able to combine that kind of length with decent-to-great speed as Green does, it is very difficult to keep them in check for a full four quarters.
And when you add the ability to extend and cover a large area of ground in every direction, it becomes damn near impossible.
In every contest before his shoulder injury against the Florida Gators on Halloween, Green recorded at least one catch over 20 yards.
A number of these completions were inaccurate passes thrown by quarterback Cox that Green was able to rein in because of his great length and extension.
The Georgia Bulldogs will look for this to be the case again in 2010 as he will be catching passes from a freshman—quarterback Aaron Murray.
Hands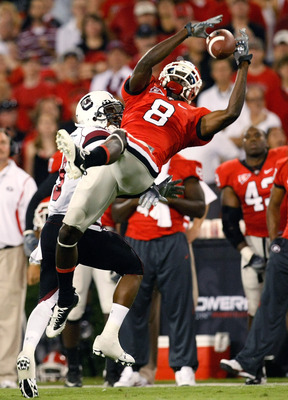 The score was 12-7 in favor of the visiting LSU Tigers with just over a minute remaining in the game.
Georgia was playing from the Tigers' 16 yard line.
Georgia quarterback Joe Cox took the snap, dropped back and heaved a pass into the right-corner of the end zone.
The pass, which was thrown short of its target, appeared to be headed for a game-ending interception until the monstrous hands of Green came in front of the defender and snatched the ball out of his grasp for a go-ahead touchdown.
Sure, Green was called for an inexplicable "excessive celebration" penalty after the catch and the Bulldogs allowed LSU to score another touchdown and escape Athens with a victory, but the catch alone was enough to showcase Green's talents.
While it is his length that allows him to get to balls that most other receivers would not be able to reach, it is the strength and size of his hands that gives him the ability to rein in a majority of passes thrown in his direction.
To receive at the level that Green does, good hands are imperative and few players have the hands that he does.
Motivation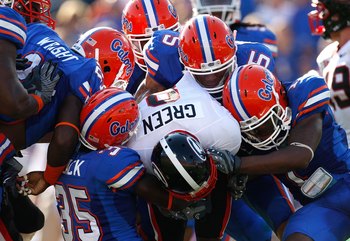 In the game of football, physical talents are only as useful as the person possessing them.
None of Green's physical gifts would matter if not for his drive to be the best wide receiver in the country.
He works harder than any player on the team and it shows every Saturday afternoon when he straps on his helmet.
The most important aspect of his motivation is that it has the potential to become contagious.
When a player works so hard—both in practice and in games—it often drives other players to match his output.
Georgia fans far and wide hope that this will be the case in the upcoming season.
The Bulldogs will go into the season knowing that this is likely Green's last year in the offense before taking his impressive talents to the next level.
With 10 returning starters on the offense around Green, the Bulldogs have a great opportunity to be a special offense.
No player will benefit more from Green's skills and work ethic than freshman quarterback Aaron Murray.
If Murray can "avoid being the hero," as head coach Mark Richt has said, and allow his talented skill players to make the plays, the team should see success on the offensive side of the ball in 2010.
Keep Reading

Georgia Bulldogs Football: Like this team?