New York Giants: What They Must Do To Be the Beasts in the East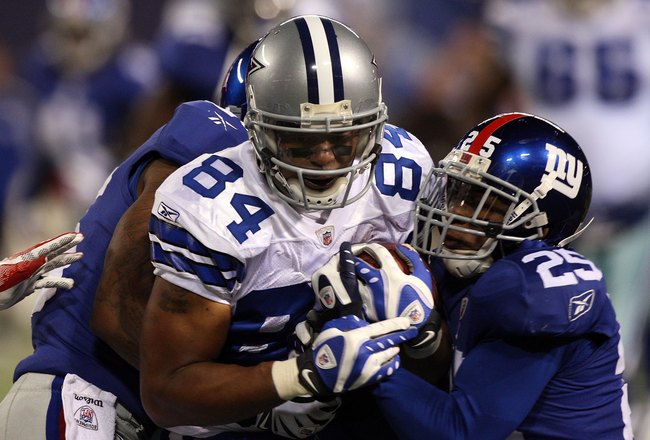 The NFC East has not been exactly static this off season.
The division has seen coaches come and go, a big-named quarterback switcharoo and a brand-new stadium get the bid for the Super Bowl in 2014.
After a season hiatus of the Giants being the East's top dog, Coach Tom Coughlin must look closely at the changes going on in the division, and figure out how to compensate during division play.
As Eli and company take the field in 2010, all eyes will be on the defense and whether or not they will bounce back from a disappointing year without Steve Spagnuolo in 2009.
So, let's play a little football!
Washington Redskins: 2009: 4-12, 2010: Week 13 @ NYG, Week 17 vs NYG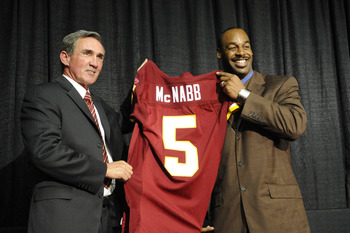 The Redskins have been given a face-lift this season, but the question is whether or not it will make their record prettier this year.
Every year, the Redskins get new players that make them look good on paper, but end up out of the playoff picture by week 8.
However, this off-season was unique for the Redskins in that they didn't hire a coach with a 12 season hiatus from football (no offense Joe Gibbs), and acquired a quarterback that has proven he can win.
The Giants know Donovan McNabb all too well. Even in his old age, he still has two legs and an arm that handed the Giants many a loss before.
It'll be interesting to see if McNabb has anymore gas in the tank.
Still, the keys for the Giants defensively will be to contain McNabb and keep the ball out of Santana Moss's hands.
Offensively, the Giants need to establish a running game against the 10th ranked defense in 2009 and give Eli time in the pocket.
Philadelphia Eagles: 2009: 11-5, 2010: Week 11 vs NYG, Week 15 @ NYG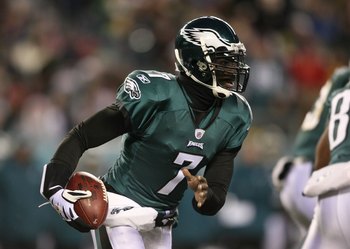 The big question now is who is going to be the new face of the Eagles' franchise. It was McNabb for a decade, but now of course he's down by the Potomac.
Now, a lot of you are saying that Michael Vick is easily going to be the new face of the franchise, but hold your horses Vick has still not been a starter since his pre-incarceration days with Atlanta.
Many questions still loom about if he's still got it.
Look for DeSean Jackson to step up and help fill the void that McNabb left behind.
Also, with the Eagles only having 44 combined rushing yards from their halfback position, it'll be interesting to see what their offense can do.
The keys for the Giants will be to keep Vick behind the line, which will be a perfect test for rookie Jason Pierre-Paul, and force him to prove that he can still throw.
Offensively, Eli and company just need to do what they've done for the past four years; run and gun.
If they get Jacobs some running room and Mario Manningham and Steve Smith the ball, they should be able to score on Philly.
Dallas Cowboys: 2009: 11-5, 2010: Week 7 vs NYG, Week 17 @ NYG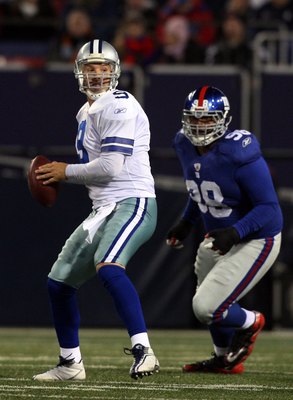 As reigning NFC Champs, the Cowboys still will be the Giants' toughest divisional opponent this year.
With the offensive trio of Tony Romo, Marion Barber and Roy Williams still together, this will be an excellent test of whether the Giants have filled critical defensive voids that were apparent last season.
Defensively, the Cowboys look pretty status quo as well. With hard hitting DeMarcus Ware at linebacker and a talented secondary, the Giants must establish the ground game in order to win.
Yes, Eli has proven that he is a pro-bowler and can take over a game.
However, the Giants must continue to give their backfield as many touches as possible to make sure Eli doesn't fall victim to a defense that was ranked 9th in total yards allowed in 2009.
Keep Reading

New York Giants: Like this team?