USC Football Sanctions: Ten Ways Trojans Can Overcome Penalties
After four years of investigations, it's finally come to an end. The NCAA dealt out the penalties surrounding the allegations of former USC players Reggie Bush and O.J. Mayo.
USC is being slapped with a two-year bowl game ban and the loss of more than 20 football scholarships. They also must forfeit the wins from at least the 2004 season. Bush could also be stripped of his 2005 Heisman award.
In March 2006, the NCAA began investigations when rumors began spreading that Bush's family had lived in a San Diego home owned by a marketer who planned to represent Bush when he went pro.
Despite the sanctions, USC is a solid program and there's no doubt they'll try to rise above it and continue their reign. Let's take a look at how they can.
Begin Slideshow

»
Lane Kiffin took over for Pete Carroll as head coach in January. He has an impressive resume at his young age to be able to lead USC to another winning season. As the previous offensive coordinator for the Trojans, he helped steer them to a 23-3 record during his tenure (an 88 percent win percentage) despite being new in the role.
He already committed his first secondary recruiting violation in January, so hopefully he learned his lesson. If he can keep his team's recruiting clean, it's going to help build his credibility. After all, he already has a verbal commitment from David Sills, the 13-year-old phenom, who can't actually sign until 2015.
Despite the allegations during the recruiting process, USC managed to snag a solid 2010 incoming class.
Dion Bailey is filling the hole of May and Harris at safety. Ranked No. 7 safety recruit by Scout.com, the 6'1" incoming freshman will be an essential for deep coverage.
It'll be hard to replace Pinkard and Thomas in the lineup, but Demetrius Wright could be exactly what USC needs. If he works on his speed, combining that with his size and intimidation at the line will be unstoppable.
It's going to be hard to replace a player like Stafon Johnson on the field and in the locker room. And not to pour salt in the wound of USC fans, but they may witness Reggie Bush all over again in the form of DJ Morgan. He's a versatile player who's capable of everything one could want in a running back. Along with Dillon Baxter, these two fresh running backs could make everyone forget about the sanctions.
Landing two top-10 wide receiver recruits, USC couldn't be luckier.
Robert Woods has soft hands capable of catching any ball thrown his way. Paired with his speed, he'll be unstoppable. He's also a shoe-in for safety.

Kyle Prater has the size to dominate on the field. At 6'5" his reach and flexibility allow for spectacular catches that could lead to a lot of scoring.
USC is bringing in welcome change to the QB position.
Incoming recruitment, Jesse Scroggins was ranked No. 6 by Scout.com and is ready to prove he deserves the spot. He has great arm strength with a quick release. Scroggins is capable of a solid running game as well as working in the pocket. USC could benefit greatly from the combo game. Maybe even more important than his physically gifted talents are his ability to lead his team and work well under pressure.
Defensive end Armond Armstead is back at it for another year and has the chance to start over. After his injury in training camp last year he never really got the chance to prove himself. In his eight games last season, he managed 6 tackles, but was never quite the same as before his injury. This year is his chance to be an anchor in USC's defense.
Redshirt junior, Chris Galippo, must prove himself worthy of his starting position. With competition creeping in, he can't allow himself to get worn down like last season. Starting strong, he finished last season with 70 tackles, two interceptions, and two forced fumbles. Galippo is looking strong though and has incentive to because he knows that if he doesn't keep working hard he may lose his starting spot.
Ronald Johnson is back at wide receiver for the Trojans and back at the top in the Pac-10. Last year he averaged 11.1 yards a catch with three TDs. He's the most experienced of the return wide-outs and this could be a big year for him. With impressive incoming recruits nipping at his heels, he has to keep his feet moving and could be a huge asset to the 2010 team.
Making the list of top 10 Pac-10 running backs, Allen Bradford will be back this season with something to prove to those he fell behind in rankings. Bradford gained 668 rushing yards last season, averaging 5.8 per carry. He's an experienced running back who could make a big difference for the Trojans this year. With eight TDs last season, Bradford is only looking to build on that for a winning season.
While Matt Barkley didn't have the most impressive season last year, he still managed to lead a team to a bowl game and put solid numbers on the board. A bruised shoulder and major upsets last season will only make him that much stronger for the 2010 season.
He has a way of overcoming obstacles and hopefully these sanctions will be another one for him. He was the first true freshman QB to ever start an opener for the Trojans and led his team to a 9-4 season, capping it off by throwing for 350 yards and two TDs in the Emerald Bowl.
With a season of college experience under his belt, it can only go up from here.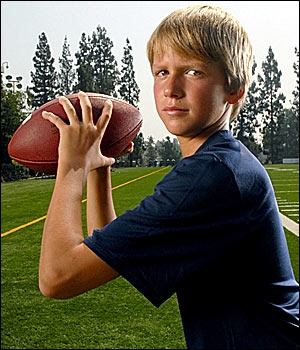 The sanctions don't seem to be having much effect on future recruiting classes for USC thus far. They already have seven players committed to their 2011 class.
They include high school standouts like Victor Blackwell and Jalen Grimble.
And the icing on the cake? These players can sign this year, unlike David Sills.
Plain and simple, football players want to play for USC. Their skilled recruiters make the choice not seem like one at all. They have the power to get who they want when they want them.
They're relentless in recruiting players already committed to other teams and aren't afraid to step on people's toes.
It's this kind of power that leads teams to win bowl games…if the NCAA will let them play in them.
USC likes to win. They have the reputation of being a great football team, leading the Pac-10 and the country year after year.
Their reputation might be a little bruised from the allegations and sanctions, but people will forget about it as soon as they start winning again.
They always do.