The Next Batch: 10 Major League Prospects Worth Getting To Know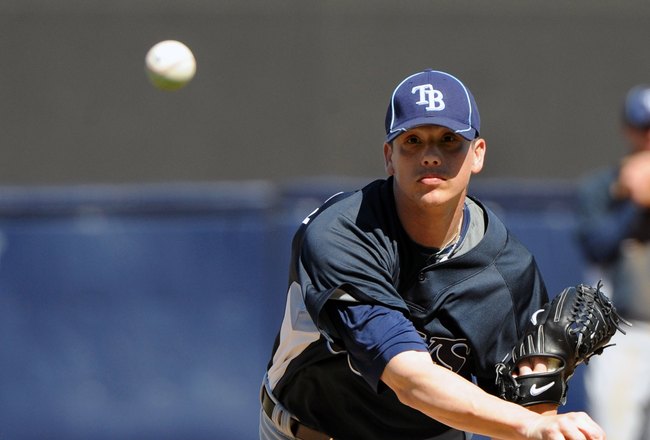 The 2010 Major League Baseball rookie class has proven to be a very successful one. The big names are seemingly endless; Garcia, Heyward, Posey, Strasburg, and more.
It is not that often that Minor League Baseball produces this much big league talent all at once. On top of it, there is more on the way.
Here are 10 more young players with serious big league potential with whom baseball fans should begin to familiarize themselves.
Before the end of this season and into 2011, expect to see these 10 players on their team's Major League roster, leaving a noticeable mark.
Pedro Alvarez, 3B, Pittsburgh Pirates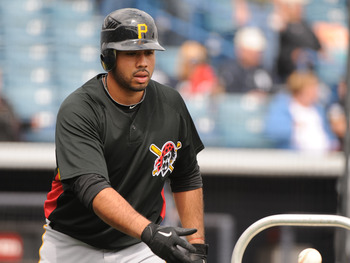 The Pittsburgh Pirates selected Alvarez with the second pick overall in the 2008 Draft, three years after Alvarez was selected by the Red Sox, but did not sign.
Now, through 186 games over two seasons in the Pirates system, Alvarez has rapidly moved up the ranks, and rampantly hit home runs. He has smacked 39 home runs during this timespan.
Alvarez has 30 home run potential at the big league level, and could be the next big young third baseman in Pittsburgh since Aramis Ramirez came up.
With a little bit more work on his plate discipline, and a cutback on his strikeout numbers, Alvarez should be starting at third for the Pirates early next year. There really is not much standing in his way.
Jake Arrieta, RHP, Baltimore Orioles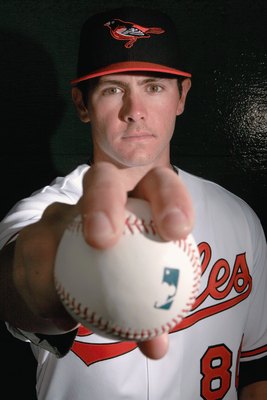 Arrieta is scheduled to make his Major League debut on Thursday, June 10 against the Yankees, being thrown into the fire even more than Stephen Strasburg.
The 24-year-old has definitely shown he is capable of the task. In 12 appearances and 11 starts this season at AAA Norfolk, Arrieta has amassed 64 strikeouts in 73 innings, holding a 1.85 ERA and a 6-2 record.
He has a sound arm that will help him continue to rack up the Ks in the Majors. He has given up his fair share of hits in the Minors, so his strikeout numbers could decline if he wants to enforce more ground balls.
His adjustment will be particularly difficult, as was teammate Brian Matusz's. It is not easy getting called up to face the O's division rivals regularly. But he has the stuff to stand up to the task.
Chris Carter, 1B, Oakland Athletics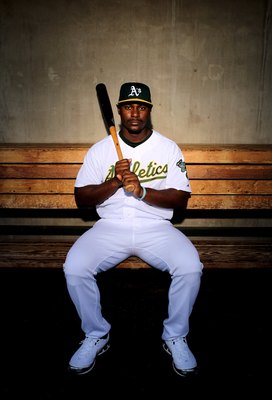 Finally, a powerful bat in the A's Minor League system. The A's could benefit from calling up Carter immediately. The team has not had a bat with power potential like Carter in almost 10 years.
At AAA this year, his batting average has suffered at .234, but he has hit 13 homers in 58 games. In six Minor League seasons, he has hit 131, and he even has shown he can hit with regularity with a .284 average during that span.
The bottom line is that the A's may currently have the pitching to be a borderline contender. Calling up Carter would add a bat to the lineup that can drive in runs.
He's technically a first baseman, but he has experience in the outfielder and at third. Don't be surprised if he is not playing at first in the Majors.
Aroldis Chapman, LHP, Cincinnati Reds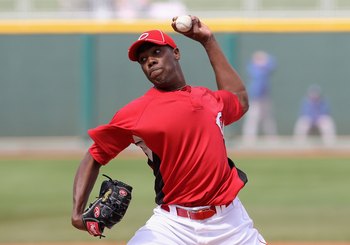 Everyone has heard this name by now. Chapman, at the moment, is hard at work in the Minors, as he will probably be in the Reds rotation or bullpen by season's end.
His powerful arm is without question ready to put up solid strikeout totals at the big league level. But his command is not there just yet, and it is the one thing that could push his debut ahead into next year.
Chapman's 61 strikeouts through 54.1 innings looks great, but the 34 walks and 1.57 WHIP need work.
The Reds are hungry for a quality left-handed starter, a young one to slide along side Mike Leake. Chapman can be just that for the team during the spring of 2011, because at this point he isn't quite ready.
Jeremy Hellickson, RHP, Tampa Bay Rays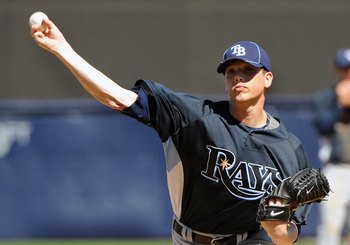 Strasburg this, Strasburg that. The performance of Jeremy Hellickson is getting lost in the all the talk of phenom Stephen Strasburg. It looks like the Rays have their own phenom on their hands.
Hellickson is currently leading AAA pitchers in strikeouts with 79. His 8-2 record and 2.50 ERA through 13 starts is also impressive on a Durham team with a lineup that hasn't given its pitching a ton of run support.
Hellickson's 19 walks in 75.2 innings pitched is also phenomenal; he has Major League ready command. It is only a matter of time before he's the next Mike Leake or Jaime Garcia. His numbers say it all—his career Minor League WHIP as a starter is 1.03.
He could be in the Rays rotation right now, but he's blocked by guys like Price and Davis. He'll get some starts before the end of the year, and should find a way to squeeze into the rotation full time for 2011.
Bryan Morris, RHP, Pittsburgh Pirates
After a rough patch in 2009, Morris has really settled down with some excellent command. He was the Dodgers first round selection in 2006 and has moved around since, and now looks like he has a future starting for the Pirates.
He started eight games at single A-advanced Bradenton and gave up three earned runs in nearly 45 innings. He struck out 40 and only walked seven, securing an ERA of 0.60 and a WHIP of 0.98.
He moved up to AA Altoona. He has started four more games there, and has a 2.14 ERA there with 21 Ks in 21 innings and only five walks.
It is only one true season of excellent command, but it is hard to believe the Pirates will pass up his potential talent. Baseball will hear from him in September when the rosters expand
With names like Lincoln, Tabata, Alvarez, and even Morris circulating, the rebirth of the Pirates could possibly be in the future.
Mike Moustakas, 3B, Kansas City Royals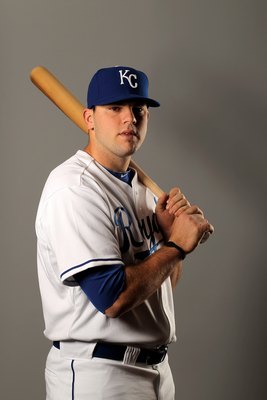 Plan A, Alex Gordon, failed at third base. It is on to Plan B for the Royals, which is looking like more of a Plan A right now. The Royals selected Moustakas second overall in 2007, and his ETA could be approaching very quickly.
Down at AA this year, he is batting a whopping .354 in 41 games. He has tacked 13 home runs and has driven in 50 as well. Now, that is 51 Minor League home runs since he was drafted in 2007.
It is a matter of time before he is assigned to AAA Omaha, at which point, if he continues hitting at this alarming rate, he will get serious consideration for the big league club.
Moustakas will be up at some point in 2011, and honestly, a good spring training could give him a starting job for the Royals.
Ben Revere, OF, Minnesota Twins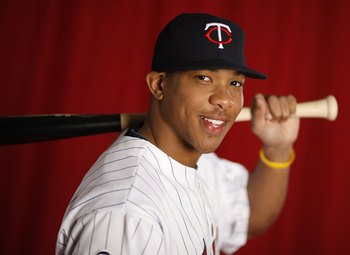 Selected with the 28th pick in 2007 draft, the Twins have themselves another speedster of an outfielder in Ben Revere. He is a very small guy, translating into little power, but a ton of speed and plenty of positive and scrappy plate appearances.
He has 20 stolen bases through 54 games at AA New Britain this year. The 22 year-old has collected 130 in 308 career games in the Minors. This impressive speed should translate well into the bigs.
He has also hit .331 in that span, with 25 triples. It is impressive that he can be an extra base hit machine without hitting for any power whatsoever.
Give it some time and Revere could land a spot in the Minnesota outfield, making it a very speedy one, and an even better defensive one at that.
Carlos Santana, C, Cleveland Indians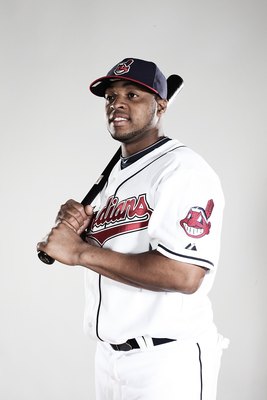 Avoiding any musician jokes, Santana has been described as the next Victor Martinez. Like Victor, he is a switch hitter who simply knows how to get on base, with an OBP of .400 in six Minor League seasons.
Here is a staggering statistic: in 2010 at AAA, he has only struck out 38 times in 56 games. He has walked 44 times. His excellent plate discipline will be introduced to the Indians active roster in no time.
Santana has posted 74 career home runs in the Minors, while batting .289 overall. His defensive mechanics do need help, so there is the potential for him to move to another position, but the Indians desperately need a catcher.
Santana will be the next big thing to hit Cleveland since LeBron James.
Brett Wallace, 3B, Toronto Blue Jays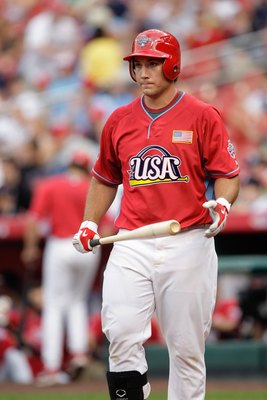 Capping off a class of third basemen that seems to have a lot of potential, here is former Cardinal's and A's prospect, Brett Wallace.
Wallace can hit for power, but has hit with more regularity in the Minors with a career batting average of .298. He has hit over .300 on four different occasions. His offensive capabilities will be a welcome addition to the already powerful Jays lineup.
However, Wallace's plate discipline will take work, because his walk totals and OBP are both less than ideal.
He should see a big league stint before the end of the year, and if he can improve upon his patience at the plate, he will begin to play with more regularity in 2011.
Keep Reading