MLB Featured Columnists' Poll: A National League All-Star Vote Update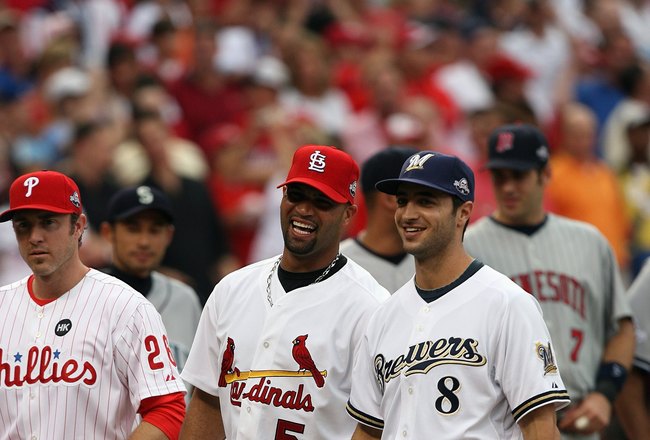 With the Midsummer Classic just one month away, Bleacher Report's Featured Columnists are back with an updated mock All-Star vote!
This is part two of this week's poll: the NL results (for the AL results, click here). For each position, I've listed the full vote totals, as well as the current real-life leader(s) and a reminder of who we chose five weeks ago. And, as always, a "featured writer" has submitted commentary for each winning player.
If some of the participants' names seem unfamiliar in this context, that's because they probably are; a whopping 44 Featured Columnists voted on at least one league's ballot, making this the biggest FC Poll yet.
Thanks to everyone who participated! May our actions set an example for the idiots who keep voting for Mark Teixeira.
First Base: Albert Pujols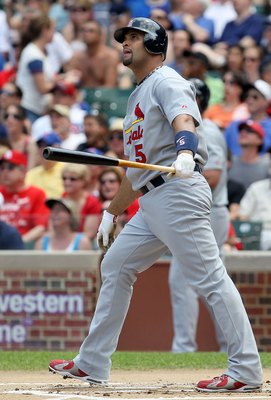 1. Albert Pujols, STL—23
2. Joey Votto, CIN—13
3. Adrian Gonzalez, SD—2
T4. Lance Berkman, HOU—1
T4. Troy Glaus, ATL—1
T4. Ryan Howard, PHI—1
Featured writer: Samantha Bunten
How can you not pick Pujols? He's not just the best first baseman in the National League, he's the best player in the entire game.
What's most impressive is that while he's having a slightly "off" year by Pujols standards, he's still better than everyone else. Right after the rumbling started that he was having a power outage, he responded by hitting three home runs in a game against the Cubs. Ask and he shall deliver…who else in the game can do that?
The man hits for power and average, and is even better defensively than he is credited for. All hail The Machine.
Real-life leader: Pujols
May winner: Pujols
My vote: Votto
Second Base: Chase Utley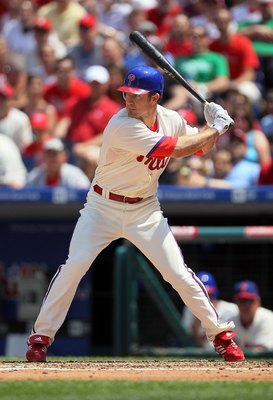 1. Chase Utley, PHI—19
2. Martin Prado, ATL—9
3. Kelly Johnson, ARI—7
4. Dan Uggla, FLA—3
5. David Eckstein, SD—2
6. Brandon Phillips, CIN—1
Featured writer: Nino Colla
Chase Utley has been the gold standard in terms of second baseman in the game of baseball the past few years.
This year he's got some stiff competition from the likes of Martin Prado, Dan Uggla, and Kelly Johnson, but Utley should still be king.
He's just a solid all-around performer and while his average (.266) is a little down, he still gets on base (.384 OBP) more than any other second baseman in the National League.
Real-life leader: Utley
May winner: Utley
My vote: Utley
Shortstop: Troy Tulowitzki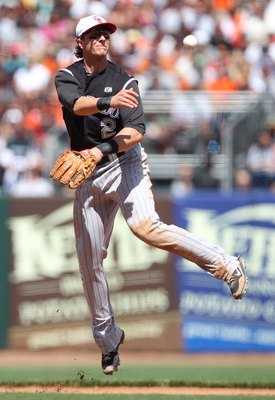 1. Troy Tulowitzki, COL—19
2. Hanley Ramirez, FLA—15
T3. Orlando Cabrera, CIN—2
T3. Jose Reyes, NYM—2
T5. Tommy Manzella, HOU—1
T5. Jimmy Rollins, PHI—1
T5. Ryan Theriot, CHC—1
Featured writer: Brandon Williams
That there is debate about whether Troy Tulowitzki deserves to be on the NL All-Star team borders on hilarious.
Tulowitzki is the game's best all-around shortstop. No one combines superior fielding to go along with a batting average in the .290-.300 range, 20-25 home run power and the ability to swipe 20-plus bases like the heart and soul of the Rockies. Tulo has surpassed Todd Helton as the leader of this team, and as he goes, so will the Rockies.
Surprisingly, this will be the first All-Star appearance for Tulowitzki. It's safe to say it won't be the last.
Real-life leader: Ramirez
May winner: Ramirez
My vote: Tulowitzki
Third Base: Ryan Zimmerman
1. Ryan Zimmerman, WAS—12
2. Casey McGehee, MIL—10
T3. Scott Rolen, CIN—4
T3. Pablo Sandoval, SF—4
5. David Wright, NYM—3
T6. Jorge Cantu, FLA—2
T6. Chase Headley, SD—2
T6. Mark Reynolds, ARI—2
T9. Casey Blake, LAD—1
T9. Pedro Feliz, HOU—1
Featured writer: Lewie Pollis
Don't look now, but Ryan Zimmerman has established himself as the best third baseman in the National League, if not all of baseball.
Magnum Z.I. leads the Senior Circuit with a .431 wOBA and a 1.031 OPS—both numbers are better even than Evan Longoria's. He's no slouch with the glove, as evidenced by his 5.5 UZR, which is better than any other NL hot cornersmen.
He's been worth 3.2 WAR so far this year, which translates to $35 million worth of production over a full season. That's better than any other player not named Morneau, Cano, Rios, or Halladay.
Imagine what he could do if he were fully healthy.
Real-life leader: Placido Polanco, PHI (note that he did not get a single vote)
May winner: Sandoval
My vote: Zimmerman
Catcher: Rod Barajas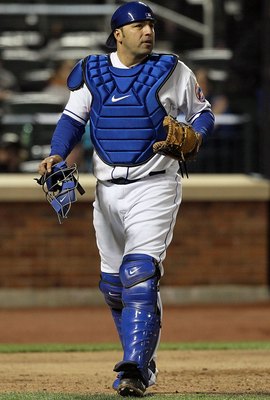 1. Rod Barajas, NYM—10
T2. Brian McCann, ATL—7
T2. Miguel Olivo, COL—7
T2. Ivan Rodriguez, WAS—7
5. Yadier Molina, STL—3
T6. Russell Martin, LAD—2
T6. Geovany Soto, CHC—2
T8. Ryan Hanigan, CIN—1
T8. Bengie Molina, SF—1
T8. Carlos Ruiz, PHI—1
Featured writer: Jon Presser
Barajas has proven to be one of the more shrewd pick-ups of the offseason.
He leads all National League catchers in home runs, doubles, and extra base hits. His .833 OPS is third among NL catchers, but looking deeper into the numbers gives you an even greater appreciation for his surprise power stroke. His .542 SLG is second in the league, but his league-leading .275 ISO is 30 points higher than any other catcher.
The 34-year-old veteran has never made an All-Star team, and has admitted that it would mean a lot to him. For my money, he is very worthy of consideration.
Real-life leader: Y. Molina
May winner: McCann
My vote: Soto
Outfielder No. 1: Ryan Braun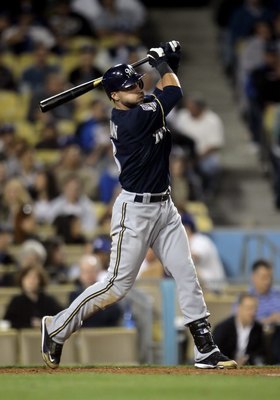 1. Ryan Braun, MIL—26
2. Andre Ethier, LAD—24
3. Jason Heyward, ATL—21
4. Jayson Werth, PHI—12
5. Matt Kemp, LAD—7
T6. Carlos Gonzalez, COL—5
T6. Josh Willingham, WAS—5
T8. Matt Holliday, STL—3
T8. Andrew McCutchen, PIT—3
T10. Marlon Byrd, CHC—2
T10. Jonny Gomes, CIN—2
T10. Alfonso Soriano, CHC—2
T10 Justin Upton, ARI—2
T14. Jason Bay, NYM—1
T14. Kyle Blanks, SD—1
T14. Michael Bourn, HOU—1
T14. Corey Hart, MIL—1
T14. Angel Pagan, NYM—1
T14. Hunter Pence, HOU—1
T14. Manny Ramirez, LAD—1
T14. Aaron Rowand, SF—1
T14. Chris Young, ARI—1
Featured writer: Adam Rygg
Since breaking into the league in May 2007, Braun has been an offensive force in Major League Baseball. He has been hitting at a pace that puts him among the elite of the game. If he keeps it up and stays healthy, he'll be bound for Cooperstown.
Braun is second in the NL in hits (71), tied for sixth in doubles (17), tied for eighth in steals (11), and seventh in batting average (.309).
He plays adequate defense, tears the cover off the ball, is a proven performer and producer, and can be counted on in the clutch. What more do you need from an All-Star?
Real-life leaders: Braun, Heyward, Ethier
May winners: Braun, Kemp, Heyward/Colby Rasmus, STL (tie)
My votes: Heyward, Werth, Willingham
Outfielder No. 2: Andre Ethier
Featured writer: Dennis Schlossman
As Andre Ethier's young career progresses, his offensive production continues to escalate.
In 2010, Andre began the season at a torrid pace, having led the NL in batting average, home runs, RBI, slugging percentage, and OPS before breaking his right pinky finger on May 15.
On April 16, 2010, Ethier hit his first career grand slam against the Giants, and three weeks later his second came in walk-off fashion against Latroy Hawkins and the Milwaukee Brewers.
Being named to his first National League All-Star team in 2010 will be one of the many accolades in store for Andre Ethier's bright future.
Outfielder No. 3: Jason Heyward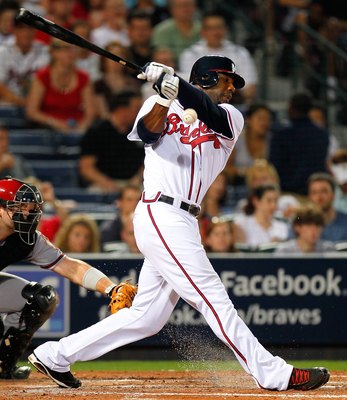 Featured writer: Asher Chancey
In his first major league season, Jason Heyward is tied for fourth amongst all NL outfielders with 10 home runs, fourth in OPS (.906), second in walks (37), and eighth in slugging percentage (.506).
Heyward has a fully developed game and he is only 20 years old—imagine what he'll do when he starts to figure some things out.
This year we bid adieu to Ken Griffey, Jr., to whom we referred affectionately as "The Kid," and say hello to Heyward, whose only appropriate nickname is "The Man."
More FC Polls...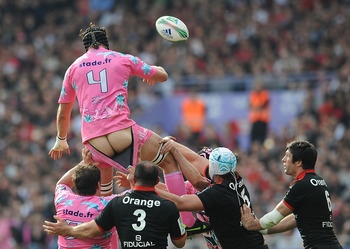 Keep Reading