Master of the Slams: Grand Slams that Defined Roger Federer's Career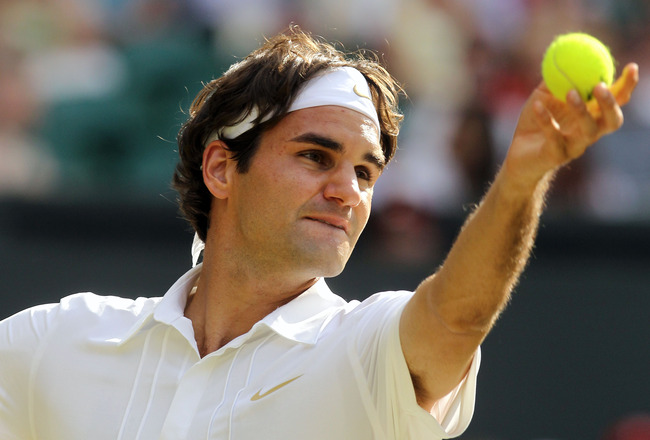 Tennis great Roger Federer has won 16 and counting Grand Slam titles. In this slideshow you will see the Grand Slams that have defined Federer's spectacular career.
Passing of the Torch—Wimbledon 2001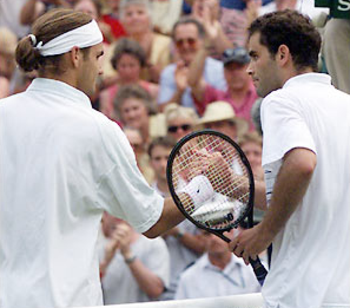 Shocker. Upset. Stunner.
Whatever you call it, it is definitely one of those matches that people call the "passing of the torch."
Pete Sampras was the four-time defending champion at the time of their first and only match at the ATP Tour, but Roger Federer stayed calm and composed, showing no nerves to defeat Sampras 7-6 5-7 6-4 6-7 7-5 in a classic.
First Crown—Wimbledon 2003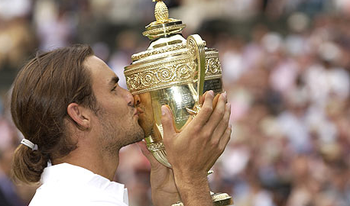 The first time Roger Federer kissed a trophy was at Wimbledon in 2003, at only 21-years-old. He defeated Andy Roddick in the semifinals and in the final he beat Mark Philippoussis 7-6 6-2 7-6.
World No. 1—Australian Open 2004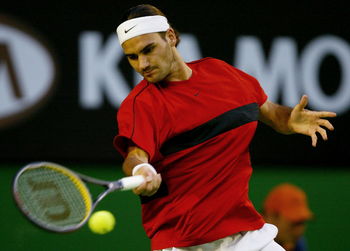 This Grand Slam not only marked Federer's first hard-court grand slam, but he also claimed the World No. 1 Ranking from Andy Roddick.
Federer played excellent tennis against Marat Safin, 7-6 6-4 6-2.
Semifinal Streak—Wimbledon 2004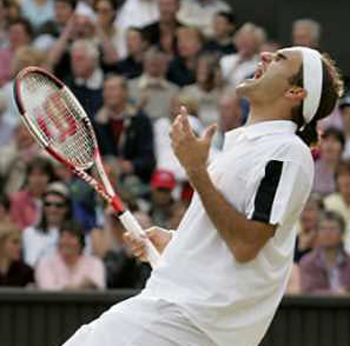 Roger Federer not only defended his title at Wimbledon 2004, but also started an unprecedented record of 23 straight grand slam semifinals.
Double Bagel—US Open 2004
Roger Federer defeated Lleyton Hewitt in one of the most lopsided finals in tennis history 6-0 7-6 6-0.
Spanish Nemesis—French Open 2005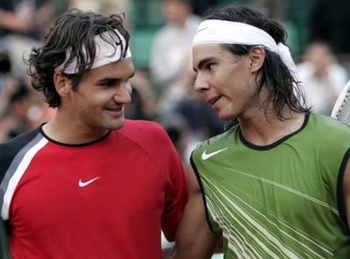 Federer was ranked No. 1, so how could Rafael Nadal trouble Federer?
Well, he did. Nadal ended up beating Federer in four sets.
No Set Lost—Australian Open 2007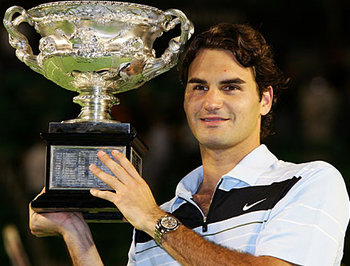 Roger Federer did not lose a set in his most dominating performance at a grand slam, routing Fernando Gonzales 7-6 6-4 6-4.
Wimbledon Greatness—Wimbledon 2007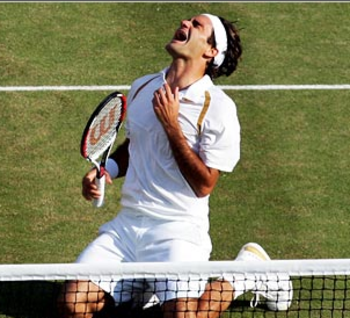 By winning the Wimbledon title, Federer equaled Bjorn Borg's record of five consecutive Wimbledon titles.
Eating a Bagel—French Open 2008
For the first time in nearly a decade, Federer lost a bagel set, that is, lost a set 6-0, to none other than King of Clay, Rafael Nadal.
End of Reign—Wimbledon 2008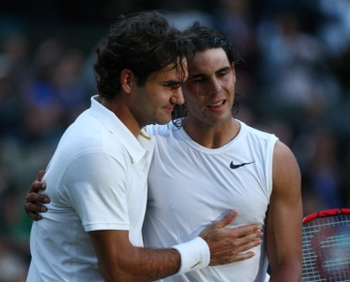 For five years, Federer was the undisputed Lord of the Lawns. For 65 matches, he was never really challenged. It all came to an end against Rafael Nadal in 2008 when he lost the final, which was dubbed the "greatest match of all time." Nadal prevailed 6-4 6-4 6-7 6-7 9-7.
Best for Last—US Open 2008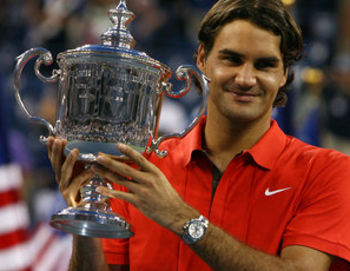 Federer was suffering from a relatively bad year, having not won a Major at the first three slams. This was the first time since 2002 that this happened, but Federer saved the best for last, winning the U.S. Open title 6-2 7-5 6-2 against rising star Andy Murray. This was also Federer's fifth consecutive US Open title.
Major Disappointment—Australian Open
Federer had not won the Australian Open since 2007, but he was the favorite against rival Rafael Nadal, who was appearing in his first hard-court Grand Slam final.
After all, Nadal had outmuscled Fernando Verdasco in five hours, wouldn't he be exhausted?
It turned out that the answer was yes, but Nadal still had the energy to prevail against Roger Federer in a second consecutive five set match.
Winner of All Surfaces—French Open 2009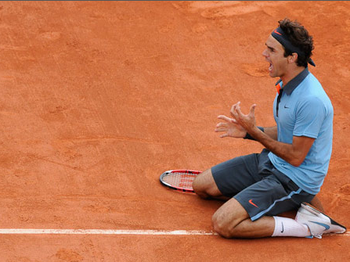 Rafael Nadal was out. Robin Soderling was in.
It was Soderling that Roger Federer was facing in the 2009 French Open title. He was only the man who beat Nadal at the French Open and he was standing in the way of Federer's French Open title.
And Federer won it, which added to the irony.
Roger Federer couldn't beat Nadal at the French Open, but Robin Soderling could.
Federer could beat Soderling, but Nadal could not.
Federer became one of only six men to complete the Career Grand Slam.
In Front of His Eyes—Wimbledon 2009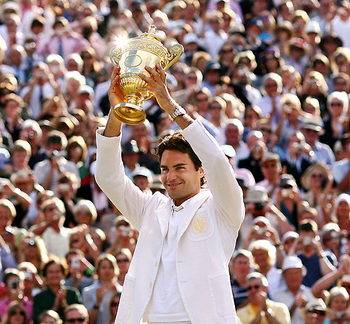 Roger Federer was playing in front of tennis greats Bjorn Borg, Pete Sampras, and John McEnroe.
It was another five-setter, but this time Federer won it. Federer just barely escaped with the win, and served out the match after breaking Andy Roddick's serve for the first time of the match 5-7 7-6 7-6 3-6 16-14.
Extension of Record—Australian Open 2010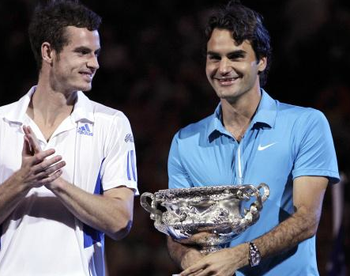 Roger Federer won the last point of the Australian Open Championships for the first time since his dominating performance in 2007. He beat Andy Murray 6-3 6-4 7-6.
Streak Snapped—French Open 2010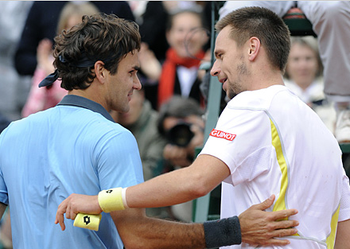 Federer was suffering a terrible spring season after winning in Melbourne, but Federer still reached the quarters of the French Open without dropping a set. This all came to an end against Robin Soderling.
Federer was the favorite in this match up, having defeated Soderling in the 2009 final. But this year Soderling thought otherwise, upsetting Federer 3-6 6-3 7-5 6-4.
This defeat marked the first time in 22 years that two consecutive defending champions were beaten by the same person.
This ended Federer's 23 consecutive semifinals at grand slams and 8 consecutive major finals, as well as his quest to complete a Calendar Grand Slam, and his quest to break the record for holding the World No. 1 the most weeks. Federer came up one week short to equaling the record held by Pete Sampras.
Keep Reading