Big Ten Expansion: Nebraska Leaves Big 12, Time To Play Tough With Notre Dame?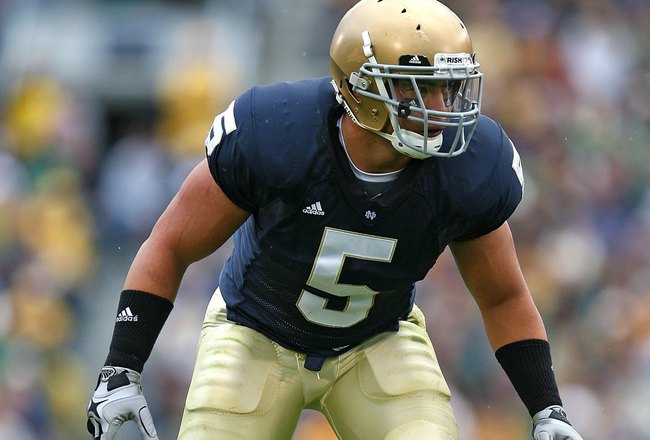 Jonathan Daniel/Getty Images
Nebraska was the first chip to fall. Pretty soon, they'll be cascading. And with respect to Notre Dame, the Big Ten is now the chip leader at this table.
With the Cornhuskers in hand, there's no longer a need to sweeten the pot for the Fighting Irish, luring them into conference affiliation.
Instead, make Notre Dame a Godfather-style offer it can't refuse.
For decades, the Irish have scheduled a healthy diet of Big Ten opposition: Michigan, Michigan State, Purdue. Penn State also made the rotation in recent years. Great regional rivalries against BCS competition—made-for-television events.
So what's the best way to strong-arm the Irish? Simply cut off that supply line.
If Notre Dame wants to maintain those football relationships, it's welcome to do so... as a member of the newly-expanded Big Ten Conference.
Otherwise, Saturdays in Ann Arbor go bye-bye.
It's time for commissioner Jim Delany to finally play hard ball with Irish athletic director Jack Swarbrick, threatening to direct his Big Ten institutions to sever all athletic ties to Notre Dame.
Isn't that a huge risk?
Potentially.
After all, Big Ten members draw hefty payouts from sold out, nationally televised games against Notre Dame. The conference would have to be willing to sacrifice those checks.
Couldn't Notre Dame just schedule more games against other BCS conferences, anyways?
To that I say, "What other BCS conferences?"
The Big 12? Soon to be defunct.
The Pac-16? Those programs won't have scheduling room for showdowns against Notre Dame—not with insanely competitive eight-team divisions.
The SEC? Right... we all know how willing those powerhouses are to travel to the Midwest. Good luck talking three of them into home-and-home series.
Could Delany even get away with such a mandate?
That's neither your concern nor mine. Whether it's said publicly or behind closed doors, the threat should and can be made.
The fact of the matter is that this has quickly become the Armageddon scenario Swarbrick alluded to, in which his Irish are forced to forfeit independence.Fortunately for them, it makes good sense to pull the trigger:
-Secure the non-conference rivalries against USC, Navy and/or Boston College.
-Leave one open date for a neutral-site game against an inferior opponent.
-Play an eight-game conference schedule against the likes of Michigan, Nebraska, Penn State, and Ohio State on an annual basis.
Don't let us Domers fool you. All we'd really have to sacrifice is our ego.
So enough with the carrot already, Big Ten. Use the stick.
After all, you finally have more bargaining chips than Notre Dame. Why not go all in, and see if the Irish are willing to call your bluff?
This article is
What is the duplicate article?
Why is this article offensive?
Where is this article plagiarized from?
Why is this article poorly edited?

Notre Dame Football: Like this team?