World Cup 2010 Preview: USA vs. England Match-Ups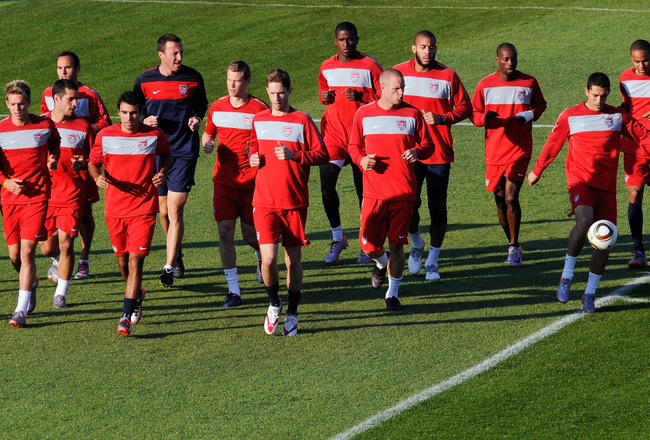 One of the most anticipated matches of the group stage is the USA vs. England. The whole world will be watching these historical rivals battle each other once again on June 12th.
The English don't want to become the next soccer giant to be embarrassed by the US. And the US wants to prove that last summer's Confederation's Cup wasn't a fluke.
There are important match-ups that will be crucial in deciding the outcome of the game. We will examine each and try to figure out who has the advantage going into the game.
Lets begin.
Goalie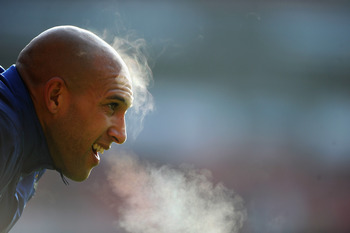 It feels like goalie David James has been playing in the English Premier League since World War II. The 39 year old has appeared in over 500 EPL matches and holds the record for most clean sheets in EPL history. However, James hasn't been nearly as successful with the English national team, but he has a chance to change that with a strong tournament.
American goalie Tim Howard is one of the best keepers in the world. Howard has been incredible for his club Everton and has been the unquestioned No. 1 goalie for the US throughout the qualifying stages. At 31 years old, Howard is just starting to enter the "Golden Age" for keepers and should only get better with age.
Even though both of these players are top-notch keepers, one stands out.
Advantage: USA
Defenders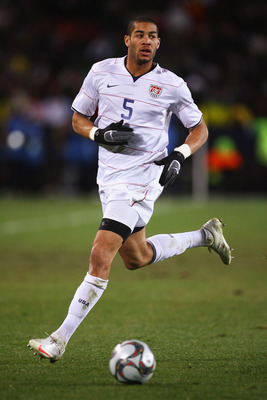 Both teams are currently dealing with injured star players. England will be without their Captain Rio Ferdinand for the entire tournament because of a knee injury. While US defender Oguchi Onyewu is still recovering from a knee injury himself. Onyewu has looked good in recent friendlies but the World Cup will be the true test to see if he is 100%.
With Onyewu and Jay DeMerit playing the center back positions, the USA has to figure out what to do with Carlos Bocanegra. This veteran needs to be in the starting lineup but he is much more comfortable and productive at the center back position. The likely move is to put him in the left back position but the 31 year old may not have the legs to stay with England's speedy wingers.
The candidates to replace Ferdinand are: Jamie Carragher, Matthew Upson, and Ledley King. Regardless of who the replacement is, there will be more pressure on center back John Terry to hold-down the defense. Defender Ashley Cole will be relied on heavily to make runs down the sideline to give England another attacking option.
This is a tough one to call. Both units defend very well but they both have huge question marks because of injury.
Advantage: Even
Midfielders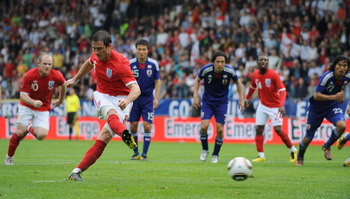 Landon Donovan is the true barometer of the USA team. When Donovan is playing well, the USA can always win. When Donovan struggles, the USA is almost always doomed. Donovan is poised for a breakout World Cup. He should also feel very comfortable playing against England because of his recent stint in the EPL.
Clint Dempsey has been a goal scoring machine for the USA. The English know firsthand about Dempsey's skill. Dempsey helped lead Fulham FC to one of their best seasons ever.
While the USA has two stars in the midfield, England is absolutely loaded. Frank Lampard, Steven Gerrard, Joe Cole, Michael Carrick, and Shaun Wright-Phillips are just some of star midfielders for the Lions.
As good as Donovan and Dempsey are, this really shouldn't even be a debate.
Advantage: England
Forwards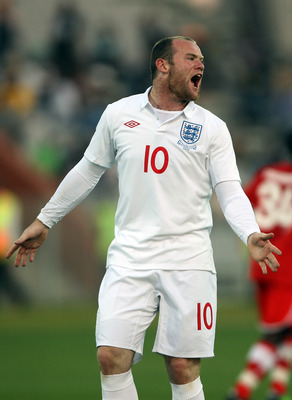 The USA attack desperately misses Charlie Davies. The forward was a defender's nightmare because of his lightning speed and toughness. He was also the perfect complement to Jozy Altidore. The pair was lights-out in the Confederation's Cup and was going to be a crucial part of any USA success at the World Cup.
Davies likely replacement will be Edson Buddle who played very well in a friendly against Australia. Another option will be Herculez Gomez who is coming off a great season in the Mexican League with Puebla.
There isn't any question surrounding the English starting forwards. Wayne Rooney and Peter Crouch will be the two upfront and they are a dangerous pair. Crouch is always a threat off set-pieces and Rooney is coming off a great season with Manchester United. "Baby Rooney" scored 34 goals in all competitions this year and has a good chance at winning the Golden Boot.
If Davies was healthy this would have been tougher to call. But there is an obvious answer.
Advantage: England
Coaches
I will keep this short.
Bob Bradley has done a great job in his short time as head coach for the USA, but the England skipper has years of experience on him.
Fabio Capello has been the manager of: AC Milan, Real Madrid, Roma, and Juventus. He was brought to England to win a World Cup and he just might do it.
Advantage: England
Keep Reading

United States (National Football): Like this team?