2010 NBA Draft: Five Teams That Will Make a Trade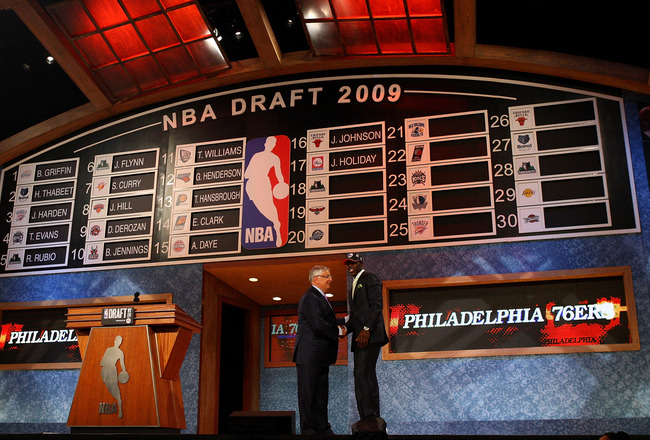 The NBA Draft is always littered with a bevy of trade activity throughout the night.
Some picks are traded for cash, others for players, and some pick-for-pick.
This year, expect even more than the usual. With such a large free agency class ready to hit the market, teams will be doing everything possible to improve.
Some teams will be looking to dump players that no longer fit and others to make their big splash, with free agency not an option.
These are the teams...
No. 5: San Antonio Spurs (Pick No. 20, 49)
The San Antonio Spurs still have a little left in the tank, but not much.
A great era of Spurs basketball is slowly coming to a close.
The Richard Jefferson experiment failed miserably. An overall aura surrounded the team—it just felt like something was missing all year long.
This is not a team at the desperate level; they have two options.
Either make a move, hoping once again that all they need is one more compliment, or start the tear down.
Tony Parker is the most likely big-name trade candidate in the latter case. With George Hill, the team feels they have a replacement, at the very least. While Hill may not ever reach Parker's peak level, he can contribute with solid defense and good surroundings.
Once the team re-signed Manu Ginobili, Parker became the most likely player to be expendable. His contract is up after next season and the team can't afford him beyond this year.
Of course, they would love it if anyone would be willing to afford them a mulligan by taking Richard Jefferson off their hands.
As for the big men, Tim Duncan isn't going anywhere. But that No. 20 pick is too far back in the draft to get him the compliment he needs. Antonio McDyess can still give solid moments, but he isn't what Duncan needs.
If the Spurs can get anywhere from the 7-14 range, they will jump at the opportunity.
Cole Aldrich, Ed Davis, Ekpe Udoh, Hassan Whiteside, Greg Monroe, or any other big man to help Duncan would be ideal.
Wouldn't the Spurs love to find a new big man, just like they did with Duncan as David Robinson began his ride into the sunset...
If they can't move up, look for the Spurs to do what they always have—gather a bunch of second round picks.
From there, they'll make teams regret not picking those players earlier, and grab a few Europeans slated to appear in 2014.
No. 4: Toronto Raptors (Pick No. 13)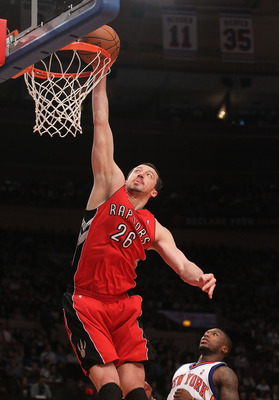 Let's be honest, nobody wants to be in Toronto next year.
Hedo Turkoglu wants out after a year.
Chris Bosh will be nice enough to re-sign so they can trade him.
Jose Calderon has been rumored to be on the move since January.
And as a whole, the team is made up of a lot of underachieving, journeymen players.
Toronto is about to have a lot of needs, and with only one draft pick they must either make it a great one by trading up, or move back to accumulate more picks.
With both Jarrett Jack and Calderon as solid enough point guards to run a team, one of them is expendable. From there, Toronto needs to rebuild the middle of the lineup.
The Raptors could use a compliment to their 7'0" small forward, Andrea Bargnani. They could use a true shooting guard or small forward, someone like an Evan Turner to fill some voids.
DeMar DeRozan is a freakish athlete, but how he develops as a basketball player may depend on who else is there with him.
With the No. 13 pick, they'll find themselves stuck in the middle of two runs.
First, they'll get the tail end of a run on mediocre big men. Next, they'll have a shot at mediocre small forward/shooting guard types who fit the profile of many players currently on their roster.
If the team wants to begin a rebuilding process, they will move up or move back.
The Raptors may be able to finagle a team who needs a point guard into taking Calderon to move into the top 10.
But, the more likely scenario is to trade back into the bottom 20. There, Toronto can find themselves with future picks and look ahead to what charity the team who signs Bosh will send their way.
No. 3: Detroit Pistons (Pick No. 7 & 36)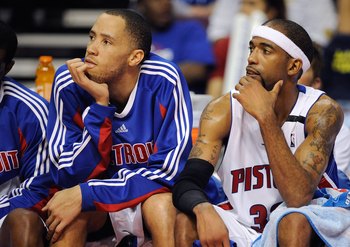 It's time Detroit.
It's time for Joe Dumars to go to work.
Just as the Spurs find themselves today, the Pistons once were.
Detroit had a great run and was assembled by the same GM that remains in charge today.
Unfortunately, Joe reacted too early in attempting to reload this franchise and made a pretzel instead of another steak.
With ownership issues, bad contracts, and players that don't fit the system, Dumars finds himself looking to make some moves.
Tayshaun Prince and Rip Hamilton seem to be the most viable trade candidates. Little money for the free agency market has Joe concocting a plan that starts with the draft.
In Prince, the Pistons have an expiring contract to tangle, yet a player who could still fit.
In Hamilton, Detroit finds a savvy veteran who no longer fits with what Detroit wants to do. Oh, and he also has an undesirable contract to any team looking to trade.
The Pistons have a few options here and don't be surprised to see any of them.
First, they could trade up in the draft. Packaging a player or two, they could possibly grab Derrick Favors or DeMarcus Cousins with a top-five pick.
They could also choose to trade down.
After Favors and Cousins, the talent level of the big men drop tremendously. Every big man in the draft is a mediocre talent with a mid-level ceiling. Nothing worth drooling over. The Pistons won't force themselves to make a pick and would be more than willing to move back.
The third option: trade for a player.
Detroit does not have many options for improving the team unless they are able to make some deals. The draft is the first place to start. Players like David West, Hedo Turkoglu, or Jose Calderon can all be had.
Even Elton Brand, a big man with a bad contract in a position Detroit needs, is available. A Rip Hamilton/seventh-pick for Elton Brand/second-pick may seem crazy, but both teams may find themselves in desperate situations.
One more name Detroit may be willing to let go of: Rodney Stuckey.
Joe Dumars glows about him, but he also recognizes that Stuckey is no point guard. The right offer and combination of draft picks could see Stuckey waving goodbye and Detroit finding a PG for the future.
No. 2: Philadelphia 76ers (Pick No. 2)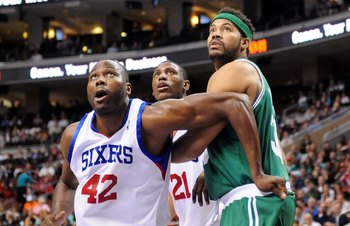 Don't let them fool you.
They are not in love with Evan Turner.
They don't want to pick second.
Someone has got to be willing to take Elton Brand, right?
The Philadelphia 76ers find themselves in a strange position. They hold a top-two pick, but no player seems to fit. After adding Doug Collins, the 76ers must now clean up their roster a bit.
Andre Iguodala remains the primary ball handler and scorer for the team. The hope is Doug Collins can finish off his development and finally make him into a great all-around player. But beyond that, the roster remains wide open.
The team would like to dump Elton Brand and the number two pick may be the best way to do that. If a team is desperate for Evan Turner, Wesley Johnson, Derrick Favors, or DeMarcus Cousins, add in a bad contract and trade the pick.
Samuel Dalembert is another player in an interesting position. His contract expires after next season and he has underperformed. He could be used as trade bait, or a serviceable player to accompany the new look 76ers.
With two big men not being anything they had hoped, don't rule out the possibility that the Sixers could take a big man at number two. They would then proceed to trade Favors, Cousins, Dalembert, or Brand—whomever a team is willing to take that early.
Besides the big men, the roster has a lot of interesting role players.
Louis Williams, Willie Green, Jason Kapono, Jrue Holiday...
These are all players that can play extremely similar roles. With Williams, the young Holiday will stick around, hoping a true PG can develop between them.
With the right combination of draft picks, trades, and even some free agency signings, the 76ers can rebuild.
And for the 76ers, the trading begins June 24.
No. 1: Minnesota Timberwolves (Pick No. 4, 16, 23, 45 & 56)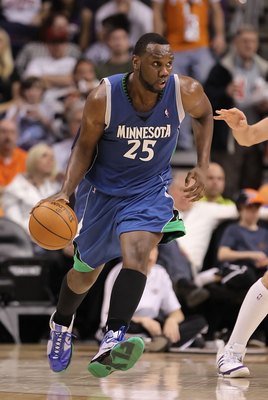 The Minnesota Timberwolves find themselves in a precarious position this year.
The Wolves still have a lot of needs.
The Timberwolves own three first round draft picks (No. 4, No. 16 ,and No. 23). There is a ZERO percent chance they stay in all three spots. Maybe they make a trade for a player, maybe they move up, or even gather more picks (because you can never have enough "potential" on a team).
The team is currently comprised of a core containing Johnny Flynn, Kevin Love, and Al Jefferson. None of those names scream superstar.
Jefferson is solid and showed flashes of dominance early on, but isn't a guy to build a team around.
Love is the perfect complimentary player. Decent scorer, solid passing big man, and a great rebounder.
Flynn is a good scorer and decent overall point guard who should develop into a good enough player, but he is not Ricky Rubio.
This brings up another trade possibility. Could it be the time that Rubio is finally traded? In situations like this, the team usually has no choice but to cave. Rubio never really wanted to go to Minnesota in the first place, and he is making sure to give himself additional time so he never has to.
The draft is the place to make the move. Will the Timberwolves do it? We'll see.
On top of the Rubio conflict, the rest of the team is not built properly. Corey Brewer and Ryan Gomes are essentially the same person. Can't have both if you truly want to win in the end.
They both can play a solid role for a well-developed team; the Wolves are not at that point.
Rumors have already been swirling that Minnesota has targeted Anthony Randolph in a trade, perhaps with one of their picks in the draft.
With two picks, a shaky roster, some Love, a Rubio, and a side of fries...the Wolves will get a lot of attention, at least for those two hours.
Keep Reading