10 Free Agent Signings that Just Make Sense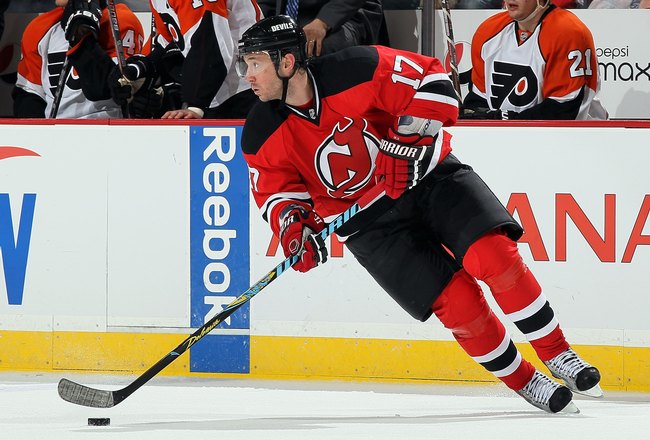 Though there are two teams still left playing hockey, the other 28 are looking forward to two days. June 25, when the NHL Entry Draft begins, and July 1, Free Agency, when many players begin the job hunt. Former Rangers BR community leader Jason Klau gives a look ahead to July 1, 2010 and the 10 Free Agent Signings that Just Make Sense.
Ilya Kovalchuk, to Phoenix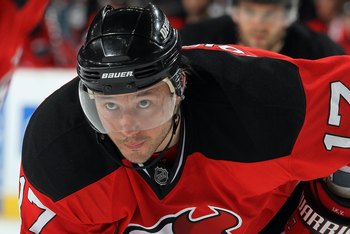 Ilya Kovalchuk, the marquee free agent of this 2010 class. What kind of list would not include him? The first overall pick in the 2001 draft has spent years waiting for this day. In 621 career games, 594 of which with Atlanta, Kovalchuk has made his mark on the NHL, tallying 338 career goals and 304 assists, for 642 points.
Although the hockey world agrees that he is among the elite of the game, he has appeared in the playoffs just twice, winning in only one of the nine games. In 2007, his Thrashers were swepts by the New York Rangers. This season with the Devils, whom he was traded to prior to the deadline, his squad fell in five games to the Philadelphia Flyers.
A number of teams should all be in the hunt for him when the Free Agency Period begins on July 1, at Noon. And one of those teams should be the Phoenix Coyotes.
Yes, the Phoenix Coyotes. The Coyotes, who are currently going through an economic crisis, that would even make this country's economy look good. So why, or how would the Coyotes even be in the hunt for the most expensive item up for bid?
Well first, why would they want him? Besides the fact that he's a goal scoring machine, Kovalchuk could be just the kind of player that saves the franchise. Now Phoenix will not be lacking in salary cap space, but the financial means to acquire him? Well that's a different story. However, if they decide to put up the money for him, the return might be worth it.
The Coyotes Have stirred up some interest with a seven-game series against the Detroit Red Wings, and they cannot afford to not build on it. And should the franchise still be forced to relocate, what better way to draw interest from potential buyers than a marquee name to go with it.
On the ice, the Coyotes had the lowest amount of goals for, in their division, and tied with two other teams for 9th in the conference. If they want to be a better playoff team, they need to improve offensively. With Captain Shane Doan only having two more years left on his contract, and defenseman Ed Jovanavski entering his final year, money will be coming off the books soon. The Coyotes have some younger talent like forwards Wojitek Wolski, and Petr Prucha, but they lack the finishing power that Kovalchuk could bring them. As a rookie, Petr Prucha tallyed 30 goals alongside Jaromir Jagr, who was dominating for the Rangers that year. Could Ilya Kovalchuk have the same influence on Prucha?
But why wold Kovalchuk want to go there? Well first of all, he gets what he wants. Besides the money, Ilya Kovalchuk wants to be a star. What better way to get there then to be the player that saves a franchise. Crosby did it in Pittsburgh, and now Kovalchuk has the chance to do that should he decide to make the move to the desert and sign with the Phoenix Coyotes.
Patrick Marleau to LA Kings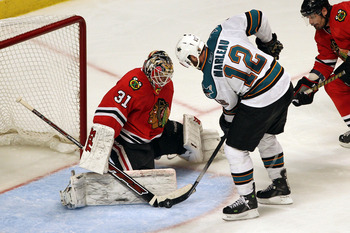 Another premier player heading towards Free Agency could be San Jose Sharks forward Patrick Marleau. The highly-offensive center established a career high in goals with 44, while also adding 39 assists, for his second highest career season in points with 83.
But the 12-year veteran, all of which spent with San Jose, appears to be on the move. San Jose must prioritize and use its cap room to keep their franchise goalie Evgeny Nabakov. It will look to keep him if possible, but should July 1st go by and Marleau still be without an offer from San Jose, he could be on the move.
In steps the LA Kings. With some cap room, and the possibility of losing Alexander Frolov, the Kings will be looking to bring in an offensive threat. Even if they can keep Frolov, stealing a top center like Marleau from their division rival could be just what the Kings need to bring them to the next level.
Sergei Gonchar, to Anaheim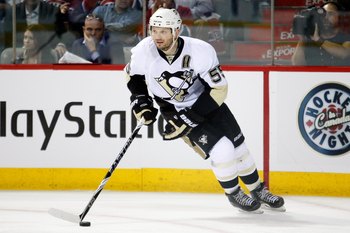 Segei Gonchar looks to be be on his way out of PIttsburgh. The lack of effort he showed when his team trailed in Game Seven against Montreal in the conference semi-finals is not the kind of play the Penguins should expect from a veteran like Gonchar.
So when this veteran, who is just Nine games short of playing in his 1,000th NHL game, wakes up on July 1st, he will be out of a job, and despite the tough ending in Pittsburgh, he will have no shortage of potential teams.
One such team wil be the Anaheim Ducks. As it starts to look more and more like star defenseman Scott Neidermayer will be retiring, the Ducks will have to replace his productivity somehow. The quick solution would be to sign Gonchar to a short contract, perhaps one or two years. Gonchar has totaled 202 goals and 482 assists over his long career.
The numbers don't lie, Gonchar is one of the premier scoring defenseman of the current era. And Anaheim could use, or go without losing, the kind of defenseman who is always a threat to score. Should they need to, Gonchar could be just what they need to make the loss of Scott Neidermayer not be so painful.
Jose Theodore to New Jersey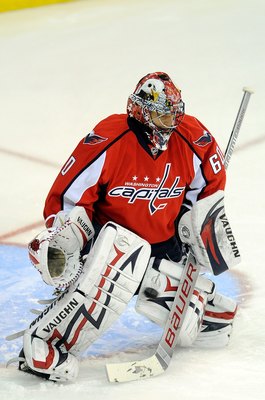 Another year, another playoff series that Jose Theodore cannot finish what he started. The troubled Washington Capitals goaltender is due to be a free agent this July and the market for goalies may be a bit dry.
Already there aren't many teams in dire need of a goalie, and with Montreal goalie Carey Price as well as Boston's Tim Thomas likely to be available through trade, the options for goalies are not many.
In comes the New Jersey Devils. Yann Danis has done well in his short time in the NHL since his call up to the New York Islanders. However, New Jersey definitely needs an upgrade at the backup goalie position. Although Broduer is still at the helm, it is becoming evident that his workload needs to be lessened. 3 consecutive first round exits is not acceptable for the New Jersey Devils, who have, as much as it pains me, a great tradition of success.
With Martin Broduer's playing time possibly being reduced in the upcoming season, a more capable backup is what the Devils need.
Theodore, a former Vezina, as well as a former Hart Trophy winner has definitely fallen from grace. He was once on top of the hockey world, but the hockey world has since moved on.
Although he is defnitely not at the level he used to be on, he still has shown he can be a reliable goaltender. Couple him with a much more defensive system then the one he played behind in Washington, and a quick stop in New Jersey could be what Jose needs to revitalize his career.
Lee Stempniak to New York Rangers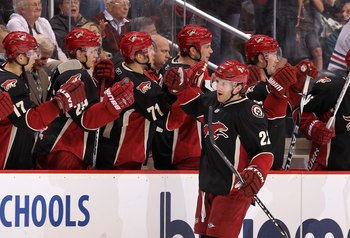 With his trade from the Toronto Maple Leafs to the Phoenix Coyotes, Lee Stempniak showed the scoring touch he showed with the St. Louis Blues. With his move to the Coyotes, Stempniak went up to a point per game pace.
About the same rate he was going at in St. Louis before he was moved. There is no doubt that Toronto slowed his offense down. Although he had previously had a bit of an off year, he was well on his way to rebounding before he was shipped off to Toronto.
With a new team, Stempniak reminded the bosses of the NHL why he should be targeted this July. And a perfect team for him would be the New York Rangers. The Rangers are coming off of a year of just missing the playoffs and they are going to look to change that this year.
Although GM Glen Sather has already stated that it is not likely the Rangers will be big time spenders this offseason (I know, I'm also surprised) Stempniak might not cost to much.
Although the Rangers first priority is signing RFAs Dan Girardi and Marc Staal, as well as finding a way to rid themselves of the infamous Wade Redden contract. Should they be able to do that, they might have enough cap room to splurge a little bit. Stempniak will not the biggest catch this offseason, but he will defidefinitelynetly be a good addition to any team that brings him in, especially the New York Rangers.
Pavel Kubina to Calgary
For whatever reason, Calgary was forced to move Dion Phanuef. Phanuef is not someone you can just replace. He brought an element to the game you hardly see anymore. A dominating physical kind of player who also is a dangerous offensive threat.
While Pavel Kubina does not bring back the physical element that Phanuef brought, the offense is there. Kubina, a cup winner with Tampa Bay in 2004, is coming off of a year with his second highest assist total of his career. He brings experience and is no slouch in the defensive end, either.
Kubina could be looking to get out of Atlanta fast, and Calgary would be a perfect fit.
Colby Armstrong back to Pittsburgh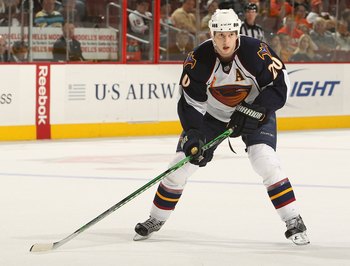 Finally, a chance for Sidney Crosby to reunite with his BFF. Sorry Penguin fans, I'm only kidding. But nobody can deny the chemistry these off the ice pals had.
Armstrong is coming off of a year to forget, with career lows in points with just 29. His value may not be at its highest point right now, but the one thing that can jump start his, or any other players' offense, is to play for the Pittsburgh Penuins.
Sidney Crosby could wield the power of the 'C' and get the organization to use some cap space freed up from the eventual departure of Sergei Gonchar to bring in the kind of energy forward they need.
Colby shouldn't demand to much money from the market, and although a number of teams should be considering him as an option, you can bet that he'll be keeping an eye open for one teams offer. That team is the Pittsburgh Penguins.
Anton Volchenkov to Tama Bay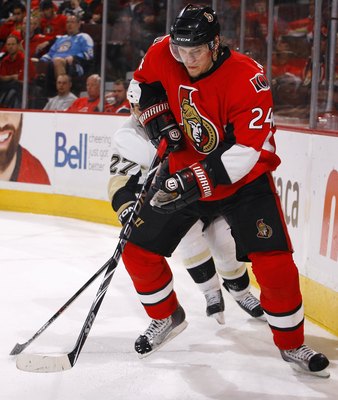 A defense first kind of player, Volchenkov brings a dimension to the game that all teams desire. One of the better shot blockers in the NHL, Anton also is capable of adding some offense. Although he will never blow you away with his numbers offensively, he is far from a one dimensional type of player.
So when he hits free agency this offseason, expect teams that need to improve defensively to be calling him with some offers. One such team is the Tampa Bay Lightning. The Lightning had the third worst goals against in the NHL, behind only the Toronto Maple Leafs and the Edmonton Oilers.
It doesn't seem likely that Volchenkov signs with his current teams rival in the Maple leafs, and Edmonton is hardly an attractive destination for Free Agents. So Tampa may be the team that needs him the most, and has a chance at getting him.
Marty Turco to Montrel or Tampa Bay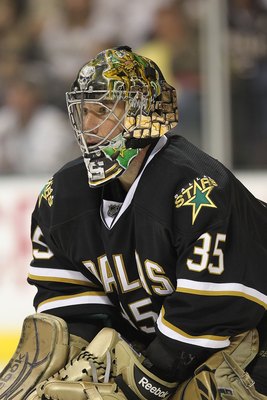 Marty Turco is coming off of another year of failing to make the playoffs with Dallas. In the likely event of Mike Modanno's retirement, it could mark the end of an era with the Stars.
Marty is coming off of a second consecutive year of subpar numbers. Although in his career GAA is a 2.31, the veteran of nine NHL seasons with Dallas is coming off of two years of a 2.81 and a 2.72 GAA, respectively. Add in the Stars' acquisition of Kari Lehtonen from the Atlanta Thrashers and it all starts to point towards Turco's departure.
Should the Montreal Canadiens move young goaltender Carey Price, they will need to fill his spot with a backup. Price is definitely worth more as a tradeable asset than a backup goalie, so look for him to be moved at some point this offseason.
So when the spot is opened up, Turco could be the one to fill it. An experienced backup could be perfect for Jaroslav Halak to learn from. Although he has definitely broken on to the scene with a great playoff showing, Halak still has more to prove, and Turco could be the one to learn from, as well as push him to keep that starting job. But if Montreal can't find the right price for Carey Price, Turco will have to look elsewhere.
Antero Nittymaki proved to be a capable backup goaltender with the Tampa Bay Lightning this past season. Now, he may try to look elsewhere. Should he decide to leave, the Lightning will have an empty spot at the goalie position. And that position could be filled by Marty Turco. Turco could push goalie Mike Smith for the starting jobs, while also providing a veteran some leadership on a team looking to rebound from a few bad seasons.
Dan Hamhuis to Pittsburgh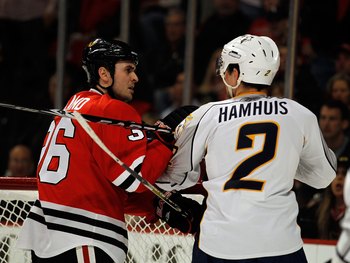 With four of the seven defensemen on their roster heading to unrestricted free agency, the PIttsburgh Penguins may look to bring in a replacement through free agency. Although cap room may be limited, if they can fit Hamhuis under, they will definitely look to bring him in.
Hamhuis has always been a solid defenseman for Nashville, but perhaps he is in the shadow of Ryan Suter. Now he is hitting free agency, and although Nashville would be foolish to just let him go so easily. However, it might not be completely up to them. Big bucks and a long term deal elsewhere may tempt him enough to leave.
In Pittsburgh, he could be the younger, faster, more defensively sound version of Gonchar once he leaves. And, like most players who get to play on the current Penguins, the offense will only improve.
Keep Reading

New York Rangers: Like this team?