The Top 10 NBA Jam Duos We Want to See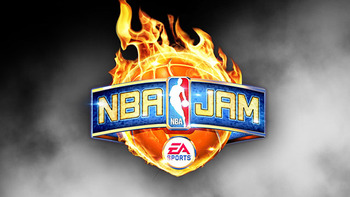 If you're over the age of 20, odds are the NBA Jam franchise played a significant role in your childhood development.
Seems like quite a hyperbole, no? But it's the truth! OK, maybe it's only the truth for a select group of video game junkies.
If it weren't for NBA Jam, we wouldn't have seen Shawn Kemp doing multiple flips in mid-air while flying about 10 feet over the backboard and viciously slamming it down with two hands.
We wouldn't have seen Kevin Johnson sitting in the corner hitting 10 three's in a row while the ball literally catches fire.
The words "he's on fire!!!", "boom-shaka-laka", and "whoomp, there it is!" might not be part of our everyday vocabulary.
And last but not least, we wouldn't have hot spots, which remain the single greatest contribution to basketball video games. Down by 10? Eh, no problem...just get Reggie Miller to that 12-point circle and let him fire away.
So when EA Sports announced they were releasing a new version of NBA Jam in 2010, the collective level of excitement for 20-30 year old males was as sky high as a group of teeny-boppers for a Hannah Montana concert...especially with the added bonus that classic duos like Magic Johnson and Larry Bird would be available.
A bunch of questions were immediately raised.
How great would it be to see LeBron dunking from halfcourt?
Or Wade doing a 1080 from the foul line?
Or Steve Nash hitting an ungodly amount of three's...he could put up 20 a game easy.
The possibilities are endless. But what are the 10 best duos we want to play with? What would be the pairings that would make us shell out the cash without ever thinking twice?
Glad you asked. Let's take a look...
A few caveats—one, the upcoming free agent bonanza will dramatically shift the NBA landscape. So possible combos that could be pair up (i.e. Wade and Bosh) might as well be fair game, right?
Two, when a player is selected, imagine him in his prime. Obviously no one wants to see a washed-up Vince Carter that shies away from contact. But a 2000 Vince Carter that jumps over a 7'0" for the greatest dunk in basketball history? An emphatic yes.
Three, the reason that the original NBA Jam wasn't loaded with star players was because Midway couldn't license the rights to certain players. Nowadays, that's unthinkable. So there will be nothing but star talent in this version.
Finally, no player graces the list more than once. You don't want to see a scenario where LeBron and Bosh, Wade and Bosh, LeBron and Wade, or Wade and Amar'e make up half the list.
With that, let's go.
Honorable Mention: All-Time Greats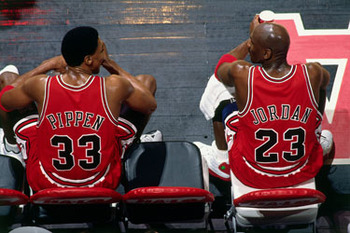 I thought of making the list solely based on all-time great pairings, but the amount of different combinations made my head spin.
So, in the 2-on-2 battles with NBA legends, here's who we should be playing:
Michael Jordan and Scottie Pippen
Do I need to explain?
Charles Barkley and Kevin Johnson
Arguably the most dynamic of the original NBA Jam pairings.
John Stockton and Karl Malone
Ditto.
Bob Cousy and Bill Russell
Maybe the defensive-minded Russell isn't the first to spring to mind when thinking of a high-offensive game like NBA Jam, but can you imagine what he'd do with blocked shots? Not to mention the shoves you get away with on defense.
Jerry West and Wilt Chamberlain
Can you imagine the stat-obsessed Chamberlain in this game? Holy hell...
Kobe Bryant and Shaquille O'Neal
The 2001-02 version...you know, when they weren't at each other's throats.
Magic Johnson and Kareem Abdul-Jabbar
Let's just keep this whole Lakers thing going.
Larry Bird and Kevin McHale
Yes, please.
Gary Payton and Shawn Kemp
It's a shame that they couldn't squeeze Payton onto the original version, because this easily could have been the best combo.
Julius Erving and Moses Malone
I know, I know. Similar positions...but you just can't turn down two top-20 players on the same team.
(Photo courtesy of NBA.com)
Honorable Mention: Today's Generation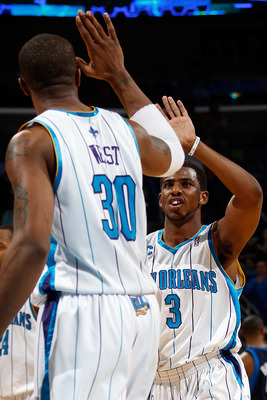 Here are a few noteworthy duos that didn't make the cut:
Rajon Rondo and Paul Pierce
Can you imagine the Celtics (in real life) if both of these guys put up big games? Whew. But I can't have two Celtic combinations on board. I just can't do it.
Chris Paul and David West
It's sacrilege to not include Paul. But while I like David West, this game isn't for him, and there's no other realistic scenario where Paul could team up with someone to put him on the list.
Joe Johnson and Josh Smith
Dynamic, but they almost assuredly won't be playing together next year.
Baron Davis and Blake Griffin
Give young Griffin two years and maybe I'll feel foolish about his absence.
Brandon Jennings and Andrew Bogut
Same goes for Jennings.
Devin Harris and Brook Lopez
A solid pairing, but they just kind of lack that explosiveness and name recognition, don't they?
Brandon Roy and LaMarcus Aldridge
Again, a great real life duo, but not an elite video game combo.
Deron Williams and Carlos Boozer
I'm almost embarrassed to leave D-Will off this list. Sadly, the show must go on.
10. Chauncey Billups and Carmelo Anthony
Two guys that can score from anywhere on the court.
Billups' three-point shooting is an ideal fit. I can just hear Tim Kiztrow screaming in the background, "He's heating up!!!"
'Melo has been known to throw a few down, as well as being a streaky shooter. But when he hits, he catches fire (pun definitely intended).
A great duo in the league for the past two seasons, this easily translates to the console.
9. Jason Kidd and Dirk Nowitzki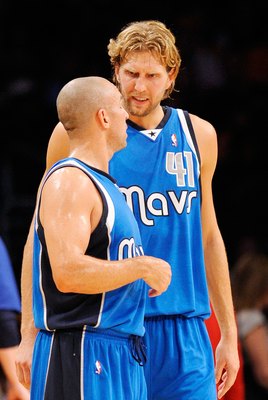 I really wanted to pair Nowitzki with Steve Nash just for the hell of it. Those two together would be great for a plethora of reasons, most notably being nostalgia.
But Jason Kidd is almost as good. He came out just after the original NBA Jam, and I'm thinking he would have made the cut for Dallas over Derek Harper or Jim Jackson.
Plus, he's become a competent three-point shooter in the latter part of his career, and his physical play gives him a knack for shoving the opposition to the floor.
If this pairing is instated, I have to insist that a miniature Mark Cuban sits behind the pseudo-bench so we can be treated to various shots of him wildly celebrating after a Nowitzki dunk or Kidd three.
8. Ray Allen and Kevin Garnett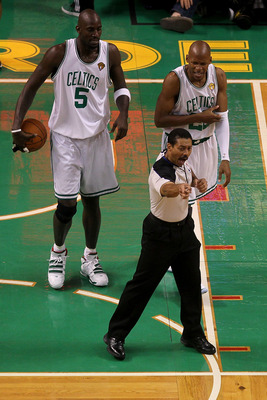 Originally left off the list, but I couldn't let my seething hatred for KG interfere with my supposed objectivity.
It's a rare combination of a team without a point guard or a big man. But come on, this is NBA Jam—it's not like we need an elite ball-handler to bring the ball up against a fullcourt press and set up the offense.
If any current player was made for hot spots and the corner three, it's Ray Allen. I'm pretty sure he would put down 90 percent of those baseline jumpers.
And remember one of the caveats. This is KG in his prime: the emphatic dunking, semi-high flying freak, not the hobbled, going up for a rebound with one arm and two inches of elevation guy we see today.
7. Derrick Rose and Chris Bosh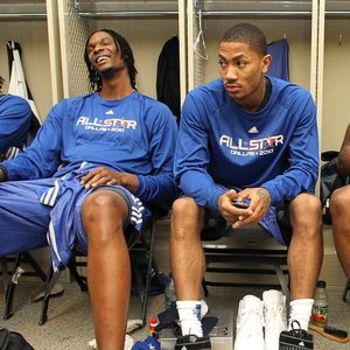 The first, but not last, of potential players that could hook up in free agency.
Don't think of this from a "will this work in the league" perspective—think of it as a "I would play for 10 straight hours with these two and not even blink" state of mind.
These are possibly two of the most exciting players at their respective positions. Rose is a blossoming young point guard who will only improve, and Bosh is perhaps the most versatile power forward in the league.
I haven't even mentioned the dunking possibilities these two bring to the table. Can you imagine the aerial assault they'll put on? They could throw multiple alley-oops to each other in mid-air for crying out loud.
6. Manu Ginobili and Tim Duncan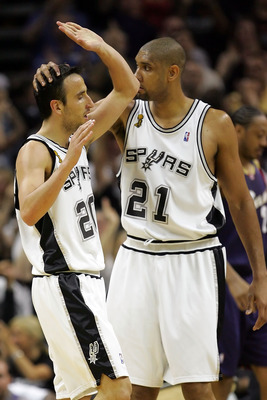 There's no way I can leave the greatest power forward of all-time off this list.
I don't care if Duncan doesn't have the flash that most others in this game will undoubtedly possess. He can hit jumpers and throw down some dunks with authority. That's good enough for me.
And Manu...he can make up for it in the pizazz department. Think of the spin moves, the crossovers, the outside shooting...it's the total package.
They are perfect complements for one another. Some will doubt this—just like the Spurs are always doubted in real life—but this is a wildly entertaining team. I'm telling you. It's true!
5. Kobe Bryant and Pau Gasol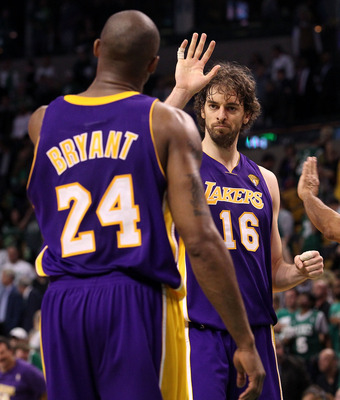 Not that Kobe Bryant isn't still a great player (he's the best in the league)...but imagine the early 2000 Kobe where he's crossing players over left and right, attacking the rim relentlessly and throwing down a few of the best posterizing dunks ever.
Umm yea, I think I'd play with him.
Add in Gasol, one of the best big men in the league, and this is a no-brainer.
I won't even talk about the realistic basketball aspect about their great chemistry, high basketball IQ and clutch play. This is an incredibly captivating duo—everything you'd want in an NBA Jam team.
4. Vince Carter and Dwight Howard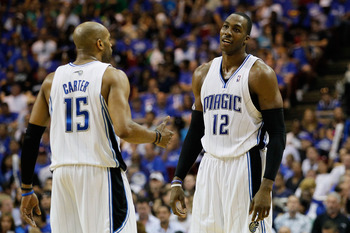 Let's make this "2000 Vince Carter, v 1.0" instead of "2010, I don't want to get hurt so I'll just float around the perimeter Vince Carter, v 4.0."
If you like incredulous dunking ability, this is the team for you.
Not that there are set plays in this game, but let's draw one up: Carter near midcourt, Howard at the foul line. Carter gets a running start and flies over the 7'0" Howard (and the two defenders) for a powerful dunk.
Could this play be stopped? Start a game with these two and all of a sudden four hours will have passed before you even realize what happened.
3. Russell Westbrook and Kevin Durant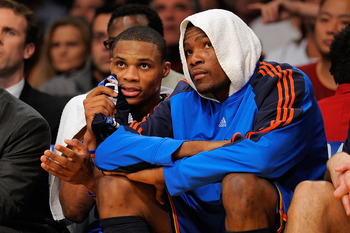 You might think this spot is too high for Westbrook and KD. But these two were genetically engineered to play in this game.
With Westbrook, you get a quick, athletic guard with incredible hops. He is not the best outside shooter, but one of the best dunking point guards in the league.
And Durant...do I really even need to justify his spot? He'll make it from anywhere on the floor. Hell, put the hot spots from the opponents three point line and I'll be taking 70-foot shots with Durant, fully expecting him to make every one. Get him on fire in the first quarter and he might not miss for the rest of the game.
Not to mention the fact that he's 6'9", explosive, and can be a legit high flier as well.
When they made the original in 1993, they had these two in mind...even if they were only like five or six at the time.
2. Steve Nash and Amar'e Stoudemire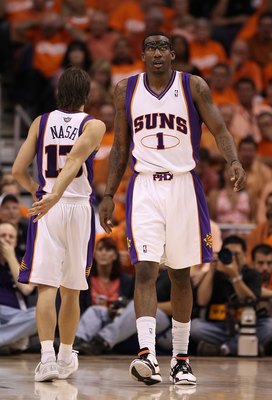 This is probably the best two-man game in the NBA. How would it not translate to success in a video game?
Nash will be good for 10 three's a game.
Amar'e will be good for 10-15 ridiculous dunks a game.
And the best part is, their complete lack of defense will be encouraged! In a game where the only goals are to make highlight reel plays and outscore the opponent, this is a no-brainer for one of the top spots.
They'd be No. 1, except for one semi-crazy yet not totally unreasonable duo of...
1. LeBron James and Dwyane Wade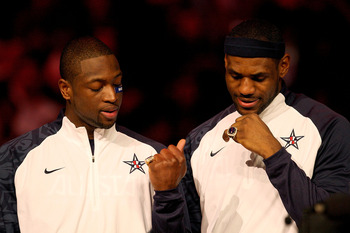 In real life, probably not—two big egos and an "I'm No. 1" mentality don't go together.
But for NBA Jam purposes, I need not explain anything. Two top-five players with innate athletic abilities and outside shooting? Sign me up. You'll be on board too.
Keep Reading