Order Is Restored: UCLA Wins Women's College World Series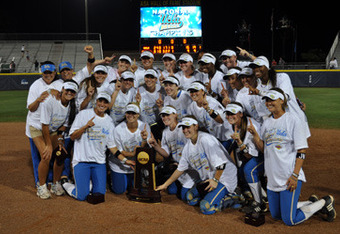 When the Women's College World Series began less than a week ago, the tournament seemed wide open. There was a new team present, as well as a few teams that had only been to Oklahoma City once or twice.
There was talk of who was the most dominant conference with the Southeastern Conference and the Pacific Ten Conference both getting three teams in the WCWS.
Here is a look at the 2010 Women's College World Series.
The tournament began on an interesting note. Every higher seeded team was "upset" by the lower seeded team in the first round. No. 16 Hawaii beat No. 9 Missouri, No. 5 UCLA beat No. 4 Florida, No. 6 Georgia upset the defending champions No. 3 Washington, and No. 15 Tennessee downed No. 10 Arizona.
It looked as though there could be a new champion this year and talk of a new dominant conference, with the SEC going 2-1 against the Pac-10. UCLA and Tennessee won on Day Two to propel their teams to Sunday's semifinals.
On elimination Saturday, the tournament was rocked. Missouri struggled against Florida and was the first team to go home. Arizona upset defending champions Washington to send them home second.
Georgia and Florida would meet later on Saturday for the first time all season, which is ironic seeing as they are both in the SEC. Hawaii just could not put enough runs together to beat the high-scoring Arizona Wildcats.
On to Sunday, Georgia and Arizona would each need to win twice to come through the losers bracket and play for the national title.
UCLA would use two homeruns against Georgia to push their team into the Championship Series.
Arizona mercied Tennessee in their first game on Sunday. They would use that momentum to beat Tennessee again on Sunday, pushing the Wildcats into the finals against UCLA.
On Monday, the Bruins and Wildcats went back and forth. Every time one team scored, the other would answer. Megan Langenfeld had the final say in the eighth inning when she boomed a walkoff homerun.
Tuesday was all business for the Bruins. They never let up all game and beat the Wildcats 15-9 to win their 11th National Title.
This was probably the most fitting final and champion we could have this year in softball. Two perrenial powerhouses fighting it out until the end. Arizona and UCLA have now combined to win 19 of 29 National Titles.
Winning another National Title was a great way for the UCLA community to honor the recent loss of legend John Wooden. Donned with black "JW" bands, the Bruins softball team used Wooden's Pyramid of Success all season and throughout the tournament.
The top of the pyramid is called "Competitive Greatness" and reads like this: "Be at your best when your best is needed. Enjoyment of a difficult challenge."
The UCLA Softball team was at their best when they needed to beat the best in Arizona. They enjoyed every minute of it and now have the 2010 National Championship to prove it.
photo courtesy of ncaa.com
This article is
What is the duplicate article?
Why is this article offensive?
Where is this article plagiarized from?
Why is this article poorly edited?