MLB Featured Columnists' Poll: An American League All-Star Vote Update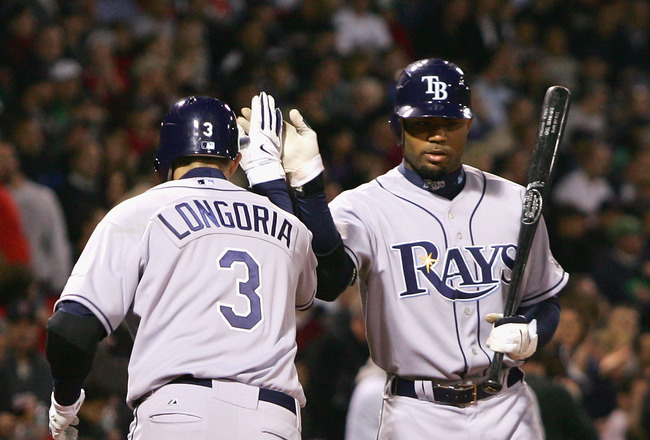 Boy, this season is going by fast.
It's hard to believe that the All-Star game is just one month away. But because it is, and because our last All-Star vote took place in April, Bleacher Report's MLB Featured Columnists are back with an update.
This is part-one of this week's poll: the AL results (look for the NL results tomorrow). For each position, I've listed the full vote totals, as well as the current real-life leader(s) and a reminder of who we chose last time. And, as always, a "featured writer" has submitted commentary for each winning player.
If some of the participants names seem unfamiliar in this context, that's because they probably are; a whopping 44 Featured Columnists voted on at least one league's ballot, making this the biggest FC Poll yet.
Thanks to everyone who participated! May our actions set an example for the idiots who keep voting for Mark Teixeira.
First Base: Miguel Cabrera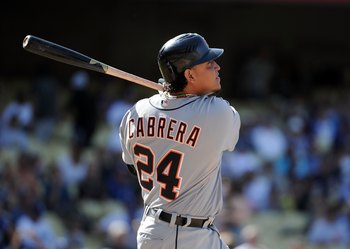 1. Miguel Cabrera, DET—23
2. Justin Morneau, MIN—12
T3. Billy Butler, KC—2
T3. Kevin Youkilis, BOS—2
5. Kendry Morales, LAA—1
Featured writer: Brandon Williams
To watch Miguel Cabrera swing is to view the American League's best all-around hitter.
With his personal issues beyond him, Cabrera's first half has reminded us of the promising young hitter who helped carry the Florida Marlins to the 2003 World Series title. He entered Tuesday's play with a .351-17-52 line, and is flirting with a Triple Crown.
We tend to forget that he is only 27 years old. Frightening as it may seem, he is just on the outer edge of entering his prime seasons.
If the Tigers stay in the AL Central race and Cabrera maintains his pace, it will be hard not to hand him the Most Valuable Player award.
Real-life leader: Morneau
May winner: Cabrera
My vote: Morneau
Second Base: Robinson Canó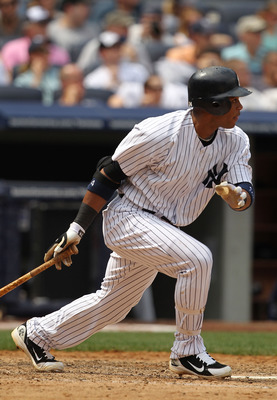 1. Robinson Cano, NYY—31
2. Ben Zobrist, TB—3
T3. Orlando Hudson, MIN—2
T3. Dustin Pedroia, BOS—2
T5. Ian Kinsler, TEX—1
T5. Ty Wigginton, BAL—1
Featured writer: Bob Warja
Canó leads all eligible AL second basemen in batting average (.363), homers (12) and RBI (45), by far. And, according to FanGraphs, the only other second sacker who has played better defense in the AL this season is Orlando Hudson (5.1 UZR to 2.3).
Point is, Cano is having a tremendous offensive season and isn't hurting the club defensively, either. He has been the Yanks' best offensive player while Nick Johnson and Mark Teixeira continue to struggle and A-Rod is at league-average.
His BABIP suggests it won't continue, but so what? As of now, he's certainly more than worthy of the starting nod at 2B.
Real-life leader: Cano
May winner: Cano
My vote: Pedroia (I admit, this pick was biased)
Shortstop: Elvis Andrus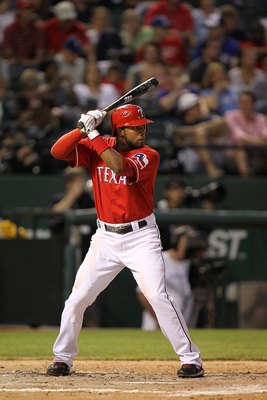 1. Elvis Andrus, TEX—15
2. Derek Jeter, NYY—13
3. Alex Gonzalez, TOR—8
T4. Jason Bartlett, TB—1
T4. Asdrubal Cabrera, CLE—1
T4. Adam Everett, DET—1
T4. J.J. Hardy, MIN—1
Featured writer: Jeff Wahl
Even if Jeter is the leading vote-getter, Andrus is the best SS in the AL this season.
He's first in runs (39), stolen bases (18), batting average (.304) and on-base percentage (.392). Among lead-off hitters, Andrus is first in runs, second in stolen bases, second in on base percentage and third in batting average.
So not only has Andrus outperformed Jeter as a shortstop, he's been a more effective table setter as well.
Is this New York's game, or America's? The answer to that rhetorical question is a vote for Elvis Andrus.
Real-life leader: Jeter
May winner: Jeter
My vote: Andrus
Third Base: Evan Longoria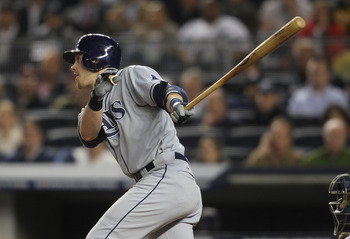 1. Evan Longoria, TB—33
2. Alex Rodriguez, NYY—3
3. Adrian Beltre, BOS—2
T4. Miguel Tejada, BAL—1
T4. Michael Young, TEX—1
Featured writer: Ben Duronio
It was an easy choice to pick Longoria over any American League third baseman; based on overall value, he has easily been the top of his class.
Currently, Evan sits atop the WAR rankings of AL third basemen at 2.8 while his next closest competition is Beltre at 2.4.
Longoria's wOBA of .411 is a bit behind Jose Bautista's .415, but I would definitely expect that to change as we get closer to the mid—season classic.
I really like what Bautista has done in terms of his walk rate and power this year, but overall Longoria has been the more valuable player. When you include that Longoria has been better than average defensively (1.0 UZR) while Bautista has been well below, (-3.8 UZR) it is easy to see that he should make it.
Real-life leader: Longoria
May winner: Longoria
My vote: Longoria
Catcher: Joe Mauer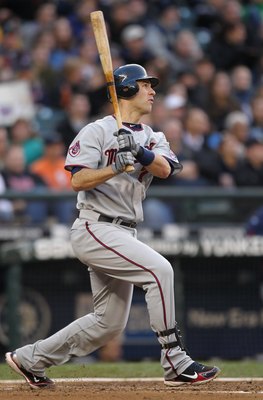 1. Joe Mauer, MIN—34
2. John Buck, TOR—3
3. Mike Napoli, LAA—2
4. Victor Martinez, BOS—1
Featured writer: Jeremiah Graves
Mauer is the best catcher in baseball. Period. So it doesn't take a big leap of logic to determine that he should be the unequivocal starting catcher for the American League All-Star team.
He's currently hitting .317/.387/.450 despite missing time with a heel injury. What's even more ridiculous is that those numbers indicate that Mauer is actually struggling at the plate as he is a career .326/.407/.481 hitter.
Many are quick to point that Mauer is failing to live up to his success from last season when he was named the AL MVP.
Compared with himself, he is struggling, but there is absolutely no other catcher in baseball who can realistically be compared to Mauer.
Real-life leader: Mauer
May winner: Mauer
My vote: Mauer
Designated Hitter: Vladimir Guerrero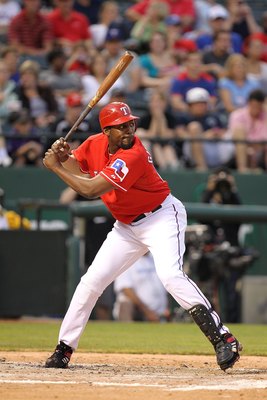 1. Vladimir Guerrero, TEX—32
T2. Jose Guillen, KC—2
T2. Adam Lind, TOR—2
T4. Andruw Jones, CWS—1
T4. David Ortiz, BOS—1
T4. Luke Scott, BAL—1
Featured writer: Brett Kettyle
Coming into the 2010 season, Vladimir Guerrero looked like a shade of his former self. Yet through 53 games, he has his highest batting average (.335) and slugging percentage (.560) since 2005, his first year with the Angels.
Guerrero has been amazing in 2010, and the rest of the DH field is rather unimpressive. Vlad leads DH's in most important statistical categories. The only slight knocks are that he's second in homeruns (by one) and stolen bases (by three).
He may not be the five-tool player he once was with the Expos, but in 2010, Vladimir Guerrero clearly deserves to start in the All-Star game.
Real-life leader: Guerrero
May winner: Guillen
My vote: Guerrero
Outfielder No. 1: Carl Crawford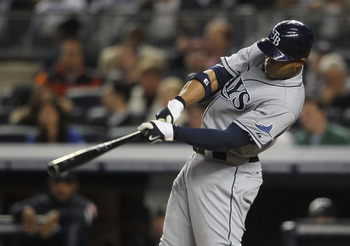 1. Carl Crawford, TB—24
2. Vernon Wells, TOR—22
3. Alex Rios, CWS—16
4. Ichiro Suzuki, SEA—12
5. Nelson Cruz, TEX—9
6. Shin-Soo Choo, CLE—7
T7. Austin Jackson, DET—6
T7. Nick Swisher, NYY—6
T9. Jose Bautista, TOR—4
T9. Franklin Gutierrez, TB—4
T11. Jacoby Ellsbury, BOS—2
T11. Josh Hamilton, TEX—2
T11. Torii Hunter, LAA—2
T14. Michael Cuddyer, MIN—1
T14. Brett Gardner, NYY—1
T14. Magglio Ordoñez, DET—1
T14. B.J. Upton, TB—1
Featured writer: Andrew Brining
The big green is generally where the egregious snubs in All-Star selections come because there are always so many qualified candidates. This year is no different in the AL, but Crawford still seems like an easy call.
Though it appears his once-promised power won't ever really arrive, Carl more than makes up for that "deficiency" with his legs. He's already got 18 swipes while being nabbed only four times plus his .821 OPS is proof he's flashing gap power and getting on base at a good clip (.352 OBP).
More importantly, this is an exciting ballplayer who is fun to watch when performing well.
Any exhibition of baseball played at its peak needs a talent like Crawford.
Real-life leaders: Suzuki, Cruz, Crawford
May winners: Cruz, Wells, Crawford
My votes: Choo, Crawford, Rios
Outfielder No. 2: Vernon Wells
Featured writer: Thomas Pinzone
After a disappointing 2009, Vernon Wells has been as good as ever so far in 2010.
He's currently hitting .307 with a .357 on-base percentage. Wells leads all AL outfielders in doubles with 21 and is second in homers with 14. His .963 OPS is second best among AL outfielders as well.
Vernon entered Sunday's action on a 13-game hitting streak during which he's hit .326 with seven doubles and three homers.
Outfielder No. 3: Alex Rios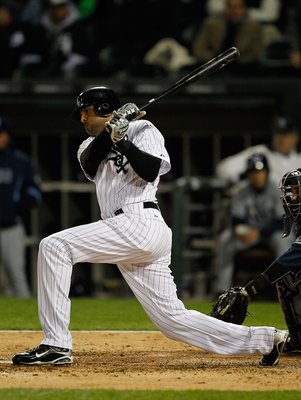 Featured writer: Ash Marshall
There's no outfielder in the game right now that can match his combination of power (12 homers, .590 slugging percentage), speed (17 stolen bases, 38 runs), and batting average (.318).
Ryan Braun is probably the closest to being a complete player right now, but Rios has him beat all ends up so far in 2010.
Rios' name should be mentioned in discussions of the best player in baseball at this point in the season. How he's not even in the top 15 AL outfielders is an absolute farce. It's just another reason why fans shouldn't be allowed to vote.
Rios is having a career year and nobody seems to be taking notice.
More FC Polls...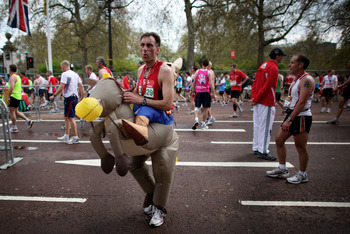 Keep Reading