10 College Football Recruits the Rivals 100 Got Wrong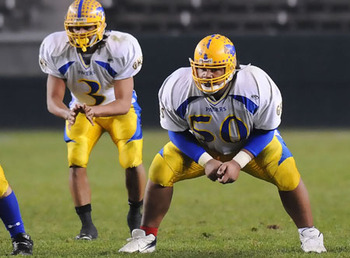 In blogging circles there exists a practice termed "fisking" (are you all familiar with this?) where an article written by a member of the mainstream media is deconstructed, point-by-point, by a more clear-headed member of the outer circle.
I intend to do just that with the Rivals 100 (except for the clear-headed part).
The oft-debated list of 2011's "top" recruits featured a few befuddling selections, several inexplicably low rankings for good players, and at least one glaring omission.
Click through and behold the fisking.
Brent Calloway, LB (Alabama)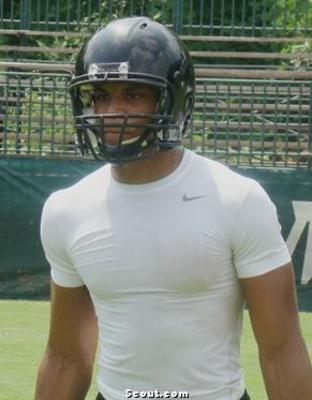 Let's start with the most egregious overranking: Brent Calloway at No. 9. Call it the National Championship effect—recruit signs with the defending champs and immediately sees his stock rise.
Some of it is a fair, reciprocal effect of the newfound attention. Some of it is deserved—Calloway looks great on film. Some of it is bias towards seeing Tide and linebacker in the same sentence. Most of it is the desire to be the first to call a future stud great.
In any case, there are better players, even better linebackers, still on the board after Brent Calloway, a 6'2", 215 lb linebacker out of Russelville, AL.
At the very least, Rivals could remove the erroneous specification that Calloway had "25 tackles in 2009." A punter could have that many. I'm assuming that they meant 125 tackles...which still puts him behind DT Tim Jernigan, who had 136 from the DT position.
If Larry Burton signed with Alabama tomorrow, I'd imagine he'd be a middling four-star recruit by Monday...as long as he still has eligibility from Parrothead U.
Jay Rome, TE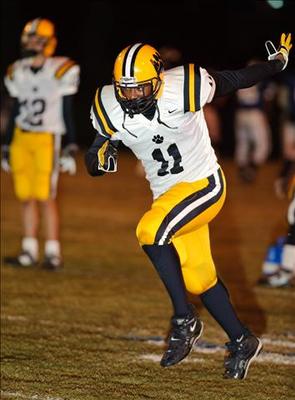 Rivals' No. 40, tight end Jay Rome, has been pretty roundly accepted as one of the best NFL-caliber prospects in the class, a combination of size (6'6", 245), speed, blocking ability and great hands.
His offer sheet was a who's who of blue chip schools, and his final pool is Clemson, Alabama and Georgia, with Florida and Tennessee not too far away.
That makes his placement at No. 40...befuddling. He's at least a top 25 player and, in my mind, ought to be in the running for a fifth star.
Switch him and Greg Robinson—an overrated tackle sitting at No. 19—and I'd be at peace.
Tim Jernigan, DT
Rivals' No. 45 player, huh?
Check his stats: 131 tackles and 27 TFLs as a junior. From the defensive tackle position, that's outstanding.
6'2", 275, offers from elite schools, down to Florida, Florida State, Michigan...and he's almost not a top 50 player?
I understand it's a strong year for defensive tackles, but put the kid ahead of Brent Calloway, would you?
Braxton Miller, QB (Ohio State)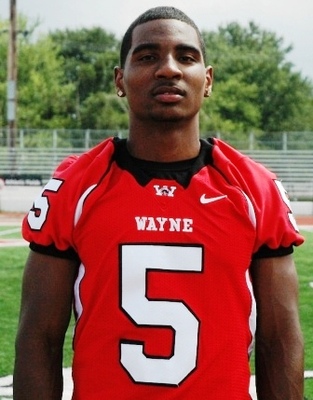 This one is a shocker. Barry Every didn't do a write-up on QB Braxton Miller (Rivals' No. 58), which makes it difficult to anticipate his reservations, but I see evidence from Miller's film that suggests he's the most dynamic quarterback in the class.
Miller's passing stats aren't eye-popping (1091 yards, nine touchdowns, 53% completion percentage), but his delivery is fluid and he sets his feet (when they aren't taking off for touchdowns). His straight-line speed is unreal.

We know the drill with Ohio State. They won't be retooling their offense to accent Miller's wheels or letting him run the zone-read. They'll be molding him into a pro-style QB even if it means going against the grain a little bit.
Which is exactly why I think his ranking suffers. Though the Rivals 100 came out before his announcement, his commitment to the Buckeyes was a foregone conclusion as soon as their competitors—mainly Florida and Georgia—signed other QBs.
The certainty of that decision harms the attractiveness of the recruit. Where he will be playing is also a factor in the decision. When we didn't know Pryor would be forced into a round hole, the sky was the limit with him. Looking back, perhaps our perception of him as 2007's No. 1 recruit dims a little bit. Miller is probably just suffering the residual effects.
Viliami Moala, DT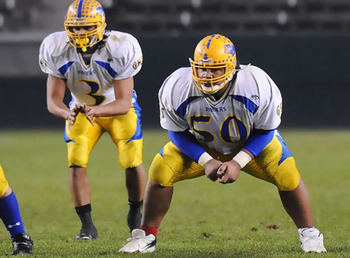 DT Viliami Moala (Rivals' No. 78) is another recruit I expected to see closer to the top of the list.
The 6'2" 326 lb defensive tackle out of Sacramento has conducted a quiet recruitment, avoiding camps and sticking close to home, but the size, stats (104 tackles, 12 sacks while pulling double duty as an offensive lineman) and offers (USC, Cal, interest from Florida and Alabama) suggest a top-tier defensive tackle.
I'd blame the under-the-radar vibe, but if you want to sound in-the-know, start talking this kid up as the next great defensive lineman to come out of Fort Orgeron...provided he commits to USC and not Cal.
Tony Steward, OLB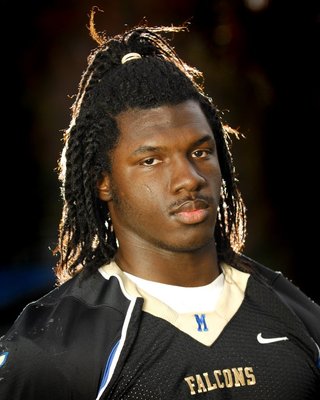 LB Tony Steward was a major surprise at number two overall. After a review of his film, I can understand where the hype is coming from.
But No. 2 overall? Ahead of De'Anthony Thomas, Cyrus Kouandjio, James Wilder? Heck, LB Lawrence Thomas? I don't think he's even the best linebacker in the class, let alone the no. 2 prospect.
I won't stress too much, but if you think of the Rivals top ten like the order of the first ten picks in the NFL draft, you understand the deliberation that should go into these decisions.
Frankly, if I can put the tinfoil hat on for a minute...Steward is currently one of the most open prospects out there, with a list of offers a mile long and a recruitment getting bigger and more hyped by the day. ESPN ran an article on him about a month ago that put him on the radar.
It benefits Rivals to put guys like him at the top, over committed recruits. That's all I can offer as an explanation.
Mike Blakely, RB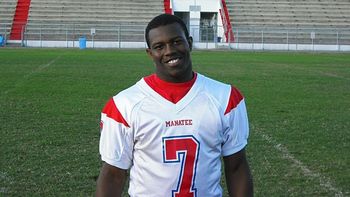 With all due respect to Bradenton, FL running back Mike Blakely, Rivals' No. 22 recruit, there are more sought-after athletes out there.
According to Rivals, the 5'9", 194 lb prospect is holding onto some elite offers, but he's sitting ahead of a lot of great competition. Scout sends in a rather average evaluation—great freshman year, durable, added too much weight, now lacks the deep speed, good pass blocker.
He sounds like one of the many middling four-stars making up a strong RB class—Savon Huggins, Jameel Poteat, Herschel Sims—which is why his abnormally high ranking is so surprising.
Watch his film and see if he deserves the hype.
Trey Depriest, OLB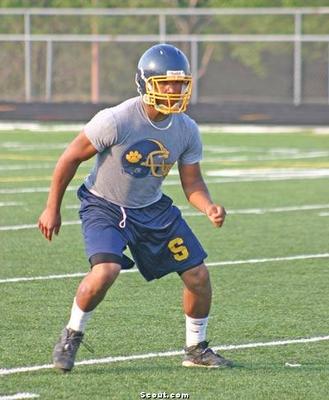 Most of the spring speculation on Springfield, OH linebacker Trey DePriest was that he was a lock for a fifth star, so it was a shock to see his listing on Rivals all the way down at No. 93.
I'm not sure what the recruitniks are taking issue with here. He's got the size (6'2", 231 lbs), the offers (Alabama, Ohio State, Florida and LSU are in his final pool) and the stats (101 tackles, seven sacks as a junior) to warrant a much better placement.
Not...going...to put...tinfoil hat on...IT'S BECAUSE HE'S FROM OHIO ISN'T IT GOD YOU PEOPLE HATE ANYONE ABOVE THE MASON-DIXON! :(
Odell Beckham, Jr., ATH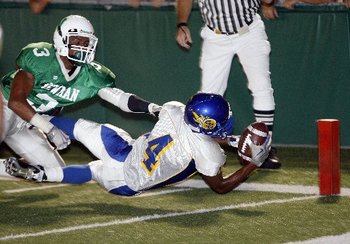 My first reaction was, who?
I don't claim to know every recruit out there, but this pick smacks of southern bias.
No. 63 Odell Beckham of New Orleans, LA is a two-way athlete whose best offer, besides LSU, is from Nebraska. The 5'10", 165 lb wide receiver/cornerback looks athletic on film, with a favorable projection at slot receiver.
But with QB Christian Lemay, DT Desmond Jackson and other athletes still on the board, Beckham is a reach at No. 63 overall.
I don't want to trash the kid, and I understand Rivals' desire to feel like they've made a discovery—heck, I put an LSU recruit of my own in the B/R 100 top three thinking he's been totally overlooked. But there were more hotly-pursued recruits still on the board. If this were the draft, I'd be scratching my head.
The Absence of Kasen Williams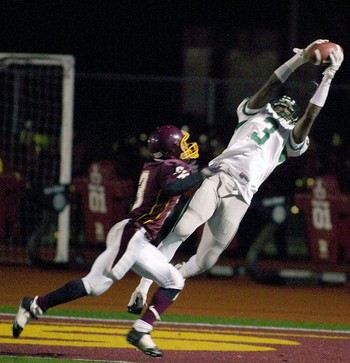 I'm all about friendly debate, but to drop my man Kasen Williams all the way to No. 246? That's disrespectful.
You'd think with an offer from every school with a fax machine and a wide-open recruitment Rivals would rank higher. But someone saw something they didn't like from the No. 1 prospect in the B/R 100, and I'd like to know what it was.
Do I take offense? Some, especially with George Farmer at No. 4. But I see what I see, and it's not changing: a Crabtree-esque receiver with all the right moves. Texas Tech's great one ran a 40 above 4.4, too.
Keep Reading