AFC North Depth Charts and Evaluation: Pittsburgh Steelers Offense, Part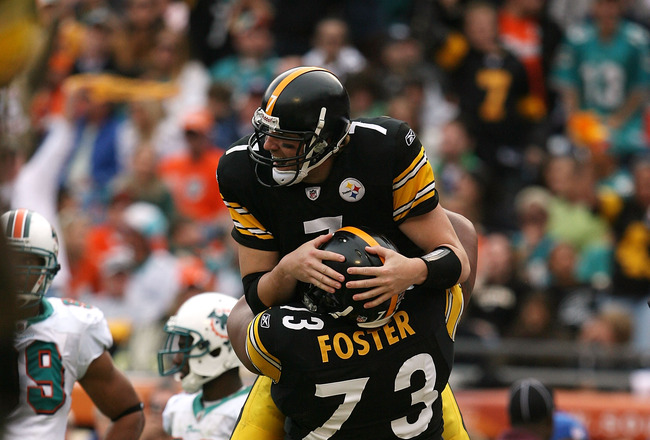 Hey everybody! I have been wanting to do this article all off-season and considering that it is pretty much over....I can competently do so.
I really have very little to say here besides the fact that I want you guys to enjoy the article. I worked very hard on it. I appreciate all that you guys have to offer me, and I hope to be one of the top writers for this site in the future.
Anyway, let's get on with the article!
Quarterback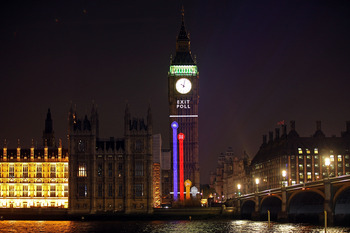 OH MY GOD, THAT IS THE BEST, MOST EPIC WAY TO HANDLE POLLS...EVER!
So, guys, I figured I would just start with the one that is most talked about.
People are wondering about who is going to start while Ben is gone, obviously. My personal preference is Dennis Dixon. He is the better choice, compared to Byron Leftwich and Charlie Batch.
First of all, He is much more mobile than the other two. Everyone knows that back in the olden days, when he was in college, he was one of the best running QBs in the NCAA.
He was very fast and capable of passing or just taking off, as evidenced by his 600 rushing yards in his last year in Oregon. The thing that also really makes me happy is the fact that he is not a run-first player. That is proven by the fact that he had 322 attempts in 2006. I am really enjoying him as a player, and everyone should as well.
Not to mention the fact that if he plays well....one could use him as trade bait. We could use a couple players and some teams could use a good quarterback...who knows what can happen?
As for the rest of the players, there is really only Byron Leftwich and Charlie Batch. Let's start with Leftwich.
Leftwich can be a great passer at times. He filled in for Ben before and had a very nice game. He has arm strength that can rival the likes of Brett Favre. One of his bigger problems, however, is his Brett Favre-iness. He can be a very erratic thrower and is not quite worthy of being trusted. His other problem is his pocket presence. He literally is a human statue and if the pocket collapses. He is the LAST person on the roster who should be there. He doesn't get away from tackles. He doesn't run away and make plays happen...he is SACKED. He is fed a sack lunch quite often and doesn't get away. He can not be put in for that reason alone.
Batch is, sadly, one of the oldest players on the roster. He had some good potential with the Lions, and even the Steelers, and has been very unfortunate to have been a backup throughout his entire career. The only thing is that he can't be a starter.
He is so overwhelmingly injury-prone is that it is truly ridiculous. He was supposed to fill in for Big Ben in the Chiefs game in 2009....BUT....he was hurt when he did so. The Steelers proceeded to lose that game. Batch can be a very solid backup when he is in, but there is no sense in even having him on roster...he is too busy recovering from injury to do anything. The Steeelers would do well to just sign him as an assistant coach, which he could do very well.
As for Ben Roethlisberger...one can look through my older articles for my thoughts on him. He has a great arm, very impressive accuracy, and makes plays happen. He is just one of the best and, in my opinion, in the top four in the league.
Big Ben
Dixon
Leftwich
Batch
Running Back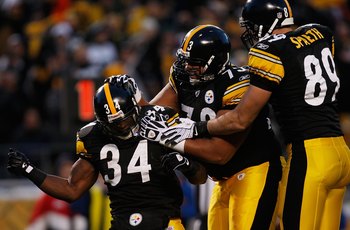 I am letting you know early that I am only covering the top three backs. No others!
Where to start.....hmm....with the starter, I suppose.
Rashard Mendenhall has such great potential that he could become a top five running back in the NFL. He is top 10 already, and if he performs to his capability, he very well could be one of the best.
He is big-bodied, very thick, and muscular. He is just one of those players built perfectly for the position. The man has a lot of power and his legs are always churning. There really isn't an easy way to get him down because of his intensity.
He is a hard runner and fights for every yard. Doing so is how he came to lead the entire nation in yards per carry in college (minimum 250 carries), while scoring 17 touchdowns to go along with his almost 1,700 yards. He is the proud owner of amazing acceleration and a devastating spin move. He just spins you out of your shoes and has gone 10 more yards in almost an instant. He isn't the best long-distance runner, but he is VERY quick, despite his size.
He can be a very good pass catcher as well, with five touchdowns in his three years at Illinois.
Anyway...let's get to the other backs.
Johnathan Dwyer is a powerhouse. He is very useful when it comes down to the redzone and short-yardage situations. The dude weighs 230 pounds...of course he is a good power back. He's not the best all-around back, so he shouldn't get too many third down carries, considering his lack of receptions.
Mewelde Moore was one of the greatest college backs who, sadly, never did all that well in the NFL. He has played well enough to be a solid backup and a great third downer, but he isn't the best between the tackles. He is a fantastic receiver out of the backfield and can be used on plenty of trick plays, as evidenced by his touchdown pass last year, which had a solid spiral if I am not mistaken. Not a great back but a very good third down back.
Mendenhall
Dwyer (short-yardage shared with R.M.)
Moore (third-down shared with R.M.)
Fullback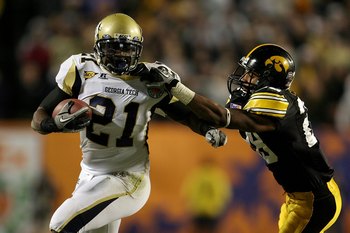 I'm just kidding. No one cares about fullbacks!
I'm just kidding about kidding, but this is most definitely not a lengthy slide.
Johnathan Dwyer should be the starter at fullback and the second running back. He can be taught to block if he isn't already good enough already. He can be used for many purposes. His only weakness would be his lack of receiving skill....which is kind of important on third down.
1. Johnathan Dwyer
2. Frank Summers (GO UNLV!)
Wide Receivers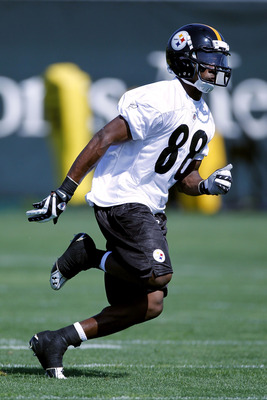 I am just going to come out and say....I love Emmanuel Sanders.
This is the first subject I must cover with you guys. Losing Santonio Holmes may have been a HUGE problem for the Steelers, but I do believe there are plenty of receivers to step up and replace him.
First, Mike Wallace, of course. He is the one who must step up the most this year. I, personally, am a huge fan of him.
I dislike Ole Miss, but I do seriously love his play. Most burners, which he is, are just that....burners. They run really fast, then catch the ball wide open. The big difference between him and most burners is the fact that he can make those tough catches in traffic. He can make that spectacular catch on the sidelines. I remember a catch, where Ben was inside his own five on third down, and he just threw it up to Mike Wallace. On what is quite often an unbelievably difficult catch to make...he made the catch while being slammed down by a cornerback. It was truly amazing.
There were other truly amazing moments for him as well. One could just look at his two catches in the Green Bay game. His two catches were on the first and last plays of the game. His first was a 60 or so yard bomb that he just jogged on in. The second, however, was much, MUCH more impressive. In what had become a very high scoring game which came down to the last minute, he made an unbelievable sideline catch that was just perfect on both Ben and Mike's side. It was falling out of bounds and he caught it. I was just completely blown away by it...
SO as you can see, I have plenty of faith in him!
Next is, obviously, Hines Ward. I really shouldn't have to say much. He can do everything (as shown by his college career at Georgia, playing WR, QB KR/PR, and even RB at times) and is well-known as one of the best blocking receivers of all time. He has sure hands and is one of the best in traffic. He is not afraid of getting hit, and just as unfrightened by hitting back.
After that there is Antwaan Randle El. A man known as a Jack-of-all-trades player, he has played a multitude of positions. He threw the game-winning touchdown pass on a trick play in the Super Bowl. He has had plenty of impressive catches over his career. He has been fairly consistent as a third wide-receiver most of the time. I like him as a player, but there are just better players at all of the positions which he can play. There are better returners (Stefan Logan), better receivers, and better trick players.
Emmanuel Sanders is a very impressive player to me. People neglect to think of him and they simply doom the Steelers for losing Holmes. I disagree with their assessment.
Sanders is quite a bit like Mike Wallace in that he is very fast, yet has some serious skill catching the ball. Basically...I think they are almost the same and I really don't have a whole lot to add, besides the fact that Sanders caught about 100 balls on a bad team with a weak quarterback situation. I would have rather have had Freddie Barnes, but I expect some very big things from him.
After that, there are few players who will see any play-time....so I won't count them!
1. Hines Ward
2. Mike Wallace
3. Antwaan Randle El
4. Emmanuel Sanders
What I want....
Ward
Wallace
Sanders
Randle El
Tight End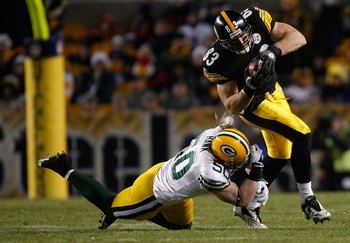 Really, I believe that Heath Miller is the most complete tight end in the NFL.
But before we get to him, we should cover the others.
First, there is David Johnson (I think). Most people believe that he should be the second tight end, and I agree. He isn't the best receiver, but he is a great blocking tight end and he more than serves his purpose when you need to get those passes. He should be second on the chart.
Matt Spaeth....well....he's a terrible blocker. He is very tall and has good hands, but his weakness at the tight end position is his lack of blocking skill. That is the reason people want him moved out. He would be great for third down sets and multiple tight end plays.
Then there is the king. Heath Miller, since he's been drafted, has had quite possibly the surest hands on the team. He is one of the most well-known receivers for never dropping passes. They happen every long once in a while, but they are more than few and far between. He is a great blocker as well. He can shut down pass rushers and is great at blocking downfield for the other receivers. He is an unselfish player who fights for every yard. Every team should have players like him. He is quite possibly the quietest starting tight end in the NFL as well.
1. Miller
2. Johnson
3. Spaeth
Offensive Line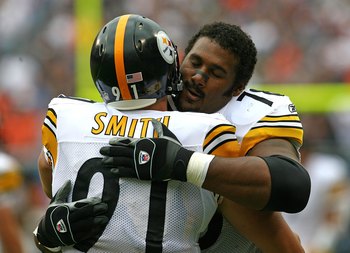 Hold me.....
I know fairly little about offensive line. I can really only say what each lineman is best at and their weaknesses....
Max Starks is, if I am not mistaken, a passing blocker. He does just about everything well and played pretty well last year. He has his times, but in the end, he doesn't really do anything badly. He is a pretty good left tackle and I think he is a good player for the future.
Willi Colon has....a name fail. he may try to make it seem like "Cologne" but everyone knows.....he is a large intestine.
Not known for his pass-blocking, he is a very good run-blocker. He does it very well and really does not have trouble there. He allowed some sacks, but as long as he works on his pass-blocking, he should be a very good player or the future. A nice right tackle, I think only needs to improve his pass-blocking this training camp.
Justin Hartwig is a good center who does both sides well enough. Not a great player, but a good starter. I am, however, looking forward to our next player taking over for him...
Maurkice Pouncey is a big reason as to why Tim Tebow has had so much success through his college career. A very impressive center who has been moved to guard, I look forward to him moving back to his best position and giving the Steelers a great center once again. Until then, however, we must settle for having a great right guard. Luckily for the Steelers, the never-ending rotation at right guard has stopped. I am happy to see some more stability.
Chris Kemoeatu is a very good lineman. He has great potential and is a fantastic run-blocker, especially due to his size. He is a very large man, with an even larger beard, and as long as he works on his pass-blocking....he should be fine and a very good left guard in the future.
LT Starks
LG Kemoeatu
C Hartwig
RG Pouncey
RT Colon
Kicker (simply put, Jeff Reed)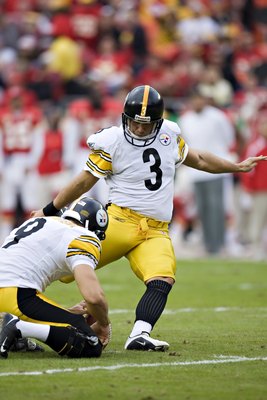 Despite his off the field problems, I really expect the best kicker for Heinz Field ever to play as he always has.
The Steelers signed him to a new contract over the off-season, thus making him a happy man. While he is one hell of a partier, I expect one hell of a clutch kicker. No one kicks as well in the muddy, torn-up, ridiculously difficult wind, and everything even close to as well as he does.
1. Jeff Reed
2. Uhh...no one after that.
Sack Lunch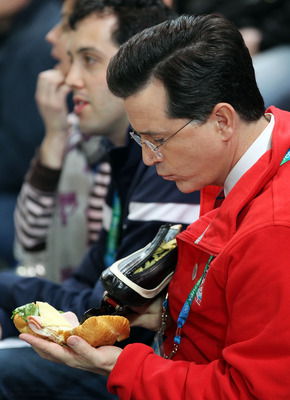 I enjoy the existence of being able to say things involving the sack lunch on sacks. I apologize for it's cheesiness, but I really can not resist my urges......and apparently neither can Stephen Colbert.
Anyway, guys, this is the end of the first part of the slideshow. I will eventually get back to my Madden slideshows, but at the moment...I am busy working on these!
I have worked very hard on this article and am very hopeful in that you enjoyed it.
Thank you guys for reading my articles throughout my writing career. Make sure to keep on doing it!
Don't be afraid to tell me what I did wrong!
Keep Reading

Pittsburgh Steelers: Like this team?