UFC 115: Rich Franklin's Top 10 Career Defining Moments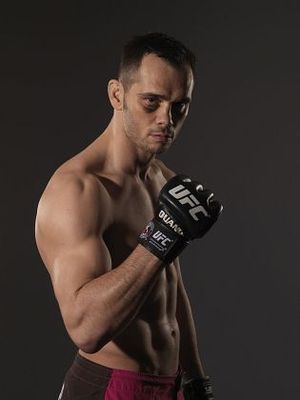 Come this Saturday at UFC 115 in Las Vegas, Cincinnati math teacher turned professional ass-kicker Rich "Ace" Franklin will headline the main card with fellow former champion Chuck "The Iceman" Liddell in what is being considered a battle between legends.
On one hand, Franklin is in desperate need of direction, following his stint as middleweight champion and an unusual string of catch-weight fights after moving up to the 205lbs division.
On the other hand, Liddell has campaigned hard to convince boss and close friend Dana White that he still has a realistic chance at a title shot down the road. A loss could send "The Iceman" packing for a Florida golf course, never to be seen in the octagon again.
In realtiy, both fighters can sense the urgency; a signal that the time has come to silence the doubters who have been critical of each fighter's proposed blueprint for a respective title shot.
Let's take a look at the moments in Rich Franklin's mixed martial arts career that have shaped him into the prominent fighter that he has become.
10. Being Defeated by Lyoto Machida - 2003
Franklin was riding high on a 13 fight win-streak after having fought twice previously in the UFC until he crossed paths with Lyoto Machida in the land of the rising sun for Inoki Bom-Ba-Ye 2003: Inoki Festival.
Although the contest marked Franklin's 14th career fight, it was only the young Machida's third, four years before making his UFC debut.
As the fight progressed into the the second round, the less-developed Machida backed Franklin into the ropes and landed a huge knee to his face, unloading a hail storm of punches once Franklin dropped to the mat.
The significance of this loss is double-layered. The loss was the first of Franklin's career, and it was the beginning of a long painful journey of losing to southpaw Brazilians.
9. Defeating Ken Shamrock - 2005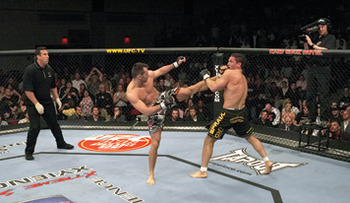 Franklin and Shamrock might have been the headlining bout for The Ultimate Fighter 1 Finale, but in reality they fought in the shadow of what many consider the greatest fight in the history of the sport: Forrest Griffin vs. Stephen Bonnar.
Following that historical fight, it was time for the young lion and the old lion to tangle it up in the main event. Franklin devoured Shamrock in the first round, grounding and pounding his way to a technical knockout victory.
This fight was more of a breaking out ceremony for the Ohio native. Even though Shamrock was 40 years old at the time of the fight and clearly past his prime, he was still the biggest name Franklin had beat to date.
8. Being Christened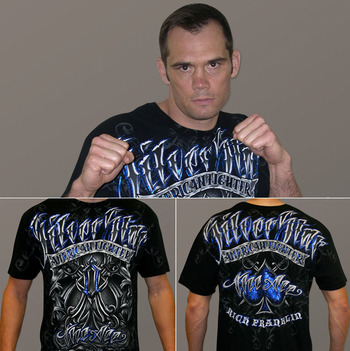 A fighter's nickname is something special that is held close to the heart regardless of whether he or she likes it because it becomes a career-long association.
Rich was bestowed with "Ace" after Joe Rogan pointed out the resemblance between him and popular actor Jim Carrey, who played the character Ace Ventura.
Apparently Rogan thought he looked like an "angry Ace Ventura." I was thinking more of something from The Planet of the Apes, specifically one of Charleton Heston's foes.
Now and forever, Rich Franklin will be know as Ace.
7. Defeating Evan Tanner for the 185lbs Title - 2005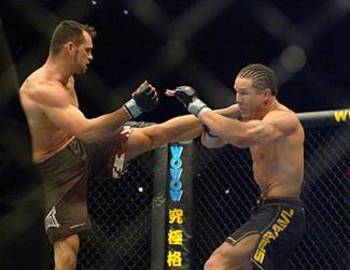 Just two months after defeating Ken Shamrock, Rich Franklin stepped into the octagon with then-champion Evan Tanner for a crack at the title in a rematch at UFC 53.
As the fight progressed Franklin found a home for his counter strikes, causing massive swelling on Tanner's face. Eventually the cardio handicapped Tanner was outclassed, and his corner threw in the towel during the fourth round.
This was a passing of the torch fight for Franklin, the beginning of a his reign as a UFC champion.
6. First Title Defense Against Nate Quarry - 2005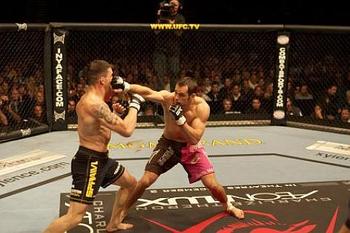 2005 proved to be a very successful year for Rich Franklin. He defeated a legend, became champion, and successfully defended his title for the first time at UFC 56.
Franklin really solidified himself as the reigning king of the middleweight division by running through challenger Nate Quarry with a straight left punch that made him stiff as a tumbling tree.
As Quarry laid there straight as a board, Franklin was put on the map as a defending UFC champion. He had just produced a knockout that will forever live in infamy.
5. Second Title Defense Against David Loiseau - 2006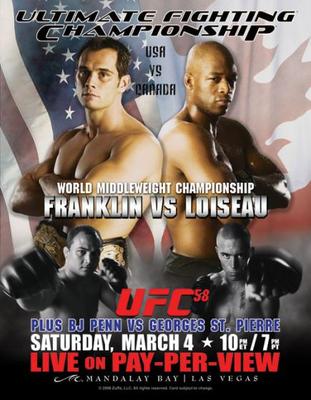 At UFC 58 the reigning middleweight champion, Rich Franklin, showcased not only his superior striking and foot work, but more importantly, he displayed his perseverance and heart against Davis Loiseau.
Sometime in the second round of this five round title fight, Franklin broke his left hand—his power tool. For most, losing your hay-maker that early in a fight would seal your fate. For Franklin, fighting through the pain of a broken hand while picking apart your opponent proved he was a resolute titleholder.
After the final bell rang Loiseau looked like a black Mr. Magoo with swollen eyes, while Franklin's arm was raised in victory with a unanimous decision.
4. Losing The Title to Anderson Silva - 2006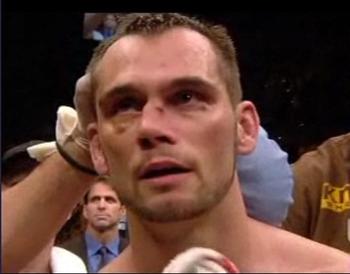 It didn't take Anderson Silva long to make a splash in the UFC middleweight division. He dominated Chris Leben in his debut, and propelled himself right onto Rich Franklin's radar.
The two prolific strikers fought for the title at UFC 64 in Las Vegas. It only lasted two minutes before Anderson unleashed a nose-crushing knee followed by a cavalry of strikes, brutally ending Franklin's reign as the 185 lb kingpin.
It had been awhile since fans had witnessed such a defiant deconstruction of a champion by a newcomer, who, in this case made a mission statement out of Franklin.
Losing to Anderson in such a fashion was clearly Franklin's first major obstacle to overcome both physically and mentally as a complete fighter.
3. Losing The Anderson Silva Rematch - 2007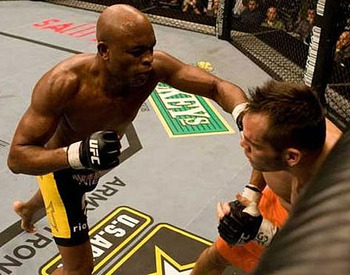 As if the first devastating defeat wasn't enough, just over a year later in front of his hometown fans Franklin suffers defeat once again at the hands of the same man and the same technique.
Anderson Silva confidently retained the title by landing a barrage of strikes on the former champ, particularly the infamous knee that ended Franklin's previous efforts early.
The substantial loss put Franklin at a crossroads in his career leaving him to question his future in the only weight class where he had obtained a title. This fight essentially retired all his 185 lb ambitions, and convinced him to return to his original division—light-heavyweight.
2. Losing A Split Decision to Dan Henderson - 2009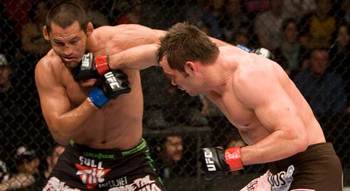 Losing such a closely contested battle never produces positive repercussions for a fighter mentally, especially one looking to make headway in a new weight class.
Furthermore, the loss knocked Franklin out of the running as an Ultimate Fighter season 9 coach against Michael Bisping. Spending the time and energy coaching on the reality show for the second time wasn't something Franklin was looking forward to, based on older pre-fight interviews.
In a sense he was relieved. Ultimately though, being the company man that he is, the loss of the fight and the coaching position set the stage for two awkward catch-weight fights with tough southpaw Brazilians: Wanderlei Silva and Vitor Belfort.
In a recent interview Franklin explained his overall frustrations from spending time concentrating on those catch-weight fights—which he dropped weight for—when he could have been using his time to prepare for light-heavyweight competition.
Normally, packing on muscle isn't a difficult thing to accomplish for a fighter, except in Franklin's case. His age limits his peak weight to only 213-214 lbs, making him a rather small 205 lbs competitor.
1. Impending Fight With Chuck Liddell - 2010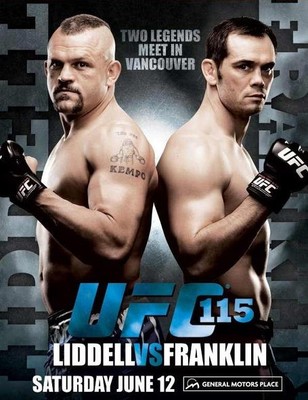 Time will tell which of these fighters will come out victorious at UFC 115 this Saturday night, ready to reverse their stagnant careers. This will prove to be a pivotal match for both fan favorites.
A loss could have dire consequences for either Liddell or Franklin.
For Chuck, many will be calling for him to hang up the gloves and retire at the seasoned age of 40, accepting the fact that not all fighters are equipped to defy father time like Randy Couture.
Dropping a fight to Liddell would be Franklin's second consecutive loss, having only won three of his last seven, and forcing him to reevaluate his future in the octagon. Retirement would clearly be more of an option for Liddell rather than Franklin.
Either way with a loss, the Ohio native would have the undesirable task of going back to the drawing boards at the age of 35.
Will age and ring rust be too much for Liddell to overcome against an equally versed striker in Franklin? Will Franklin's cardio give him a late round advantage? Can a fight between these two celebrated strikers go to a decision?
After Saturday night, plenty of these questions will be answered. Get ready for either the second Ice Age or the second coming of the math teacher from Cincinnati.
Keep Reading