Impressive Underclassmen: The Future of College Football's Quarterbacks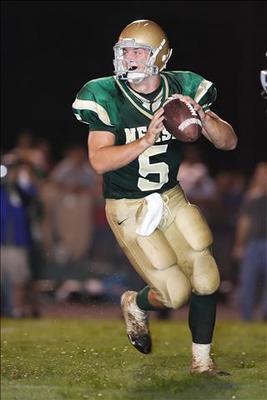 For the past few seasons in college football, it seems like the big icons have been players that had been starting for three or four years.
These upperclassmen, like Colt McCoy, Pat White, Tim Tebow, and Vince Young made names for themselves over their careers, not just a single season.
Well, these next 13 quarterbacks have a chance to do the same thing as all those players I listed.
On this list are 12 sophomores, some redshirted, some not, and one freshman who all have the chance to develop over special careers. Some have started games already, and some will be starting their first games come this season.
Keep in mind that there are many more players who are underclassman quarterbacks that I didn't list here. Tell me who you think the most promising underclassman quarterbacks are in the comments below!
Aaron Murray, Georgia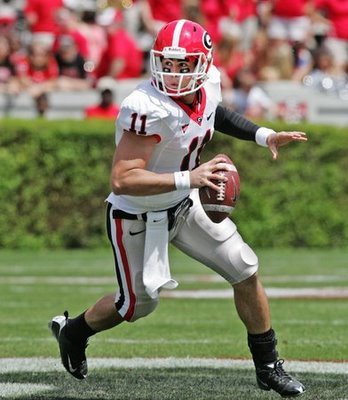 Replacing a quarterback of Matthew Stafford's talent is never an easy task.
Just ask Joe Cox; the senior quarterback was supposed to come in and be the next great Bulldog quarterback but ended up finishing 8-5 on a team that played better when Cox threw fewer passes.
Luckily for redshirt freshman Aaron Murray, he's not coming in following a former No. 1 overall pick.
ESPN's No. 3 quarterback and 13th overall player in the 2009 recruiting class will inherit a Bulldog team with plenty of talent on the offensive side of the ball.
Clint Boling is a fantastic left tackle, and A.J. Green is one of the best wide receivers the Bulldogs have ever seen. Leading rushers Washaun Ealey and Caleb King return as well.
Despite being only 6'1", Murray looks to lead this Georgia team to new heights.
Kyle Parker, Clemson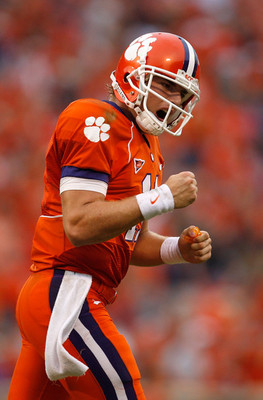 Much has been made of Kyle Parker's impending decision: leave football to play Major League Baseball for the Colorado Rockies, who drafted him 26th overall, or come back to lead the Tigers for the next three years?
While a lot of the focus has been put on Parker's baseball skill, many have ignored his talent on the gridiron.
Parker put together a great freshman season, leading the Tigers to the ACC Championship Game and an eventual 9-5 record.
While he had C.J. Spiller to hand off to and Jacoby Ford to throw to, he looked impressive throughout the year, throwing for 2,526 yards with 20 touchdowns and 12 interceptions.
If Parker does indeed choose baseball, it'll be a sad day for Clemson football, which will be losing one of its bright young stars on offense.
Robert Griffin III, Baylor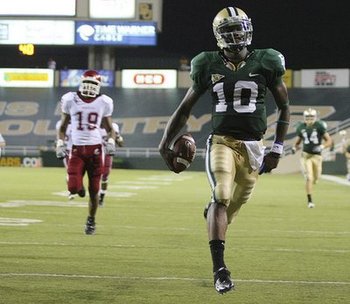 If you don't know Robert Griffin by now, where you have you been?
The electrifying athlete took the Big 12 by storm his freshman season, throwing for 2,091 yards and an outstanding 15-3 touchdown to interception count. Not only that, but the 6'3", 210-pound freak of nature ran for 846 yards and 15 touchdowns.
Baylor lost its star four games into his sophomore season, but a medical redshirt allows him to come back with three more years of eligibility.
In a down year for a Big 12 conference that loses a lot of marquee talent, Griffin could have a chance to lead the Baylor Bears to a Cinderella season.
Bryn Renner, North Carolina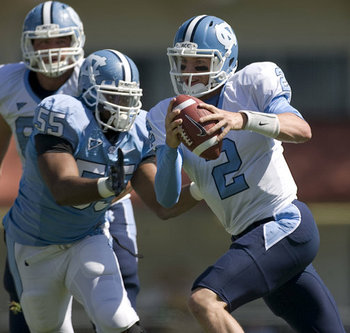 I know what you're thinking: What? Bryn Renner might not even start for North Carolina!
Well, when a player like T.J. Yates is your starter, you always have to consider starting your backup quarterback.
Butch Davis says that Renner will see the field when the Tar Heels open against Louisiana State, and if Renner impresses against their sturdy defense, he could steal the starting spot from Yates.
Renner, who went 15-of-21 for 184 yards, a touchdown, and a pair of interceptions in the Tar Heels' spring game, has a big arm and a quick release, which, with Greg Little on the outside, could help spark the Tar Heels' previously stagnant offense.
Matt Barkley, Southern California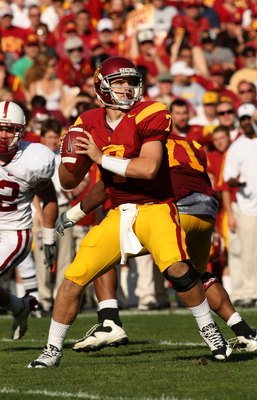 This can't be overstated: Starting as a true freshman at one of the most competitive football schools in the country at the most important position of all is no small feat. But that's exactly what Barkley did.
To be honest, he looked like a true freshman at times. He threw 14 interceptions and led the Trojans to one of their worst seasons in the past 10 years.
But then again, this is USC, a team that's dominated the decade.
It isn't like Barkley didn't impress at times either; his 2,735 yards are the second best of any quarterback on this list, and 15 touchdowns were impressive.
Barkley will now work under the tutelage of Lane Kiffin, who turned previous bum Jonathan Crompton into a star at Tennessee in one season.
Tom Savage, Rutgers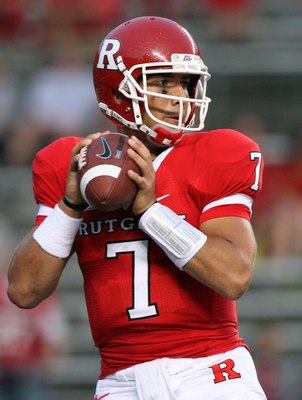 One of my favorite underclassman quarterbacks as a draftnik, Tom Savage is your typical pro-style passer.
The 6'5", 230-pound quarterback comes from a pro-style Rutgers offense, has a rocket arm, and has the potential to lift Rutgers to the next level by the end of his college career.
Savage had a fantastic freshman season, throwing for 2,211 yards and 14 touchdowns, keeping his inaugural interception count to only seven. Savage's size and arm strength allowed him to connect with fellow freshman sensation Mohamed Sanu, whose 51 catches and 639 yards led the team.
Savage, Sanu, and redshirt sophomore running back Joe Martinek look to lift Rutgers to the top of the Big East (potentially Big Ten?) standings over the next three years.
Jake Heaps, Brigham Young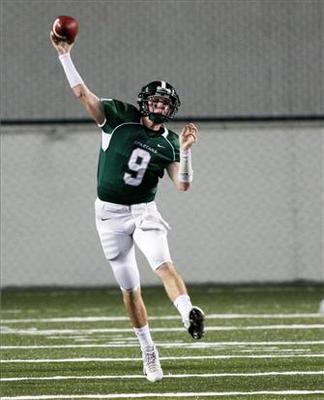 If there's any freshman in this class that has a chance to make an impact, it's Jake Heaps. The pro-style quarterback is stepping right into Brigham Young, a system where he's sure to excel.
While the loss of Harvey Unga hurts, Heaps' quick release, strong arm, and stocky build should allow him to crack the starting lineup.
But that's not all that Heaps brings to the table. While he's not a 4.4 40 type of guy, he can still make plays with his feet and can buy time for himself to find receivers down the field.
Garrett Gilbert, Texas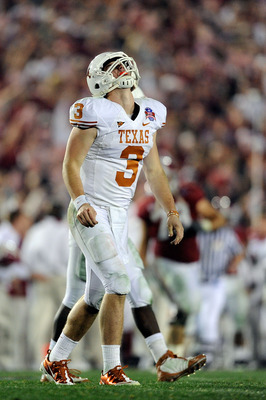 Despite attempting only 66 passes in his freshman season, Gilbert has some of the biggest expectations of any player in this list.
Ignore his four interceptions and 45.5 percent completion percentage in limited time; in the second half of the national championship game against Alabama where he took over for the injured Colt McCoy, he threw two touchdowns in the second half after calming down to cut the deficit to three before the Tide broke it open.
With the immense talent surrounding him at Texas, where five-star recruits grow on trees, Gilbert should have no trouble finding new, young targets and backs to rely on.
Tate Forcier, Michigan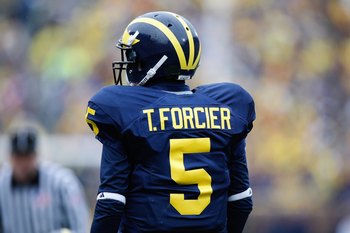 For the first time under Rich Rodriguez, the Wolverines had a quarterback that could run the zone read, and that was true freshman Tate Forcier.
The 14th-ranked quarterback in the class of 2009, Forcier impressed on an unimpressive Michigan team. He completed 59 percent of his passes for 2,050 yards and 13 touchdowns with 10 interceptions.
While Forcier has been rumored to potentially lose his starting job to high-profile freshman Devin Gardner, I think Forcier's abilities as a passer in the spread along with his rushing ability will allow him to stay the starter in Ann Arbor.
Kyle Padron, Southern Methodist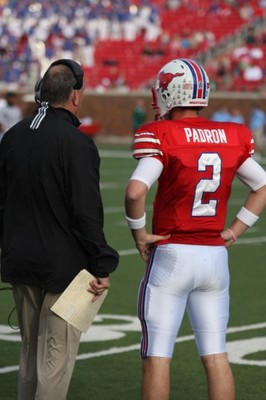 June Jones has found his man. He molded Colt Brennan into one of the greatest college quarterbacks of all time at Hawaii, and now has Kyle Padron.
Padron doesn't have the strongest arm, but he is laser accurate and can run the Run n' Shoot offense to perfection.
Padron took over halfway through SMU's season and established a 5-2 record as a starter, throwing for 1,922 yards with 10 touchdowns and four interceptions.
Padron's breakout game was the Hawaii Bowl against Nevada; he threw for 460 yards and two touchdowns with a 78 percent completion rate. If Padron can keep pumping out seasons like that, he could find himself in the record books.
Nathan Scheelhaase, Illinois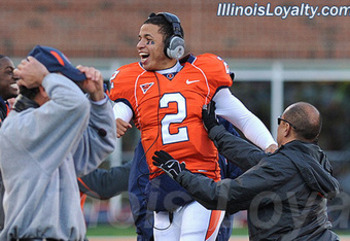 Although Illinois looks to have yet another down season, their new quarterback could end up being the surprise story of the Big Ten.
Nathan Scheelhaase was only the 37th-ranked quarterback in the Class of 2009 according to ESPN, but with a strong and quick running style he'll add an extra element to Illinois offense, which is switching to a pro-style system under Paul Petrino.
But Scheelhaase's ability as a passer is also impressive; he has solid mechanics and can make all the throws despite not having a rocket arm.
Scheelhaase will inherit an Illinois team that's pretty lacking in the talent department, but he'll have at least one talented player—sophomore running back Mikel LeShoure, who combines size with speed in a combination that can only be matched by Wisconsin's John Clay in the Big Ten.
Landry Jones, Oklahoma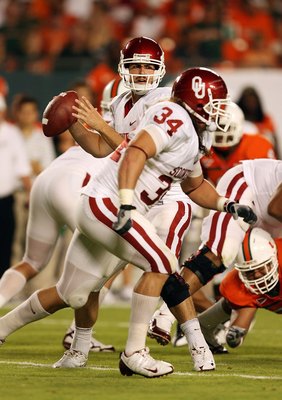 One would think that, upon losing a Heisman-winning junior quarterback to injury, your team would collapse. Not the case with Oklahoma.
While the season was disappointing by preseason expectations, Landry Jones stepped in and had a fantastic redshirt freshman year. The most successful of anyone on this list, Jones threw for 3,198 yards with 26 touchdowns and 14 interceptions.
With Ryan Broyles and DeMarco Murray returning to the Sooners, Oklahoma looks like they'll be in contention to take the Big 12 once again.
B.J. Daniels, South Florida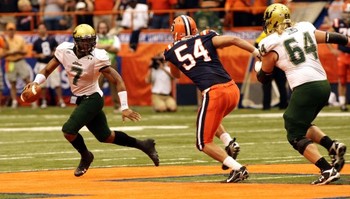 You never like to see a guy like Matt Grothe get injured. Having started in his first three seasons, he was a record-breaking starter at South Florida.
When he got injured in the third game of his senior season, redshirt freshman B.J. Daniels took over and never looked back.
Throwing for 1,983 yards, 14 touchdowns, and nine interceptions, the dual threat also ran for 772 yards and nine touchdowns.
With his athletic ability and impressive freshman season, the Bulls look to have their next four-year starter and yet another potential record breaker in Daniels.
Keep Reading