Don't Blink! MMA's Top 10 Most Exciting Fighters
When I first started working on this list, I honestly believed that it was going to be easy. However, I realized something:
The term "exciting" is subjective.
Some fans tune in to see two fighters just go in there and bang it out on their feet.
Others get amped up watching a technical ground war.
So instead of trying to rank the fighters, I decided to put them in no particular order.
The criteria for making this list is very simple: it's my own personal opinion.
"Exciting" is not something that can be quantified.
There will be fighters on this list that you agree with, some you won't, and some that you may never have thought of.
So without further ado, let's begin.
Begin Slideshow

»
Whenever Melvin Manhoef enters an MMA cage or ring, there are only two possible outcomes.
Either Melvin is going to knock someone out or he is going to submit.
There are few other MMA fighters that can end a fight as quickly and suddenly as Manhoef. That's why I always look forward to his next scrap.
Eddie Alvarez exploded on to the MMA scene during his run in the Dream Lightweight tournament in 2008.
He went from a virtual unknown to the next "must see" fighter almost overnight.
Call me crazy, but his fights against Joachim Hanson and Tatsuya Kawajiri might have had something to do with his new found stardom.
Since his run in Dream, Eddie has gone on to become Bellator's Lightweight champion by finishing all of his opponents via submission.
It wouldn't surprise me in the least if we haven't seen the best—and most exciting—Alvarez yet.
Nobody could ever doubt the heart of Scott Smith.
He could be beaten, bloodied, and battered, but he's never out of a fight.
Perfect example—Smith vs. Sell
It looked like Smith was knocked out by a devastating body shot delivered by Pete Sell.
But wait...
As Sell came in for the kill, Smith jumped up, nailed Sell right on the chin, won by knockout, then fell to the ground in pain from the aforementioned body shot.
Whenever Smith is on the card, I always make sure that my DVR is set to record because I know that something incredible is sure to happen.
Hector Lombard—remember this name. He'll be the No. 1 Middleweight in the world one day.
Lombard embodies what fans of non-stop action like. He never stops pushing the pace and always goes for the finish.
Lombard defeated all three of his opponents by (T)KO en route to becoming Bellator's first Middleweight champion.
Most recently, he dispatched of UFC veteran Jay Silva in a mere six seconds.
With impressive victories racking up, it's only a matter of time before the name "Hector Lombard" is spoken when talking about the creme de la creme of Middleweights in the world.
Leonard Garcia personifies the stereotypical Mexican fighter.
He may not have the most talent or the best record, but the guy is as tough as a Waffle House steak and has no idea what the word "quit" is.
Win or lose, Garcia always leaves it all in the cage.
His fights against Roger Huerta and Chan Sung Jung are ones that I could watch over and over and never get bored.
They're that exciting.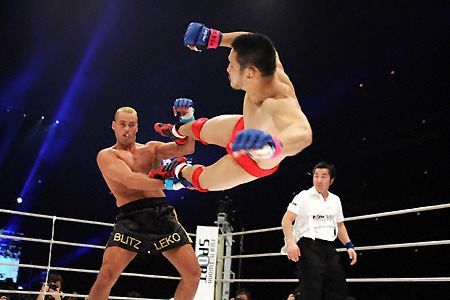 Doesn't the picture just about say everything that needs to be said about the only man still sporting the Speedos in the ring?
The only thing that could make it better is if he was still rocking the mullet.
Minowaman is another one of those fighters that does not have the best record but his fights are just plain fun to watch.
I don't care if he's fighting Hong Man Choi or whatever freak show Dream decides to throw his way; that's half the fun. The other half of the fun is watching Minowaman play the roll of "giant slayer."
Minowaman is nowhere close to be considered a title contender by any means, but he'll fight whoever and make it fun to watch.
Since exploding on the MMA scene a little over two years ago, dos Santos has been a one man wrecking crew.
In his five fights in the UFC, only Mirko "Cro Cop" has managed to make it out of the first round against "Cigano."
The other four opponents collected a quick paycheck thanks to the things attached to the end of dos Santos' arms that more resemble cinder blocks than hands.
Will Roy Nelson be the one to end Junior's string of (T)KO's at UFC 117?
I doubt it, but we may be able to actually see some of dos Santos' ground skills.
Many people are calling Jon "Bones" Jones the "Next Big Thing" in the Light Heavyweight division and for good reason.
Since joining the UFC roster, Jones has gone 4-1, with his only loss coming by way of DQ when he was completely crushing Matt Hamill but made the mistake of smashing him in the face with a few illegal 12-6 elbows.
Oops.
Jones, however, rebounded and took out Brandon Vera via TKO in just a little under four minutes.
If he keeps it up, not only will he remain very exciting to watch, but he will be the "Big Thing" at 205.
Seriously, who could ever forget Aldo's infamous eight second flying knee knockout of Cub Swanson?
Just in case you did, just look at the picture to your left. I'm sure that will refresh your memory.
Since joining the WEC in 2008, Aldo immediately made his presence felt by knocking out everyone he fought, including Mike Brown, to become the WEC Featherweight champion.
The only fighter in over two years to go the distance with Aldo was Urijah Faber, and I still can't believe that Faber was able to stand long enough to make it to the final bell.
It appears that Aldo's next fight will be against Manny Gamburyan.
With their respective styles, I would think it would be a safe assumption that this is going to be another quick, explosive, violent victory for Aldo.
There are three things that are guaranteed in life: death, taxes, and Chris Lytle collecting a "Fight of the Night" check every time he steps into the Octagon.
Lytle may fall under the category of "gatekeeper" or "journeyman," but it's impossible for him to be in a boring fight.
If anyone can name one, please feel free to throw it out there.
He may not always finish fights, but you know you're going to see 15 minutes of non-stop action.
Bottom line—if Lytle is fighting, I'm watching.
Just to throw it out there, Lytle has collected the most "Fight of the Night" checks with seven.
With a bout against Matt Brown set up for UFC 116, you might as well mark him down for another check now.