2010 MLB Draft Grades: Jesse Biddle, Hayden Simpson, and Other Shockers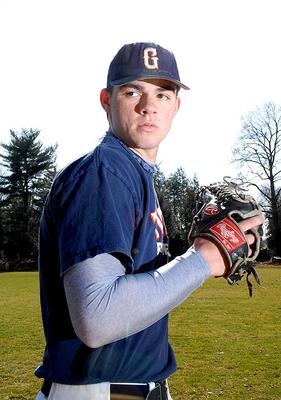 The first round of the 2010 MLB Player Draft is in the books, and will go down as one of the wildest nights in the history of the event.
First of all, the fact that it is was held at night was a drastic change. The venue changed as well, with the proceedings held at Studio 42 of the MLB Network complex in Secaucus, N.J.
While the No. 1 pick was far from a surprise—Bryce Harper to the Washington Nationals—the trend became young pitchers from a draft pool that was supposedly thin on arms.
No worries. The teams literally went off the board, picking players who weren't even listed in the media guide.
The bizarre chain of picks sent no-names like Jesse Biddle (pictured) to big-named teams, and left value all over the place through the first round and into the supplemental "sandwich" picks.
Who came away with the best Monday night and who has a lot of work to do to improve their grades Tuesday and Wednesday? Here are our thoughts.
30. Chicago Cubs (F)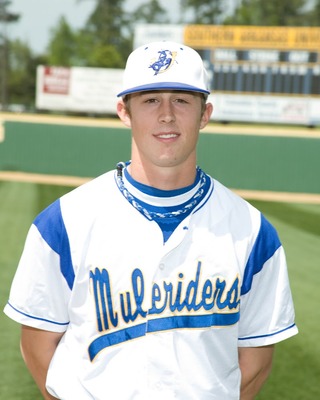 Hayden Simpson got a gift from the heavens Monday night.
There wasn't a scout in the room that had the pitcher going above the fifth round, and yet, he landed at No. 16 to the Cubbies.
Simpson isn't a complete bust—he has a 90-92 mph arm and a decent curve with solid control—but he doesn't inspire the adjectives you'd like to hearing about your mid-first round pick.
29. Los Angeles Dodgers (D)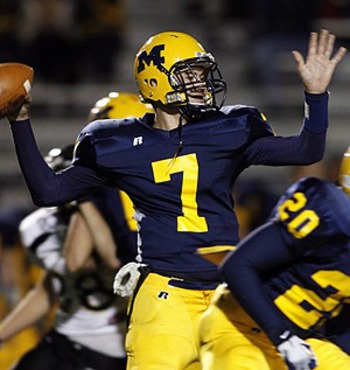 It shouldn't seem like such a bizarre pick for L.A. at No. 28, when they went for a top-notch righty.
Only problem is Zach Lee is seen as the toughest player to sign in the draft. He's a two-sport recruit to LSU, and has all been assured he's going to college.
The only explanation is that the McCourts are divorce-poor, and took Lee knowing they wouldn't sign him to get the compensation pick next year.
28. Texas Rangers (D)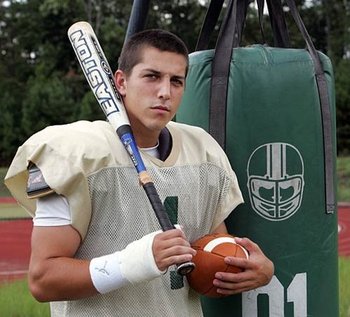 The Rangers seriously reached for Jake Skole, a Georgia prep star outfielder who has been injured more than he's been on the field over the last year and a half.
The only logic for this selection at No. 15 was that there was a pre-draft deal made. The kid isn't a nobody—he's a two-sport recruit to Georgia Tech. It was just an out-of-nowhere pick for mid-first round.
27. Arizona Diamondbacks (D)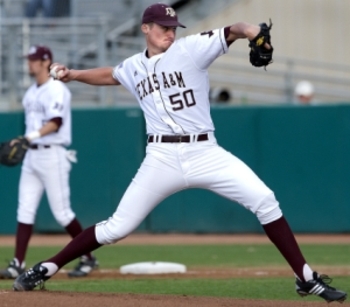 Here's a guy who wasn't in the media guide.
Introducing Barret Loux. The Texas A&M righty was a known commodity and had a great spring, but even the teams highest on him saw him as an end of the first round sleeper.
Every asset is graded at average. That's not a No. 6 pick.
26. New York Yankees (D)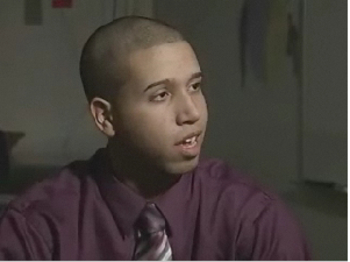 It was a stretch for a team that is not known for bad picks.
The Yankees took prep shortstop Cito Culver at No. 32, a player that Northeast scouts didn't have in the first four rounds. Though they have had him on their all-star teams, so they may know him better than the pundits do.
25. Philadelphia Phillies (D+)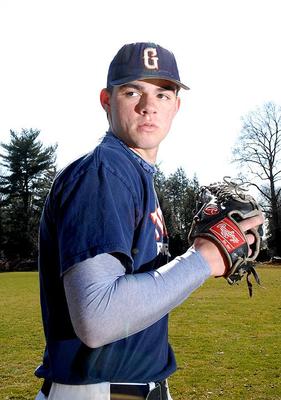 The Phils had one pick and went with a Pennsylvania high school pitcher named Jesse Biddle, a lefty that was low on most of the pundits' draft lists.
He's 6'4" with a solid fastball but is said to have control issues that are seen by many as unfixable.
24. Colorado Rockies (C-)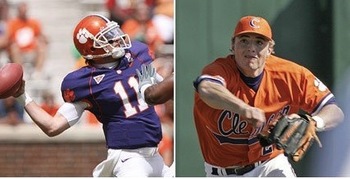 The Rockies went with Clemson quarterback Kyle Parker in this spot.
There's no question that Parker will commit to baseball, but the real mystery is if that's the best thing for Colorado.
It's a very weird match. Coors Field values defense and Parker is not that guy. He's a power guy that is a first baseman or DH. His arm has not translated to baseball and he's a clunky runner.
23. Houston Astros (C-)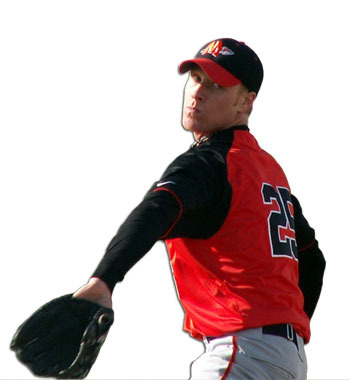 The Astros first took Delino Deshields Jr. at No. 9. He's a knockoff of his dad—quality speed, decent glove and will chase down most things in center.
Many pundits saw this as too high for a kid who is seriously lacking a complete tool set.
Then Houston grabbed at a guy seen as a low top 50 pick at No. 19, with high school arm Mike Foltynewicz.
He's 6'4" with a big frame, and a 90-92 mph fastball that could end up 93-96 with the right growth and development. His curve and change-up are nothing special and he definitely could have been had for better value.
There were better picks to be made here.
22. Chicago White Sox (C)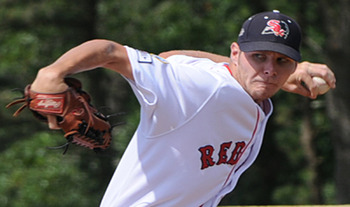 Here's another team that had a shot at much better talent than they picked.
Chris Sale was not a No. 13 pick. Then again, the Sox could be seeing him as the next Tim Lincecum.
The kid has a slight build (6'6", 175 pounds) and an arm slot that needs fixing.
This one was a whiff.
21. New York Mets (C)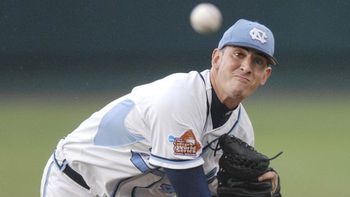 The Mets didn't impress anyone with their pick of pitcher Matt Harvey at No. 7.
The UNC product has been productive in college, but his lacking breaking ball and an inconsistent delivery doesn't fit this draft slot.
20. Kansas City Royals (C+)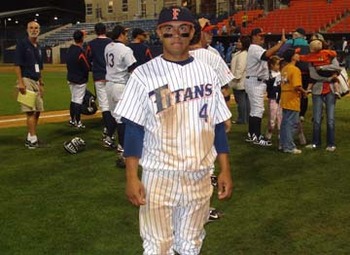 The Royals were in a no-win spot. Once you got past the top three picks, there wasn't a definitive No. 4 pick.
Still, K.C. got a shortstop in Christian Colon who could rise through the system quickly.
19. Florida Marlins (C+)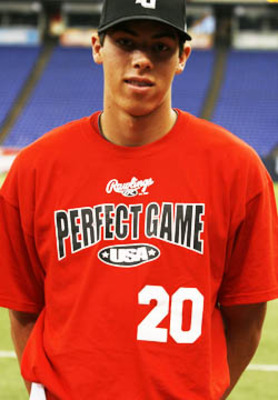 Nothing too horrible here; nothing too stellar, either.
Christian Yelich projects to be a quality outfielder with raw power. He might even be a first baseman with proper development.
18. Milwaukee Brewers (C+)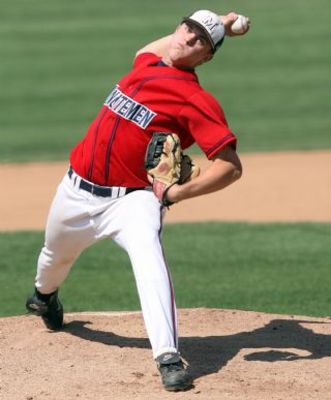 The Brewers went with high school arm Dylan Covey at No. 14. On the surface, it's not a bad pick. Covey was definitely one of the best prep arms in the country.
The issue here is Milwaukee needed more immediate help. There were quality college arms available in the spot that were less-sexy than Covey for sure, but likely to rise to the majors quicker.
17. San Francisco Giants (C+)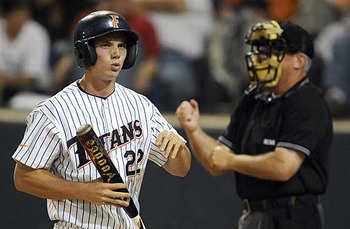 We're in a zone of the draft grades now where we're far from disaster, but full of questions.
The Giants are a great example. They went with a predictable pick in outfielder Gary Brown. San Fran loves speed and Brown has it to go with a stellar glove.
But he's done little to show that he's a wood bat hitter. So worst-case scenario, he's a 4-A player like Joey Gathright.
16. Seattle Mariners (C+)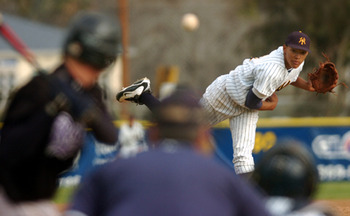 Seattle did a decent job with their one pick on Monday, taking California hurler Taijuan Walker.
The righty has had both electric and ridiculously mediocre stuff over the course of the spring.
The Mariners are so low because they need players and had but one.
15. Atlanta Braves (B-)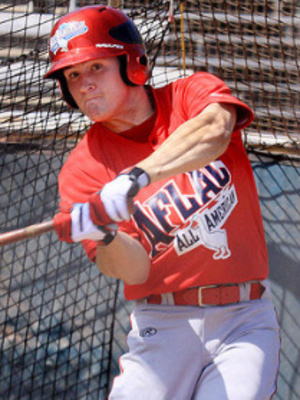 Another situation where they made a solid pick, but didn't have any more.
The Braves took shortstop Matthew Lipka, a guy with decent footwork but a frame and hands that have folks thinking he's a better fit in the outfield.
He has swing hitches that need fixing, but nothing too drastic.
Again, the ATL needed more picks than this in the draft.
14. Cleveland Indians (B-)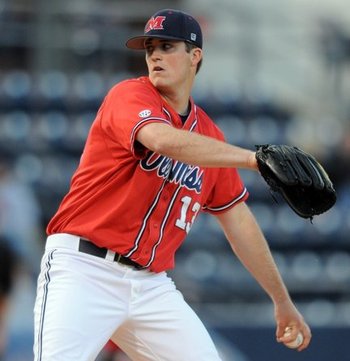 If you're going to make one pick at No. 5, it's hard to argue with Ole Miss hurler Drew Pomeranz.
There was a lot of talk that he was going to slide in the draft, but Cleveland zoned in on their guy and got him.
This may be more about knowing Pomeranz can be in the bigs quicker than most pitchers in this draft.
13. San Diego Padres (B-)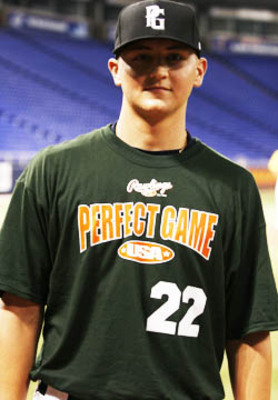 The Padres had one pick and made the most of it at No. 9 with righty pitcher Karsten Whitson, a high schooler with a mid-90s fastball and tremendous potential.
12. Detroit Tigers (B)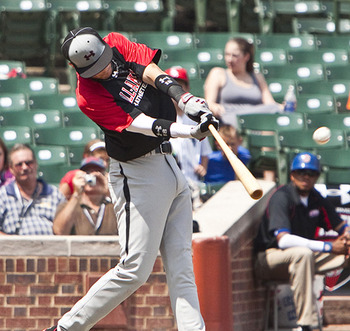 The Tigers did the best of the teams that were relegated to the sandwich picks.
Florida high school third baseman Nick Castellanos was one of the more impressive bats in the draft, but tumbled into the No. 44 spot for Detroit.
Then the Tigers went for a surer thing at No. 48 with Texas Longhorns pitcher Chance Ruffin, the son of former MLB pitcher Bruce Ruffin.
11. Oakland A's (B)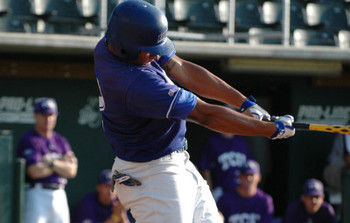 The A's made a safe but quality choice at No. 10 with Michael Choice, an outfielder from the University of Texas-Arlington.
He has decent speed and big-time power to all fields that makes you forgive some swing mechanics issues.
10. Minnesota Twins (B)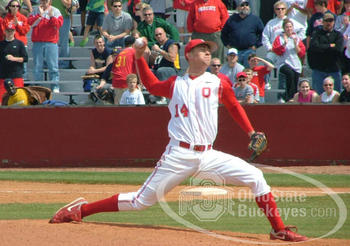 The Twins got a gift with their one pick as Ohio State pitcher Alex Wimmers surprisingly fell to Minnesota at No. 21.
The Buckeyes righty has been dependable and projects as a mid-to late-rotation guy, but is seen to have intangibles that make him a safe bet to rise quickly through the minors.
9. Pittsburgh Pirates (B+)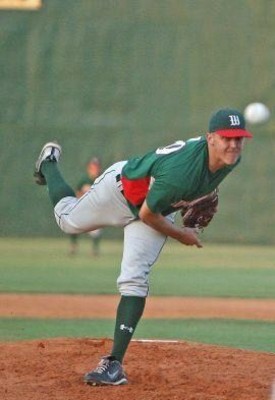 I put the Pirates lower because they screwed the draft up before even picking by only having one pick.
That said, they were bold with the arm instead of the bat with high school star Jameson Taillon.
He's 6'6", 225 pounds already, and has grown into the frame. His fastball, slider and curve are all above average today. Scouts are even more impressed with his mental makeup than his body.
8. Baltimore Orioles (B+)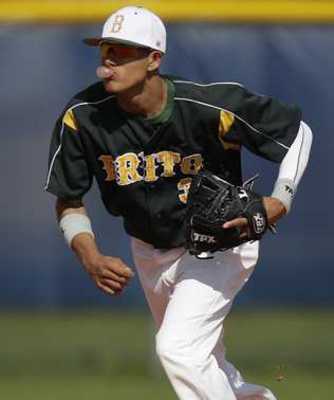 The O's kind of lucked in to this shortstop. They thought they were going to get a pitcher at No. 3, but Manny Machado slipped to them.
The prep star has a huge arm and 20-homer potential. He instantly becomes their No. 1 shortstop prospect with as clear a path to The Show that will only be slowed by his development.
7. Los Angeles Angels (B+)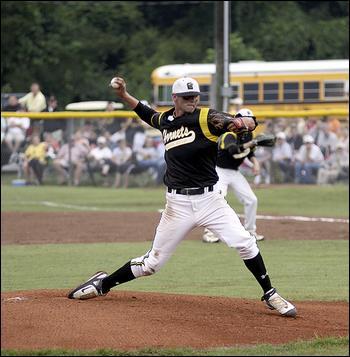 The Angels were stacked with picks. You could easily say that gave them five opportunities to really screw up, but they made solid choices.
Kaleb Cowart (pictured) is a third baseman with power, a righty with big upside in pitcher Cam Bedrosian, a kid with a beloved swing in Taylor Lindsey, a center fielder in Chevy Clarke that dropped to late first because of a lackluster spring, and a pick perceived as a steal at No. 40 with outfielder Ryan Bolden.
6. St. Louis Cardinals (B+)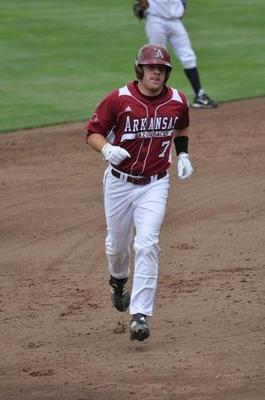 You could easily say the Cardinals were simply lucky. Arkansas third baseman Zack Cox was a top-10 pick on many draft boards but fell to No. 25.
He was a star in college baseball's best conference. The fact that he slipped is a head-scratcher.
Then there's Tyrell Jenkins. He's the pitching Cox, a highly regarded pitcher and a great athlete who surprisingly kept slipping. The Cards got him at No. 50.
They also got Arizona State pitcher Seth Blair at No. 46.
All three picks were great value and perfect to fill needs.
5. Toronto Blue Jays (A-)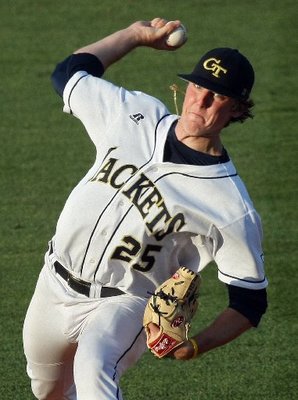 The Jays snagged two highly-touted arms.
First, they went with Georgia Tech stud Deck McGuire (pictured) at No. 11, a guy whose stock just keeps rising.
They had amazing fortune and seized the moment at No. 41 by taking Citadel hurler Asher Wojciechowski. The kid has arm strength to spare, a great fastball and slider and a very impressive makeup.
But it gets better. They snagged two high school hurlers in Aaron Sanchez and Noah Syndergaard that fell into their laps.
Needs filled, thank you very much.
4. Cincinnati Reds (A-)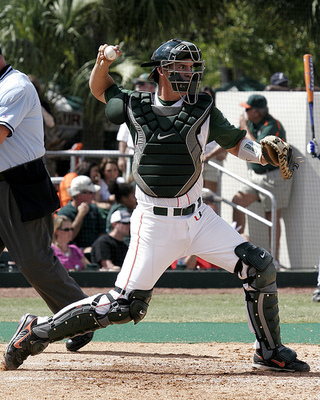 The pundits say there's no explanation for University of Miami junior catcher Yasmani Grandal falling to No. 12.
The Reds didn't necessarily need him but they couldn't pass. If their other stud catcher, Devin Mesoraco, rises quickly, Grandal is a heck of a trading chip.
3. Washington Nationals (A)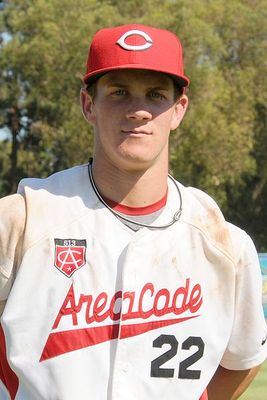 There have been many years when the no-brainer No. 1 pick didn't get taken—or even worse, didn't get signed.
You have to have the guts to pay the money and make the commitment. Bryce Harper is seen as the hitters' Strasburg. So now the Nationals have incredible buzz in their fan base and have put together an improving team very reminiscent of the Rays.
I hope he's every bit of Roy Hobbs as every one says Harper is.
2. Boston Red Sox (A)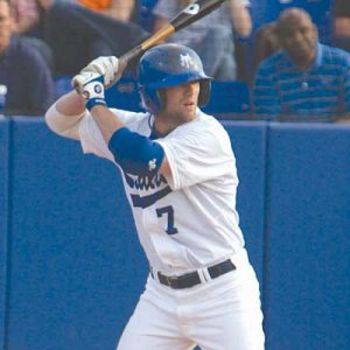 Kudos for the Sox for stockpiling the picks to be in the spot to capitalize on other team's idiocy.
That started at No. 20 with outfielder Kolbrin Vitek, a guy that slipped because of sub-par showings with a wood bat. Many insiders think he has the makeup to make all the adjustments to be a stud.
Then the Sox got Bryce Brentz (pictured) at No. 36, a guy that was a top-10 pick on many lists that had power drop-offs this spring that scared many teams away.
Boston completed their fallen trio with Anthony Ranaudo at No. 39. He's a pitcher who was the preseason No. 2 prospect that has scared folks off with elbow issues.
1. Tampa Bay Rays (A+)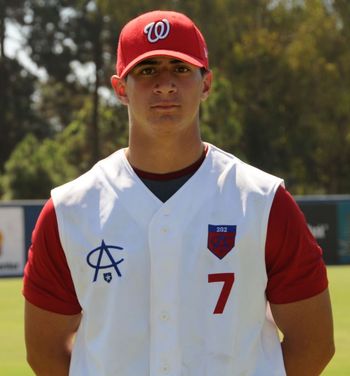 By far, the best draft of the night.
That's saying a lot for a team that didn't start drafting until No. 17; but again, here's a team that made sure they got their sandwich picks and made the most of them.
Right fielder Josh Sale (pictured) wowed at showcase after showcase this spring and has the work ethic and demeanor of a leader.
They picked up high school catching star Justin O'Conner at No. 31, another pick made because they sent scouts to the right showcases.
Then they got a switch hitter and switch pitcher in Drew Vettleson at No. 42, a guy that has been rising on every draft board.
Yet, only the Rays had the guts to pull the trigger.
Keep Reading